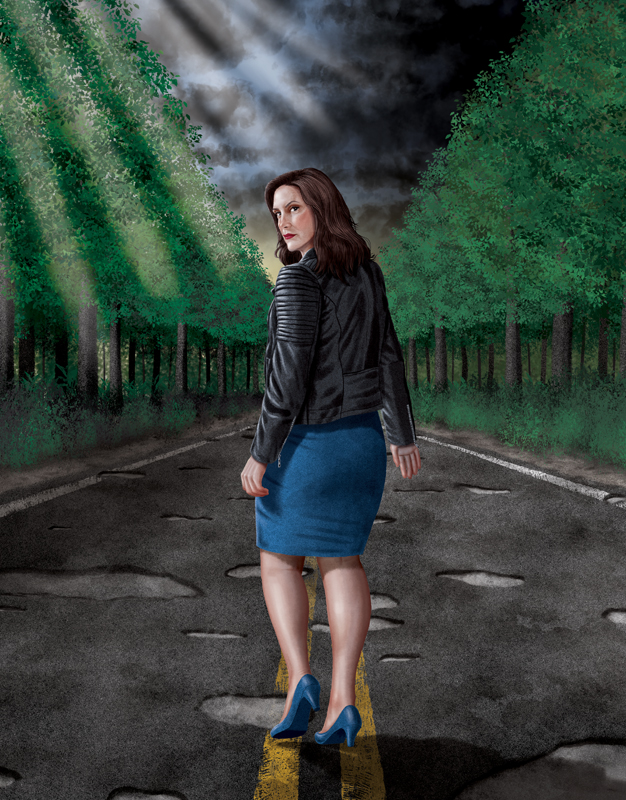 In an inaugural address, every elected president, governor, or mayor seeks to offer a list of their numerous goals while detailing a first-term agenda. Michigan Gov. Gretchen Whitmer ran on a promise to "fix the damn roads," vowed bipartisan cooperation, and committed to dealing with a host of other issues in her first State of the State address in February 2019.
"I pledge to continue the new culture that Gov. Rick Snyder created in Lansing over the last eight years," Whitmer said to a joint session of the state Legislature. "Some will doubt our ability to find common ground; to make the bold choices needed to ensure Michigan will always be a home for opportunity.
"It's important for us to remember that the enemy is not the person across the aisle," she continued. "The enemy is apathy. The enemy is extreme partisanship. The enemy is self-interest. When we stand together as Michiganders … we can get the job done for the people of our state. We can build bridges and ensure that Michigan is the home for opportunity for generations to come."
More than two years later, how has Whitmer done? In recent months, the state has led the country in job losses and business closings, based on data from the U.S. Bureau of Labor Statistics. The poor results, based on media accounts, stem from Whitmer's continued lockdown of the state's economy due to the COVID-19 pandemic that began in March 2020.
The measures, many of which were instituted by Whitmer early last summer when she took "emergency control" of the state government and refused to work directly with the Legislature — in October 2020 the Michigan Supreme Court ruled her actions were unconstitutional — have since lost much of their luster. With many of her lockdown rules still in place 14 months later, public opinion has changed.
While Whitmer said her far-reaching orders were needed to curtail the spread of COVID-19, it doesn't appear to have worked well. As of mid-April, seven Michigan cities had made the list of the top 10 worst COVID-19 locations in the country; in fact, they took the first six spots — Jackson, Detroit, Flint, Monroe, Lansing, and Owosso, respectively. The No. 8 spot went to Battle Creek.
Soon after, Whitmer appealed to President Joe Biden to release more vaccine doses to help counteract the surge in the state, but the request was denied. According to an April 10 article in The Washington Post, Michigan "appeared not to have ordered 360,000 doses then available — a single-day snapshot that nonetheless puzzled federal officials."
After being contacted by the newspaper, a state official said "the doses were almost all quickly drawn down" following the White House discussion. The CDC director also called on Whitmer to "shut things down," but the governor asked citizens to voluntarily adhere to safety measures while extending workplace restrictions to October.    
On the jobs front, the state's unemployment rate, based on BLS data, was 3.8 percent in January 2020. By April, amid the throes of COVID-19, it had skyrocketed to 24 percent. At the start of 2021, the jobless rate was at 7.5 percent. But it was no time to cheer; Michigan led the nation with 64,400 job losses in December (Whitmer instituted a second shutdown of businesses and schools in mid-November that lasted roughly three months).
The same federal data shows her pandemic restrictions closed, either permanently or temporarily, thousands of businesses — representing an estimated one-third of the 222,000 companies in the state. Many of the hardest hit sectors were restaurants, hotels, event venues, theaters, retailers, and personal services.
Based on a DBusiness survey in mid-March of the top business leaders in Michigan, as listed in Detroit 500, Whitmer, whose office declined a request for an interview, received an overall grade of C (from a selection of A, B, C, D, F) among six questions that centered on her performance since taking office. The survey covered her oversight of the economy, the state's response to the COVID-19 pandemic, and her relationship with the Legislature, among other factors.
"I think this governor hasn't worked with the business community," says Joe Vicari, president of the Joe Vicari Restaurant Group in Warren, which operates more than a dozen dining establishments in Michigan including Andiamo, Joe Muer Seafood, Brownie's on the Lake, the Birmingham Pub, and Barleycorn's Public House. "I'm one of the largest independent restauranteurs in the state, and I reached out to her three different times to meet with a group of restaurant owners and myself to (talk about) how we could work together to open restaurants up safely.
"She refused to meet with us. She doesn't listen to the Legislature. She's just a one-woman show up in Lansing. She seems like a vindictive person who punishes anyone who tries to challenge her. If I were to give her a grade, based on how she dealt with the restaurant industry, I would give her a D."
Vicari joins a chorus of business leaders across the state who point to the governor's management style and often-unchallenged decision-making as holding back the economy. It doesn't help that since the pandemic broke, Whitmer has refused to release the data she's using to make her decisions. And it's unclear if the information is being compared on an "apples to apples" basis with past outbreaks of Ebola, the 1918 influenza, SARS, and H1N1.
Prior to the latest pandemic, coronaviruses such as common colds were never reported as the primary cause of death when a person passed from an illness or disease such as chronic low blood pressure, diabetes, or cancer. What's more, both the CDC and WHO issued new guidelines in 2020 that state that a person who dies and is suspected of having COVID-19, even though the virus was never confirmed, may be included in death counts.   
"I believe the governor's response to the business issues around COVID-19 has been terrible," says Thom Lipari, president and CEO of Lipari Foods in Warren, one of the state's largest food distributors. "(She) and her staff should not (have been) receiving a paycheck until all the business owners that were shut down had an opportunity to create paychecks for themselves and their employees. Then we would see how necessary they feel the lockdown is, if their livelihoods were at stake."
When Whitmer first took office on Jan. 1, 2019, many business leaders were hopeful she would work closely with the Legislature to improve the overall state economy. But the results since that time have been mixed. For example, her campaign pledge to "fix the damn roads" has yet to materialize in full.
Within a few weeks of taking office, she announced plans for a .45-cent tax on gas and diesel fuel, but the effort failed. The initiative — poorly considered and lacking bipartisan support — was a harbinger of a take-it-or-leave-it management style that emerged and came to dominate Whitmer's oversight of the state's $62.8-billion annual budget.
Consider her proposal for the fuel tax, which many state legislators only learned of when it was announced. It also lacked support from likely voters. According to a statewide poll by Marketing Resource Group in Lansing, taken in April 2019, soon after the governor's announcement, 75 percent of 600 likely voters opposed the nearly-triple tax on fuel.
The effort to reform Michigan's auto insurance laws, on the other hand, generally received bipartisan praise. The measure was signed on the porch of the Grand Hotel during the Detroit Regional Chamber's annual Mackinac Policy Conference following the 2019 Memorial Day weekend. That's not to say it's been a smooth process; the legislation took effect last July, and residents and businesses are still working through all of the changes.
Since that victory splash, other successes have been fleeting.
Auto insurance reform "was a huge bipartisan win and compromise that was supported by (everyone from) the Republican leadership in Lansing to the mayor of Detroit," says Sandy Baruah, president and CEO of the Detroit Regional Chamber. "That was one of (the governor's) early wins, and we were hoping that would set the tone for a collaborative, less-partisan approach in Lansing. Unfortunately, it didn't turn out that way."
By September 2019, Whitmer's pledge "to continue the culture that Gov. Snyder created in Lansing" was out the window. Snyder inherited an economic mess when he took office in 2011, both from the Great Recession of 2008 and the policies of former Gov. Jennifer Granholm, now U.S. Energy Secretary.
To be fair, Granholm also inherited a troubled economy, and while she had some success in generating green energy jobs (via subsidies) and creating the No Worker Left Behind program, which provided some 150,000 unemployed and underemployed workers with free community college training, she left a budget shortfall of more than $1 billion, in addition to her stifling Michigan Business Tax. In turn, the cost to attend state universities doubled on her watch.
Snyder, meanwhile, worked across both political aisles, eliminated the Michigan Business Tax, cut numerous other levies and regulations, and provided annual budget surpluses that were the result of working closely with the Legislature to reach agreements months before the start of each fiscal year (Oct. 1).
His one major shortfall was the Flint water crisis, where he was slow to recognize the severity of the problem. The disaster was compounded by the fact that some staff members misled him about the after-effects resulting from the City of Flint's decision to disconnect from the Detroit Water and Sewerage Department and restart an existing water treatment plant along the Flint River, as it waited for a pipeline to be built from Lake Huron.
By all accounts, Whitmer had it much easier than her predecessors. She started with a budget surplus, an economy that had expanded for eight straight years under Snyder's watch, and a lean government operation. During her campaign, Whitmer pinned her greatest objective to fixing the state's aging roads and infrastructure. Snyder had tried to address the same challenge, and in April 2015 he signed a long-term road funding package into law that raised fuel taxes by $600 million a year. It also would draw another $600 million in state spending.
By September 2019, after her tax hike proposal was soundly rejected among legislators and likely voters, Whitmer reversed course. Rather than follow her own pledge to work with Republicans, she went into attack mode. She refused to meet with the Legislature following that Labor Day.
By month's end, lawmakers delivered to her desk a balanced budget. But five hours before the start of the 2020 fiscal year, and without warning, Whitmer vetoed 147 line items totaling $947 million in the state budget, including $375 million in proposed spending on roads (while calling for tax hikes via a $3.5-billion, five-year bonding program that didn't require Legislative approval. The first $800 million in bonds were sold in September 2020). The move, believed to be the most aggressive use of veto power by a governor, came after she seemingly agreed to the new spending plan.
Whitmer repeatedly said she wouldn't sign a 2020 budget that didn't include a comprehensive road funding plan, but she abandoned that position Sept. 9 in the face of a looming state government shutdown. At that time, she and Republican leaders agreed to focus on finalizing the budget first, and return to road funding talks later.
GOP leaders said Whitmer walked away from budget negotiations on Sept. 11. She denied that and accused them of wasting time during their summer break. Fast-forward to her second State of the State address on Jan. 29, 2020. Rather than continue taking the lead on finding a solution to road and infrastructure funding, Whitmer abandoned the negotiating tactics of her predecessor and called out lawmakers.
"We still need the Legislature to come up with a real, long-term solution to fix the roads," she said. "So next time you're driving down your local street and hit a pothole or see a bridge closed, call up the Republican leaders in the Legislature and encourage them to act." Still, she added she was "ready to work with anyone who's interested in solving problems."
That spirit of cooperation was missing, though, when she signed off on her midnight vetoes on Sept. 30, 2019. Among thousands of jobs and essential services affected were K-12 schools (more than $128 million from the School Aid Fund), higher education, tourism, agriculture, transportation, and health care (hospitals, autism, pediatric psychiatrists, neonatologists, and nurses).
Many of the vetoes have since been restored by the Legislature, even as Whitmer continued to berate Republicans who hold majorities in the state house and senate. Had she followed through on maintaining a good working relationship with lawmakers, such a cooperative spirit would have been welcomed in light of what was to come.
As soon as Michigan reported its first two cases of COVID-19 on March 10, 2020, Whitmer declared a state of emergency. Three days later, she began announcing orders restricting activities like in-person learning and large gatherings while closing bars, restaurants, gyms, theaters, hair salons, and other businesses. On March 23, she issued a stay-at-home order for nonessential workers that would last until June 19. Businesses started to reopen in the fall, but some were closed again as cases spiked. Most businesses still are operating under capacity restrictions that negatively affect revenue.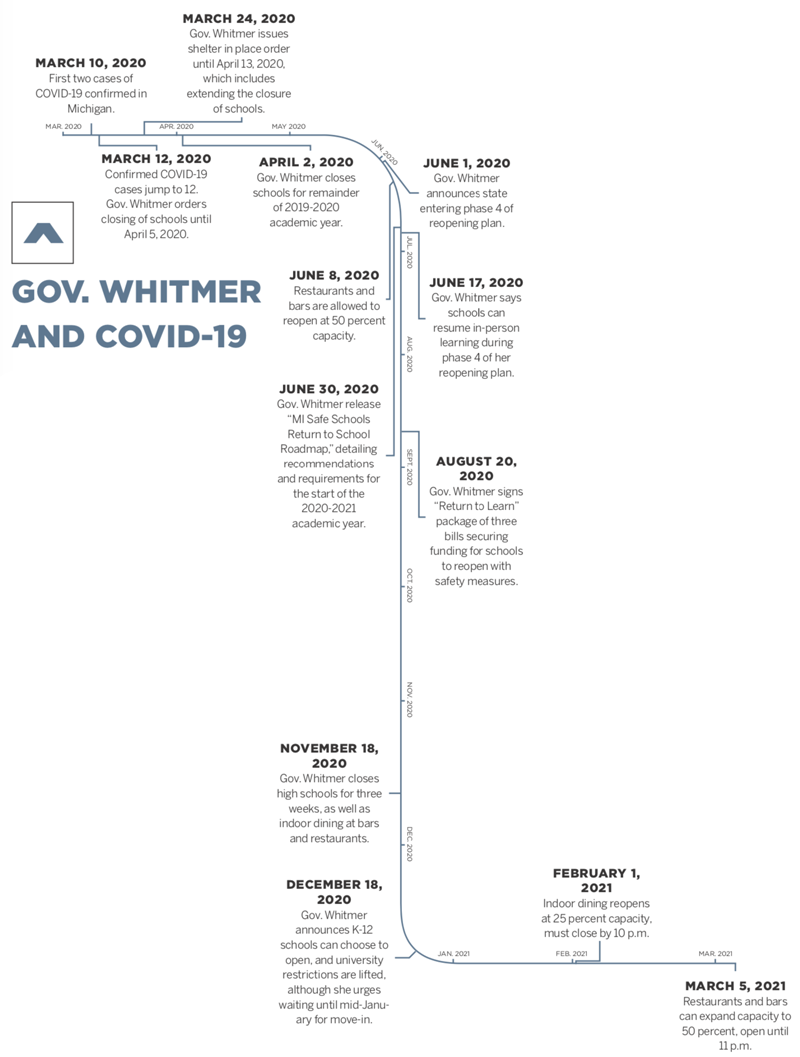 The closures were joined by missteps and misadventures, such as seemingly working full-time for the Democratic Party to prevent the re-election of President Donald Trump last November. Among dozens of appearances on national news shows, she had a small "8645" sign in view of the camera during a Sunday morning interview on "Meet the Press" last October. The numbers are a reference to getting rid of something (86) and the 45th president.
In the weeks that followed the state shutdown, "Her administration neglected to request FEMA assistance, which delayed aid to Michiganders," says Laura Cox, former chairman of the Michigan Republican Party, critiquing the governor's response to the virus. "Whitmer waited until 44 other states had already requested a waiver from the Center for Medicare/Medicaid Services before doing so herself, once again delaying aid.
"Worst of all, her overreaching stay-at-home order led to Michiganders being banned from buying paint, gardening supplies, visiting family, and caring for their properties. Meanwhile, over 1 million Michiganders have now lost their jobs."
Cox also called for Whitmer to testify about the nursing home policies she instituted following the virus outbreak, including sending infected residents from hospitals back to their nursing homes rather than setting up safe satellite facilities. Consider that nearly a third of COVID-19 deaths in the state, according to information released to date, came from nursing homes.
During the same period, the state's first field hospital at the TCF Center in downtown Detroit was shut down on May 1, 2020, after treating just 39 patients over a three-week span. The facility could have been converted to handle infected seniors, but Whitmer passed on the opportunity.
The $9 million TCF Regional Care Center was set up to handle as many as 1,000 patients. A similar facility, which rented for as high as $1.1 million a month at the Suburban Collection Showplace in Novi, treated a total of 16 patients. In spite of such a low number of patients, Whitmer extended the lease at Suburban Showplace through the end of 2020.     
"Gov. Whitmer has, time and time again, gone at it alone, and Michiganders have suffered. Instead of working with the Legislature to get through this crisis, Whitmer put her own executive power before our seniors," Cox says. "The people will not look back kindly on this mistake and will remember Gretchen Whitmer chose her own political career over them."
Leaders of businesses affected by the lockdowns also took a dim view of Whitmer's orders.
Paul Glantz, co-founder and chairman of Emagine Entertainment in Troy, which operates 13 movie theaters in Michigan and several more in Minnesota, Illinois, and Wisconsin, concedes that early in the pandemic there were a lot of unknowns, but since then there have been opportunities to learn from larger states such as Florida and Texas.
"In fairness, a year ago, none of us knew what we were facing," Glantz says. "But there was ample opportunity to learn and to collaborate, which is one thing that's been poignantly missing in the state of Michigan.
"I would simply contrast it to Gov. (Ron) DeSantis in Florida, who has an older population and didn't apply the serious lockdowns, and the facts show that they have a lower death rate per 100,000 from COVID-19 than Michigan," he adds.
According to Statista, Florida recorded 157 deaths from COVID-19 per 100,000 people as of April 8, 2021, compared to Michigan's 174 deaths. The argument remains that Florida has fewer COVID-19 deaths than many states, with far fewer lockdowns and less damage to its economy. The same scenario occurred in Texas, another state that has a much higher population than Michigan — the April 8 figures showed 169 deaths per 100,000 people from the virus.
Glantz also objects to Whitmer's more recent vetoes of legislation that would have abated property taxes for businesses that have suffered because of her orders. "We had to pay both our property taxes while being deprived of the right to use those assets in a productive fashion," Glantz says. "That would have provided some relief to those (from whom) she has taken away the right to do business."
Brian Calley, president of the Small Business Association of Michigan and the former Republican lieutenant governor, also objected to Whitmer's numerous vetoes.
"Small businesses have taken an extraordinary toll because of this pandemic and the state's response to it," Calley says. "The overwhelming majority of small business owners have sacrificed their economic health willingly, with a high degree of fidelity to government rules and restrictions. They have faced a public health crisis and an economic crisis. The State of Michigan's approach has been extraordinarily detrimental to small businesses, usually far exceeding national norms in pandemic responses.
"We worked hard to ensure that small business support wasn't tied to (the) curtailment of any emergency powers because we didn't want the governor to have to pick between emergency powers and supporting small business," Calley continues. "She could have done both, because small business support wasn't tied to emergency power reductions."
Others in the business community are more charitable in their assessment of Whitmer.
"Overall, I think you have to give the governor strong marks on (the) COVID-19 response," Baruah says. "Do I disagree with some of the decisions she made? Absolutely. Clearly, she took a big swing with the .45-cent gas tax and missed, and I would say pretty spectacularly."
Baruah, who before overseeing the Detroit Regional Chamber worked in the George W. Bush administration for eight years, including serving as U.S. Assistant Secretary of Commerce and acting administrator of the U.S. Small Business Administration, compares Bush's response to 9-11 with Whitmer's response to COVID-19.
"After 9-11, President Bush said to the nation that his priority was keeping America safe," Baruah explains. "In the course of that, there were a lot of decisions made to protect American lives that were very controversial, ranging from having to take off our shoes at the airport to various surveillance programs. Gov. Whitmer kind of took a similar approach; no one else in the state has this job of keeping all Michiganders safe."
Eric Lupher, president of the Citizens Research Council of Michigan, an advocacy group in Livonia that promotes sound governmental policy through factual research, notes that the road funding issue still remains.
"There are some roads getting fixed on her watch, which she can control, but that's only 10 percent of the entire system," Lupher says. "So we have 90 percent of the roads under county or city control, and those are no better off than before she was elected."
As Whitmer approaches re-election next year, she has a long to-do list to accomplish. In her third State of the State address on Jan. 27, 2021, she took a more conciliatory approach to seeking cooperation. "To the Legislative leaders tuning in: our job now is to fix the damn road ahead — together," she said. "Let's commit to the strong bipartisan action we took last year and focus that same energy to end the pandemic, grow our economy, and get our kids back on track."
A few weeks later, though, she was back in attack mode. On March 9, she signed into law several COVID-19 relief and response measures but vetoed $652 million in spending for unemployment assistance, property tax relief, and non-public school and summer school funding because, she said, it was co-joined with limiting her authority to issue virus-related orders without working with the Legislature. Of the $652 million effort, she said it was "a reckless idea, poorly executed, and poorly timed."
Facebook Comments