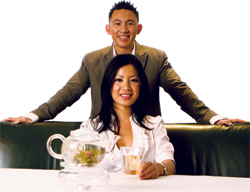 Tea, like wine, has been around for centuries. And while its past image as a popular drink for elders clouded its growth potential, rising health concerns and new product lines have recently propelled the industry to new heights. Consider that in 1990, annual tea sales in the United States were $1.8 billion. Last year, industry sales jumped to $6.9 billion — and they're rising.
"The challenge with tea has always been to make it appealing to a younger generation, while answering the concerns of health-conscious consumers," says Phuong Le, president and CEO of Novi-based Ono Tea. "We've met both challenges."
Carving out a niche in the ultra-competitive beverage industry, Phuong, along with her brother, Viet Le, recently introduced 12 lifestyle tea collections that are designed to appeal to a broad — and thirsty — audience. The collection includes organic teas for tots (caffeine-free), athletes, and men, as well as teas for healing, stress reduction, and beauty.
"We set out to establish Ono (a Hawaiian word meaning "delicious") as a premium brand, and complement it with our own line of glass teaware," says Viet, who serves as Ono's creative director. After its launch last fall, Ono Tea is now served in such luxury venues as the Townsend Hotel in Birmingham, the JW Marriott in Grand Rapids, Toscana in Windsor, Signature Market in Detroit, and Revitalize Day Spa in Birmingham.
"The Ono teas have a great quality," says the Townsend's executive chef, Jim Barnett. "The branding is exceptional, and I like that we share the same attention to quality and service."
Adding a personal touch, Phuong, a pastry chef who started her company while seeking an alternative to coffee, creates unique tea blends for her growing client list. "When we serve the tea, it's a whole ceremony," says Michael Lyman, director of sales and marketing for the JW Marriott. "When our other guests see it, they want to order it." Down the road, the Les plan a line of bottled ice teas and an educational series. The pair, in partnership with Clawson's Black Lotus Brewing Co., also recently introduced a micro beer made with Queen Jasmine tea.
Facebook Comments