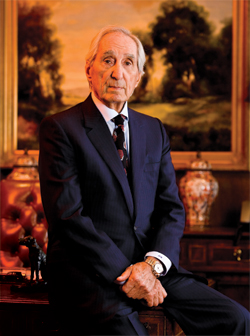 Large, powerful companies often rise from modest beginnings. Take Henry Ford, for instance — an engineer for the Edison Illuminating Co. who labored late at night in his garage for two years until 1896, when he perfected an unusual little vehicle he dubbed "the quadricycle." Just a few years later, he launched Ford Motor Co., one of the most celebrated companies in American history. While Ford's rise to prominence is rare, other entrepreneurs have shared his passion for success (and his utilitarian roots).
Take J. Peter Ministrelli, who with his brother, Marvin, began Ministrelli Brothers Construction on Detroit's west side in 1951. With $300 from their mother, a Model A from their father, a rented trailer, a wheelbarrow, and two shovels, the pair created one of Michigan's most successful residential-building companies.
Today, Peter Ministrelli is building multimillion-dollar homes on one of the country's most exclusive sites — Stone Eagle Golf Club in California's famed Palm Desert (where Bill Gates is a founding member). Closer to home, Ministrelli is financing the development of a $40-million resort community in northern Michigan, overseeing millions of dollars in philanthropic gifts, and restoring some of the world's finest classic cars.
From their modest start, Ministrelli and his brother went on to become the largest paving contractor in Michigan. Ministrelli, 84, was also a partner in Chateau Estates, a mobile-home company with thousands of residents living in 38 states.
After taking the mobile-home company public in 1993, Ministrelli sold his shares and began splitting his business between West Bloomfield Township and Palm Springs, Calif. In upscale West Coast communities like Indian Wells, Rancho Mirage, and Palm Desert, he flourished as a developer of luxury homes — more than 500 and counting, ranging in price from $1 million to $5 million in prestigious residential golf developments — while continuing to operate Ministrelli Construction Co. in West Bloomfield.
Along the way, the soft-spoken, unassuming entrepreneur, who's almost never seen without his Detroit Tigers baseball cap, became a breeder of world-class, award-winning Arabian horses, a hobby he eventually gave up for his current passion of collecting and restoring rare vintage automobiles.
Now in the midst of Michigan's economic doldrums, Ministrelli has brought his California residential golf-development experience to Michigan, in rural Stanwood, just south of Big Rapids in Mecosta County. He and his nephews, Ron, Rich, and Bob Marino, last year bought the award-winning Tullymore Golf Club and 470 surrounding acres for development. They also purchased Tullymore's companion course, the 13-year-old St. Ives Golf Club.
With Ministrelli's financial backing and development expertise, the brothers are in the first phase of creating a resort community of 600 homes, called the Villages at Tullymore. The Marinos and Ministrelli are counting on the two nationally recognized courses to draw attention to the burgeoning community and to make it a destination for discerning golfers, as well as for vacation-home buyers and retirees.
"I hear people say, 'Are you nuts building now with the market the way it is?'" Ministrelli says. "I've been in this business since 1955 building homes, and they have these peaks and they have these valleys. Now we're in one of those valleys. The only unfortunate part is the valleys now are deeper, and the peaks are higher."
Ministrelli says the key to success in a depressed economy is having the staying power to outlast the bad times. "Do I think in my mind that Michigan is going to hell? No. It's probably going to be rough in 2008 and 2009, but it's going to come back. It always has in the last 55 years. Besides, why would you want to buy when times are good and prices are high?"
Ministrelli and the Marinos are following the same game plan that Ministrelli executed with great success early in his years in the arid California desert. He sought out distressed properties in foreclosure, bought them for the right price, and redeveloped the land into single-family home sites.
"When we shut down the paving operation, I went out there in the early '90s and tested the market," Ministrelli recalls. "Real estate was in the pits, and I picked up one condominium property that was in foreclosure and turned it into home sites and did very well with it."
Ministrelli says he hews to an old adage: "You sell when people want to buy, and you buy when they want to sell."
Among his residential-development credits are dream home communities in California, such as Artisan in Rancho Mirage, the Reserve at Palm Desert, and the Village at Indian Wells Country Club in Palm Springs. Ministrelli's signature at each of those developments is also present at Tullymore. The entrance is dominated by a prominent statue (in this case, a golfer), and complemented with attractive landscaping and a graceful brick driveway.
But drawing home buyers may be as challenging as scoring a hole-in-one. The nation's economy is caught in a downdraft due to a weakened housing market, troubles on Wall Street, rising energy prices, a slow job market, and a credit crunch. Ministrelli doesn't seemed to be concerned about the turmoil. Rather, he presses ahead, believing the market will eventually turn around.
In addition to single-family homes and condominiums at Tullymore, plans call for an upscale club that will offer fractional-ownership residences. Future plans call for a hotel, along with stores, restaurants, and recreational facilities.
Ministrelli and the Marinos believe that the natural beauty of the area — rolling, forested countryside, several lakes, and lush-green golf courses — will be major draws. It's also in proximity to affluent cities like Midland and Grand Rapids.
The Marinos know midwest Michigan well. Each of them has owned cottages in the area for years and has seen the development of the Tullymore and St. Ives golf clubs. They also saw an advantage: There was little or no marketing of the properties by the previous owner to capitalize on the national recognition that Tullymore has earned.
Designed by Jim Engh, a nationally known golf-course architect from Colorado, the course was selected by Golf Digest magazine as the best new upscale setting in America when it opened in 2002, and has since been included in several other editorial ratings of the nation's best 100 courses.
The 13-year-old St. Ives Golf Club, featuring a French-style clubhouse, was designed by Michigan architect Jerry Matthews. The course has also won numerous national and state awards. The Ministrelli group is upgrading and renovating that facility, as well.
Ministrelli is betting that buyers will react the same way to the Tullymore development as a recent well-traveled vacationer from Arizona. "He's used to playing those great courses out there," Ministrelli says, "and he played our courses and raved about Tullymore. He was so impressed, he bought the very first condo in the project."
The eight condominium models under construction range in price from $269,900 to $292,900, and are scheduled to open in June. The pace of sales will dictate how many more homes are built, and when. It's the same game plan many other builders around the country are following. While in good times builders are more apt to construct spec homes to keep their labor force humming while meeting prospective demand, they turn more cautious when the economy turns sour.
In true Ministrelli style, Ron and Bob Marino, who own and operate Glencorp, an earth-moving company in Shelby Township, built the roads and all other infrastructure for the Tullymore expansion. Their company also dug a 13-acre lake to create 50 waterfront lots amid 97 single-family lots. The savings they realized from doing the work in-house will be passed on to their customers.
Tullymore also recently gained approval to place its fractional-ownership condominiums in the Resort Condominium International's Registry Collection of worldwide exclusive time-share properties — no small task, given the registry's stringent requirements.
Also on schedule for an opening this summer is Tullymore's spectacular $7-million, 15,000-square-foot clubhouse and pro shop overlooking the 18th hole. The developers chose Jim Nordley, a nationally recognized designer with Michigan ties, to design the clubhouse. Nordley is a Cranbrook graduate with offices in Denver and in Naples, Fla. Among his notable Michigan designs are the Inn at Bay Harbor, the Bay Harbor Yacht Club, the clubhouse at Forest Dunes near Grayling, and the clubhouse at Oakhurst Golf & Country Club in Independence Township.
Tullymore is also touting its award-winning chef, Rex Smith, who has quite an impressive background as an executive chef for corporations like the Kellogg Co., as well as for notable restaurants on the west side of the state.
Local officials, meanwhile, are hopeful that Ministrelli and his family can produce steady sales. "I think [Tullymore] is a tremendous asset … and will especially benefit the businesses in that part of the county," says William Merdza, executive director of the Mecosta County Development Commission. In addition to providing a substantial spike for the area's tax base, the project now is providing 300 to 400 construction jobs, Rich Marino says, and will eventually account for 250 permanent jobs — a big boom to the rural market.
State Rep. Darwin Booher (R-Evart), whose three-county district includes Mecosta County, says the project is a huge and welcome investment. "Considering the economic times, it's a gamble for the developers," he says. "The thing that impressed me the most, however, is that they haven't asked the state for anything. They're doing it all with their own money."
Facebook Comments