Polish inventor Andrew Niemczyk, who moved to Hamtramck in 1984 to escape the iron grip of communism in his native land, appears to have discovered the fountain of youth — at least for trees and vines.
Following two years of research and development, Niemczyk — who for more than 20 years worked at Ford Motor Co.'s Rouge Industrial Center fixing and enhancing plant equipment and assembly systems — designed an extrusion system, along with two portable hydraulic drilling rigs (HAZL and MAZL), to speed the installation of plastic tubes that allow trees to better access nutrients below the earth's surface.
The offering, called NEPS, for Nutrient Enrichment Passive System, can best be described as an 8-foot-long straw. Each plastic tube has a slight opening from top to bottom that allows nutrients to flow upward in the soil, where they can better interact with the root systems of trees and vines.
The patented solution came from Niemcyzk's realization that nutrients never leave the soil; rather, they're washed farther into the ground by rain, gravity, and natural pressure. "NEPS brings nutrients to the roots of the trees so the roots don't have to fight to grow stronger," says Niemczyk, chairman and chief technology officer at Exlterra in Hazel Park. "When roots struggle to find nutrients in the soil, they start to spread out rather than stay beneath the surface. When you see large roots at ground level, it means the tree is struggling to find nutrients."
Frank Muller, a native of Switzerland, joined the company in 2013 as its CEO and leads the business side of the company, while Niemczyk develops the technology. Muller invested in the business after meeting Niemczyk a few years ago, and has since moved his family to metro Detroit. He and Niemczyk travel extensively to promote Exlterra's product line.
"When we put NEPS around the tree with a specific pattern, which is four NEPS's per tree just outside the canopy of the tree (each set at 90 degrees), what will happen?" Muller asks. "NEPS will facilitate the movement of nutrients toward the root system from the bottom up, which is exactly the opposite of what everybody's doing now. Everybody goes top-down with fertilizer, which is diluted and often washed away before it gets to the roots."
Tree roots usually don't go down farther than 2  or 3 feet, but Niemczyk and Muller believe the best nutrients are 10 feet down or more, and the NEPS extrusions have the effect of redirecting them back to the roots.
Can it really be that simple? If you drill four polyethylene extrusions into the ground and wait for the nutrients to start coming up to the roots, will it really result in healthier trees?
The proof is in the results, and in order to demonstrate its technology, Exlterra developed an initiative called NEPS and the City. The program offers local communities the opportunity to try NEPS for $100 per tree. From there, the communities monitor the results.
Participants in NEPS and the City include local municipalities like Grosse Pointe Shores, Hazel Park, Ferndale, Birmingham, Bloomfield Township, and Detroit. Two cities in Switzerland also participated. Most of the installations were completed in fall 2018.
Ed Klobucher, city manager of Hazel Park, says the city is happy to have invested grant money in the service, especially for a local business. "Through our recreation department we received a grant from Re-Leaf Michigan, and they gave us several trees for Scout Park (near I-75 and Nine Mile Road)," Klobucher says. "Exlterra offered their services with this new program to enhance the survivability of the trees. It's been very successful. We haven't lost a single tree that this program was used for."
It may also save Hazel Park time and money. "We felt it was worth the cost," Klobucher adds. "When you have to remove a dead tree, that takes at least two DPS guys out of service for a day. So if we can have a better level of survivability with these trees, it's actually cost-effective."
Lauren Wood, director of public works for the City of Birmingham, says NEPS made sense for the community. "We were targeting around 20 trees," Wood says. "They wanted to get some good locations from us based on newly planted trees in tough growing areas, or trees that didn't look like they were hanging in there too well."
The targeted locations included West Lincoln Street near Cranbrook Road, and Waterfall Park, alongside Quarton Lake near Maple Road.
"It's only been eight months," Wood says. "Frank just walked around with our forester a couple of days ago and I chatted with Frank, and he's really optimistic. He's thinking after the trees go dormant in the winter, we'll see some really nice results in the spring — a bigger difference than we (see) now after only eight months."
One of the most dramatic examples occurred in Detroit's Palmer Park, where Exlterra installed NEPS around 21 trees out of a possible 40 in a peach orchard near Woodward Avenue and Seven Mile Road. After installing NEPS, Exlterra has monitored side-by-side photos of the NEPS trees and the non-NEPS trees. So far, the NEPS trees appear far more lush and healthy.
Exlterra also did an installation for a church in Escondido, Calif., located a few miles north of San Diego, where trees struggled to grow in a church parking lot median.
The engagement came as a result of a contact with church member John Robertus, who is retired from his job on California's Regional Water Quality Control Board. A few years back, he met Niemczyk. NEPS hadn't been developed at that time, but when Robertus and Niemczyk reconnected, Niemczyk was ready with a solution to the church's problem.
"He drove out here with a truck and his drilling rig, and we put four of those tubes at each tree, and I can tell you the trees are growing exceptionally well, and they're using very little water," Robertus says. "We don't fertilize them and they're doing very well. The previous trees we had in that location did very poorly."
Months later, even within a parking lot island, Robertus says the improvement has been dramatic. "This was a second generation of a concept to enhance natural processes," Robertus says. "It turns out the NEPS system isn't primarily about water. It's about allowing the nutrients from deeper soils to get to the roots of the plants."
Other Exlterra clients include the University of California Riverside and a farm in the Coachella Valley. "We want to work with farmers," Muller says. "We started (a) collaboration with an orange and almond grower in Central Valley in California. We installed one row of 45 almond trees and one row of 29 orange trees, to compare them to those with no NEPS." The company will report the results next year.
NEPS also caught the attention of  R.E. Badger and Son Farm Management, a San Diego-based company that manages 120 farms and was looking for help with a struggling lemon grove. Chuck Badger, a principal of R.E. Badger and Son, asked Exlterra to install NEPS around 75 trees in the lemon grove — even though he acknowledged the idea seemed strange at first.
"There's always the latest and greatest thing, but this idea seemed to kind of make sense, even though it was new to me," Badger says. "We have some real challenges in citrus, so I was certainly willing to let them try."
So far, Badger says the younger lemon trees are responding very well, while the older ones "seem to be fighting it," but are nonetheless showing encouraging signs. Typically in late summer, Badger says much of the fruit still on the trees starts to rot. "The fruit we were cutting yesterday in the test area was really strong," Badger says. "It didn't seem to be deteriorating, even though it's gone through the summer. It's holding up better."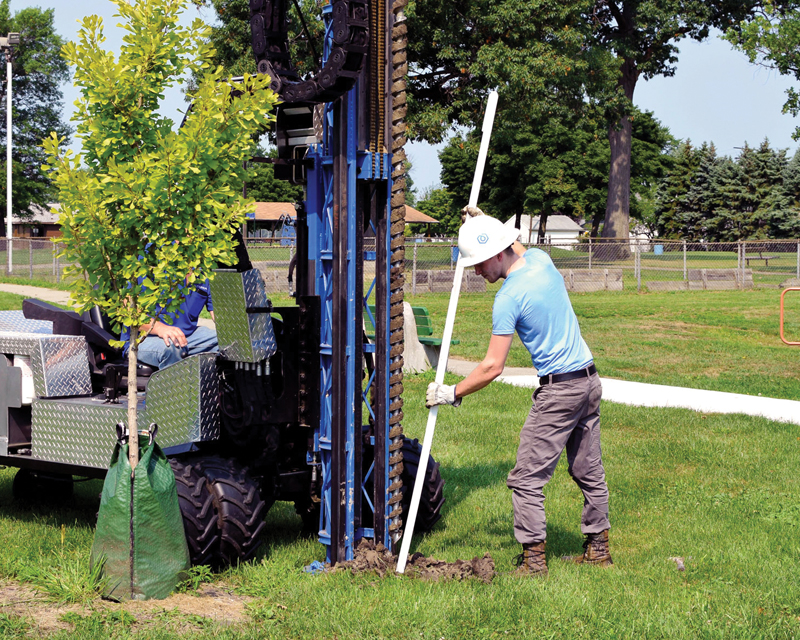 The success of the Badger engagement suggests commercial potential for Exlterra, which sees the agricultural market as a lucrative opportunity. "It's a more sophisticated market because, obviously, we're talking about economics of a tree," Muller says. "How much more does my tree produce with NEPS? How much better is my fruit with NEPS, in terms of quality? How much faster does my tree grow? And what is my ROI if I have NEPS or if I don't have NEPS?"
Muller believes the agricultural market will continue to mature as engagements like the one with Badger allow Exlterra to collect the data that will answer those questions. He also believes the technology produces larger, more nutritious fruit, which will help countries around the world produce more healthy food.
"The growth of the company will come from the sale of our technology," Muller says. "Our technologies are exactly what people are looking for in terms of current trends — high-tech, sustainable, economical, and high-performing."
Part of Exlterra's game plan included the design and production of drilling machines because there was no equipment available on the market that can install NEPS according to the necessary specifications. Exlterra has two different machines, HAZL and MAZL, both of which were designed by Niemczyk. The units are manufactured at the company's Hazel Park headquarters.
The largest machine (HAZL) costs $96,000. It weighs 3,600 pounds, so it's easy on grass lawns, and it can drill as far down as 200 feet. To install NEPS, 10 feet of drilling is necessary. Exlterra is also building a smaller machine (MAZL)that won't need a trailer to transport, will weigh less than 1,500 pounds, and can fit in the bed of a pickup truck.
"We 100 percent understand and control our technologies," Muller says. "We don't depend on external advisers or external experts to develop what we do. We developed our own hydraulic system. Nothing is developed outside. That's important (for keeping) prices lower in the future for people who need to install our technologies."
Exlterra has showcased its technology at global trade shows, including the Green Industry and Equipment Expo in Louisville, which ran from Oct. 16-18. The focus is limited and targeted for now, but that won't be true forever. "We'll focus first on the U.S. and Swiss markets," Muller says. "We also have interest in Asia, and we have interest from one of the largest coffee growers in Brazil."
Exlterra will attract the attention of anyone who loves trees, as well. That includes Canton Township resident Chirag Modi, who lives in a rural area. He learned about Exlterra on the internet. "I have a wooded backyard, and I had a few trees die (and others wither)," Modi says. So he called Exlterra. "I asked them, Is there any way you can save these (struggling) trees for me?" Modi recalls. "They installed the system last year, and I'm already seeing beautiful results this year."
Muller believes nearly any tree can return to good health with the system. "A tree with NEPS will have a better ability to defend itself," he says. "The health system will be much stronger because it has access to the nutrients. Second, the tree will experience stronger growth, which means it will grow faster — but, at the same time, the tree will actually produce more when you're looking at the agricultural world. For any type of fruit tree or nut tree, or simply (a tree used for) timber, the quality of the fruit or nut will be enhanced, and production will increase with NEPS."