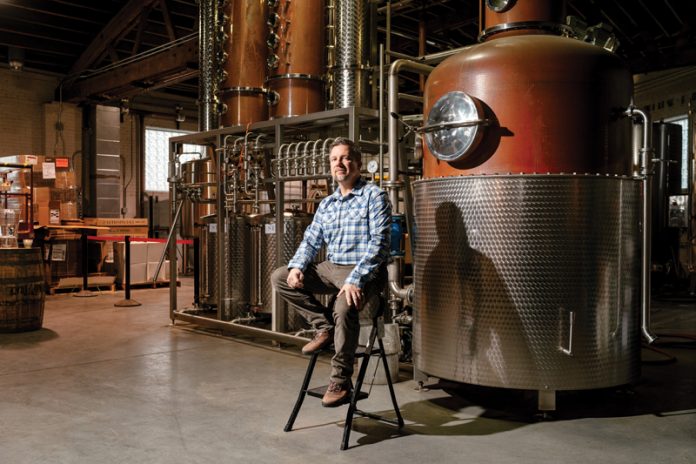 Running two entirely different businesses wasn't part of Rob Cleveland's master plan for success. In fact, there was no plan.
"I was never the kind of person who sat down and said, 'I want to do this or that,' " says Cleveland, founder and CEO of Icon Interactive, a digital marketing agency, and co-founder of Ann Arbor Distilling, both in Ann Arbor.
While Cleveland may lack vision, he's used to change. Born in New Haven, Conn., he grew up in New Jersey and graduated from the University of Michigan in Ann Arbor where he marched on football fields in two Rose Bowls, an Orange Bowl, and a Holiday Bowl as a trumpeter in the U-M Marching Band.
Cleveland's string of business opportunities began while working as an associate editor at Wards Communications, first in Detroit and then in Southfield. One of his first projects was to help establish Wards' first website.
That experience led him to create websites from home and, in short order, he launched Icon Interactive in 1995. "My first freelance job paid twice my annual salary, so that pretty much led me to start Icon," he recalls.
A second opportunity, which Cleveland himself calls happenstance, presented itself when an automotive executive saw a post he wrote on a computer programming forum.
"Someone from Toyota happened to see me advocating for a particular computer programming language and asked me to come in for a visit," Cleveland says. "It took about a year, but we ended up building a system that streamlined and automated their prototype parts procurement process. It ran for about seven years."
From there, Icon Interactive has evolved into a digital marketing agency that provides web solutions, mobile apps, content development, social media assistance, advertising and analytics, and training to clients worldwide. In 2019, the company posted close to $20 million in revenue.
In addition to clients like Audi, BMW, Delphi, Fiat Chrysler Automobiles, Jaguar, the University of  Michigan, Volkswagen, Toyota, and Subaru, Icon has worked with the Beastie Boys, Bob Dylan, Jennifer Lopez, and Katy Perry.
"We do a lot of experiential stuff" where we "display information with the contemporary tool sets that are available: holograms, virtual reality, and augmented reality with gesture-based controls, to give people an interactive experience," Cleveland says.
All of the technology is used to create training programs.
We taste everything to see if we're where we want to be. In one way, it's very analog, not anything like Icon, but we apply similar business practices."

— Rob Cleveland, Icon Interactive
"We now have a lot more computer power and much more cost-effective equipment to use to train someone in how to drive a bus, for example, before they have to burn gas in an actual bus," he explains. "Because it's software, it's changeable when your rules change and as your equipment changes.
"One thing I've learned working with the steel industry is how expensive a hydroform press is," Cleveland continues. "This is a way to teach someone how to use something before they get their hands on it."
In addition to its Ann Arbor headquarters, Icon has offices in Boston and New York, as well as a 2,000-square-foot space in downtown Detroit. The latter space, located along Brush Street near the Music Hall Center for the Performing Arts, features high ceilings and plenty of exposed brick and wood.
Beyond working from a setting that taps into Detroit's industrial roots, Cleveland says the new space solves a logistics challenge. 
"About a year ago we noticed that the Ann Arbor office was getting pretty full, and we also started hiring people who live well east of I-275," he explains.
Another reason for the move, he says, was that Detroit is where the clients and potential clients are. "It was a good-overall, fun move, and I'm pretty sure it'll pay dividends," he says. "I'm glad to be here and participate in Detroit's resurgence in some small way."
In addition to making the most of opportunities that have come his way, Cleveland says hiring the right people has contributed to the growth of his enterprise.
"I've done everything at this company — poorly," he says with a humble chuckle. "I've done design, programming, accounting, everything. Everybody I've ever hired is way better at doing everything than me."
Today, Icon employs 80 people — but success, Cleveland says, doesn't come from growth. "I don't really care about how big we are," he says. "I care about how well we're doing."
Success, he adds, also comes from exploring new ideas. To that end, on Dec. 5, 2015 — the anniversary of the repeal of prohibition — Cleveland set up a distillery in the garage of his Ann Arbor office building. He dubbed it the Ann Arbor Distilling Co. "We stayed up all night thinking about that name," he jokes.
"Several years ago, we bought a 100-plus-year-old building on the north side of Ann Arbor because it was cheaper than renting," Cleveland says. "It had this really awesome 5,000-square-foot garage with a drop ceiling. At the time, there was a tenant making wiring harnesses. After we'd been in there a year, the tenant said the ceiling fan had stopped working, so I threw a ladder up there and found these amazing, magnificent wooden arches. As soon as the wiring harness guys left, we took the ceiling down."
One of his friends suggested putting a distillery in the space. "It was going to start out very tiny, with a little tasting room," Cleveland recalls. "Then four guys I knew said they wanted to play, too. By the time we got everybody's money in, we were able to open up a real going distillery."
It took two years of crossing the regulatory T's and dotting the administrative I's at the federal, state, and city levels before Ann Arbor Distilling Co. opened.
Today, with annual revenue of close to $1 million, Ann Arbor Distilling Co. offers seasonal gins, vodka, bourbon, rye, Michigan whiskey, peppermint schnapps, a coffee liqueur, four fruit liqueurs, absinthe, and cherry eau de vie.
"We try to make something that's a little left of center and try to convince people to give ours a shot," he says, noting that his fate — and that of other craft distillers and brewers — comes down to brand recognition. "Our biggest point of inertia is education, or an awareness that you can get something that tastes better. You don't have to buy the stuff that you have to choke down or have to mix with something to disguise. It's very competitive."
Cleveland notes that while Icon Interactive utilizes state-of-the-art technology to succeed, the distillery is run in a bit of an older-school manner.
"We don't have spectrometers and other equipment to tell us about the quality of our spirits," he says. "We taste everything to see if we're where we want to be. In one way, it's very analog, not anything like Icon, but we apply similar business practices.
"The best part about having Icon Interactive and Ann Arbor Distilling in the same building is that I never have to walk very far to get a cocktail."
Facebook Comments