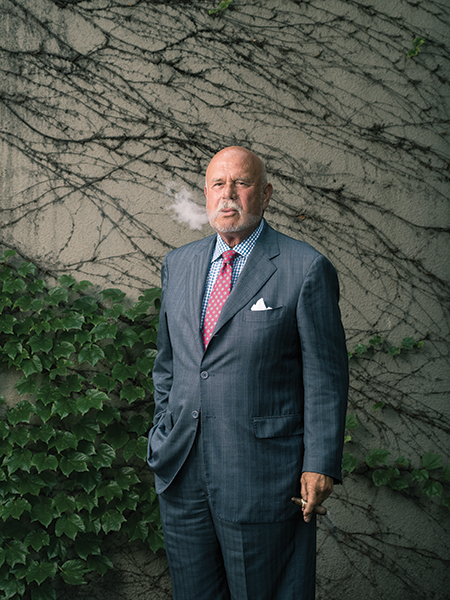 For Peter Karmanos Jr., the last chapter of his storybook career at Compuware Corp. didn't end with the flourish he might have envisioned. Rather than an enjoyable retirement party where Karmanos planned to introduce his longtime clients and key contacts to the new management team, it all came to a close with a trail of tears.
It happened on a late Friday afternoon at 220 Merrill, an upscale restaurant in downtown Birmingham, when his successor, Compuware Chairman Gurminder S. Bedi, began crying as he handed Karmanos a one-page memorandum from the board that thanked him for his services and terminated his six-year, $3.6-million consulting contract and the $4.1-million vested stock he had with the company he co-founded in 1973 and built into a technology powerhouse.
"He handed me this note and started crying," Karmanos testified in an arbitration hearing earlier this year. "I said to him, 'Gurminder, you really don't want to do it this way,' and he said, 'I don't have any choice.'
"I said, 'Gurminder, stop crying, we've known each other for a long time,' and he said, 'I don't have any choice,' " Karmanos said. Asked for the reason for his dismissal, Karmanos said Bedi told him the owners of a New York hedge fund that was attempting a hostile takeover of Compuware had told the company to get rid of him.
That bit of theater, the corporate infighting, the lead-up to his firing — which Karmanos says was built on a lie — and the roles his handpicked successors played in the almost-overnight implosion of what was one of Michigan's largest companies, is revealed in thousands of pages of once-sealed transcripts released earlier this year by top Compuware executives and board members in response to a wrongful termination lawsuit Karmanos filed against the company in late 2013.
Last February, when an arbitrator awarded Karmanos $16.5 million, the company's appeal and subsequent decision not to block the opening of the sealed files provided testimony from the key players of the Compuware saga (a Wayne County judge ruled Compuware had to pay Karmanos the money while the case is under appeal). Karmanos had stepped down as president and CEO of Compuware in June 2011, although he remained executive chairman until the end of March 2013.
From exclusive interviews with Karmanos and others involved in the saga, it's clear some of Compuware's management team and board members wanted to show Karmanos the door.
Bob Paul, who Karmanos says wasn't an ideal choice as his successor, had joined Compuware three years earlier after the company acquired Covisint Corp., where Paul was chairman and CEO. Karmanos says he interviewed several replacements the board had recommended, but no one stood out.
Cost-cutting
With his retirement looming, Karmanos says he was running out of time and decided to support Paul as his replacement. At the time of the handoff in 2011, Karmanos says he made it clear to Paul that with four sons under age 5 at home, he wanted out. He was going to spend more time with his wife and family, and he pledged to retire as chairman on March 31, 2013, when he was 70 years old and had fulfilled 40 years at Compuware.
In the summer of 2012, however, Elliott Management, a New York hedge fund, began circling Compuware, started accumulating company stock, and demanded seats on the board. Paul responded by cutting costs, laying off employees, and, for the first time, paying an annual dividend to shareholders — a strategy Karmanos predicted would fail.
"When you're in this kind of business, the software business, cost-cutting isn't the way you can grow the business," he says. For instance, Compuware lost an $80 million General Motors deal to Hewlett Packard because Paul's cost-cutting included canceling a $3 million annual sponsorship of GM's Corvette racing division, Karmanos testified.
He also noted that a lot of the amenities at Compuware — like a day care center and a wellness center — were originally added so the company could better compete with Silicon Valley for talented workers. "It's not that we wanted to spend money, but it was important to build the kind of organization here in the Midwest that rivaled anything the Valley was offering," Karmanos says. "We needed to have a very attractive place to work to compete with the West Coast. That's why it's important to take care of the employees."
The tension was thick in the halls of the 15-story Compuware headquarters in the two years after Karmanos' retirement as president and CEO. It was so bad, Paul regularly took the freight elevator to his top-floor office to avoid employees concerned about their jobs, Karmanos testified. But even as Karmanos publicly denounced the takeover bid, Paul and the board of directors preferred to play nice with the hedge fund's owners.
Karmanos says that was a mistake. "(Corporate) activists have taken advantage of the laws that were written to protect shareholders, and weak management becomes a victim of all this stuff, and if you don't have some intestinal fortitude you become a pawn of this whole thing. And that is basically what happened here."
Nine months after Elliott's unsolicited takeover bid, Jesse Cohn, the hedge fund's portfolio manager, had threatened board members Bedi and Fritz Henderson, former CEO of GM. Cohn was prepared to reveal what was potentially embarrassing information about the board members and their families, testified Compuware board member Bill Grabe.
"I obviously have had some time to think about what happened, and I was telling an attorney who is on a board with me in Ohio what Elliott, the activist, did to a couple of our board members," Karmanos says. "What they did was call them to New York and presented them with some dossiers with some embarrassing information — I think, in this case, about their children. She looked at me and said, 'People don't do that, that's against the law.' I said, 'They do, and they do it with impunity.'
"Those two directors came back (to Compuware) and wanted to double the number of directors they would give to Elliott," Karmanos says. "One of them passed it off (as if) it happens all the time. It's never happened to me. Nobody ever put a dossier in front of me and told me we want you to do this and that, and if they did, the first thing that would happen is I would get arrested for assault, and the second thing that would happen is they would get arrested for blackmail."
In the months leading up to his 2013 retirement as chairman, Karmanos says he spent a lot of time with other executives crafting a plan to grow Compuware and Covisint. "We had established what I thought was a great strategy for the company, and if (Paul and his team) had executed (that plan) — and let me just say strategy is easy, execution is the hard part — things would have been much better," he says.
"The thing that doesn't get reported is the whole Covisint thing. In the two years (before he retired as chairman), I turned it over (to Paul and his team) and they were able to evaporate about a billion dollars in value, and what they really did was destroy the business.
"So by the time they took it public (in September 2013), it was (valued) about $400 million, and it should have been $1 billion to $2 billion. The interesting thing to me is nobody mentions that, and when they took it public at $400 million they were unable to execute the Covisint part of it and they ended up with a bunch of lawsuits, which are still ongoing."
Karmanos says part of the growth strategy for Compuware was to expand its enterprise computing offerings, which he projected would double the size of that particular piece of business. "In fact, (Paul and his team) did exactly the same thing (they did) with Covisint and got rid of the business because it was too hard," he says. "It wasn't a good enough business (for them), and they weren't making enough margins. Except the businesses they kept were making less margins.
"I remember the time Bob Paul was crying that it's too hard a job. And I said to him, 'That's why they pay you a lot of money. If it were easy, we would have billion-dollar companies all around the state. It is not easy.' That's a basic overview of what happened."
Exit Strategy
Ever the salesman, Karmanos was cutting deals right up until the time of his retirement. "At the last minute, I put together a strategy for them on the mainframe stuff that was kick-ass," he says. "I sold it to Huntington Bank for $38 million. I sold it to Blue Cross Blue Shield of Michigan, sold it to one or two other companies on the way out the door, saying, 'Hey, guys, this works.' We were able to tie together mainframe computers with distributed processing. It was a glorious opportunity."
But Karmanos says Paul wasn't excited about the deals. It was then he realized he had picked a successor who not only didn't like to make sales calls, he didn't understand Compuware's technology business.
"We're selling technology enterprises," Karmanos says. "We don't sell it to consumers. We don't use Internet marketing to sell $10 million worth of stuff. You have a relationship with (clients). They need to see you, touch you, and depend on you. You are running a multibillion-dollar business with computer processing as the lifeblood of their business, and we're in there selling them stuff that could potentially shut their business down (if it breaks), so they want to make sure when they're buying something that it works.
"What I didn't realize is, first of all, Bob is very slick, and he talks in sound bites about technology, but he doesn't understand technology at all. He didn't understand how to sell to an enterprise. He didn't like it, and I didn't find out until after the fact, so I tried to help him hire really good salespeople, and then every time we got somebody really good he would fire them."
Another concern for Karmanos was that Compuware's board approved double-trigger contracts to Paul, Dan Follis, general counsel, and other top executives. The mechanism is typically a windfall given to employees who make key contributions to companies under takeover attacks. The contracts prevent mass defections and discourage takeovers because of the payoff expense.
"My vision of these double-trigger contracts was that if you have 3,000 people you give them out to the top 2,000 people, because if you're under attack by funds like Elliott, while you're fighting that you don't want (Compuware employees) to be worrying about where their next paycheck is coming from. You don't want them to go out and start looking for jobs. You want to make them feel secure in their jobs."
However, when Compuware was sold, Paul, Follis, and others collected millions of dollars in golden parachutes while hundreds of workers lost their jobs.
Last September, the company was sold to Thoma Bravo, a private equity firm that has a close working relationship with Elliott, for $2.5 billion. The Compuware Building and parking deck that cost $450 million to build was sold to Dan Gilbert, founder and chairman of Quicken Loans Inc., and Meridian Health, for $142 million. Paul's golden parachute paid him $6.7 million, plus $13 million from his stock options. Follis received $2.3 million. What once was Michigan's largest technology company now occupies one floor of its former headquarters.
Following his retirement on May 13, 2013, with Paul's knowledge and approval, Karmanos flew on the company jet to New York to meet with Paul Singer, the owner of Elliott Management, the hedge fund that was circling Compuware.
The meeting, he said, was to convince Singer to give Compuware management time to implement a strategy going forward. Singer suggested lunch in his conference room and they amicably discussed Compuware, Karmanos said. He left with a promise from Singer that Elliott would stand down.
A few days later, things changed drastically. Three minutes before a board meeting was to start, Paul sent an email to Follis, which was shared with the board. Paul revealed for the first time that, during a confrontation with Karmanos at an off-site meeting to honor the company's top salespeople, Karmanos had threatened to join Elliott in the proxy fight against Compuware.
Final Days
Karmanos denies saying anything about aligning with Elliott. But some board members wanted Karmanos fired immediately. No one asked for his side of the story. Instead of a firing, they settled for a written warning, reprimanding their former chairman for his "unauthorized" meeting with Singer (even though Paul had approved of it earlier), and cautioned him not to contact the hedge fund in the future. They also evicted him from the office they had set up for him.
The final straw that led to Bedi delivering the termination memo at 220 Merrill came on Sept. 20, after Karmanos had spoken as the guest of honor at a Goodfellows breakfast in Detroit. As he left the podium, a news reporter asked for his take on the proxy battle over Compuware. Karmanos didn't hold back. He said the hedge fund guys could go "F— themselves," and the Compuware board needed to "get their heads out of their ass."
Board members were apoplectic. That afternoon Paul wrote an email to Bedi that began: "Just got my head out of my ass. My nonemotional reaction is to once and for all get him out of the building, terminate his contract, and let the lawsuit proceed."
By a 9-1 vote, after a 45-minute conference call — and again without talking to Karmanos — the board voted to fire him. Dennis Archer, Detroit's former mayor and a longtime Compuware board member, was the lone dissenting vote. "Dennis was the only one of the board members who said, 'Shouldn't we hear from Pete before we do this?' " Karmanos says.
The Friday, Sept. 27 meeting with Bedi didn't end the saga. The termination didn't take effect until a few days later, on Oct. 1, which meant Karmanos had until the market closed that day to cash in his vested stock options worth $4.1 million. Follis set the deadline.
The markets were closed over the weekend. On Monday, a prior company block on his stock sale wasn't lifted until 18 minutes before the market closed. Karmanos says he didn't realize he had a deadline to cash in his stock, and took no action to cash in the stock options. He said normally he relied on Terri Clark, Compuware's stock administrator who reported to Follis, to keep track of such things and alert him.
In the years he reported to Karmanos, not only did Follis serve the company as general counsel, he became the personal lawyer for Karmanos and later for his wife, Danialle. He assisted them on real estate and tax matters at their Orchard Lake home and another home in Florida. He advised Karmanos on dealings with boards he sat on and his hockey teams, as well as helping Danialle set up nonprofit tax status for her charity, Work It Out.
In his arbitration testimony, Follis said at some point in the lead-up to the firing, he should have told Peter Karmanos to get his own lawyer. "I suppose I should have said, 'You should go to outside … you should go to different counsel.' Yeah, in retrospect, I should have said that. I should have said, 'You should go get a lawyer.' "
What happened next came to light only by sheer luck, says Kevin F. O'Shea, a partner at The Miller Law Firm in Rochester who specializes in complex commercial litigation and represented Karmanos in the arbitration. "We subpoenaed Pete's record with (his broker) E-Trade and were stunned to find out that they record all conversations with clients," he says.
E-Trade's records revealed first a series of emails between Clark and the brokers, as well as a recording of a phone call Clark had with the brokers.
One email after the market closed on Monday informed Clark that the trading block on Karmanos' stock that had been put on hold when he stepped down as chairman had been removed. But because the large number of shares could adversely affect the market if he dumped them all at once, it was important that he call in the morning to get the sale going.
In a deposition during the discovery period of the arbitration, Clark testified that she passed on to Follis the message from E-Trade. "I asked Dan — Dan Follis, you know — 'Should we reach out to him?' and he said, 'No. He's responsible for knowing the content of his agreements.' "
A transcript of a call between Clark and a broker discussing whether the broker should call Karmanos was even more damaging. "Dan's like we — this is not — he does not encourage, you know, contact with him," she said. "So, I mean, I appreciate you guys, you know, being concerned about it but Dan is, like, we have no duty to contact him."
Clark goes on to tell the broker she is screening her calls because Karmanos could be calling. In his arbitration testimony, Follis said he didn't believe Compuware had an obligation to tell Karmanos to cash in his options.
"I told her there's no reason that E-Trade should call Peter, and that I don't believe E-Trade should call him," Follis testified. "He can call E-Trade. Give him — you're free to give him the number; tell him to go ahead and pick up the phone and make the call. They have someone ready and willing and able to take a call."
The records also show that Clark called Karmanos' assistant at 11:39 a.m. on Tuesday, roughly four hours before the market closed on Oct. 1. Karmanos said he wasn't able to call E-Trade until the following morning, and when he did, he was told his account had been wiped clean.
Asked to comment, Follis didn't elaborate. "I would prefer that you rely on the transcript of my testimony," he says. "I testified for eight hours, truthfully and completely, and I have moved on. Other than that, I would rather not comment further."
But that doesn't end the saga. "I've already talked to my attorneys about a suit against the directors and officers, and I don't know yet how I'm going to direct that," Karmanos says. "I'm also considering a shareholder's lawsuit on behalf of my four youngest kids, who got royally screwed by the price of the stock they sold. We call it one more Greek lawsuit."