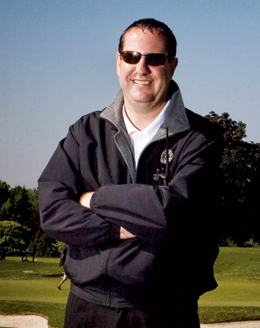 More than a few multimillion-dollar business deals have been consummated during a round of golf at Oakland Hills Country Club in Bloomfield Township. Many of them have come on the fabled South Course, which has played host to several major tournaments, including this August's PGA Championship. And it all begins at the starter's house.
Consider the recent scene as a voice squawks over a walkie-talkie: More balls are needed at the range, and closest-to-the-hole markers are requested for the par-3's on the North Course. A golf bag, still in its travel case, is delivered to the starter's house and needs to be paired with its owner, a non-member rumored to be somewhere on the premises.
This is the epicenter of Oakland Hills Country Club, and Bobby Byerlein oversees it all, embodying the spirit and cool confidence of the commander of the USS Theodore Roosevelt aircraft carrier, a picture of which hangs on the wall of the starter's house, along with photos of Byerlein with Bill Clinton, Larry King, Will Ferrell, Michael Jordan, and Bob Seger.
During a normal year, about 50,000 rounds will be played on the two Oakland Hills courses. Nearly 20 percent of those will be by guests, either with a member or as part of one of the many charity outings the club hosts during the season — and all of them on Byerlein's watch.
"We try to treat every golfer as though it's their first time at Oakland Hills, be it a member who's played a hundred times, or a guest coming for their one and only visit," says Byerlein, 38. "We want each round to be a positive and memorable one."
Like a successful trader on the floor of the New York Stock Exchange, Byerlein maintains a steady hand amid an unpredictable landscape — and it doesn't go unnoticed. "Bobby is the most powerful person in Oakland County," says Oakland Hills member Kim Woody. "On any given day, someone with an over-inflated level of self-importance can come through there, and if everything isn't perfect, all hell can break loose, creating all sorts of negative consequences. Bobby makes sure that doesn't happen."
On a recent spring day, as a group of Villanova alumni heads off to the North Course, a member sticks his head in the window of the starter's house. He thought he had a tee-time; he didn't. But that's not the point; he's with a big client, and he wants to play.
"If you don't mind, No. 5 will be open on the North by the time you get out there," Byerlein says, intuitively knowing every moving part of the property. "We'll have a couple of caddies meet you there.
Facebook Comments