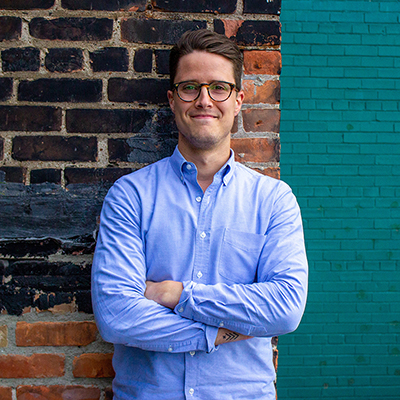 Detroit's future is in the hands of young, dynamic doers who embrace the opportunity to achieve their personal goals and contribute to the greater good of the local community.
One such rising star in our region is 31-year-old Cory Tincher, a senior associate at Detroit Venture Partners. His story is both exhilarating and exemplary. Tincher's story exemplifies the magic that occurs in a young person's life when he or she is given the opportunity to blossom. 
Tincher's story starts in Trenton, where he grew up in a self-described middle-class family. He went on to study accounting at Grand Valley State University, with aspirations of working for the FBI doing investigative work.
After studying accounting, however, Tincher realized he didn't want to work full time as a bookkeeper. He also questioned whether he wanted to start his career in the Detroit area. A chance meeting with a friend would change everything and set Tincher on a course that provided him with a clear direction, along with a purpose.
Tincher recounts his friend mentioning how much she loved working at Rocket Cos. and being part of the Dan Gilbert family of companies. Admittedly, at the time he wasn't entirely familiar with Rocket Cos. or Gilbert.
Nonetheless, Tincher's friend set up a meeting for him with a Rocket Cos. recruiter, who offered him a data and analytics internship. The role involved working closely with Gilbert, who owns the Cleveland Cavaliers, and a colleague, to analyze and pitch what they felt were the best trades the professional basketball team could possibly make to improve their odds of winning. 
Following the internship, Tincher worked  closely with Gilbert on various strategic projects of interest. In one such effort, which began in January 2015, Gilbert shared an idea with Tincher that had been sparked as a result of a passion of one of Gilbert's sons: buying and selling collectible sneakers. 
According to Tincher, "Dan pitched the idea of taking his son's passion and creating a business out of it, leveraging stock market model efficiencies — maybe a stock market of things — and asked me, 'What do you think? Is there something we can do with this?' "
By February of 2016, StockX, one of our region's most notable unicorns, was launched with Tincher as a key member of the founding team. And yet, as much as Tincher was enamored with the idea of staying with the StockX team, Gilbert put him on another project. 
Soon, Tincher was named the project lead of the Quicken Loans-led effort to bring a headquarters for Amazon to Detroit in 2017 (Quicken Loans became Rockets Cos. in 2020).
Working closely with Gilbert and other business and civic leaders, Tincher remembers working 20-hour days to pull together the proposal in a few weeks to meet the application deadline.
While Detroit didn't succeed in winning the bid, Tincher recalls that it was this defining effort that was his most transformative. The project cemented his career path in business, contributing not only to his own future, but also to the community in which he lives and works.
Since taking a position as a senior associate with Detroit Venture Partners in the spring of 2019, Tincher is now focused on facilitating the growth of startups in the company's venture capital portfolio, as well as identifying and vetting investment opportunities.
It's clear Tincher is going places in life, and no matter where it all leads him, he says one thing is certain: "Regardless of where my path takes me, I'll remain firmly rooted in the city I love and to which I am forever dedicated — Detroit."
---
JEFF SLOAN is founder and CEO of StartupNation and Aria Ventures, both in Birmingham. 
Facebook Comments