Low-volume orders aren't often a recipe for success, but for Weldaloy Specialty Forgings in Warren, its business model of producing short-run yet critical parts that help power rockets into the cosmos works.
"Not much flies to space in North America without some of our parts," says Andrew Smith, vice president and COO of Weldaloy. "We produce forged rocket nozzles, rings, discs, and engine parts. It's a sense of pride for our forgers and machinists that they can build specialty parts at low volumes and at high tolerances."
The company traces its roots to 1946, when it began purchasing extruded copper alloys and developed techniques to manufacture high-quality, precision-shaped welding caps, tips, sleeves, and shafts — mostly for the automotive industry.
Soon after, Weldaloy installed furnaces to melt copper billets and began to produce its own alloys after experiencing difficulties in finding reliable, quality suppliers. When more exotic alloys containing copper were developed and specified for the faster welding of rust-resistant steels, the company became one of the few sources of specialized, non-ferrous alloys.
"Our independent lab, which is directed by Ramachandra Canumalla, likes to work with light alloys and metals that reduce weight and increase strength," Smith says. "We like to R&D the hard things and make alloys no one else wants to do. Overall, we produce more than 1,500 different parts — half are very low volume — for a range of industries."
While the company saw most of its early orders come from the automotive industry, in the 1990s it left the sector to focus on superconductors and semiconductors, along with supplying forged non-ferrous products to the aerospace, oil and gas, power equipment, and material processing industries.
Weldaloy works with copper, titanium, nickel, aluminum, and stainless steel. In addition to a 2,000-ton press, the company is building a 36,000-square-foot extension to house a 3,000-ton press, a larger ring roller of up to 120 inches, bigger forge furnaces, an automated heat-treating line, added lab and office space, and the ability to expand into the jet engine sector.
When the project is completed in the first quarter, the company will span 140,000 square feet across a handful of buildings on its campus along Hoover Road, north of Nine Mile Road. Weldaloy, which operates two shifts to keep up with demand, has around 100 employees and 16 open positions.
Working with copper may be the company's greatest strength, given that the metal offers numerous benefits including electrical and thermal conductivity, ease of forming, nonmagnetic properties, and flexibility, among other advantages. The most advanced rocket engines depend on copper and copper alloys, according to NASA.
"Copper and copper alloys play an important role in all NASA space flights," says R. Jeffrey Ding, project engineer at the George C. Marshall Space Flight Center in Huntsville, Ala. "During flight, the space shuttle's main engines generate tremendous heat. Dissipating this heat is essential to maintaining the integrity of the engines. Copper is one of the most desirable metals for this requirement."
To get the word out about Weldaloy's offerings, Smith and a small team visited the West Coast to tour a number of existing and potential customers. "It was a great trip. Many of the rocket companies didn't know there was a small business in the Midwest that has the skilled trades to build parts, which can be small potatoes for big companies," Smith says. "At the same time, the low volume of orders doesn't interest larger companies looking to produce things on a mass scale."
The company also attended the Farnborough International Air Show in England last August, and this year will have an exhibit at the Paris Air Show.
The recent passage of the CHIPS and Science Act also will provide around $280 billion in new funding to boost domestic research and the production of semiconductors in the U.S.
The good news for companies like Weldaloy is that more and more businesses are using copper over aluminum to produce powerful computer chips, which results in faster operating speeds, lower power usage, cooler operations, and greater circuit integration — 400 million transistors can be assembled on one chip.
"You're seeing more production move back to the U.S. due to supply chain delays, labor challenges, and security reasons," says Norm Fletcher, director of marketing and communications at Weldaloy. "The CHIPS act will help us."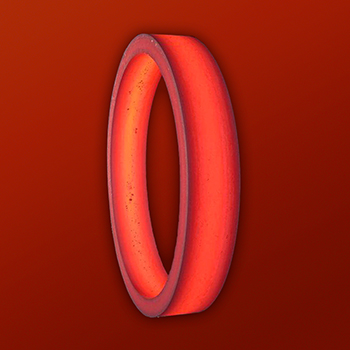 While many forgers purchase raw materials once they receive a specific order from a client, Weldaloy works with specialized suppliers to ensure it has alloys on hand, eliminating weeks of lead time. The company uses special saw blades optimized for non-ferrous metals (like copper and aluminum) that allow it to increase the speed and precision at which the material is cut.
"We bring a lot to the table," says Fernando Lozano, vice president of sales and supply chain at Weldaloy. "Not many companies our size serve such diverse markets with an independent metallurgy lab that includes an electron microscope, testing for chemical and mechanical properties, and other activities. And since so many of our customers are based in the U.S., we take a patriotic approach to everything we do." 
Facebook Comments