It's an innocuous address, 22020 Eastwood St. in Oak Park, but it's quickly apparent the mere mention of his childhood home is difficult for Jeffrey Seller — the lead producer of the Broadway phenomenon, Hamilton, along with a string of other successful theatrical productions — to hear.
"It's a loaded question," he says, after a pause. "How far do you want me to go?"
Seller is asked to reflect on as much as he is comfortable with, and he gamely presses on.
"The neighborhood in which I grew up was south of Nine Mile and east of Coolidge," he
says, "and it was called Cardboard Village by all the kids because most of the houses were fashioned from those tar shingles on the side, instead of bricks. I was ashamed and humiliated to live there, and to even discuss it with you now is painful, actually."
Seller was an adoptee, growing up between biological siblings. When he was 4 years old, his father was involved in a motorcycle accident that led to a form of dementia, impacting his short-term memory. Unable to do what he had been doing before the accident, Seller's father managed to find work as a process server, and often took Jeffrey along as he made his rounds.
"So did 22020 Eastwood St. play a huge role in my life?" Seller laughs. "Oh my God! Profound. I was a kid who was super aware of my environment. I knew everything that was going on in the economics of my family, so I was an anxious kid about money, and that was a very motivating factor that was leading me to say, 'I'm going to get the heck out of here. How am I gonna get out of here?' "
A significant early step in that process came when Seller, by then a student at Lessenger
Elementary School in Oak Park, was in a fourth grade Purim play at his temple. He was so moved by the experience that almost immediately he wrote his own play, called Adventureland.
"The Purim play was in late February," he says. "I think I wrote Adventureland in March. It's about me and my two best friends, and how we always used to go up onto the woodshed in my backyard and rip off the shingles and whip them into the yard next door. And then one day we fall through the roof of the shed and the concrete base, and land in Adventureland. And we're beset with one life-threatening crisis and challenge after another."
A few years later Seller was involved in another production, and he had role as one of the lead dancers.
"But by that point," he says, "I was also expressing the interest in, one, who picks the play? So I joined the play reading committee. Two, I started to write the press releases and I sent them out to help sell tickets. And three, I designed the programs and then went to the local businesses to solicit them for ads in the programs."
At the time, he was in the ninth grade at Oak Park High School, and it was fairly apparent that if Seller did, indeed, have a future in the theater, it probably wasn't going to be on stage. "I mean, I'm picking and marketing plays and raising money," he laughs, "and I don't even know how to drive yet. This is all before puberty!"
The trend continued at the University of Michigan in Ann Arbor. "Back then the theater program at Michigan wasn't so great," he says, "but I was doing shows the entire time I was there and, more important, I thought it was a great
opportunity to take advantage of getting a liberal arts education from arguably the best public university in the country. I knew I'd get as much theater as I needed, anyway."
When he graduated from U-M's College of Literature, Science, and the Arts in 1986, there was only one place Seller wanted to be.
"I knew intuitively that I had to go to New York," he says, "and I was scared because I had no idea how I was going to get from 22020 Eastwood to Broadway. You know, look at where I came from. I didn't know anybody. I had no money. How am I going to get to Broadway? It was an idea that was so far-fetched that it bewildered me, but I didn't stop trying."
With payments looming on his student loans, Seller pulled together the best clips from his recent articles, features, and theater reviews for the school paper and the Ann Arbor News (now MLive.com).
"Then I went to the business library every day, found a PR agency book, and turned to the very small entertainment section," Seller recalls. "My goal was to send four to six letters a day, along with my articles, to all of these PR agencies in New York. And, lo and behold, within about six weeks I lined up four interviews."
He got a job, and remembers the exact day he moved to New York to begin his career. "July 5, 1986," he says. "Opening pay was $14,500 (a year) at a very small PR firm. I stayed for 10 months and then got a job in a very successful producer's office. I was 22 years old."
Seller was on his way, paying his dues over the next 10 years as a publicist, a booking agent, and a producer. Then came his run of Broadway shows that included three Tony Award winners for Best Musical: Rent (1996), Avenue Q (2003), and In The Heights (2008). As prices for all Broadway shows continued to increase exponentially in the late 1990s, Seller played a significant role in creating the industry's first rush ticket policy, not only selling tickets for $20 to previews of Rent on a first come/first served basis, but seating the bargain buyers in the first few rows instead of the rear balcony.
"We thought wouldn't (it) be fun to turn that whole idea upside down on its head, and that began the wave of enthusiasm for the show," Seller says, "starting in the first two rows and reaching all the way to the back of the balcony. Within a year, we had kids lined up on 41st Street all night long. And because we were afraid someone would get hurt, we evolved (the distribution of tickets) to a lottery."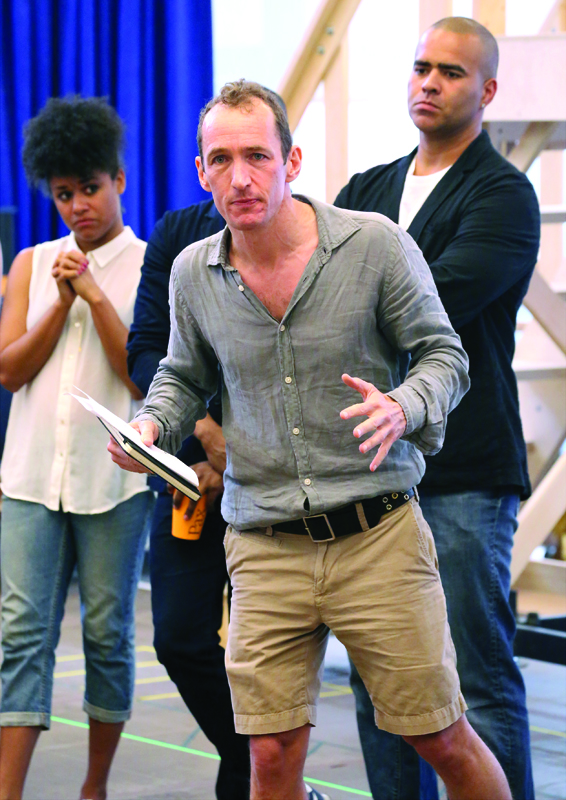 It was during the development of In The Heights that Seller first met composer, actor, and rapper Lin-Manuel Miranda, who wrote the music and lyrics for the show and earned numerous individual accolades, including a Tony and a Grammy Award.
"The moment he said to me, 'I'm interested in making a hip-hop album about Alexander Hamilton,' I thought, 'Wow, if that's what's interesting to you, I want to hear more about it,' " Seller says. "I was ready from the get-go. If Lin is interested in a topic, then I'm interested in a topic. I'm betting on Lin; I'm not betting on any individual project."
Miranda's initial vision didn't include anything resembling a theatrical production. "Making the album was his pet project," Seller says, "and The Hamilton Mixtape is coming out. But in the interim, he was convinced he should make a show. I weighed in and said, 'P.S., this is a show! ' And we agreed to make a show."
And what a show Hamilton turned out to be. Last June, it received 11 Tonys out of a record-breaking 16 nominations. Tickets are nearly impossible to obtain, and it churns out more than $500,000 in earnings every week. What's more, the production could continue its Broadway run for a decade, which would translate into more than $1 billion in revenue. 
Seller's main job now is overseeing the challenge of taking the show on the road, possibly with as many as seven additional Hamilton companies simultaneously performing around the world.
Seller describes the atmosphere at his production company these days as "four burners always going." Because the company is called Adventureland, an homage to the play that poured out of him as a little boy who was petrified of what seemed to be the sure financial ruin of his family, it makes one wonder if Seller will ever truly feel secure or settled. He swiftly rejects the notion.
"It's less about having a backup plan, or an insurance policy," he says, "than it is I have a powerful — I won't say insatiable, but maybe it's true — appetite to keep making things. Hamilton is now one of my children, and I'm going to keep making more because that's my life mission. I like to produce. And that could be anything."
That includes the possibility of turning his childhood play, Adventureland, into a storybook for children. "I just may have to publish it," he says. "It's getting so much press lately. But I keep getting distracted by my other professional life."
On the hometown front, Seller, 52, is heartened by the progress Detroit is making in rebuilding its infrastructure. He's also evaluating where and how he wants to contribute to the city's comeback. In the meantime, the focus of his personal philanthropy is providing scholarships for Michigan residents at U-M, as well as supporting various environmental, theater, and gay rights causes.
It all adds up to an obvious conclusion: Much like his signature show, Seller is enjoying an amazing run that is the envy of Broadway. "So after I complain about my childhood," he says, "I'm gonna say that's how I became who I am, and it's an integral part of the story. And I also had a lot of fun growing up. It wasn't all misery, and it wasn't all shame. There were so many positive aspects."
Seller pauses, seeming to search for a final few words as he reflects on those distant and sometimes challenging days at 22020 Eastwood St. "When I look back on it all," he says with a soft laugh, "I have to confess I wouldn't have it any other way." 
Facebook Comments