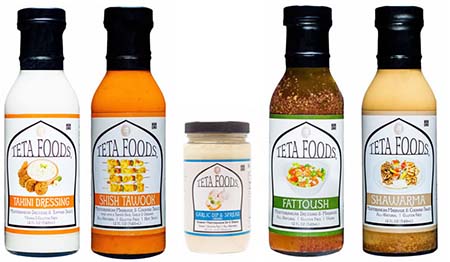 Clinton Township-based Teta Foods, a maker of gourmet Mediterranean salad dressing, marinade, and snack dips, has expanded distribution to an additional 350 stores nationally and will move to a larger production facility in November to meet the growing demand.
"We're really excited about it, about the move, about the way our company is growing," says Tarek Abouljoud, president of Teta Foods. "Our move is going to quadruple our capacity. We already have large equipment waiting in a storage warehouse."
Teta Foods produces a fattoush dressing, tahini dressing, shish tawook marinade, shawarma marinade, and a garlic spread, which are made with non-genetically modified, all natural, gluten free, and vegan ingredients. Its products are now carried in 750 grocery stores (mostly throughout the Midwest), with 400 to 500 of them located in Michigan, including at Plum Market in Bloomfield Township, Westborn Market in Berkley, Papa Joe's in Rochester Hills, and Nino Salvaggio in Troy, among other locations. The additional 350 stores Teta Foods' products will be sold this fall are in Wisconsin, Illinois, and Pennsylvania.
"My anticipation is by the end of next year we might reach above 1,500 stores," Abouljoud says. "Now we are at a stage where I'm shipping half a truck load every two or three weeks. We can't keep up (in the current facility) in terms of getting these new accounts and having enough room to store."
At 3,800 square feet, the new facility, 19755 15 Mile Rd., will be double the size of Teta Foods' current facility, and will include a loading dock for trucks to come in.
Abouljoud started Teta Foods in mid-2010 after leaving his career in finance. He grew up in Lebanon, and would often stay home from school with his great-grandmother — his "teta" — who taught him how to cook and inspired the name for his company.
"The concept of having a shawarma in a bottle as a marinade has never been out there before, not even in the Middle East where the product is made," Abouljoud says. "Our people made it from scratch and everybody had their own recipe. Nobody came up with the simplicity of a product just like pouring it out of the bottle with the same quality ingredients and great flavor."
Earlier this year, Teta Foods partnered with a marketing professor from the University of Michigan to design new packaging for their products. Since then, the company has seen a more than 15 percent growth in sales. The company's next endeavor is to introduce pita chips, Abouljoud says.
"All together it has been an exciting story, and I think this is just the beginning of a new phase for us," Abouljoud says.