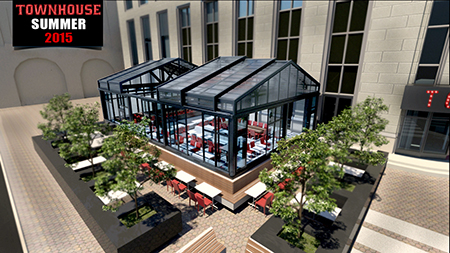 Jeremy Sasson, the restaurateur behind the Townhouse in downtown Birmingham, will open a new location with an atrium and an outdoor dining patio at One Detroit Center in downtown Detroit this summer, with future plans to open a location in Ann Arbor.
"Our intention was to take the roots of what we've done in Birmingham and to show its evolution," Sasson says. "The (new) space is larger and we had the feeling that Detroit needed its own interpretation of the Townhouse. We took a space that cultivated the industrial roots of (Detroit) but also the sophistication of our people."
He says while the restaurant, at the southeast corner of Woodward and Congress, is much larger than the Birmingham location — 7,000 square feet — and it will have some of the same textures and themes such as distressed leathers and rich woods.
Sasson says the restaurant will seat upwards of 300 people, offering six different spaces — an atrium with a retractable roof, a 1,400 square feet outdoor dining area, a main dining room, two separate bars, and a whiskey lounge.  Construction is scheduled to begin in April and open by mid to late June.
The executive chef is Brennan Calnin, who previously was at Imperial and Public House in Ferndale. He's also worked at the Cook's House in Traverse City and worked under Takashi Yagihashi of Chicago's Slurping Turtle.
About 20 percent of the menu will feature exact carryovers from the menu at Townhouse Birmingham, with the rest being new dishes. Sasson says some of the new cuisine will include "our interpretation of modern American dim sum carts" that will change daily, along with a raw bar and a sushi bar.
Similar to the Birmingham location, Sasson says there will be an "extensive craft cocktail component," three separate 18-tapped beer towers, and an extensive beer and wine list.
Sasson also has plans to open a "quick service concept" at the First National Building in downtown Detroit. The restaurant will have both prepared foods and seats for dining-in. He expects that it could open by the last quarter of 2015. In addition, the chefs from Townhouse Birmingham and Brennan Calnin will be hosing a dinner at Revolver in Hamtramck April 2. 
Facebook Comments