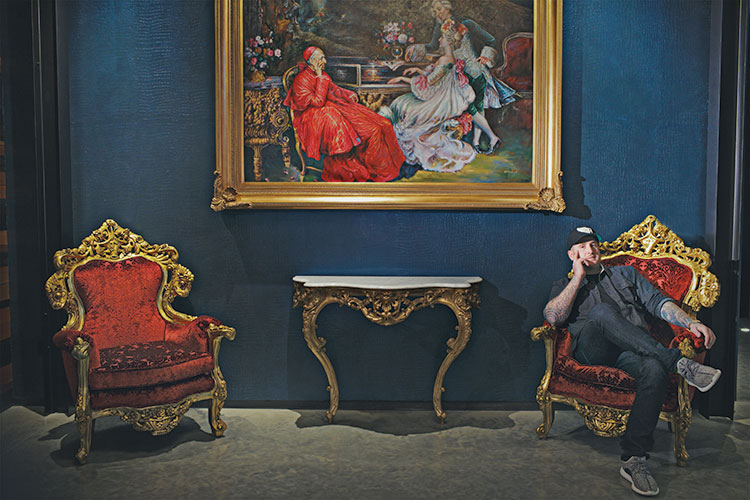 ---
The location of Roger Goodman's new recording studio in an industrial district in Royal Oak was by design and necessity; it was difficult to find suitable space within Detroit's thriving club scene due to a limited supply of buildings.
Goodman, owner and operator of Royal House Recording, says his goal for the former industrial building, which took more than two years to renovate, was to design a studio that set a workingman's tone. From the confines of a structure that most recently housed a street cleaner maintenance and repair company, the producer has crafted a sound engineering marvel.
To begin with, he replaced sections of the floor with individually poured concrete slabs that are insulated from room to room to eliminate ambient noise. Then the walls were treated with materials that both react to and absorb sound.
Custom baffling treatments that appear like 3-D wood puzzles are set in the walls and ceilings, while custom cabinets elevate the look and finish surrounding the main sound board and its supporting cast of subwoofers, multitrack recorders, and audio monitors.
"I wanted to create my own wave, rather than ride someone else's wave," Goodman says. "I thought about being in Detroit, but I really wanted to attract artists who wanted to work free of distractions. And while we have received inquiries from major recording acts, my main focus is to curate and nurture vocalists, musicians, and acts in metro Detroit."
As Goodman all but rebuilt the steel-and-cinder-block structure — an asset in its own right for absorbing rather than reflecting sound — he and his team would post progress photos on an Instagram account.
"We started hearing from Justin Bieber, Big Sean, and other recording acts, and while we certainly will work with recording acts from every musical genre, my passion is to create a new wave, a new vibe, and a destination that captures that spirit of the old Motown days in Detroit," he says. "We want to see more recording studios here to promote what is still a very talented musical scene, rather than see that work go to Los Angeles, Atlanta, or Miami."
Goodman says he became attuned to music at a young age while listening to classic rock with his parents. "It was the Rolling Stones, CCR, but also the Four Tops and The Supremes," he says.
Following high school, Goodman attended a recording school in Los Angeles and immersed himself in the local music scene. Over time, he worked with artists like Chris Brown, Lupe Fiasco, Wale, and an array of other platinum recording artists.
"I have to be near music every day," Goodman admits. "We created Studio A, and we bought the building next door for a future Studio B. When I used to drum in my parents' house as a kid, the sound would carry outside. But being in an industrial district, we don't have to worry about the neighbors complaining about loud music at night."
Facebook Comments