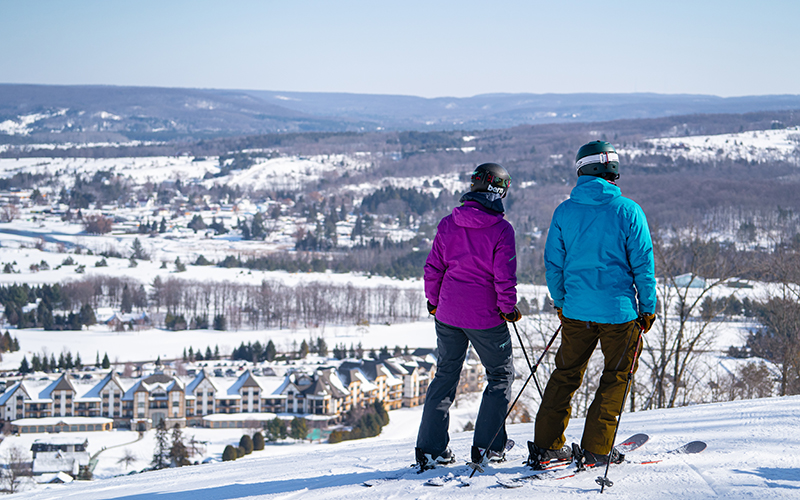 The world's largest privately-owned resort company began as a startup in 1947 in northern Michigan's Charlevoix County when the owner of 40 acres of scrubland with a modest hill sold the parcel he said was useless for farming to 30-year-old Everett Kircher, a former Studebaker dealer from Detroit.
"Anybody damn fool enough to want to build a ski hill, well … I'll give you this property," William Pearson, a former Michigan state senator, said as he accepted $1 from Kircher for the hill that is now the popular Hemlock ski run at Boyne Mountain Resort.
Seventy-five years later, that humble hill near Boyne City has spawned 12 Boyne-owned resorts and recreation properties from Vancouver, Canada, across seven states to the Atlantic Coast in New England. Boyne Resorts also operates an apparel and equipment division, Boyne Country Sports, with stores at Boyne Mountain, the Highlands at Harbor Springs, and five other Michigan cities, including Bloomfield Hills and Novi.
Another property in the Boyne sphere is the Victorian-style Inn at Bay Harbor on the shores of Grand Traverse Bay, as well as 10 golf courses in Michigan and courses at three of out-of-state resorts.    
"We passed a half a billion dollars in sales last year," says Stephen Kircher, son of Everett Kircher and president and CEO of Boyne Resorts. "I thought of dad when we crossed the half-a-billion mark. When he died (in 2002) we had just crossed $100 million. We've grown five-fold from when he passed away. We have 11,000 team members at peak times, with more than 2,000 in Michigan."
Six and a half million people visit Boyne properties annually, 4 million of whom are skiers.
The company's headquarters remains at Boyne Mountain, and its properties include the Highlands at Harbor Springs; Big Sky Resort in Montana, founded by legendary newscaster Chet Huntley; Brighton Resort in Utah; Cypress Mountain, the 2010 Olympic Winter Games venue for skiing and snowboarding in Vancouver, British Columbia; The Summit at Snoqualmie in Washington; Loon Mountain in New Hampshire; and Pleasant Mountain, Sugar Loaf, and Sunday River resorts in Maine.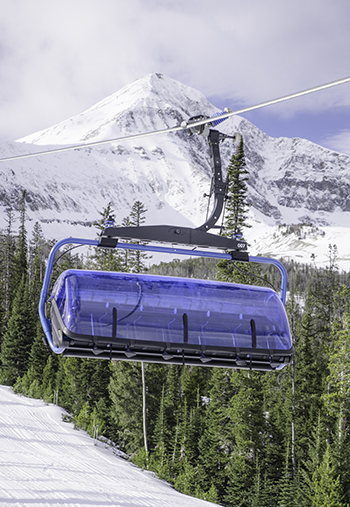 Boyne's most remote and unlikely asset is a chairlift Everett Kircher introduced to the non-skiing South in Gatlinburg, Tenn., in 1953. The chairlift punches way above its weight. It's a virtual cash register, churning out money seven days a week all year round. Revenue from the chairlift financed much of Boyne's early growth and kept Boyne Mountain alive during perilous financial times, Kircher says.
Today that small two-person chairlift is gone, replaced by a three-person chair dubbed the Gatlinburg SkyLift. It whisks riders up 1,800 feet to the top of Crockett Mountain, which offers miles-long views of the Smoky Mountains.
In recent years, Boyne developed the SkyPark on the peak with a viewing deck and a café. In 2019 came the SkyBridge, the longest pedestrian suspension bridge in North America, stretching 680 feet across a valley and 500 feet above Gatlinburg.
In 1953, as Everett Kircher and his two partners were struggling to make a go of their fledging Boyne ski club, he received a phone call from Rellie Maples, the owner of a small hotel in Gatlinburg. Maples saw a story about Kircher and his Boyne ski area in a AAA magazine, and was impressed by Kircher's expertise with chairlifts.
The hotel property backed up to Crockett Mountain and Maples suggested building a chairlift to take paying guests and tourists from his backyard up to the top of the mountain.
Kircher was uninterested, but Maples was persistent. Eventually, Kircher's father, John, who was intrigued by the idea, went to Gatlinburg, looked at the site, and encouraged his son to take Maples up on the offer.
"Grandpa went down and looked at it and came back and said this is going to be amazing," Stephen Kircher says. "This is going to make you money, not that pie-in-the-sky hobby thing you're doing up north."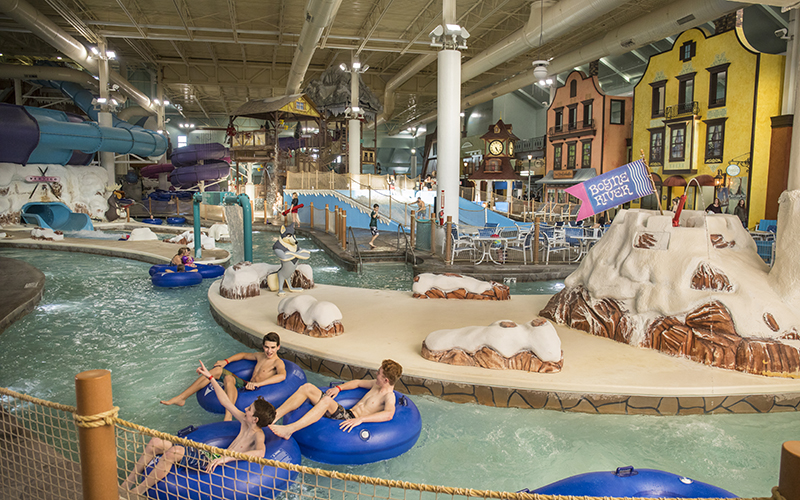 His father also had another reason for encouraging Everett to follow up on Maples' idea. From a recently found trove of records in a box, the young Kircher learned how much his grandfather had been lending his son to keep his Boyne dream alive.
"When dad would always say, 'I never borrowed money from a bank, I did it all by myself,' he omitted to say he borrowed from his mother and father," Kircher says. "Every time he got into trouble, they bailed him out."
An IOU note in the box for one of the loans Everett received from his parents was for $15,000, a small fortune in those days.
Everett Kircher eventually went out to California and bought a ski lift and chairs from a ski resort, dismantled it, and shipped it to Michigan. He rebuilt it in his father's Studebaker dealership in Rochester and carted it to Gatlinburg. In 1954, he signed a 99-year lease to operate the lift, making Maples a very wealthy man.
"It made money immediately after it opened," Kircher says. "It was a fantastic injection of cash, and dad was able to buy out his partners. We wouldn't have survived without Gatlinburg doing well. From 1981 to 2003, when Boyne Mountain was losing money, we (wouldn't have survived) survive without Gatlinburg.
"If the lift doesn't happen, Boyne doesn't exist. It transformed Boyne Mountain and allowed us to buy and develop the Highlands. It was the engine that gave us summer cash flow, and made us the longest- running family ski resort."
Over his career, Everett Kircher was acknowledged as one of the ski industry's most innovative operators and inventors. He held numerous patents for his development of snow guns that made artificial snow and snow grooming equipment, along with the world's first triple-chairlift at the Highlands resort in 1964.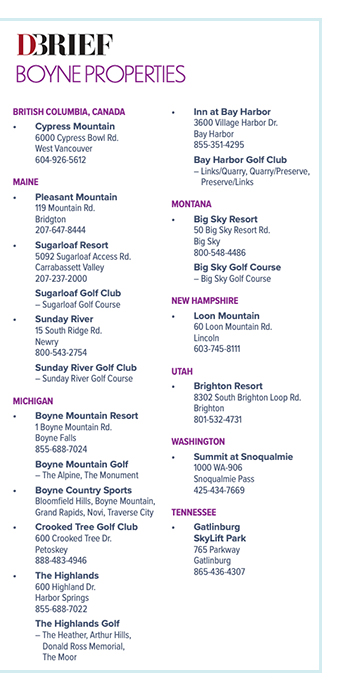 In the same year, he introduced the first four-person chairlift at Boyne Mountain. Three decades later, the northern inventor debuted Michigan's first high-speed detachable quad chairlift at the Highlands, and America's first six-seat, high-speed chairlift at Boyne Mountain.   
Stephen Kircher recalls when the development at Boyne Mountain peaked in the 1980s, the resort's growth atrophied, and it was losing millions of dollars with a negative cash flow.
"We were subsidizing the Mountain. As my brother, John, famously said, we were burning furniture to keep the house warm, and that's unsustainable as eventually you run out of furniture," he says.
A major drawback for Boyne Mountain was an antiquated sewage system dating back to the 1960s. In a meeting discussing the problem, the wife of the general manager at the time pointed out that nearby Boyne City had plenty of excess sewage capacity and might entertain the idea of taking on the resort as a customer.
"We cut a deal within a month or two and got a Michigan grant for $365,000 to run a 6-inch pipe to Boyne City and we were off and running, building condos instead of shutting the whole resort down," Kircher says. "We were at a crossroad. Shut the Mountain down, or turn it into a day ski area like Nub's Knob, or go forward with a new business model. We took that third fork in the road."
Kircher says the deal with Boyne City included a state grant. "That grant allowed us to make the leap and we invested $150 million into Boyne Mountain in subsequent years," he says. "We sold a fair amount of condos (and) that was part of that capital. It's truly a great example of a successful business transformation during a stressful time in our economy."
Boyne moved onto the next major phase of development with the construction of the 220-unit Mountain Grand Lodge and Avalanche Bay, the state's largest indoor water park.
---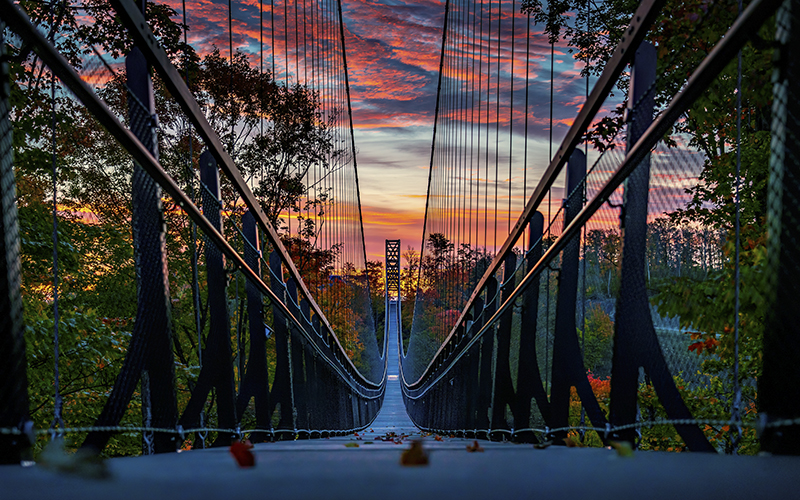 Revenue Heights
If the 4,000 people who showed up on a Saturday this past October just to walk across Boyne Mountain's new SkyBridge Michigan in Boyne Falls is an indicator, the resort's newest attraction will be a money-making complement to the company's winter ski and summer golf revenue.
With a nod to the Mackinac Bridge, SkyBridge, longer than three football fields, is billed by Boyne as Michigan's "second bridge." The company says it's the longest timber-towered suspension bridge in the world.
The structure spans 1,203 feet, dangles 118 feet in the air, and connects the peaks of McLouth and Disciples Ridge ski runs.
On that October opening day, pedestrians on the bridge were treated to a panoramic, dazzling show of orange, yellow, and red fall colors blazing across the valley below and in the forests covering the Charlevoix County hills around it. To further heighten the experience, there are 36 feet of clear glass panes in the walkway at the center of the bridge.
The Hemlock ski lift takes walkers to the top, near the entrance to the bridge and the Eagles Nest restaurant, now open year-round to accommodate bridge pedestrians.
Walkers can continue hiking after crossing the bridge, as it connects to the resort's paved 17-trail system, or they can retrace their steps and ride the chairlift down. The structure is lighted and is open until 8 p.m.
The bridge has attracted national media coverage ranging from "Saturday Night Live" to "The Weather Channel."
"It's been crazy," says Stephen Kircher, president and CEO of Boyne Resorts, describing the public reaction to the bridge. "We've had people come up from Texas to walk the bridge. They drove on up on Thanksgiving weekend to northern Michigan, which is the last thing you would think someone from Texas would spontaneously do with their family."
The Boyne span is similar to one the company opened in 2019 at its SkyLift Park in Gatlinburg, Tenn. That bridge and a lookout park on a peak directly above downtown Gatlinburg are the latest additions to a novel chairlift attraction Boyne's founder, Everett Kircher, introduced to that Southern city more than six decades ago.
A seven-day operation, it's one of the most popular attractions in the region, taking hundreds of thousands of riders each year on a nine-minute trip, 1,800 feet to the top of Crockett Mountain, to see miles-long views over the Great Smoky Mountains.
"One of our initiatives we're developing we call 'thrill with no skill,' as we look for things for people to do that don't require skills," Kircher says, "Golf and skiing are heavy skill sports and are in a special niche because of that. The bridges allow us to draw a broader audience who simply love to be outdoors."
Over the years, to prepare for SkyBridge, Boyne modernized a lift by adding three-person chairs, while building a sky deck and park at the top of the peak. Part of the investment came from the 680-foot-long Gatlinburg SkyBridge, which opened in 2019 and is the world's longest pedestrian suspension bridge.
Both bridges were designed and built by Experiential Resources (ERi), based in Hawaii and Washington state. The company has 25 years of experience building suspension bridges, zip lines, and canopy tours.
The company's CEO, Mandy Stewart, is co-owner of the company with Todd Domeck, a bridge designer and engineer. Stewart says SkyBridge Michigan is the largest project they've completed.
The company spent three months in design, another three months in prefabrication, and took a year to erect the bridge, Stewart says. The elongated timber for the towers is from Douglas fir, grown in Oregon but supplied locally by the resort's neighbor, Matelski Lumber Co. in Boyne Falls.
Domeck says the exaggerated M in the Pure Michigan logo inspired his design of the 52-foot-high, 70-foot-long towers that anchor each end of the bridge. Each tower weighs 40,000 pounds and is seated in 2.5 million tons of concrete. The 5-foot walkways along the bridge slope down 30 feet from the ends to the middle.
"The top two cables are 3 inches in diameter, weigh 23,000 pounds, were made in Houston, and are proof-tested at 1.2 million pounds," Domeck says.
Kircher says with the success of the Gatlinburg Bridge, he started looking around a few years ago for another location to duplicate it, including the U.S., South and Central America, and the Caribbean, without success.
"I started looking at Google Earth and it came up that the most likely site was right here on Boyne Mountain," he says. "I called up ERi, sent them the Google Earth shot, and asked them if it was possible. They said yes, they could do it, and we did. We like doing cool things, and we like to set records."
— Norm Sinclair
---
The company had banked $35 million in condo sales to launch the project. "It wasn't without its own drama," Kircher reveals.
Nine months after breaking ground, work stopped as the construction loan fell through. For four years, as the family tried to figure out how to finance the project, the site remained an eyesore, a tangle of rusting steel girders greeting visitors to the resort.
Eventually, they found an investor in Gerald Forsythe, a wealthy Illinois-based industrialist and sportsman who was a major player in Indy Car racing; his team included Indianapolis 500 winner and Formula One champion Gilles Villeneuve.
Kircher says Forsythe was interested in developing water parks, and became Boyne's partner. His New Frontiers Capital financed the completion of the lodge and the water park. Forsythe would later purchase the Garland Resort in Lewiston.
After the passing of Kircher's father in 2002, the company was run by his sons:  John, the older son as president of western operations; and Stephen, president of eastern operations, which included the two resorts in Michigan and the company's Big Sky jewel in Montana.
In 2007, Boyne began a relationship with CNL Income Properties, an Orlando-based real estate investment trust company (REIT) that invested in resort properties. Eventually Boyne would sell seven of its properties to CNL on a lease-buyback arrangement. In 2018, Boyne bought back the properties from CNL's successor, a move that Stephen Kircher says freed Boyne to chart its own future.
"We were hamstrung for years with those leases, because the REITs owned the assets and we had to go to them to get capital to put into the resorts. If they didn't want to put money in except for maintenance capital, they didn't have to," he says. "We had a lot of great projects that were sitting there in mothballs waiting for some future day when there was capital to do it. So we reacquired those resorts and got all the resorts on the same capital stack."
Another major milestone for Boyne earlier in that period was Stephen Kircher's ascension to the company's top job. The eastern and western operation divisions were merged.
John Kircher left after purchasing Crystal Mountain, a popular Washington state ski resort owned by Boyne Resorts. One year later, he sold the resort without offering it back to Boyne, a move that still annoys Stephen Kircher. 
In turn, Kathryn, the oldest of the siblings — who was the company's interior designer — was bought out, Kircher says. Amy Kircher Wright, the youngest sibling, remains chairman.
Gary Campbell, a golf club and commercial developer from Lansing, has known Kircher since the two competed against each other as teenagers at a U.S. Junior Amateur golf qualifying tournament at Meadowbrook Country Club in Northville Township.
He later became an adviser to Kircher in the development of the Bay Harbor Golf Club, the Inn at Bay Harbor, and other projects.
"I think Stephen's love of golf and of skiing really makes him the perfect one to lead the company. He's accomplished in both disciplines," Campbell says. "He's very cerebral and knows how to ask the right questions."
Campbell says Kircher made Boyne an early booster of spikeless shoes on its golf courses, as well as adopting GPS yardage systems for golfers measuring shot distances.
"He's always at the cutting edge of ski technology with parabolic skis and snowboards, as his dad was at chairlifts and snow-making," Campbell says. "With Stephen growing up around those assets, he became very knowledgeable of not just the operations, but of the creation of them. He took what his father had created as a year-round concept and was able to escalate it and bring it up to a modern and national scale."
Clarity of ownership and the reacquiring of the six resorts, along with the Gatlinburg operation, were critical in moving Boyne toward Kircher's goal of being the country's best four-season resort company.
"Those moves changed our capital structure because we could look at the whole company as a complete unit," Kircher says.
The bond market where Boyne courts investors looked favorably on the streamlined management, he adds.
"Clarity in knowing where you're going as a team unleashed the power of those 11,000 people in the company, and with leadership, we're doing some things that were hopes and dreams before," he says. "We're in the Golden Age of North American skiing and we're in another Golden Age for Boyne, and it's an exciting period to be part of this."
He says the company's focus isn't on getting bigger, but on getting better. As a result, he says Boyne has less leverage on its balance sheet than at any time in its history. E-commerce tools that weren't available 10 years ago are boosting revenue even higher.
In addition, the company's national reach contributes to a healthy balance sheet.
"Geographic diversity is certainly one of the things we've been working toward, along with weather diversity and economic diversity," he says. "Having assets in fast-growing communities like Salt Lake City, Seattle, and Tennessee is one of our strengths that has smoothed out our cash flow year in and year out. We are way, way less volatile than those resorts that may have a large footprint in one area."
The scale and breadth of the company has enabled it to access higher levels of funding opportunities.
In April 2021, for example, Boyne Resorts announced a private offering to investors of $540 million in senior notes at 4.70 percent. That was followed in February 2022 by another $150 million offering on the same terms. "Because we're private, and because every nickel goes back into the machine and into the business, we're out-competing our competitors at this point in time," Kircher says.
As part of a recent 10-year expansion program announced for each property, the company is installing six new chairlifts at four of its resorts. This represents the largest investment in North American skiing, according to ski industry analysts. Kircher declined to reveal the costs.
Four of the lifts, one of which is being installed on Boyne Mountain's Disciples Ridge ski run, are eight-passenger models, the first of that size on the continent, Kircher says. 
At Big Sky, the final stage of what was announced as a $150 million expansion is underway. It includes a new tram and gondola to take skiers and sightseers 11,166 feet up the sheer vertical face of Lone Mountain.
For the first time, summer and pedestrian visitors will be able to reach the peak and see panoramic views of three states — Montana, Wyoming, and Idaho — as well as Yellowstone National Park and Grand Teton National Park.
"It's transformational for our business model in a huge way," Kircher says. "We have 7, 8, 9 million people going past our doors every summer, and we hope to pull some of those folks into Big Sky."
---
Fore Play
As part of a 10-year master plan, Boyne Resorts in Boyne Falls is retooling its hospitality and recreation divisions, while renovating and adding new attractions to its golf course portfolio.
Raymond Hearn, a golf course architect in Michigan, has been collaborating on current and future golf projects with Bernie Friedrich, Boyne's longtime director of golf, who recently stepped down from his role as a company senior vice president to devote his time to upgrading the courses.
Boyne operates 10 golf courses around its two Michigan resorts, and one each at Big Sky Resort in Montana, and Sugarloaf Resort and Sunday River in Maine.
Friedrich says the Highlands at Harbor Springs, Big Sky, and Sugarloaf will each get a new par 3 course this year. Additionally, a Himalayan-style putting course and a new driving range are going in at Sugarloaf, while a 4-acre putting course is under consideration for Big Sky.
Hearn has retooled bunkers on the Moor and Hills courses at the Highlands, and is preparing master plans for changes on the Monument Course at Boyne Mountain and the Bay Harbor Golf Club in Petoskey.
"The short course will go in right behind the day lodge," Friedrich says. "Our goal is to have 4,000 square feet of greens with no tee boxes, so players can have a lot of different angles to play from."
Hearn says he and Friedrich, along with Stephen Kircher, president and CEO of Boyne Resorts, have drawn on their experiences playing golf in the British Isles to design the new greens.
"We're having a little bit of fun emulating our favorite greens from overseas," says Hearns, while stressing that even though the greens will resemble a Redan, a Biarritz, and a Postage Stamp — names of iconic greens from legendary clubs — they won't be exact replicas.
Even more ambitious is the work on The Donald Ross Memorial in Harbor Springs, a re-creation of some of the most famous holes designed by legendary golf architect Donald Ross. The 18-hole course was commissioned nearly 40 years ago as a salute to Ross at the Highlands by Boyne founder, Everett Kircher.
Friedrich says at that time, Boyne depended on primitive research tools like Polaroid pictures to capture the features of the holes they selected for the course.
"There weren't the tools to get these golf holes as close (to the) original as we can now with technology," he says. "With Google Earth, CAD (computer aided design), and drawings, it gives us a much better opportunity to get the holes right."
Three holes have been redesigned and rebuilt so far. The first hole, modeled after No. 6 at the exclusive Seminole Golf Club in North Palm Beach, Fla., is almost unrecognizable for golfers who have played it in the past.
Trees were taken out to enlarge the fairway and open a new approach to the green. Large waste sand bunkers now flank both sides of the fairway, like they do at Seminole. Bunkers in the front of the green are smaller, and the once-narrow green is much larger and sloped at a 45-degree angle toward the fairway.
"I've been lucky enough to have gone to all those private Ross courses, so we want to make this course as close to the originals as possible so our customers who might not have a chance to play those courses can have that experience," Friedrich says.
— Norm Sinclair
---
The gondola and tram, new hotels and restaurants, the bridges at Boyne Mountain and Gatlinburg, 13 first-class golf courses, canopy rides, zip-lining, hiking and mountain bike trails, tennis courts, and lacrosse fields, coupled with its varied skiing venues, moves Boyne closer to that all-season crown the company envisions.
The 10-year expansion plan for Boyne Mountain and the Highlands are well underway at both resorts.
SkyBridge Michigan may have garnered the most publicity, but new technology for buying lift tickets will have more impact on skiers at both resorts. Instead of standing in a cold line at a ticket booth, visitors can now walk up to Go Card kiosks scattered around the resorts and purchase tickets or reload passes online.
In turn, an original feature at the Mountain, the 35-suite ski-in ski-out slope-side Chalet Edelweiss, has been renovated and transformed into a comfortable, European-inspired chalet with its own cozy living room and fireplace, along with a Nordic sauna.
Guests this year will be able to fly into Boyne Mountain day or night with the transformation of the resort's landing strip into a modern airport facility. The runway is repaved, and new lighting and aeronautic technology to assist pilots have been installed.
The multi-million-dollar, eight-person chairlift for Disciples Ridge, meanwhile, will take more skiers more quickly to the top of the ski runs. Not far away, the Highlands has Camelot 6, a swift and quiet six-person lift that encloses riders in a tinted bubble while they sit on heated seats.     
To help lower energy costs, in 2021 Boyne joined three of the country's largest ski operators in signing on to the Climate Collaborative Charter, the industry's first unified effort to combat climate change.
Evidence of that effort is a solar array field recently installed at Boyne Mountain. The field will supply power for more than 300 homes and condominiums.
Energy-saving measures were also included in a new wing of 80 European-style rooms and suites that were recently added at the Highlands, taking luxury to new levels with British fixtures and mirrors that light up to the touch, among other features.
"We like doing cool things. We like doing contrarian things. We like doing things that haven't been done, or haven't been done here in North America," Kircher says. "We're really trying to lead the transformation of the four-season resort industry in North America, and do it now at a pace and a breath that people take notice of." 
Facebook Comments