When Beaumont and Oakwood health systems, along with Botsford Hospital, merged three years ago, the new organization had an opportunity to create something different, even as it kept a familiar name.
The new health care entity, Beaumont Health, set up its headquarters in a neutral spot — in leased space at the Southfield Town Center. Gone is the "Do You Have a Beaumont Doctor?" advertising campaign. Replacing it is a new marketing effort that focuses on patients.
Former Beaumont CEO Gene Michalski led the new entity for about six months, and then retired in early 2015 to make way for John Fox, a leader hired from the outside to improve patient outcomes, instill common platforms across the organization, and look for growth opportunities whether by expansion or acquisition.
John Lewis, chairman of Beaumont Health, says Fox has set an aggressive timeline to lead the vast hospital network into a new era. "He understands the business of health care and the transition of the health industry from fee-for-service to value-based reimbursement," Lewis says. "Since his arrival, Fox has assembled a team of seasoned executive leaders with significant health industry experience and fresh outside perspectives."
Fox, 65, says he became president and CEO for the eight-hospital, 3,429-bed system because "I thought it was a chance to put something together, melding Beaumont, Oakwood, and Botsford in a synergistic way to produce a much stronger, more impactful system." He also welcomed the chance to cap his 36-year health care career at a system that puts an emphasis on patients.
"Emory is a great university," Fox says of his most recent employer, Emory Healthcare in Atlanta, where he worked since 1999. He was CEO from 2002 until he left. "They staked out their ground in the neurosciences and other areas, and it's very much what I call basic research-oriented. We're much closer to the patient," he says.
Beaumont is university-affiliated, too, with the Oakland University William Beaumont School of Medicine in Auburn Hills. Beaumont also does research, and has a $32.2-million annual budget. "It's not owned by a university the way Emory is," Fox says. "Beaumont does a lot of research, but it's not grounded in a lot of medical research with giant laboratories."
So, where does Fox want to lead the 5,000 doctors and 36,000 employees at Beaumont Health, a system that conducts research, is university-affiliated, and focuses on
patient care?
"I think Beaumont, with its university, has a chance to stake out ground in health services research," Fox says as he sips a Diet Coke during a mid-afternoon interview in a conference room on the 12th floor of the Southfield Town Center.
"Due to advertising, I think the market now understands the size and scale of Beaumont Health and has responded favorably to it. We're growing market share in multiple areas and, rather than having three competing brands, we're now able to present as one single brand."
— John Fox
Thinking the Same Way
Since 2015, Fox has focused on merging three cultures into one while highlighting and embracing factors that support patient care: growth, standardizing measurements, adopting a common language, and upgrading infrastructure.
He sees capturing more market share as an opportunity for growth. Beaumont's share of its primary market, including Macomb, Oakland, and Wayne counties, has grown 1 percent since the merger; it serves 1.5 million patients annually. The increase is, in part, attributed to a new advertising campaign, which uses the theme "Never Settle."
"Due to advertising, I think the market now understands the size and scale of Beaumont Health and has responded favorably to it," Fox says. "We're growing market share in multiple areas and, rather than having three competing brands, we're now able to present as one single brand."
Consolidating the brand is the idea behind the ad campaign, says Mark Bohen, senior vice president and chief marketing and communications officer at the health care organization. "Beaumont historically has had a very strong reputation. Now it's a new brand, and we're a new company."
The growth in patient volume, in addition to patients newly insured under the Affordable Care Act via Medicaid or private insurance, is helping Beaumont's financial performance. Total net operating income in 2016 grew to $195.6 million, compared with $68.9 million the prior year. Net revenue grew 6.4 percent, to $4.4 billion.
Beaumont Hospital in Royal Oak unveiled a new Emergency Center in August that offers multiple private rooms to improve patient care.
Also helping the balance sheet is $177 million in savings from the merger, all of which have been realized since 2014.
To boost revenue and profits, Fox sees room for growth through expansion. He says Beaumont is eyeing properties to the west and northeast for new outpatient campuses in the tri-county area and Washtenaw County. "Some day we might build hospitals on those campuses, but that would be down the road," he says.
More mergers are also possible. "Michigan has nine health care systems, but that nine will probably become five," Fox says. "When and how I don't know, but that is additional opportunity for growth."
Meanwhile, Fox has been working on establishing a new culture. "Culture is this bucket of values, beliefs, and behaviors that really dominate an organization," he says. "When we looked at the three founding organizations and their values and what they stood for and (their) missions, there was a high level of intersection. Not complete, but high."
Fox says having the same metrics for quality, safety, and service is essential. "Having the standardized metrics is critical to culture," he says. "If you don't have the same vocabulary you wind up with a Tower of Babel."
For example, Fox says, prior to the merger Beaumont, Botsford, and Oakwood used three different ways of measuring risk-adjusting patients. Some metrics in health care relate to how well a hospital cares for ill people, but for any such measurement to be meaningful, it's beneficial to know how sick the patients are at the start.
"If you have an extremely low bloodstream infection rate, but a high acuity of patients where you're doing lots of intravenous drug therapies and things like that, there's lots of opportunity to get a bloodstream infection — so that can be very powerful," he says. "Conversely, if you're OK in bloodstream infections and your patients aren't real sick, that can indicate a problem."
One of the many private rooms available at Beaumont Hospital in Royal Oak's Emergency Center.
Today all eight hospitals, outpatient centers, and owned clinical practices measure close to 2,000 metrics the same way. "So now, if somebody from Troy is talking to somebody from Dearborn or Farmington Hills, and they're talking about an issue that's got a metric around it, they have the same vocabulary," Fox says.
Dr. Sam Flanders, Beaumont's senior vice president and chief quality and safety officer, shares details: "Some measures that we've standardized (although there is no national mandate) are all-patient, all-payer mortality; length of stay; and readmission rates. Each legacy system was measuring these differently before the merger.
"The other thing we've done is to standardize the benchmarks we're using," Flanders says. "In the legacy organizations, the benchmarks were quite different from place to place, so the same level of performance may have been interpreted differently depending on which hospital it was."
Since Fox became Beaumont's leader, the system has started or finished some big-ticket construction projects.
Beaumont in Royal Oak opened a $40-million Proton Therapy Center in July, a project that had been delayed and was eventually halved in size since the system initially applied for the state's permission to build it in 2008. It's the only hospital in Michigan to offer proton therapy, which is a boon for treating many cancers — especially ones in children and those near vital organs — because it damages less healthy tissue and causes fewer side effects.

Proton therapy is projected to attract up to 500 patients a year from Michigan, surrounding states, and Canada for treatment that lasts up to six weeks. Some of those patients may stay at a hotel approved to be built on a site formerly occupied by the hospital-owned Northwood Shopping Center at 13 Mile Road and Woodward Avenue. The center, along with some apartments, was razed earlier this year to make way for the future Woodward Corners at Beaumont (see sidebar).
Also at the Royal Oak hospital, the newly-constructed first phase of a $121-million emergency center project opened in August. The remaining three phases of renovating of what is the state's busiest emergency center are targeted for completion by 2019.
Overall, the project will double the size of the emergency center and will include the latest medical equipment as well as private rooms. When the entire center reopens, 119 adult, child, and behavioral health rooms will be private; only 20 will be semiprivate, and all of those will be for adults.
The private rooms will not only ease the stress of patients and their families, as they no longer have to stand behind curtains, but medical personnel say patients will be more forthcoming about their medical situation because they don't have to worry about other patients and visitors overhearing their conversations.
Contrary to published reports, Fox says Beaumont's headquarters will remain in the Southfield Town Center, although the health care organization is looking for office space for shared services employees in Southfield.
Beaumont is also investing $150 million in improvements at its hospital in Farmington Hills, the first major construction at the former Botsford Hospital since 1989. Additions include larger operating rooms to accommodate new equipment for modern surgeries, a critical care unit, a remodeled and expanded emergency center/observation unit including express and trauma bays, a five-story tower with private patient rooms, and a new parking garage.
After the phased project is completed in 2019, the Farmington Hills hospital will have 68 percent private rooms, with extra space and accommodations for patient families, says Connie O'Malley, president of Beaumont Hospital, Farmington Hills. "What's so wonderful about it is that research shows the (presence of a) patient's family leads to improved outcomes," O'Malley says. "Family involvement helps, and our space is designed that way."
Walking the Walk On Transparency
Fox, who led Emory's efforts to care for hundreds of Hurricane Katrina evacuees in 2005, is passionate about putting patient care first, even if it takes extraordinary effort, tough calls, or admitting mistakes.
In one case, Emory University Hospital was the first institution in the United States to care for people with Ebola, even as fear of the disease raged across the country.
"The first question (John Fox) asked was, 'Can we take care of these individuals safely?' " says Dr. William Bornstein, chief medical and clinical quality and patient safety officer at the Atlanta system. "I think that's a great articulation of the way he thinks and works."
Emory had a serious communicable diseases unit that was set up through funding from the Centers for Disease Control. It had rarely been used, but was specifically established to handle special circumstances. Even so, it wasn't easy accepting patients, given the tremendous amount of news coverage of the outbreak and its potential to quickly spread through direct contact.
Fox dealt with anxiety among staff in the same way he had previously crowdsourced ideas from employees for $30 million in cuts in 2009 — he convened town hall meetings. The goal was to get feedback so that Emory's leadership team could hear employees' concerns and address them.
In turn, there was pushback from the CDC about using the special communicable diseases unit because Ebola, as serious as it's perceived to be, requires direct contact to spread. The unit was really set up for diseases that spread more easily, such as airborne illnesses, Bornstein says.
"CDC and some folks out there thought we really shouldn't use the SCDU for these patients," Bornstein says, "because it was a level of containment that was more than necessary."
But the officials relented, and no one at Emory was infected, and all the patients recovered, Bornstein says.
Another case that defined Fox's commitment to putting patients first came in 2004, Bornstein says. It all started with a mistake.
Emory personnel discovered that surgical tools used during a brain biopsy for a woman with Creutzfeld-Jakob disease hadn't been properly sterilized because standard autoclaving doesn't kill the infectious agent. As a result, Emory shut down its operating rooms and resterilized all surgical instruments.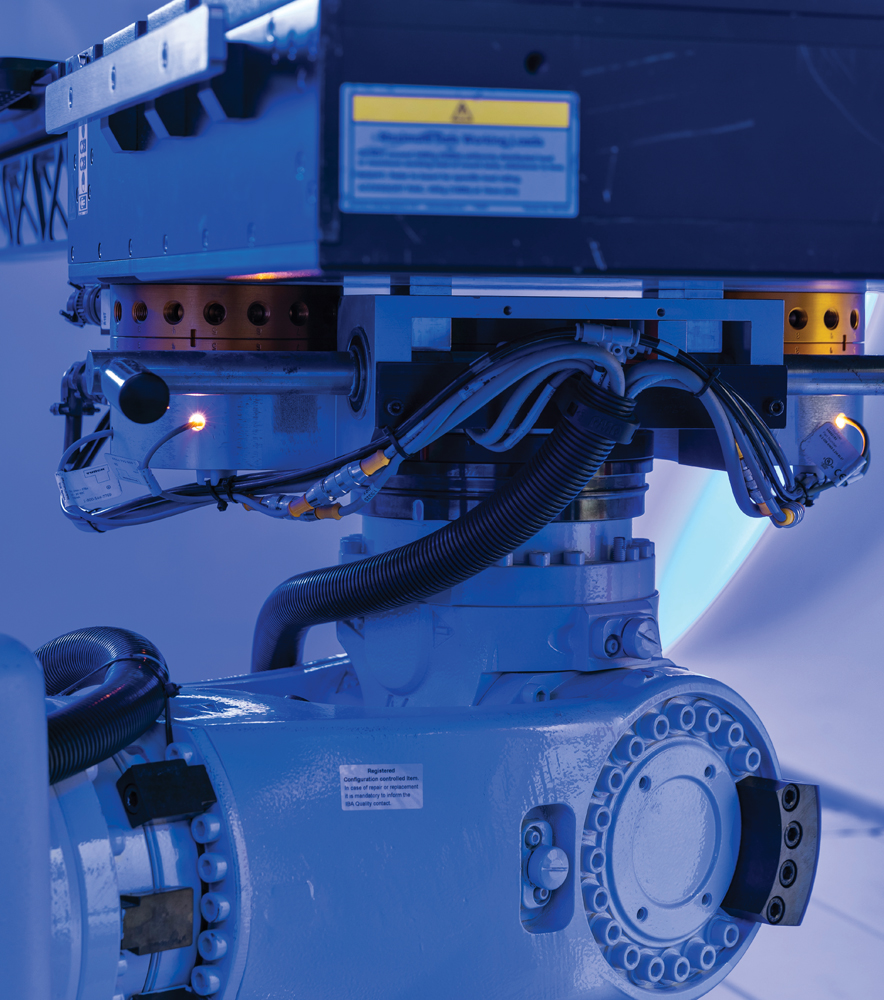 Then the leaders had to decide whether to proactively admit the error to patients who had been operated on in the meantime. It could cause unnecessary alarm among those who hadn't been infected by tainted instruments, but was it the right thing to do?"
"When we realized this had happened, we thought through all the implications and realized that it was possible that the instruments that had been used had come in contact with other instruments in either of what was then our two hospitals," Bornstein says. "So, obviously this was a big deal."
Fox convened the relevant experts at Emory and decided the system needed to notify all the affected patients.
"The reason I'm telling this story is that, as it turns out, other hospitals had had similar events but had not necessarily dealt with them as transparently," Bornstein says. "This is one of many examples where John never blinks about doing the right thing, regardless of what the implications may be."
The Emory doctor says Fox was involved in the CJD event from top-level discussions with experts down to deciding upon the wording in the letters sent to 500 potentially affected patients.
"The reason I call this a defining moment is that one of the things we had previously talked about in our organization was transparency and disclosure of errors and so forth, and we were fully committed to that — but it's one thing to say that and another to really walk the walk on it," Bornstein says. "I think what really matters is what you do in these defining moments, and it really set the standard for us and made it clear to everybody in the organization that we were committed."
Future Outcomes
At Beaumont, Fox wants the hospital group to become a leader in patient and family-centered health care by improving communication, reducing medical errors, and getting patients to follow therapy regimens their doctors prescribe.
Fox hired Grant as Emory's CNO in 2006. The pair worked together in Atlanta until Fox left. He hired her again, at Beaumont, about a year and a half ago.
"We've identified patient and family-centered care as one of our strategic imperatives, to partner with patients and families to improve care delivery across Beaumont Health," says Susan Grant, chief nursing officer. "We've also set it as a stretch goal for 2022, to become a national leader in partnering with patients and families to improve care delivery and health care outcomes."
It makes sense; Bornstein, Fox, and Grant had quite a history together at Emory of setting and meeting goals to improve patient care and hospital quality.
In 2012, looking back at that success, Fox told the Atlanta Journal-Constitution, "What's been happening the last 10 or 15 years is that the measurement for quality has gotten a lot better. A new ranking system for the teaching hospitals was organized in the early 2000s. Emory ranked in the middle of the pack in 2005, the first year of compilation, and it again ranked in the middle of the pack in 2006. We weren't happy about that. We set a goal of landing our two teaching hospitals in the top 10 in 2012."
The 2011 results, released in 2012, must have been satisfying. The Journal-Constitution reported Emory's two teaching hospitals had reached the top 10 among the 101 national systems evaluated by the University Health System Consortium, which is now part of Vizient. A system placing two of its hospitals that high in the same year was unprecedented.
No wonder Grant says that one of the reasons he came to Beaumont Health was "because of the opportunity with the three foundational health systems coming together. That opportunity, and also to work with John Fox."
Grant says Beaumont's plans include educating all its doctors, employees, patients, and families on how to be much better partners. Also planned is research, some of which will be conducted by students from the OU school of medicine, to test how patient and family-centered care contributes to better medical results. Beaumont also is working to ensure its approach to caring for patients is embedded in curricula for those medical students as well as nurses-in-training.
After years of planning and construction, Beaumont Hospital in Royal Oak opened its Proton Therapy Center in July. The center will allow practitioners to better treat many forms of cancer, especially near vital organs.
"We're calling it our moonshot," Grant says. "It's not consistently done across the country, so we really believe that if we can engage every employee and every physician and provider across Beaumont Health, along with our patients and families, that we'll be able to accomplish something extraordinary for health care and for the people we serve."
Fox offers a real-life example of what he means by patient and family-centered care: A doctor told the CEO he spent 15 minutes in an exam room with a patient, explaining how to take her medications for a chronic condition. After he was done, the patient told the doctor her daughter was in the waiting room, and asked if he could repeat the instructions to her. "We have to be disciplined enough so if there's a daughter or another caregiver in that waiting room, we pull them in early," Fox says. "A lot of this — and a lot of it's chronic care management — is a team effort at home. It could be a neighbor, it could be anybody that's involved."
Fox offers another goal of improving patient outcomes. In this scenario, a patient is discharged with prescriptions, but doesn't get them filled. If Beaumont could develop a software system that would alert a medical practitioner that a patient hasn't received their medication, they can call or send a text.
"We need to build that," Fox says. "It's all part of working with patients and families, and how do we build that (service) into our programs. Right now, patients live in a very controlled environment when they're in the hospital. They get all their meds delivered to them, they get them at the right time, at the right dose. Then we discharge them into chaos. We don't know enough about their situation, socioeconomics, or other things. And that's a lot of the avoidable cost with American health care."
Now, it's another part of creating something different at Beaumont.
DBrief | Beaumont Health
Headquarters: Southfield | Founded: 1955 | CEO: John Fox | Employees: 36,000 | Revenue: $4.4B (2016)
---
Rebirth
By Ilene Wolff
Beaumont Hospital in Royal Oak used a special planning strategy to gain city approval for its $33-million redevelopment of the former Northwood Shopping Center at Woodward Avenue and 13 Mile Road. Under the plan, the city waived  some measures that would ordinarily be required under local ordinances.
As a result, the new project will look nothing like other retail and restaurant locations that line Woodward, where parking spaces are set between the roadway and businesses.  In fact, the development will offer more features, and will possibly include a four-star hotel.
Before demolition started earlier this year, Northwood was a 1950s-era center anchored by a Kroger's supermarket. Other businesses included shops, restaurants, and bars. The center's large parking lot was a popular gathering spot for car enthusiasts during the week leading up to the annual Woodward Dream Cruise.
Carolyn Wilson, COO of Beaumont Health, is leading the redevelopment. She says she expects an 8-percent return on the system's investment, excluding the hotel, but adds that Beaumont is more motivated by creating a holistic place where its neighbors and 13,000 employees can relax.
Beaumont's application for a planned unit development, or PUD, to replace the shopping center and some apartments along Coolidge Highway at the south end of the site led to some heated discussions and an initial tie vote among members of Royal Oak's Planning Commission. At one point the debate prompted former Mayor Jim Ellison to step out of the meeting in a huff while muttering under his breath.
Contentious topics included the amount of open space, potential traffic congestion along 13 Mile Road, the height-to-width ratios of the buildings, and — the subject of most of the debate — storefronts that would face inward. Rather than have the rear of the structures facing traffic and pedestrians, Beaumont took a different tack. "There really is no back to these buildings; there will be windows all around," Wilson says.
After conducting a survey of 6,000 city residents (1,500 responses were received), meeting for a work session with the city, and tweaking the initial design, Beaumont went back to the Planning Commission with a revised application. New were environmental sustainability features such as an on-site storm water management system, pervious pavers, rain gardens, and LED lighting; several plazas vs. one central plaza; and relocating a southbound Woodward SMART bus stop to southbound Coolidge.
Rendering of Beaumont Health's $33-million redevelopment of the former Northwood Shopping Center at Woodward and 13 Mile.
Before the Planning Commission voted on the revised plan, Arkan Jonna, principal of A.F. Jonna Development Co. in Bloomfield Hills, replied to a question about what the community would receive from the retail center: "What's being proposed here is way overboard from what you would get from a typical shopping center developer," he said. "You're getting all the bells and whistles with a PUD. There's no way, financially, that a typical developer could do a project like this and be financially stable. They've done everything the way that it should be."
The commission approved the revised plan 6-2.
Other contractors involved in the project, which is expected to open in mid-2019, include Hobbs+Black, an architectural firm in Ann Arbor, and Tower Construction of Bloomfield Hills. A.F. Jonna and Schostak Brothers and Co. in Livonia will co-manage the project, according to planning documents.
Approved plans for the 16-acre site, to be renamed Woodward Corners at Beaumont, include a 41,000-square-foot grocery store; six retail buildings that will offer space for shops, sit-down restaurants, and fast-food eateries; and a five-story, 100-room hotel. Building the hotel is dependent on finding a partner in the hospitality business, which hadn't happened as of early October.
The design will enable Beaumont's workforce and others to easily reach the center via a series of sidewalks. Before, they had to walk around the center to reach a shop or a restaurant.
Rosanna Morris, president of Beaumont Hospital in Royal Oak, told the City Commission in February there were more than 300 retailers on a waiting list. The new commercial tenants will be announced in the coming months.
The project is dotted with plazas featuring outdoor seating, wide sidewalks, and landscaping. Some of the buildings, including the grocery store, have space for outdoor café seating, and areas of the parking lot can be blocked off for festivals, food truck rallies, health fairs, a farmers' market, movies in the park, and, of course, Dream Cruise motorists and spectators.
Beaumont may go back to the city in the future for approval to add another feature. John Fox, president and CEO of Beaumont Health, says he would like to see an enclosed bridge between the hospital and potential hotel for the comfort of patients and visitors.
Mayor Michael Fournier, who replaced Ellison after he was elected to the Michigan House of Representatives in December, says the multiple planning sessions led to a beneficial result. "We had some difficult discussions," he says, "but in the end, the project is a win for everybody. It's a much-improved use of that parcel of land."
Facebook Comments