More and more women are breaking through the glass ceiling in metro Detroit.
In an effort to recognize their achievements, we asked readers to nominate female business leaders who they felt were moving their respective companies, industries, and communities forward. The only criteria was that the nominees be employed in the executive ranks of private businesses, corporations, hospitals, and universities in the five-county metro region (Oakland, Wayne, Macomb, Livingston, and Washtenaw counties).
Please join us as we honor 10 of metro Detroit's Most Powerful Women in Business.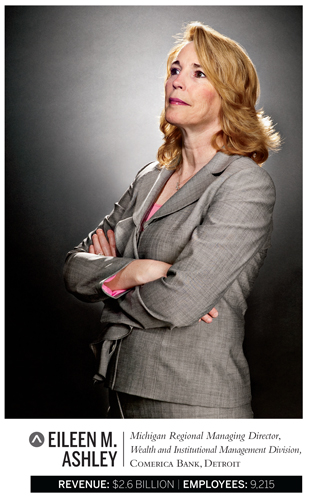 Even as a young girl, when she had her own bank account, kept a budget, and babysat for an accountant, Eileen M. Ashley knew she would have a career in finance and money management.
In an industry not typically known for having women in top management positions, Ashley has steadily risen through the ranks at Comerica Bank. Today she is responsible for sales, profitability, relationship management, and intrabank relationships among Comerica's wealth and institutional management offerings in Michigan.
"More companies are realizing the value of placing women in higher management positions," Ashley says. "The research has shown that women change industries and have a positive effect on the bottom line."
Ashley, who has worked in private banking, executive administration, management accounting and financial reporting, and corporate marketing and development, says her success can be traced to two principles.
"First, I've always been open to new opportunities and challenges, and even if I didn't know an area I was going into very well, I was eager to learn and improve my knowledge base. I've also worked hard at developing long and endearing relationships, and having open communication with my employees. You have to connect with people. When we have tough times like we've just gone through, I believe people dig in and work even harder for you." — Bill Dow
---
Susan Barkell didn't have much time to enjoy college life. She was too busy pursuing degrees in accounting, finance, and managerial economics while working as an accountant for the Michigan Osteopathic Association (MOA).
By the time she graduated, Barkell was running the MOA's office. It was during that time that she discovered a passion for advocacy.  "I wanted to go beyond the numbers side of accounting because I really enjoyed fighting for what I knew was right, developing relationships, and seeing the power of what people can accomplish," says Barkell, Blue Cross Blue Shield's senior vice president for health care value.
Determined to improve provider relations by enlisting the help of someone with an outsider's perspective, the Blues hired Barkell in 1996. Under her leadership, satisfaction with provider relations went from 35 percent to 84 percent — all while the provider network was greatly expanding.
With a strong work ethic and a team-oriented approach that encourages a diversity of opinions, Barkell's recipe for success centers on collaboration.
"Our principles of operation include a broad provider network that works collaboratively to provide input as we develop programs and policies," she says. "This ultimately allows us to develop better products and have more satisfied providers. In turn, customers experience better outcomes." — Bill Dow
---
Growing up in Detroit, Sue Cischke — Ford's group vice president of sustainability, environment, and safety engineering — learned early on that everything in the region revolved around the auto industry.
Yet despite that fact, there weren't a lot of women in the business — especially in the field of engineering — when Cischke entered the engineering program at Oakland University. Determined to succeed, Cischke landed her first job at Chrysler in 1976. She spent two decades with Chrysler, where she developed a reputation as an expert in safety and environmental technology. In 1998, Cischke left for Ford, where she has served as the company's top environmental and safety officer since 2001.
Her climb up the corporate ladder came during a period of dramatic change within the domestic auto industry. In the mid-1970s, automakers were only reluctantly going along with new federal safety, pollution, and fuel-economy mandates. Today, however, companies like Ford race to deliver the best mileage, lowest emissions, and newest safety features.
Cischke concedes it can be a bit tougher for women to balance family and technical careers, but she says it's not impossible to overcome those challenges. And although she's quick to say, "I don't like to stereotype," Cischke says women bring critical skills to the engineering world notably "an awareness of how to work together as a team." — Paul A. Eisenstein
---
Mary Sue Coleman never set out to be president of a public university. In fact, it was the furthest thing from her mind as a young girl growing up in the 1960s. Her passion was science, fueled by news about Sputnik and the space race.
But after working as a biochemist and an academic researcher at the University of Kentucky, she was asked to be the interim administrator of the university's Cancer Center. It was a risk to shift positions, but Coleman says success often starts by taking a chance. "I believe (risk) is essential to moving forward and growing professionally," she says.
The move dramatically shifted Coleman's career from scientist to administrator. After working in administrative positions at several public universities, she was named president of the University of Iowa in 1995. In 2002, she was selected as the first woman president of the University of Michigan.
During her tenure at Michigan, the university has raised more than $3 billion — the most of any public university — as part of the Michigan Difference campaign. She's also created links with Chinese academic institutions, and began a major initiative with Google to digitize the university's 7-million-volume library.
With the state's support of its universities dwindling because of the economic recession, Coleman is now measuring her success in how well she deals with two major concerns: maintaining the affordability of a college education, and securing the resources required to uphold U-M's status as a world-class institution. — Fara Warner
---
When Marian and Michael Ilitch opened their first Little Caesars Pizza store in 1959, the mother of three handled the company's finances from her dining room table. "I had an accountant who was teaching me, and I spent a year at home before we leased an office," Ilitch recalls.
Whether or not she realized it at the time, Ilitch, who raised seven children, was a harbinger of a changing employment landscape that saw more women balance their home life with a career. "We've had our hand in innovation, expansion, and success, but through that whole time we never lost sight of the fact that the customer always comes first," she says.
Although today Ilitch owns and operates the MotorCity Casino in Detroit, she remains active at Little Caesars. Along with other finance committee members, she reviews franchise applicants, site operations, and expansions, and oversees accounting and financial management.
"I think the biggest thing for us is that we're a family that works hard," she says. "Our employees are our biggest asset, and when everyone sees your work ethic and commitment, it rubs off." Ilitch also credits her success to a knack for paying attention to detail. "We look to hire people who are very qualified and talented," she says. "It just makes your company that much stronger." — R.J. King
---
Before she started a family or owned a company, Irma Elder worked as an assistant to an auto dealer in Miami. "Everything about the business operations of the dealership came across my desk, so I learned a great deal," she recalls. The experience proved to be serendipitous.
After her husband bought a Ford dealership in Troy in 1967, the couple had three children. "During that time, I was strictly a housewife taking care of the kids. I also was in charge of our savings," she says. "But my husband had cardiac arrest and passed away in 1983. There were some big decisions coming my way."
Given her dealership background, along with support from family and friends, Elder took over the operation of Troy Ford in January 1984. Two months later, her general manager said he was going to retire — but Elder says he really went to work for a competing dealership, and he recruited the bulk of her sales staff. "I was left with two rookie salesmen," she says. "I wanted to get out, but my family said to stay in. It was a lot of trial and error, but we made it work."
Focusing on customer service, Elder says sales quickly recovered. As opportunities for other dealerships came along, she took on the most promising deals and changed the organization's name to Elder Automotive Group. Today, Elder owns 10 dealerships between Michigan and Florida. "Honesty and integrity are the cornerstones of our business," she says. "We would be nowhere without them."— R.J. King
---
The epitome of positive, uplifting, and life-changing energy, it's fitting that Florine Mark is on her cell phone in the middle of a herd of sheep somewhere in Chile. At one time the largest franchisee of Weight Watchers International, Mark is a multifaceted entrepreneur, media personality, author, and two-time cancer survivor.
For a poor kid growing up in a house with 13 family members on Detroit's northwest side (she didn't know she was poor, and started working at 11 years old), Mark has done well for herself.
By anyone's measure — she built a business in Farmington Hills from scratch to include 6,000 employees, who were responsible for overseeing operations in 14 states and three countries — she has been enormously successful. Yet, Mark says, her prosperity didn't come without sacrifice.
Consider she passed on a chance to attend college so her two sisters could pursue their dreams. She's also battled with fluctuations in her weight, having gained and lost 50 pounds on nine separate occasions.
"Everything I've learned the hard way, through experience and reading," she says. What's more, she attributes her success to a "fire in my belly, and a passion in my heart, for the thrill of growing a business." — Paul W. Smith
---
In the last of a series of computer programming positions she held during the 1980s, Cynthia J. Pasky saw the light. "I was working for a very structured company, and if something didn't fit in the box, it didn't happen," she recalls. "The company also wasn't engaged in the community. I thought there was an opportunity to be far more creative with customers, while forming the capacity for community involvement."
Enter Strategic Staffing Solutions in Detroit. A provider of multiple IT services, vendor management programs, and an executive search program, the company, founded in 1990, has grown every year — a remarkable feat, given the last two decades have delivered three economic downturns.
"We work with up to 100 companies at any given time, but our core business is made up of 30 companies," Pasky says. "We treat each of our clients individually, and we really study their markets and look for opportunities to help them grow."
Active in the community, Pasky serves on numerous boards, including Business Leaders for Michigan, the Detroit Youth Foundation, and the United Way of Southeastern Michigan. She's also assisting in the turnaround of the Detroit Public Schools. "I don't have a formal role, but the turnaround of the schools will lead to a better future for everyone," she says. — R.J. King
---
In the seven years Nancy M. Schlichting has served as president and CEO of Henry Ford Health System, the hospital network has grown its net income, market share, and revenue. Add to her achievements more than $100 million in improvements at Henry Ford Hospital in Detroit, the new Henry Ford Hospital West Bloomfield, and a potential research and technology park in Detroit.
Schlichting credits her success to a formative upbringing. Her father was a nuclear engineer who holds eight patents, while her mother was an English teacher. During her childhood, Schlichting and her three siblings spent time attending classes in Europe, and they were exposed to a healthy dose of music, art, and theater activities. In high school, she participated on the debate team. The latter pursuit, she says, helped her to think logically, organize ideas, communicate clearly, and see "the big picture."
Admitting to being "overly organized," Schlichting deftly juggles her career and a personal life that includes her stepchildren, father, and extended family. She emphasizes the importance of maintaining a "personal life" with everyone she works with. "Don't miss the things that are important in your life, because you don't get another chance. That's how I've tried to live my life," she says. But, she adds, "I don't sleep as much as I'd like, and my golf game has really suffered." — Paul W. Smith
---
There are those who believe you make your own luck by intuitively knowing which opportunities that come along in life to take. That certainly applies to Diana Tremblay, General Motors' vice president of manufacturing and labor relations.
In 1977, when Tremblay reported for duty at GM's Defiance Casting Plant in Ohio, the auto industry had only reluctantly opened its doors to women; most were nudged into "soft" assignments like human resources or public relations. Back then, being a woman in what was seen as a man's world meant you were held to a higher standard. But, Tremblay says, "When you proved you were capable, doors opened." It's something she has proven repeatedly during her 33 years at GM, where she has held a variety of manufacturing and engineering assignments.
One of her toughest assignments was serving as GM's labor relations chief in 2007. In that position, she led the team that negotiated a breakthrough contract with the United Auto Workers — a deal that not only delivered major improvements in productivity, but also helped resolve long-standing issues on health care. Last year, Tremblay led the GM team back to the bargaining table for more concessions during the automaker's bankruptcy.
In December, GM added manufacturing to Tremblay's title, putting her in charge of the company's vast factory empire. It's a good assignment for someone who admits she likes to make things — but it's also a critical challenge, because only by getting cost and quality under control can the long-troubled automaker hope for a turnaround. With the luck she's already made for herself, Tremblay is in good position to succeed. — Paul A. Eisenstein
---