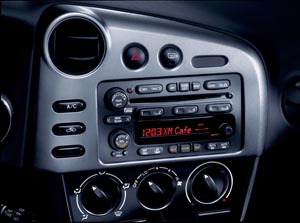 There are times when Rodney O'Neal sounds more like a sailor than a CEO. "You have to be aware of what your North Star is and never lose sight of it," he says, sitting in a Renaissance Center ballroom shortly after giving a recent speech to an auto industry confab. "Otherwise," he cautions, "you'll lose your way."
There were plenty of times in recent years when the company O'Neal now runs did seem to have lost its bearings. Giant parts maker Delphi, once one of the world's largest automotive suppliers, voluntarily plunged itself into bankruptcy in 2005. The company, O'Neal says, had been unable to resolve fundamental problems that threatened its survival and saw Chapter 11 as the only way to hammer out a painful — but consensual — restructuring. At least, that was the strategy.
But things didn't quite work out that way. The mega-supplier found itself facing what O'Neal calls a "double-feature" — something those quick with a cliché might have dubbed the perfect storm. Delphi's bankruptcy filing coincided with "the implosion of the global auto industry," the executive recalls, a frown spreading across his face, capped by the meltdown of the global finance markets.
As Robert Burns said, the best laid plans of mice and men oft go astray. And the same can be said for corporations. So instead of the quick, surgical restructuring envisioned by former Delphi CEO Steve Miller, the supplier's trip through the courts began to take on Kafka-esque tones that started to suggest a permanent existence in bankruptcy hell. By the time the courts finally signed off on the last legal documents four years later, what had been envisioned as a surgical strike turned out to be the longest corporate bankruptcy in American history.
Yet, after all the miscues and false moves, industry analysts suggest the new Delphi bears a striking resemblance to the company that Miller and O'Neal envisioned when they first filed for court protection. Today, there's more than just the word "automotive" missing from the post-Chapter 11 Delphi. Gone, as well, are the old-style component operations, like steering gear, that were cobbled together a decade ago by Delphi's former parent, General Motors, which originally used the spinoff as a way to get its own house in order.
"They've finally gotten rid of all the junk," says NexTrend automotive analyst Joe Phillippi, referring to the truly ancient 20th-century legacy businesses that had collectively become Delphi's corporate albatross.
But that's only one of myriad reasons why Phillippi and other industry analysts are so bullish about the Troy-based supplier. The slimmed-down Delphi that's emerged from bankruptcy is effectively debt-free and operating largely without the legacy labor costs and holdover wages that made it increasingly noncompetitive. And although it's barely half the size of the company that entered Chapter 11, what remains offers Delphi the opportunity to tap into some of the industry's most promising trends — and, if O'Neal and company can stay true to their North Star, generate sizeable profits.
A Troubled Birth
To get a handle on Delphi's revival one must understand its troubled past, and to do that requires a brief analysis of GM's history.
There was a sharp difference in the visions of the early auto industry's two most successful pioneers. For the most part, Henry Ford chose to grow his company organically; Billy Durant, heir to a Flint buggy fortune, preferred amassing his vertically integrated GM empire by cobbling together promising auto brands like David Dunbar Buick's auto company with the operations of parts makers like Fisher Body.
Indeed, for much of the 20th century, GM operated as a collection of interconnected but semiautonomous fiefdoms — at least until the radical reorganization that former chairman Roger Smith announced in 1984. Times had changed, and quite dramatically, with the arrival of Asian automakers like Toyota and parts suppliers like Denso. Suddenly, vertical integration didn't work so well. Many of the components operations that had been fundamental to GM's rise were suddenly an anchor threatening to bring it down.
In some cases, GM simply hadn't made the investments necessary to compete in basic stamping, forging, and machining opeations. But there was also the issue of wages. While the automaker was paying its parts workers the same rates as assembly-line employees — a figure that in recent years approached $70 per hour in total wages and benefits — competitors were shelling out a fraction of that — in some cases, less than $10 an hour at nonunion plants in the States, and significantly less abroad.
By 1994, GM began looking for a way out. It organized a large chunk of its parts and components business into the new Automotive Components Group, assigning executive J.T. Battenberg III to figure out how to either salvage those operations or get rid of as many as possible. Battenberg, once considered a contender for GM's top spot, knew he was being sidelined. But, as he said in an interview at the time, he saw "an opportunity" to create something bigger than initially perceived.
Battenberg's first step with what, in 1995, was renamed Delphi Automotive Systems, was to divide the parts-making empire into three groups. Those operations given a red light were destined for sale or closure; those given a green light were deemed worth keeping. Yellow gave a reprieve, but only if a turnaround seemed feasible. By 1999, a pared-back Delphi was spun off through an IPO, with Battenberg as its first chief executive.
Cleaning Up the Mess
The ever-optimistic Battenberg seldom offered a public hint of the turmoil inside the company. But the reality was that, because of politics and union pressures, far too many antiquated and irreparable operations remained under the Delphi banner. And little had been done to deal with the labor-cost issue. That compounded Delphi's problems and made it difficult for the parts maker to win over new business. One of Battenberg's stated goals was to shift away from a near-total reliance on sales to the domestic auto industry, primarily General Motors.
Actually, when times were good, it was a reasonably acceptable arrangement: GM was contractually obligated to pay the Delphi premium for parts the supplier would have trouble marketing anywhere else.
"The first couple years out, we were extremely successful," recalls Kenneth Stipp, who joined one of Delphi's progenitors, the old Delco Moraine Division, in 1984. "But the difficulty we faced, like other suppliers, is that when the domestic OEMs lost sales, we lost volume. And as they lost market share, they got more aggressive on pricing." Stipp, now Delphi's treasurer, says they eventually realized they needed to do something dramatic.
Under Battenberg, Delphi continued paring back unhealthy operations and trimming the workforce, cutting 11,500 jobs in 2001 alone. The language of the IPO gave Delphi some leverage to send employees back to GM, but things simply weren't moving fast enough, as the company realized in the wake of the 9/11 terror attacks, which triggered the decade's first economic meltdown.
Complicating matters were the financial irregularities that led to Battenberg's departure and raised serious concerns about Delphi's long-term viability. Delphi was now dependent on General Motors and vice-versa. By 2005, it was increasingly clear that the troubled automaker could not provide life support forever. By mid-year, new CEO Steve Miller knew his options were growing smaller by the day.
Robert S. "Steve" Miller first made a name for himself helping to orchestrate the improbable 1981 bailout of Chrysler Corp. The author of The Turnaround Kid: What I Learned Rescuing America's Most Troubled Companies, Miller went on to replicate his magic at Waste Management and Bethlehem Steel. And when he joined Delphi Corp. in July 2005, its course was obvious.
Even so, Miller was intent on crafting a consensual resolution, one in which all the relevant stakeholders would agree to make the necessary concessions on wages, debt, and the other impediments holding Delphi back. But it quickly became clear no one was willing to budge.
On Oct. 8, 2005, Delphi voluntarily filed for Chapter 11 in New York bankruptcy court — at the time, the biggest auto industry filing ever. The judge assigned to the case was one Arthur Gonzalez, the same jurist who would eventually oversee GM's lightning-fast dash through the court. But while Miller had hoped to expedite matters for Delphi, that simply wasn't in the cards.
'Keelhauling' the Process
Declining auto sales and a steadily weakening economy certainly didn't help Delphi; neither did strident opposition to debt restructuring and wage cuts. And despite being named the 2006 Business Executive of the Year, Miller still had a tall task in front of him — one far more difficult than anyone anticipated. He faced a bitter battle with the UAW over wage cuts and the hefty "retention" bonuses Delphi gave to senior managers. White-collar employees were also enraged by cuts to their own once-lavish benefits.
Delphi was already nearly three years into its bankruptcy proceedings when a glimmer of light appeared on the horizon: Equity house Appaloosa Management agreed to invest $2.55 billion. With several billion more dollars within reach, it looked like Delphi was ready to re-emerge. But in April 2008, just days before a critical deadline, Appaloosa walked out on the deal. It would take another 18 months before the supplier could piece together an alternate solution.
But what emerged arguably might be a stronger, healthier company, at least in the eyes of Ken Stipp, who says the company would've been saddled with billions in new debt under the Appaloosa plan. Now, he says, "We have cash on our balance sheet and almost no debt."
Perhaps, but you're not likely to hear many kind thoughts about the delay from Miller, now retired as CEO. The "Turnaround Kid" was unavailable for comment on this story, but in a frustrated moment after the collapse of the Appaloosa deal, Miller complained that American bankruptcy is much too expensive and a process that "needs to be keelhauled."
Delphi's Chapter 11 legal bills, he lamented, totaled $150 million a year. "That amount of money," he said, "could be much better spent on new products or better pay for our workers."
By the Numbers
"There's no question the transition [through Chapter 11] was difficult," says current CEO Rodney O'Neal. "It was extremely expensive and financially painful for all our stakeholders. But what doesn't kill you makes you stronger."
Today's Delphi is markedly different from the one that entered Chapter 11, but O'Neal insists his company's current path was part of the plan all along. He's quick to rattle off some salient figures: The company now has 90,000 fewer employees, has eliminated two of the seven divisions it operated before the bankruptcy, has eliminated 17 of 27 business units, and has cut its catalog of products from 119 to just 38.
The "new" Delphi now runs just four plants in the United States, down from 44 when it filed for court protection — 34 were closed, and others were sold or shifted back to GM, as was the case with the supplier's steering unit. The books no longer carry factories operating at a fraction of their capacity, Stipp says. "That helps in our negotiations [with customers], not thinking about having to fill those plants up."
Prior to the bankruptcy, Stipp says, the company would often make deals just to make sure the plants could keep running, accepting prices that didn't make economic sense.
Even though Delphi has transplanted many of its operations to countries where it pays a fraction of American wages, the reborn supplier now has only 14,000 workers on its global payroll — less than a third as many as it did when it threw itself on the mercy of the court. One of the more controversial moves while under court protection saw Delphi unilaterally slash the wages of its U.S. workforce. Going into Chapter 11, its "all-in-costs," including significant legacy costs for such things as retiree health care, averaged a staggering $73 an hour. Today, that's down to just $30 in the U.S., and even lower among most overseas operations.
And while Delphi has downsized its American presence, you can expect to see significant growth abroad, predicts Andrew Brown, the supplier's executive director and chief technology officer. At the time Delphi filed Chapter 11, 68 percent of its business came from North America. Today, that's down to 32 percent. "And in the coming years," Brown says, "our goal is 28 percent."
On the other hand, Europe is forecast to go from 25 percent to 45 percent by 2012 — though O'Neal acknowledges Delphi still needs to do more restructuring on the other side of the Atlantic. Considering the power of European unions and the legal strictures on businesses overseas, that'll be quite the challenge.
But the real place to watch? The so-called BRIC nations: Brazil, Russia, India, and China. Three of these countries — Brazil, India, and China — functioned as if there were no recession at all last year. In fact, China's astounding 45-percent growth pushed it past the United States to become the world's largest automotive market. And Delphi is moving fast through a series of new ventures to take advantage of that rapid expansion.
Delphi is one of just two suppliers — the other is German rival Bosch — cited in a recent study by the Boston Consulting Group ( BCG) for its successful efforts in tapping the growth of the BRIC markets. BCG's Xavier Mosquet hails Delphi for "looking at the opportunities from a strategic standpoint and then managing its portfolio with high-growth products."
That, in fact, is the key to Delphi's resurgence, whether you're talking Detroit, Frankfurt, or Shanghai.
Plug In, Turn On
By various estimates, electrical and electronic components are likely to represent as much as 30 percent of the cost of the typical car by the end of the coming decade. And on luxury models, like a BMW 7-Series, that could surge to as much as 40 percent, according to BMW global sales chief Ian Robertson. So is there any surprise that such technology has become central to Delphi's plans for the future?
"We're now a much [more] focused company with an emphasis on the hot spaces of safety, green technology, and connectivity," O'Neal says. He believes Delphi can take advantage of a unique alignment of what consumers want and what government is willing to fund.
Nowhere is that more true than with green technology. In the United States, manufacturers will need to increase the fuel efficiency of the typical vehicle by roughly 30 percent, to 35.5 mpg, by 2016. In Europe, tough new CO2 regulations, driven by fears of global warming, are even more demanding. Delphi has put a premium on engine control and related systems that can boost mileage and reduce emissions — and which command a hefty premium from automakers desperate to meet the new requirements.
The auto industry long ran by the adage that "safety doesn't sell." But don't try arguing that these days. A quick glance at any sales brochure shows that automakers now compete to offer the most air bags, as well as the most advanced safety systems — such as antilock brakes and electronic stability control. Delphi is working on systems that not only help a driver react more effectively in a crisis, but which can predict and respond to a potential collision before a driver is even aware of it. The supplier is also developing technology that can sense when a driver is beginning to become drowsy, and will recommend pulling over for a break.
So-called infotainment technology has become one of the industry's hot-button topics, "paralleling what has happened with consumer electronics," Andrew Brown says, "because we want much the same technology in our vehicles." Delphi was actually an early player in the field, partly because of GM's ownership stake in satellite radio provider XM.
Brown says that "whether by regulatory requirement or pressure from consumers, technology is showing up to market faster than ever." That's caused a real paradigm shift as automakers struggle to find ways to integrate systems like Wi-Fi, Internet radio, and real-time traffic at a pace more akin to the consumer electronics world than the traditional auto environment.
Deliverance
Not everyone is pleased with the new Delphi. Certainly not those workers who've seen their wages and benefits slashed or who've lost their jobs entirely. Den Black calls what's happened since the company declared Chapter 11 "an absolute tragedy of immense proportions." As interim chairman of the Delphi Salaried Retirees Association, Black has seen many of his colleagues get wiped out by what he insists was an illegal and un-American settlement.
For his part, O'Neal defends the steps the company took. He and other Delphi officials contend there was simply no alternative.
NexTrend's Joe Phillippi agrees. He feels the pre-Chapter 11 Delphi had a bloated, ineffective structure that would've imploded during last year's automotive meltdown, and that the odds of its survival would've been far less.
Looking forward, O'Neal's North Star could be leading him to the promised land. He's laid out a three-year plan that calls for a substantial increase in revenue — an added $1 billion a year through the end of 2012 — and a return to profitability. He's projecting positive cash flow for each division, all regions, and every one of Delphi's 38 product lines.
"We're hard at it,' he says. "We're all over this." And for the first time since Delphi Automotive Systems was conceived, the company may really be on target.
The Divisions at Delphi
Delphi recently emerged from the longest corporate bankruptcy in American history. After leaving Chapter 11 protection late last year, the company once known as Automotive Components Group has become smaller and more diverse at the same time. Here's a look at the new Delphi. By Matt Gulley
 

| | |
| --- | --- |
| Medical Devices // Once troubled by dead-end production lines whose only customer was GM, Delphi now has tentacles in the medical industry, among others. One such Delphi product is a portable oxygen concentrator, which provides relief to those with chronic bronchitis and emphysema. Currently, eight major airlines, including Delta and Continental, carry Delphi's oxygen concentrators on their fleets for COPD patients or other emergencies. Delphi also sells home monitoring systems that allow physicians to remotely keep track of patients' vital signs. | R&D // Located in the small European nation of Luxembourg, another major arm of Delphi is the Customer Technology Center, which functions as the company's powertrain division headquarters and commercial testing facility. There, Delphi offers a multitude of testing services, including vehicle emissions of diesel and gasoline engines, vehicle noise and vibration, engine durability, and electromagnetic compatibility. The Customer Technology Center also boasts an environmental wind tunnel, which can simulate conditions of -22 degrees Fahrenheit and winds of up to 124 miles per hour. |
| Intellectual Property // Delphi has a variety of patent clusters, or groups of protected inventions centered on specific applications, that are available for licensing. These patent clusters include backlighting for liquid crystal displays, technology for navigation and GPS systems, and a nano-epoxy used in circuit boards. | Alternative Energy // In addition to making advances in energy efficiency, from solid oxide fuel cells to hybrid vehicle battery systems, Delphi has been an innovator in the field of safety products, as well. |
| Commercial Applications // A nice air conditioner has long been the only thing to make a sweltering car hospitable. Delphi has taken this automotive mainstay into other residential and industrial areas, creating more than 37 million heat exchangers. The main areas of service for its Micro Channel Condenser are retail food storage, outdoor units for homes, rooftop units for commercial property, and refrigerated trucks. | Safety Devices // The Delphi Lane Departure Warning system is exactly what it sounds like: a camera and computer system that reads painted road lines and alerts drivers if they begin to drift out of their lane. Incorporating this camera technology while simultaneously using radar, the Collision Mitigation System takes the lane departure idea to its logical conclusion — predicting imminent collisions and automatically stopping the car if the driver fails to do so. |
Facebook Comments