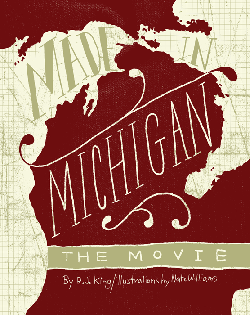 (Fade in)
William Parker High School in Howell, built three years ago at a cost of $72 million, sits largely vacant, a victim of an economic recession, poor government planning, and declining population levels. Open for just one year, students were transferred to Howell High School in 2008. Local residents were not pleased.
In the same year, the Michigan Legislature passed a series of bills allowing for up to 42 percent in tax credits for films made in Michigan. Once signed into law, the initiative was an immediate hit, drawing mostly small- and medium-budget independent films, with the occasional blockbuster thrown in. Television shows were eligible for these credits, as well.
Enter S3 Entertainment Group in Ferndale, which was hired by an investment team in the spring of 2009 to produce a 26-episode television series to be called The Wannabe's. After weeks of scouting high school locations and large warehouses throughout the Detroit region, S3 Entertainment learned that Parker High School in Howell was available. Shooting started in August.
With a cast and crew of 120 people, and a budget of $11 million, S3 Entertainment and its partners set the scene. Scheduled to air this fall, the show is about a handful of young, talented entertainers who are sent by their parents to a boarding school in metro Detroit. The students believe the school will help hone their talents in preparation for successful careers as hip-hop and pop artists.
Arriving on campus, the students soon learn the school specializes in classical music training. Enter rebellion and angst. After acting up, the students are disciplined. The punishment: Work after school in a malt shop.
Enter fate. Encouraged by the malt shop owner, Mr. Moody, the prodigies wear disguises and entertain customers with live performances. "The plot is very family-friendly, sort of a cross between Hannah Montana and Saved By The Bell," says Ron Lacy, executive producer and CFO of Savvy Productions in Ferndale, the company set up to produce the series. The name of the business references the show's six main characters, an actual musical act from Texas called Savvy that has toured with Disney productions. To get the most out of the film set, Savvy is recording a series of videos there to help support its tour business.
Lacy, former CFO for a management-consulting firm, joins dozens of people on the set who have either switched careers or transitioned due to Michigan's fluid economy. "If people want to know that business and government can work together to start new industries and provide employment, they need look no further than the film and television industry," says Jeffrey Spilman, managing partner of S3 Entertainment. "Just look at the direct and indirect spending that's come forward since the legislation has passed."
To be sure, in addition to employing a cast and crew, the producers hired construction workers to convert the school's large gymnasium into Mr. Moody's Sweet Shop, while a black box theater was rigged for lighting and sound to accommodate smaller scenes. Empty classrooms were transformed into an avenue of departments — wardrobe, makeup, engineering, props — while the school's media center was stocked with computers, books, and furniture. Just outside the media center, glass display cases house rented medals and trophies.
Local apartments were rented for the cast and their family members, with other relatives and friends lodging nearby. In turn, there are more direct benefits for old-economy-converts-turned-entrepreneurs like Dave Hawk, a former manufacturer's rep who opened a restaurant near the school — benefits that aren't credited in his original business plan.
"It all started when some members of the crew came into the restaurant," says Hawk, owner of TJ's River BBQ, a 110-seat eatery along Grand River. "It just evolved from there. The next thing I know, I'm catering the food for The Wannabe's. Then the producers invite us as part of a cast visit to Lansing, and now I'm catering different events up there. We got some other film work, too. It's been a great sideline to my restaurant business."
Naturally, Hawk hopes the show is picked up for a second season. The principals of Savvy Productions are confident the series has legs. The show will be seen first in Australia, followed by Germany, and around 10 other European markets. If it proves successful, The Wannabe's will air in the lucrative British and American markets.
"That's the pattern," Lacy says. "If it airs in the U.S., you could see it on the ABC Family Network, Discovery Kids, or Nickelodeon. And it all started in Michigan. Without those tax credits, the state would still be attracting one or two film projects a year."
(What Government Gives in One Hand …)
Given all the attention Hollywood has brought to Michigan, no one is arguing that the film incentives aren't working. To be sure, the production credits since 2008 read like a blockbuster movie.
In June, Hugh Jackman and Steven Spielberg started work on an $80-million futuristic film called Real Steel, set for release in fall 2011. The plot revolves around Jackman's character, a former boxer, who helps train a robot for the world boxing title. Other A-list stars who have filmed in Michigan over the last two years include Sigourney Weaver, George Clooney, Hilary Swank, Clint Eastwood, and Al Pacino, to name just a few.
But no one's ready to roll the credits. "The original (film) legislation included tax credits for films and commercials, but the Treasury Department adopted a rather narrow reading of the statute so that commercials other than those supporting the film industry don't qualify," says Steven Wild, president of Grace & Wild Inc., a multifaceted film production company in Farmington Hills. "That decision is costing Michigan businesses a lot of money, and a lot of jobs."
Case in point: After Illinois passed a 30-percent tax credit in late 2008, Michigan ad producers faced new competition. "Our ad work is down overall, and while we've been fortunate to have a hand in most of the film production over the last two years, it hasn't made up for what we've lost on the commercial side," Wild says.
In 2007, the year before the Michigan Legislature passed enhanced film incentives, Grace & Wild employed 230 people. Today, the company has 150 workers. Other area production houses and advertising agencies have downsized, too — not only because of lost work, but also due to rapid advances in visual technology that have reduced the need for commercials to be shot on location.
Oakland County Treasurer and former State Representative Andrew Meisner, one of the early backers and authors of the film legislation, says the state Treasury took some language out of context. "We specifically included commercials in the legislation, and all of the testimony in committee leading up to passage included commercials," he says.
Citing a footnote prohibiting tax credits for infomercials, the Treasury Department disallowed commercials, as they also promoted "a product or service." The net effect: Commercial production houses got caught up in a larger game of state, regional, and community tax breaks. At the same time, the Michigan Treasury removed any assistance.
But the Legislature isn't sitting idly by. A series of bills making their way through both chambers calls for a 25-percent tax credit for traditional commercials (with various stipulations designed to promote state-based businesses and workers).
Since the spike in tax credits, more than 100 projects valued at $628 million will have been produced in the state through 2010. Most of the projects are independent films in the $10 million to $12 million range — although, on occasion, a large blockbuster of up to $100 million will come in.
The pattern's not likely to change, given wages paid to non-Michigan residents (read A-list stars and directors) that are eligible as a qualified expenditure are capped at $2 million per person, per production. "A movie with a star [who] commands $20 million will obviously be harder to bring to Michigan, but the cap doesn't [affect] the mid-range movies as much," Spilman notes.
Still, both Spilman and Wild, along with their partners, hope more films are shot in Michigan, whether small, medium, or large. Just as a rising tide lifts all ships, S3 Entertainment and Grace & Wild have had a hand in nearly every production shot in the state over the last two years, whether from power and equipment rentals, post-production services, studio bookings, special effects, video editing, or motion picture processing.
What's more, S3 Entertainment recently opened a motion picture studio in Madison Heights called S3 Studios, while Grace & Wild has been servicing films since it was founded in 1984. "One thing Michigan has going for it is that we're building the infrastructure to draw more work, [and] more advanced film markets like New Mexico are limited," says Ginny Hart, vice president of sales for HD Studios, a division of Grace & Wild. "New Mexico is great, but when you go to shoot outdoors, all you have is the desert. In Michigan, we can recreate California, New England, Europe — you name it.
(Dreams Meet Reality)
Not every film requires a large production house. It took nine months for Amy Weber to write the script for Annabelle & Bear, the story about a 2-year-old girl who helps her rebel father clean up his drug problem. Shot entirely in Michigan, with a local cast and crew, Weber says her recently completed film has drawn attention from the major festivals.
"The big challenge now is getting the film distributed," says Weber, founder of the Radish Creative Group in Royal Oak. "The fact that the film is made is just one challenge in a long journey. The next step for me is to find a distributor who believes in the movie and will invest in distributing it."
That's easier said than done. Only a few dozen books ever make a bestseller's list in a given year. The same holds true for blockbust-er movies.
"You really need a number of things going your way before a movie ever makes the big screen, and the most important is access to capital," says Michael Mihalich, president and CEO of MJR Theatres in Oak Park. "You have to have an engaging story line, memorable acting, timing, and connections. Plus, you have to throw in luck. But even if you have all of those things, there are no guarantees that you'll be successful. It's a tough business."
With several more studios in the planning stages, some are wondering if the film industry has enough work to go around. Most experts say the addition of new and renovated studios will draw more filmmakers, and the industry will expand. To drive home the point, Cadillac Travel in Southfield has already generated more than $1 million in bookings for film-related projects in the state.
But not every studio project is the same. Unity Studios in Allen Park, for example, was touted as a major motion picture facility, but so far much of its activity has been confined to retraining workers. Other projects are in different stages of development.
In Grand Rapids, the recent opening of Hanger42 Studios saw the filming of The Gun, starring Val Kilmer and rapper 50 Cent. But the $45-million studio, refashioned from a former Lear plant, has yet to announce its next project. Meanwhile, an animation studio planned for Detroit has yet to secure financing, even though the project was announced two years ago.
In Pontiac, luxury mall developer A. Alfred Taubman, Walbridge Chairman John Rakolta, and several partners have completed the financing for the $60-million Raleigh Studios Michigan. Plans are to renovate a former General Motors facility into sound stages, paired with new construction. Production activity has yet to be announced.
Several projects have been undertaken at 23rd Street Studios in southwest Detroit, including Motor City Motors, a reality show that began airing in January on the Discovery Channel. Stage 3 in Warren has produced several television projects, while a $20-million green screen studio is slated for Clinton Township — although only the first phase is financed.
Still, some projects have worked. Bob Brown, who produced Escanaba in da Moonlight in 2001, which starred Jeff Daniels, says he tried to distribute the film in Hollywood, but it was difficult to find people who could relate to the story line — hunting in northern Michigan, complete with a special dialect.
"We raised $2.3 million for the movie, and we shot it for $1.8 million," he says. "Hollywood didn't get the plot, so I took the remaining $500,000 and paid for the distribution. Luckily, we grossed $2.3 million on the film, made another $250,000 from DVD sales, and we still have money coming in from cable rights and foreign markets. When a film works, it becomes an annuity.
Auditors

ITS Group // Southfield
248-233-6252
Julie May
N/A
Multiple
Kahn & Company PLC // Commerce Twp.
248-363-4130
Patricia Kahn
www.kahn-cpa.com
Multiple
Schellenberg & Evers PC // Grand Rapids
616-776-9777
Robert Schellenberg
N/A
Multiple

Caterers

A-One Creative Gourmet // Eastpointe
313-657-5646
John Spag
www.motionpicturecaterers.com
Oogie Love and the Big Balloon Adventure,
Youth in Revolt
Continental Services // Sterling Heights
586-838-1962
Fiore Tierno
www.continetalserv.com
Michigan Crafty & Film Production
Catering // Belleville
734-552-2819
Eric Carlson
www.micrafty.com
Hung, The Irishman
Reel Deal Catering // Milan
734-985-5891
Jason Eagle
www.reeldealservices.com
Kill the Irishman, Vamps, Red Dawn, others


Legal-Entertainment Attorneys

Dawda, Mann, Mulcahy & Sadler PLC // Bloomfield
248-642-4248
Tyler Tennent
www.dmms.com
Escanaba in da Moonlight, Super Sucker
Dickinson W=right // Bloomfield Hills
248-433-7222
Paul Fitzpatrick
www.dickinsonwright.com
Timequest
Hertz Schram PC // Bloomfield Hills
248-335-5000
Howard Hertz
www.hertzschram.com
Multiple
Mizerowski & Associates // Plymouth
734-656-1500
Robert Conlon
www.tmizlaw.com
Highland Park, The Wannabes
Miller Canfield // Troy
248-267-3232
Lisa Pick
www.millercanfield.com
Ocean of Pearls
Murphy Brenton & Spagnuolo // Lansing
517-351-2020
Gary Bender
www.mbspclaw.com
Street Boss

Production Companies

23rd Street Studios // Detroit
313-897-4330
Christos Moisides
www.23rdstreetstudios.com
Multiple
Brauer Productions Inc. // Traverse City
231-941-0850
Tracey Kukla-Aleshire
www.brauer.com
Mr. Art Critic, Escanaba in da Moonlight
Grace & Wild // Farmington Hills
248-471-6010
Steve Wild
www.gracewild.com
Production, studio, post-production
S3 Entertainment Group // Ferndale
248-547-7334
Jeff Spilman
www.s3eg.com
Multiple
TicTock Studios District // Holland
616-393-6800
Scott Brooks
www.tictockstudios.com
Multiple

Vendors

American Workroom // Ferndale
248-336-9779
Diana Fisher
N/A
Custom draperies, blinds, installation
Classic Country Antiques // Birmingham
248-217-3841
Brad Stanwick
www.classiccountryantiques.net
Prop Rental (Prayers for Bobby)
Detroit Power & Light // Farmington Hills
248-476-3737
Wil Laneski
www.rentlights.com/
Grip, electric, and specialty film gear
Digital Office Systems // Farmington Hills
248-848-1777
Arnold Rautbort
www.dosdigital.com
Office equipment
Display Group // Detroit
313-865-3344
Rick Portwood
www.displaygroup.com
Rental properties, in-house graphic design, custom display, and fixtures.
Extreme Engineering // Troy
248-733-9331
Mike Moran
www.extreme-eng.com
Telecommunications
Grafix Jam // Metamora
810-797-5001
John Rios
www.grafixjam.com
Artist/graphic design
In Stock Marketing // Livonia
888-860-0566
Lawrence Stock
www.instockmarekting.com
Promotional products, silk screening
Kinetic Post // Southfield
248-799-0088
Kirk Miller
www.kineticpost.com
Post-production
Mid America Cine' Support // Troy
248-528-3800
N/A
www.macsi.com
Grip, electric, and specialty film gear
Milagro Post // Southfield
248-424-9550
Michael Suggs
www.milagropost.com/
Post-production
Piquette Properties // Detroit
586-202-8323
Frank Casaceli
www.piquetteproperties.com
Prop rental
Postique // Farmington Hills
248-471-6010
Steve Wild
www.gracewild.com
Post-production
ReelActionFX // Royal Oak
248-982-2035
N/A
www.reelactionfx.com
Prop rental, weapons
Ringside Creative // Oak Park
248-548-2500
Richard Cormier
www.ringsidecreative.com/
Post-production
Roush Automotive // Livonia
734-779-7006
Steve Sciatto
www.roush.com
Automobiles
S3 Gear // Ferndale
248-547-7334
Carone Dutz
www.s3eg.com
Grip, electric, and specialty film gear
Sam's Prop House // Farmington Hills
313-965-2427
N/A
www.samsprophouse.com
Props
Signs by Tomorrow // Royal Oak
248-549-0095
Jack Hemp
www.signsbytomorrow.com
Sign printing
Town & Country Antiques // Livonia
734-513-2577
N/A
townandcountryantiques.net
Set dressing: antiques/collectibles
Yessian Music // Farmington Hills
248-553-4044
Dan Yessian
www.yessian.com
Music production, supervision, composition, reasearch, and licensing
Talent Agencies
Charlies Talent Agencies // Ferndale
586-362-3561
N/A
www.charliestalentagency.com
Live Marketing, Talent Management
Productions Plus – The Talent Shop // Bingham Farms
248-644-5566
Olga Denysenko
www.productions-plus.com
Live Marketing, Talent Management
Talent and Company // Flint
810-423-74765
Patrick Portman
www.talentandcompany.com
Live Marketing, Talent Management
The iGroup // Lathrup Village
248-552-8842
Tony DiMambro
www.theigroup.com
Live Marketing, Talent Management
Casting Directors
Carrie Ray Casting // Royal Oak
248-548-8522
Carrie Ray, Sarah Reule
www.carrieraycasting.com
Full Service Casting
Detroit Casting Company // Royal Oak
248-336-9885
Dayna Polehanki
www.detroitcastingcompany.com
Full Service Casting
Fahey Derher Castings // Grand Rapids
616-957-0900
Maureen Dreher
www.faheydreher.com
Full Service Casting
Kathy McKee // Lathrup Village
248-595-8660
Kathy McKee
www.kathymckeecasting.com
Full Service Casting
Pound & Mooney Casting // Madison Heights
248-591-5124
Janet Pound, Kathy Mooney
www.poundmooneycasting.com
Full Service Casting
Facebook Comments