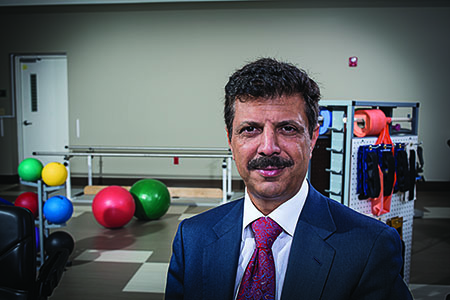 A native of Pakistan, Mohammad Qazi likes to refer to himself as a born-again American. "What you hear throughout the world, that America is the land of opportunity, is absolutely true," Qazi says. "I don't know that we would have been able to open and operate skilled nursing centers outside the United States. Too many barriers."
Qazi, a licensed physical therapist, launched Ciena Healthcare in 1998, following several years in the rehabilitation industry. The Southfield-based company, which operates 34 skilled nursing communities in Michigan (along with four in Connecticut), spent its first few years building awareness. "Like any startup, you market your products or services, make the connections, and then try to strike a deal," says Qazi, Ciena's president. "It was rather lonely in those early years."
Today, the company has more friends than ever. As part of recent changes under the Patient Protection and Affordable Care Act, hospitals must lower patient readmission rates in order to maximize Medicare reimbursements (or face financial penalties). As a result, more hospitals are partnering with skilled nursing facilities such as Ciena, home-health care operators, and rehabilitation centers to reduce readmission rates, which in Michigan range from 20.5 percent to 31.4 percent, according to the Centers for Medicare and Medicaid Services. (Readmission rankings are for heart failures, heart attacks, and pneumonia.)
The 5,000-employee company, which recently opened Notting Hill of West Bloomfield, says it maximizes patient efficiency by locating new facilities near hospitals and medical centers. Notting Hill, which opened in early February, is located across Drake Road from Henry Ford West Bloomfield Hospital.
The resort-like complex, one of the first skilled nursing facilities to offer a hydrotherapy pool for weightless rehabilitation, focuses on so-called short-term rehab. Offering 120 private suites, the center also dedicates a portion of its space to long-term care. Two other Ciena facilities will start construction this year in Michigan, while a new center in Grand Blanc will open in March.
Qazi says the company's biggest challenge is reducing high turnover rates in the nursing field. According to the American Health Care Association, the turnover rate for all nursing facility employees is 35 percent; it's 43 percent among certified nurse assistants.
"We focus on hiring the best people, and once they're here, we pay for their certification programs and other training so they can move up the career ladder," Qazi says. "It's a win-win program: The nurses get higher pay and better benefits, and we have better overall employees. That has helped keep our turnover rates very low." db
Facebook Comments