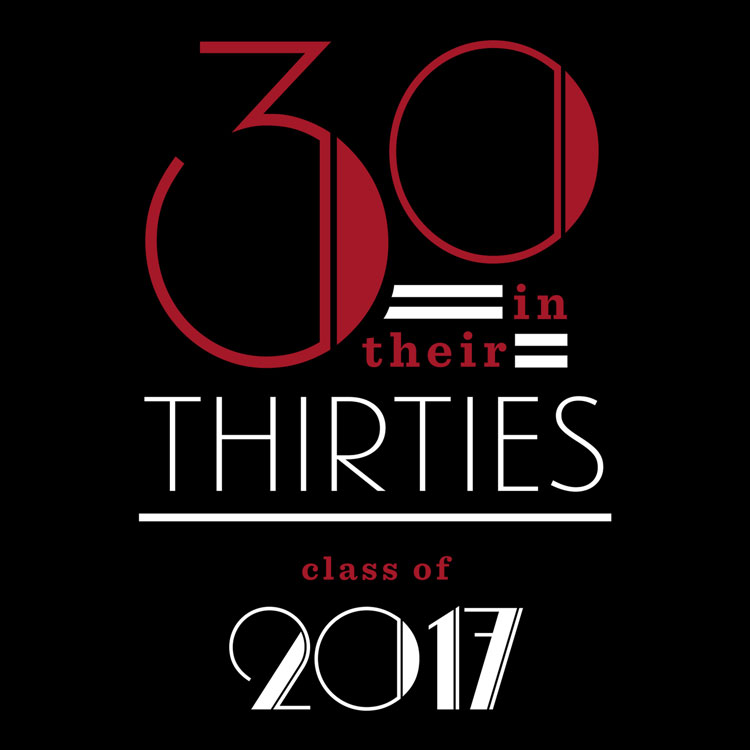 ---
Michael Bassirpour // 35
President, CEO, Partner // GLR Advanced Recycling, Roseville // Employees: 150 // Revenue: $70M
Michigan State University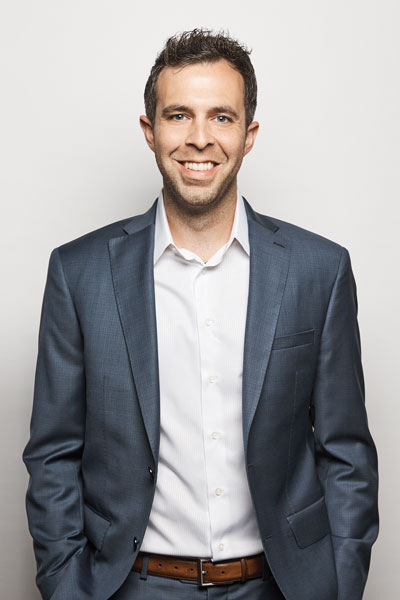 In the coming months, Michael Bassirpour, president, CEO, and a partner in GLR Advanced Recycling in Roseville, plans to grow the scrap metal business to seven locations, up from five facilities today. The company's expansion into Illinois and Indiana will lead to the addition of 50 to 60 employees.
"We buy over 40,000 cars a year for scrap, and typically they're 2004 vehicles and older," says Bassirpour, who is joined in the business by Sandy Rosen, Ilene Bischer, and Ben Rosen. In addition, Mad Dog Technology in downtown Birmingham, co-founded by Peter Karmanos Jr., former chairman and CEO of Compuware Corp., recently acquired an equity stake in a related company, TheScrapPost.com.
The latter business is a digital portal that pairs buyers and sellers of copper, aluminum, iron ore, and other commodities. The online network allows users to access or move inventory much more quickly than they ever could by depending on the daily fax report once commonly used in the industry.
With the two new scrapyards, Bassirpour says GLR will be able to process upward of 70,000 cars a year. The company's main recycling facility is in Livonia, and it has what are called feeder yards in Roseville, Ann Arbor, and Port Huron. It also operates an electronics recycling facility in Oak Park, and has locations in Northville Township, Flint, and New York that can handle metals and used paper, cardboard, and plastics.
"I would say 98 percent of my time is spent running GLR," Bassirpour says, "but TheScrapPost.com has been growing rapidly. It's an online trading, brokerage, and subscription-based platform that's generating sales north of $12 million (annually). That's up from $980,000 (in 2015).
"As for GLR, we're kind of on the tarmac and getting ready to take off. We're hungry and aggressive, and we're growing. We can grow by acquisitions or startups, whatever makes sense. But it's not growth just to grow; rather, it's growth through necessity. We're just getting warmed up." — R.J. King
Phil Brabbs // 37
Co-Founder // Torrent Consulting, Ann Arbor // Employees: 75 // Budget: $6.7M
University of Michigan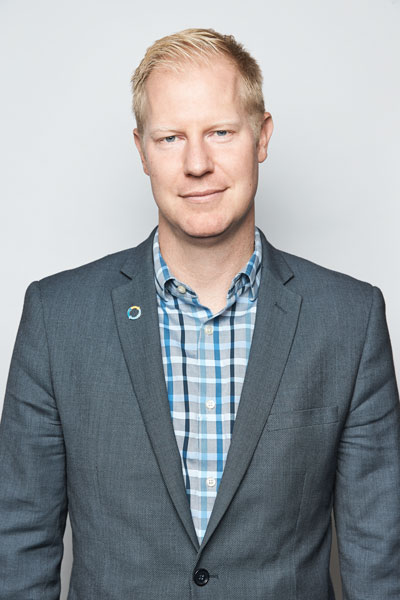 When it came time to decide between settling for a life in corporate America or taking a chance and starting a business with his best friend, Phil Brabbs made the risky choice of trying something new. "Looking back, it wasn't much of a decision," he says. "I had to do it."
The road hasn't always been smooth for Brabbs, who college football fans may remember as the place kicker who made the game-winning field goal to propel the University of Michigan Wolverines past the Washington Huskies in 2002.
But after that high came a low period, as Brabbs was diagnosed with the blood cancer multiple myeloma at 28 (the average age of diagnosis is 68). Not one to shirk from adversity, Brabbs says he was up for the fight. "My mantra is 'dominate life,' " he says. "For me, it's just too difficult to sit back."
Multiple myeloma is incurable, but nine years after being diagnosed, Brabbs says he's feeling great.
The technology firm he and his friend started, Torrent Consulting in Ann Arbor, is stronger than ever, too. After posting revenue of $1.6 million in 2014 and $2.1 million in 2015, Torrent saw a huge jump to $6.7 million in sales in 2016. "Our goal was always to grow," Brabbs says, "but we wanted to do it with purpose."
Brabbs points out that while Torrent is successful in terms of revenue, one of the company's core values is service. In fact, Torrent — which Brabbs co-founded with Daniel McCollum — recently opened an office in Guatemala, in hopes of showcasing the talents of local workers while at the same time bolstering technology in the emerging country and helping to lift people out of poverty.
"We aren't looking to make our mark as heroes," he says. "We're just trying to help. That's our dream, and we're getting to live it."
Brabbs doesn't know what the future holds, but he's optimistic. "Things are going great for now," he says. "Right now it's all about motivating people to dominate life." — Mike Larson​ 
Alexander Calderone // 36
Managing Director // Calderone Advisory Group, Birmingham //  Employees: 7 // Revenue: NA
Michigan State University
"When I was a sophomore in college, I was convinced that turnaround and litigation consulting would be a good fit for me," says Alexander Calderone, who belgan his life as an entrepreneur when he was 11 years old by mowing lawns and performing odd jobs for whoever needed the work.
As such, he wasn't surprised by the instinct he felt in 2014 to move on from a solid position with Conway McKenzie Inc., a consulting and financial advisory firm in downtown Birmingham, to launch his own firm leading distressed companies through the turnaround process, including bankruptcy reorganizations.
When he launched Calderone Advisory Group in 2014, he saw an unmet need in the market for a boutique turnaround advisory firm that smaller and midsize companies could afford to engage.
"Some of the largest firms have offices in Detroit, but after the last downturn a lot of them went up-market and, in doing that, they raised their rates," Calderone says. "Those firms are anywhere from $700 to $1,000 per hour. Companies generating between $50 million and $100 million in revenue can't pay those rates."
By keeping his firm's overhead low, even as he works with highly qualified and experienced talent, Calderone has been able to ensure his rates are competitive within the marketplace. Since 2014, the company has assisted three dozen local companies through turnarounds, and has led two enterprises — Detroit Tarpaulin and Repair Shop Inc. and Pontiac General Hospital — through bankruptcy reorganizations.
Eventually he would like to work with a capital partner to acquire and turn companies around, but for now the Birmingham resident is enjoying the fruits of his early success. "The core end of the middle market is pretty healthy right now," he says, "and one of the reasons we've been able to grow and thrive in this market is that value proposition we're creating." — Dan Calabrese
J.P. Champine // 33
Executive Vice President // Jones Lang LaSalle, Royal Oak // Employees: 77,000 (global) // Revenue: NA
Western Michigan University/Haworth College of Business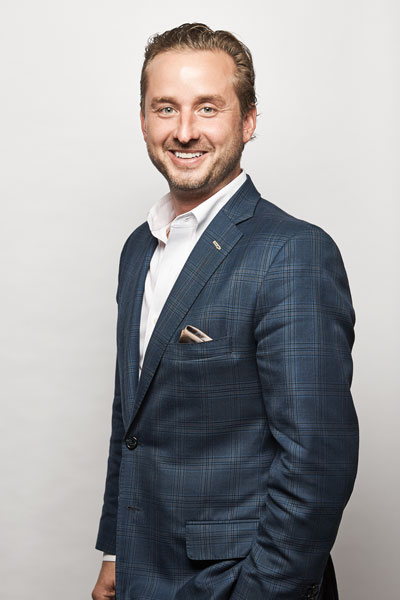 J.P. Champine has advanced at Jones Lang LaSalle, a global commercial real estate services firm with an office in Royal Oak, by selecting locations for commercial clients in skyscrapers, along major trade corridors, or in pristine settings near woodlands and waterways.
Patience is a critical soft skill in Champine's business, which often operates on a sales cycle of many months. "It usually takes a year or two to find the right spot and negotiate," he says.
For example, one client – Ally Financial, an automotive financial services firm – wanted to consolidate 1,500 employees and contractors into one location from its Renaissance Center headquarters and multiple offices in southeast Michigan. Ally made its move in April 2016 into 13 floors of the One Detroit Center building, which was renamed Ally Detroit Center.
"I put them in a better spot for recruitment," Champine says, "and I got to build them a whole new space for their downtown headquarters. If you create efficiencies in the workplace you can right-size your square footage to a lower amount and pay less."
The $100-plus million, 10-year deal for Ally is the type of work that's earned Champine top production awards two years in a row and three promotions, based on hitting commission milestones. He's considering taking the next step and earning a certified commercial investment member designation, which would enable him to present financial models when companies are considering buying property.
Champine's talent for meeting corporate clients' expectations has gotten him noticed by upper management. In 2015, he was selected for JLL's mentor protégé program. During the yearlong program, Champine was mentored by a top-producing broker in the firm's Los Angeles office.
Champine says he learned more than just business and processes from his mentor. "What it got me is tips on how he became a very successful human being, in life and in business," he says, "and he held me accountable to goals." — Ilene Wolff
Nicole Cicala // 30
Director of VA/VE and Cost Modeling // American Axle and Manufacturing, Detroit // Employees: 25,000 // Revenue: $4B
University of Michigan–Dearborn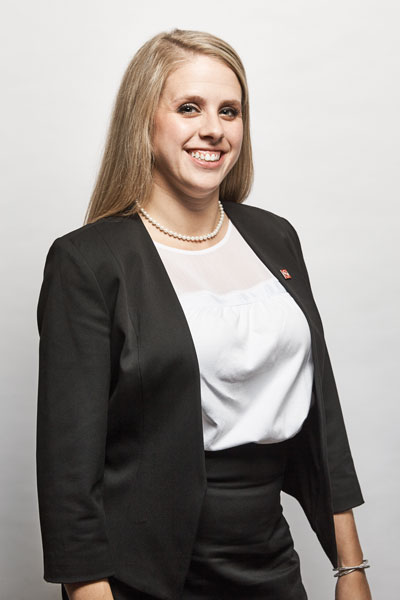 Nicole Cicala is on the front lines of continuous quality and financial improvement at American Axle and Manufacturing in Detroit, a Tier I automotive supplier founded in 1994 by the late Richard E. Dauch and other investors. The automotive supplier provides driveline components to global manufacturers.
Tapping VA/VE, or value analysis/value engineering, Cicala and her team redesign AAM's products to maintain functionality and quality while reducing costs. "We'll have internal brainstorming sessions to discuss what key functions drive the requirements of the specific component," she says. "Once we understand what the product needs, we know where we can change (with manufacturing or materials or a new supplier) to make it more cost-effective for the company."
The cost modeling aspect of Cicala's job involves inputting data based on knowledge of processes and parts to properly calculate how much a part should cost. Her team then works with the company's procurement group to negotiate component prices.
Cicala values the mentors who have guided her throughout her career. "They challenged me to think of my work every day as if I was running my own business. That's what really drives me — from empowering my team to do the same thing, as well as working with our partner universities like Purdue and Lawrence Tech to mentor the next generation of talent coming into American Axle."
In addition to her day job, Cicala is co-owner of Performer's Edge Dance Co. in Northville, a studio that has graduated talent to the Rockettes and Disney. "I like it because the young women see me working in a technical field and being able to balance extracurricular activities," she says. "Quite a few (of our dance students) have gone on to be engineers and doctors. I attribute that to putting a strong focus on being really disciplined in school. They look at my career and it motivates them to potentially get involved in the math and science field." — Tom Beaman
Andrew Dickow // 33
Director // Greenwich Capital Group, Birmingham  //  Employees: 12 // Deals Closed: 6
Michigan State University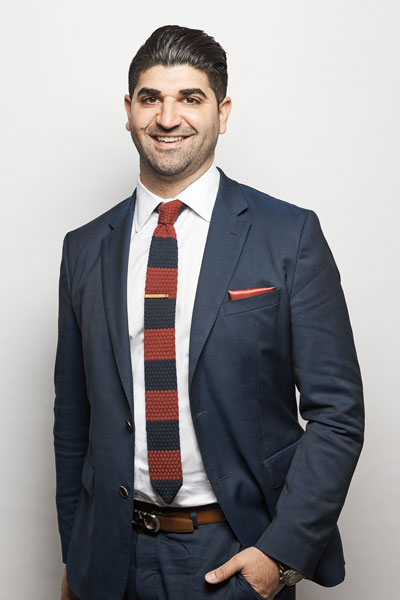 After spending 10 years in the financial department of General Mills Inc., Andrew Dickow returned to Detroit, where he and his brother, Randy, launched 1701 Hospitality Inc. in 2009. Their first venture was Lunchtime Global in the First National Building in downtown Detroit.
From there, the brothers opened Freshii in the neighboring 1001 Woodward Building, Sweet Lorraine's Mac n' Cheez in the Renaissance Center, Calexico (a fusion of Californian and Mexican cuisine) in One Campus Martius, and the Mad Hatter Bistro in downtown Birmingham.
"My brother and I kind of ham-and-egg it in terms of operating the restaurants," says Dickow, partner and CFO of 1701 Hospitality. "We also own Pop Daddy Popcorn in Whitmore Lake, in which we co-invested with a private equity firm. We took a small, Michigan-based business and now we have our line in 1,300 stores across 10 states."
In addition to the restaurant business, Dickow is a director at Greenwich Capital Group in Birmingham. The investment banking firm, founded in 2015 by Robert Coury, focuses on middle market transactions involving businesses that have annual revenue of $20 million to $250 million.
"Roughly 70 percent of the business is working with privately-owned family businesses that are looking to exit (sell the company)," Dickow says. "We also acquire companies, we raise capital, and we help companies grow. Robert was CEO of Deloitte's investment bank and, starting in the 1990s, he grew it into 150 professionals around the country. In 2015, he launched Greenwich."
One of Coury's favorite lines, Dickow says, is " 'Time kills all deals.' A lot of things go on every day, and the more things get delayed or dragged out, there's less chance that a deal can be put together. The name of the firm literally means time, as Greenwich is a time zone in southeast London. I specialize in the food and beverage industry, which probably isn't a big surprise." — R.J. King​
Derek Dickow // 37
Founder // Steward Media, Birmingham // Employees: 2 // Revenue: NA
Oakland University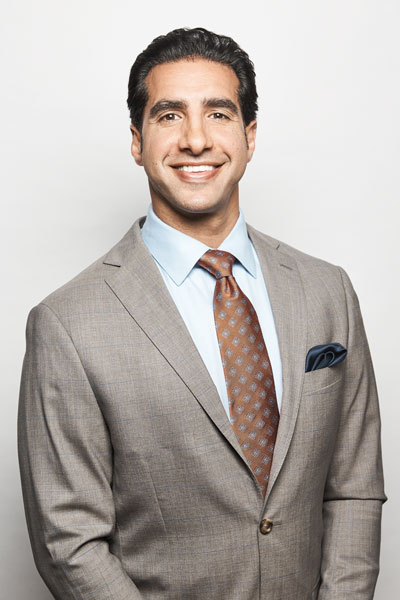 Derek Dickow is no stranger to overcoming adversity. In 2003, he was working in the housing and mortgage industry, where he had a good run — until the financial global crisis in 2008. "I lost almost everything, and had to find a new career path," he says.
Soon after, he developed a plan to meet with successful people and seek out their advice. "My uncle, (the late) Michael George Sr., was a pioneer in the Chaldean community. After hearing my story, he said to me, 'You're using your talents for the wrong thing; you should be helping people,'" Dickow recalls.
Through the suggestion of George, Dickow organized a fundraising event for Chaldean refugees who were immigrating to metro Detroit and called family, friends, and corporate sponsors to support the cause. The event raised $30,000. "I met with (my uncle) Mike afterward and he wrote me a check for $1,000 and slid it across the desk, but he kept his hand on the check. Then he says, 'You see, you can make a living by helping other people.'"
From there, Dickow secured event sponsors for the Associated Food and Petroleum Dealers, did similar work for the Chaldean American Bar Association, and launched his own company, Steward Media, now located in Birmingham. "Steward Media has a proven track record of fundraising for non-profits and political candidates, and we are sought after for facilitating high level introductions and for political problem solving," Dickow says. "In 2012, we made history helping Klint Kesto become the first Chaldean elected to the Michigan Legislature, and we've been assisting political leaders ever since."
His clients have included Detroit Mayor Mike Duggan, Troy Mayor Dane Slater, Westland Mayor Bill WIld, U.S. Sen. Marco Rubio, Hon. Victoria Valentine, and Lt. Gov. Brian Calley. Dickow also hosts networking events, business conferences, and helps organizations build sustainable relationships. "My success comes from working hard, and helping other people," he says. "I believe you can make a difference, or you can make an excuse, but you can't do both." — R.J. King 
​
Seth Gold // 36
Vice President // American Jewelry and Loan, Detroit  // Employees: 50 // Revenue: $5M
University of Michigan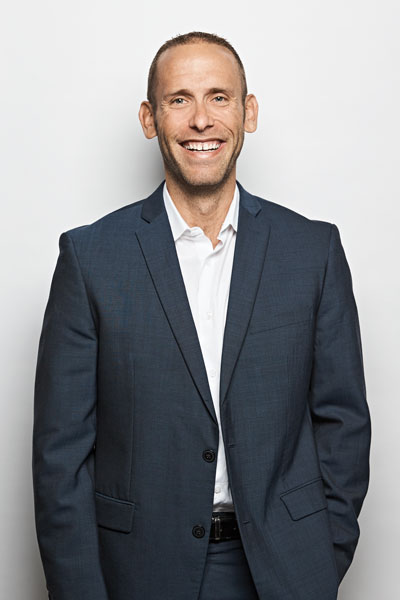 It might surprise regular viewers of the popular "Hardcore Pawn" on truTV, but when Seth Gold was growing up, he wasn't keen about what his dad did for a living. "All my friends' dads were doctors and lawyers," Gold recalls, "and they would ask me what my dad did, and (I was embarrassed to say) he owned a pawn shop in Detroit."
While the reaction of his friends wasn't necessarily positive, over time Gold decided that his dad's company was also going to be the business for him — but he wanted to promote greater understanding of how the industry works. For starters, he says, the business is a financial institution. It's about making loans, not buying jewelry, vehicles, or equipment.
"When you break it down, there are 25 million people in the U.S. who don't have access to the traditional banking system," Gold says. "What I want to do is inform them about what their options are to make ends meet. Within the (banking) industry, it's hard to get the word out."
He believes most people have no idea that between 80 percent and 90 percent of those who bring in an item as collateral end up coming back and retrieving it. Gold explains they're taking out a 90-day loan against the value of that collateral, and interest rates in Michigan are limited to 3 percent, plus $1 a month.
Gold recently attended the Mackinaw Policy Conference, and says he made connections with some nonprofits that led to a partnership hosting financial literacy courses right in the store. He's also working with other pawn shops to consider other challenges and priorities the industry needs to tackle, like how to deal with changes in electronics or the value of gold.
 In addition, Gold has worked with the Pontiac Chamber of Commerce to host entrepreneurism classes, and he's also joined with a workplace diversity effort to support employees with autism. He says the latter group "powers our e-commerce department. The best part is they thank us for including them in our organization. These guys are top-notch, and they're now full-time employees." — Dan Calabrese
Christian Grothe // 36
Owner // Christian Grothe Associates (Max Broock Realtors) and Signature Collection Properties, Birmingham // Employees: 5 // Revenue: $38M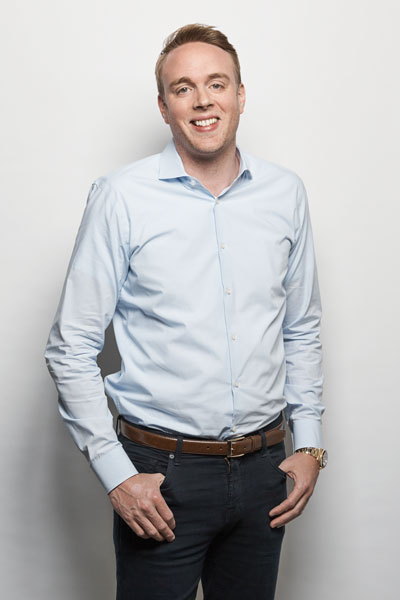 Christian Grothe's knack for listing, renting, and selling real estate helped him overcome some formidable odds and sustained him during his early years in the real estate business, which coincided with the global financial crisis of 2008.
At the time, foreclosures were common and banks needed help moving foreclosed properties to new buyers. "The banks found out about my innovative marketing strategies and they came to me," he says.
As a result, Grothe says the first three years of his real estate career were devoted to selling foreclosed properties — many of them higher-end residential listings in the Birmingham-Bloomfield markets. His determination, marketing skills, and customer service drove him to work as many as six days a week, where he toiled 16 hours a day during what was a slow period for many in his industry.
In one example, Grothe listed a residential property in West Bloomfield Township that included a horse stable. The average real estate agent would write "has a horse stable," and be done, he says. But Grothe and his team solicited prospective buyers by distributing information about the property at equestrian centers and stores that sold equine supplies.
"We try to think outside the box in how we market a property," he says. "Creative marketing, to me, means don't stop where everyone else stops. For every house we list, I sit down with my team and define the target market. Then we (ask), where are the prospects?"
Most of his business is residential, and Grothe works out of Max Broock Realtors in Birmingham, where he's been the recipient of the Presidents  Circle Top Producer Award every year since 2008. In Michigan and nationally, he's ranked among the top 0.5 percent of the top 1 percent of real estate agents.
 Grothe also acquires rental properties and homes that he refurbishes. He estimates he's sold about 100 homes so far. He purchased  a home in Ferndale for around $35,000, invested $30,000 in improvements, and sold it for $120,000 four months later. — Ilene Wolff​
Ryan Hurren // 35
Director, Investor Relations // Taubman Centers Inc., Bloomfield Hills // Employees: 625 // Revenue: $613M (consolidated revenue)
Michigan State University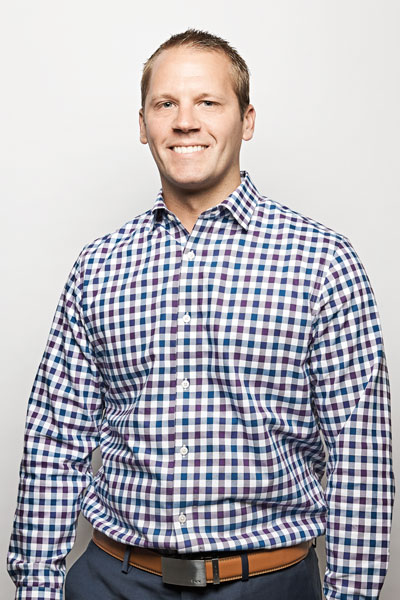 A CPA by trade, Ryan Hurren joined Plante Moran in Southfield following college but soon discovered that financial reporting held more of a draw than performing audits and filing tax returns. Eager to advance his career, in 2010 he joined Taubman Centers Inc. in Bloomfield Hills, where he worked under the chief accounting officer. Today, as the company's investment relations officer, he collaborates with the CEO and CFO to craft the company's financial external messaging. "I lead the quarterly earnings process, writing earnings press releases and initial drafts of analyst conference call scripts," he says.
In one case, Hurren is credited with ensuring that analysts and the investor community understood Taubman's strategic $1.4 billion sale of seven properties to Starwood Capital Group in 2014, including Fairlane Town Center in Dearborn and The Mall at Partridge Creek in Clinton Township.
Today, Taubman Centers and its subsidiaries own, manage, or lease 27 malls in the U.S. and Asia, including Twelve Oaks Mall in Novi and Great Lakes Crossing in Auburn Hills.
Taubman Centers, founded by the late A. Alfred Taubman in 1950 and now run by his two sons, Bobby and Billy, isn't the biggest player in the regional mall space.
"Some of our competitors own four or five as many assets as we do," Hurren says. "What makes Taubman different is that our assets have the highest quality and productivity. As of March 2017, the average price per square foot of a Taubman property was $776 — more than any other publicly traded regional mall company in the industry."
Mall inventory will most likely continue to shrink as shoppers embrace the Amazon model, but Hurren says merchants still need a well-located store presence. "Retailers have found that when they exit a physical location, their online sales suffer," he says. "The best assets in the market will be the ones the retailers choose to continue to operate in. Those are the assets Taubman focuses on owning and operating." — Tom Beaman
Anika Jackson // 33
Vice President // Jackson Asset Management, Detroit  // Employees: 20 // Revenue: NA
Spellman College, Purdue University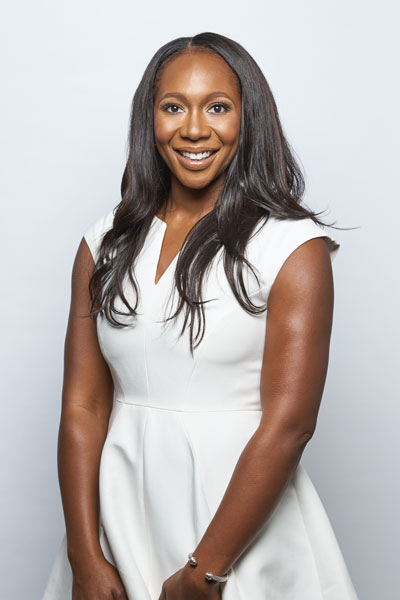 Business has always been a family affair for Anika Jackson, vice president of Jackson Asset Management, a multi-holding firm in Detroit that her father, Gregory, founded 24 years ago. The company specializes in commercial and residential real estate, and owns and operates automotive dealerships, entertainment venues, and real estate properties. Jackson says she was destined for the business since her days of running a series of small companies as a child.
"It's been really exciting to see the business diversify and be part of the purchase of Lafayette Towers in Lafayette Park (in Detroit)," she says. "It's very near and dear to my heart, and it's a nice addition to our portfolio of businesses. It's changed owners a few times over the past 50 years, and to be able to bring the project back to life by investing a considerable amount of money into the renovation over the last four years is amazing."
Soon after the renovation was completed, the building was 100 percent occupied.
A Detroit native, Jackson attended Spellman College in Georgia and earned her MBA at Purdue University, but says shes always planned on coming back to work in the city she calls home.
"I feel very strongly about the role that businesses play in the economic stabilization of a city, especially in Detroit," she says. "To have multiple businesses in Detroit is very gratifying and is something that I'd love to continue to expand, because it all matters – from paying taxes as a business owner to the people you employ, and utilizing different vendors and service providers."
Jackson is also co-founder of The Ten Nail Bar, which celebrates its first anniversary this fall and provides approximately 13,000 services per week. The company is focused on delivering "consistently exceptional services," that go beyond manicures and pedicures. The entire customer experience, from booking services to greetings to personal care has been tailored based on research by Jackson and her partner to insure quality and success. — Stephanie Shenouda
Drew Janney // 32
Director of Operations // Argus Logistics, Troy // Employees: 100 // Assets Under Management: $1.2B
Michigan State University
Drew Janney was only 26 when he joined Argus Logistics, a transportation services firm in Troy. What he saw was a company that offered a lot of value and was clearly succeeding on many levels, but he also noticed that it didn't have a clear way to measure its success or identify where it needed to improve.
He wasn't shy about saying so, and he found a willing ear in Jeff Lau, COO of Argus Logistics. "I found a need to put in a little more structure without really affecting our corporate culture," Janney recalls. "Some performance and compensation tied to those metrics really drove overall client retention within our management team."
Janney led the creation of a system that emphasizes accountability, both positive and negative. Those employees shown to be performing above the level of their peers now get rewarded; those who are falling short have to accept accountability and take measures to work toward improvement.
The result has been an increase in assets under management from $100 million in 2011 to $1.2 billion last year. Janney's system was implemented in 2014, although he points out it has been a work in progress ever since. "It's like building an airplane while it's still flying," he says.
A resident of Bloomfield Township, Janney says much of the company's recent success has come from turning short-term engagements into long-term ones. The company also utilizes technology to improve efficiency, streamline travel schedules, and coordinate drivers and loads. In addition, Argus Logistics places a premium on customer retention — the average client engagement length is now more than eight years.
"Clients are extending those engagements for multiple years, and that's where we're seeing the most bang for the buck," Janney says. "We've really tried to create that special sauce and (find) new markets within the logistics management space, particularly from an IT perspective." — Dan Calabrese
Simon Jonna // 36
Senior Managing Director of Investments // Marcus and Millichap,  Southfield // Employees: 1,500 // Revenue: NA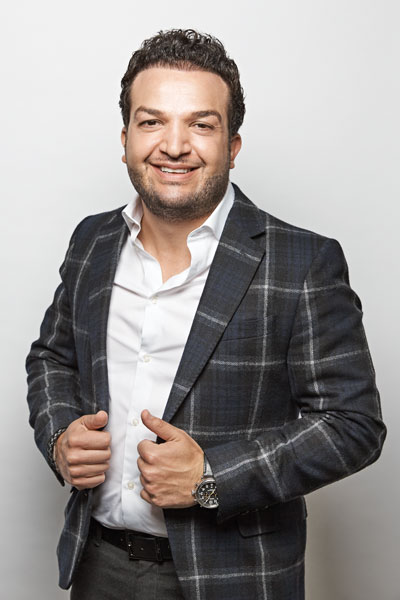 From a young age, Simon Jonna knew he wanted to get into finance. In fact, by age 17, he was working as a stockbroker in California. "I started really early," Jonna says. "It was something I just knew I wanted to do."
From working as a broker in his teens, Jonna rose through the ranks, working for a small equity firm before joining a blue-chip firm in his early 20s. Then his motivations started to change, and he moved to metro Detroit and started working as a leasing broker.
"I liked being a stockbroker," he says, "but I really found my calling in real estate. The transition was oddly kind of similar to stockbroking. It was basically stockbroking property."
Now, Jonna is senior managing director of investments at Marcus and Millichap in Southfield, where he has become one of the company's top producing retail leasing brokers. The firm provides real estate investment sales, research information, and advisory services for variety of real estate sectors including multifamily, retail, office, single-tenant net-lease, self-storage, senior housing, manufactured homes, hospitality, land, and special assets.
Jonna says when it comes to his career, his father was his greatest influence. "I had a unique upbringing," he says. "My father was a big academic. He can speak seven languages and has a doctorate in political science. He was my mentor. He really instilled the principles of hard work at an early age."
Jonna is putting his story and his keys to success in a book that will be published next year. In the meantime, he's working hard and trying to show the real estate world that Detroit is a great place to operate, especially considering the rejuvenation of the downtown district.
"I grew up in San Diego, and on the sign at the city limits it says, 'America's Finest City,' and I'm in Detroit as an outsider, and I have to say Detroit and Oakland County have so much to offer. The world isn't seeing it yet. But that's what we're working on." — Mike Larson​ 
Justin Kimpson // 36
Senior Director // Ford Resource and Engagement Center, Detroit // Employees: 3 // Revenue: NA
Morehouse College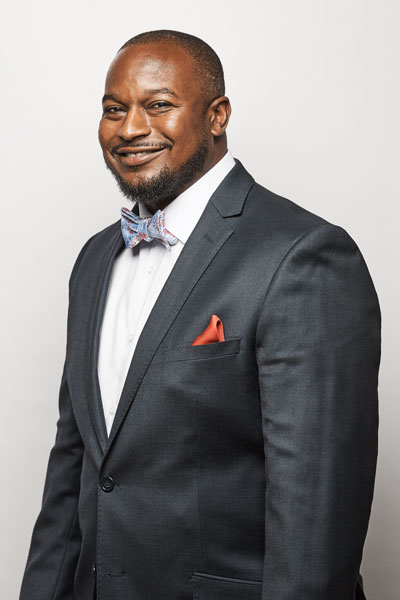 After graduating from Morehouse College in Atlanta, Justin Kimpson wanted to bring his education degree to Detroit. The recent graduate and Coleman Young Scholar returned to his hometown as a middle school social studies teacher, but layoffs in the Detroit Public Schools dashed his hopes for a teaching career.
Instead, Kimpson took an entry-level position with Michigan Works! in the Detroit Workforce Development Department. He eventually worked his way into a management position, and then into the Leadership Detroit and Michigan Leadership programs.
"All of the leadership experience I received was just ammunition for my success," Kimpson says.
Now, Kimpson is senior director at the Ford Resource Engagement Center, where he helps Detroit residents learn new skills and develop talent. "Throughout my career, service has always been a big part of what I do," Kimpson says. "When I was at Morehouse College, I participated in several service programs, and it really lit my fire. You start to see how much of a difference you can make when you put yourself in a position to help others."
Kimpson, who is on the board of directors for Detroit Young Professionals, a nonprofit organization that provides professional development, civic engagement, and networking opportunities, says one of his goals is to push for opportunities for young people in Detroit. "We always have to be looking to maximize opportunities wherever they are," he says.
His advice for young people looking for success? "Do as much as you can, but find a balance," he says. "Join clubs, look into student government, and just find ways to participate."
Above all, though, Kimpson says networking is extremely important. "Take the time to meet people," he says. "Really meet them. You never know when that person may be able to help you." — Mike Larson
Ryan Klacking // 36
President and CEO // Syncon Inc., Livonia // Employees: 60 // Revenue: $10M
Wayne State University
t's been said about Ryan Klacking: "Give this man a slab, and he'll turn it into a work of art." While most people don't associate concrete with art, Klacking, president and CEO of Syncon Inc. in Livonia, creates striking pieces of art right on a floor.
Syncon produces polished concrete flooring with an artistic touch, and works with various colors and designs to create unique and aesthetically pleasing looks. The company's customer base includes Bass Pro Shops, Wal-Mart, Sam's Club, and Amazon.
The man who founded the company at age 25 believes the industry is just getting started. "Once I graduated, I started an industrial cleaning company and we worked in a lot of industrial buildings, and then I started doing a lot of construction services work," Klacking says.
Along the way, he had learned about a new, more sustainable pouring system that had taken hold in the United States in the late 1990s. He believed the companies he was working with would see the value in such a process, especially if he could introduce strong aesthetics and help reduce overall maintenance costs in the process.
The work isn't easy. One offering, decorative polishing, includes engraving, applying stenciled art and colorants, and making saw cuts. There's also mechanical polishing, where hardeners and sealants are used to level, densify, and seal a floor from the interior. "It was very green and very efficient," Klacking says. "You don't have to bring in materials to install flooring."
The Canton Township resident expects the company to continue growing organically, which he sees as the best way to go in a business that's difficult to scale because adding people is an inherent challenge. Training concrete workers in the use of things like multicolored dyes, stains, and stencils is a time-intensive process.
"There's no workforce that exists for it," he says. "It's completely training from the ground up. But you can't grow without people, so we put additional people on crews so they can learn the process." — Dan Calabrese
Tylar Masters // 38
President // Tylar and Co., Detroit // Employees: 18 // Revenue: $2M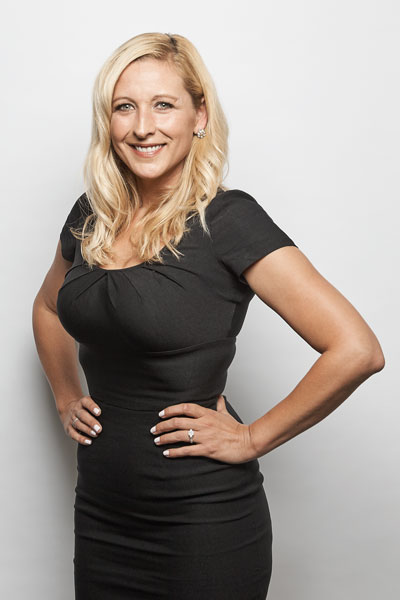 Like many success stories, Tylar Masters' started with a failure. Well, not really a failure, per se, but a layoff. After working in marketing for CBS Radio, Masters was laid off in 2009. Standing at the employment crossroads, she had a decision to make.
"Finding another job wasn't really the issue," she says. "I had some offers, but nothing that really excited me. Meanwhile, I had a lot of my old clients calling and texting, and I started thinking, 'Why not start my own company?' "
And so, Tylar and Co. was born.
Many of Masters' previous clients signed on with her new digital marketing company, a collective gesture that helped her make the transition to an entrepreneur.
"You know, it was nice that I had some of my old clients," she says. "It showed they trusted me, and made me feel like I wasn't just starting from scratch."
Less than a decade later, Tylar and Co. has 18 employees. The company generated $2 million in revenue last year, and is poised for more growth. "Obviously, in any business, revenue is important. I don't want to downplay that," Masters says. "But we're also focused on growth."
Masters says she'd like to expand to 30 employees over the next two to three years, and would like to double revenue while keeping the operation somewhat small. In addition, she doesn't outsource anything, preferring to rely on the passion of her team to drive customer service.
"We don't want to get too big," she says. "We're never going to be a huge agency; we want to keep that boutique feel while still focusing on keeping our customers happy."
In addition to running her marketing and creative agency, Masters was recently named the first president of the Detroit Chapter of the Business Marketing Association. "It's quite an honor to be the first president," she says. "I'm really looking forward to making my mark." — Mike Larson​
Ashley Mizzi // 30
Director of Operations and Lending // Detroit Community Loan Fund, Detroit // Employees: 11 // Total Loans: $49.5M
Sienna Heights University, Central Michigan University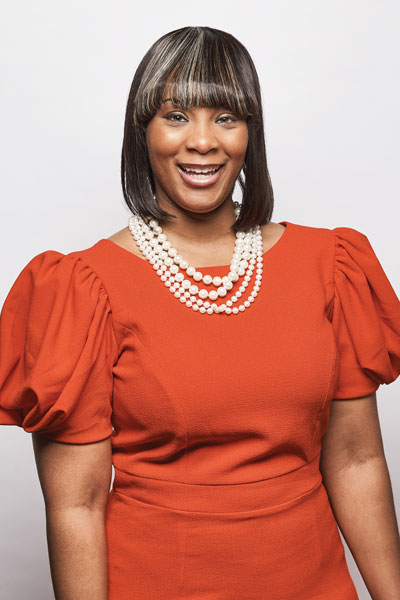 After graduating college, Ashley Mizzi began her career as a personal banker for Chase Bank, but after a month, she felt she wasn't doing enough for the small- and medium-sized businesses she was lending to. Eager to make a change, she applied to be a commercial underwriter, where she focused on asset-based lending to middle market and industrial firms as well as extending small lines of credit to business contractors.
Today, Mizzi serves as director of operations and lending for the Detroit Community Loan Fund, which provides micro loans of $5,000 to $40,000 to small business owners in Detroit, Hamtramck, and Highland Park. The companies often have less than perfect credit and are often denied by traditional lenders.
"Because these business owners, credit-wise, are known as harder to lend to, we will partner with external agents in our ecosystem to guarantee the success of this program," Mizzi says. "I pride myself on being able to originate, underwrite, and close these loans faster than your average lending cycle so the business owners can have access to this capital relatively quickly."
She also provides clients with a wide range of services. "I essentially become a part of their team," she says. "It's not that we just give them the money and say start your business. I call them, I check up on them, I try to purchase their product or schedule their service, and it doesn't just stop after a couple of days or weeks. They have me for a lifetime."
While many financial institutions rely on a company's revenue cycle and other concerns to decide whether to extend a loan, Mizzi says she factors in her impressions of a person's dedication and enthusiasm for their business.
"Our new loan fund is 66 percent character lending and 33 percent credit lending, so the underwriters and lenders can base our decisions on the drive and determination of the business owners and how much they're committing to their businesses," she says. "It is based on the actions of the business owner versus … a credit report." — Stephanie Shenouda
Moussa Niang // 34
Global Purchasing Core Buyer // Ford Motor Co., Dearborn // Employees: 201,000 // Revenue: $151.8B
Paul Quinn College, Amberton University, Texas A&M University
Born in Senegal, Moussa Niang knew a college education was going to be a key to having success in a career. After arriving in the United States, he attended Paul Quinn College, a historically black college founded in 1872 in Dallas. But he wasn't done. He earned an MBA from Amberton University in Garland, near Dallas, and another degree in international finance from Texas A&M University in College Station, northwest of Houston.
"Education is so, so important," he says. "I always knew if I was going to accomplish my goals, getting a strong educational foundation was going to be the first step."
After working as an analyst and a buyer with Valeo, a French-based automotive supplier that has its North American headquarters in Auburn Hills, Niang went to work for Ford Motor Co. in 2015. "We came to Michigan from Dallas," he says, "because Michigan is basically my wife's home. And we really like it here."
Although Niang's professional title is global purchasing core buyer for Ford, where he sources business to domestic and international suppliers, he has another position that he thinks is equally important. He launched Foundation 221, a nonprofit organization that provides relief for the underprivileged in Senegal. He says in addition to providing food, water, and shelter for Senegalese orphans, Foundation 221 helps educate children and provide leadership experience.
"It's not just about helping with food and water and other resources," he says. "It's about trying to grow a new generation of leaders."
Niang says the chance to serve with the non-profit organization was one he jumped at. "Service starts with us adults," he says. "No matter where we are, whether it be the United States or Senegal, there is always a chance to change for the better. And it always starts with us planting the seeds of leadership." — Mike Larson​
Jason Olinik // 30
Director of Operations // HBF Airports, Romulus // Employees: 350 // Revenue: NA
Central Michigan University
Six years ago, Jason Olinik was working as the assistant pool and beach manager at the Sand Pearl Resort in Clearwater Beach, Fla. He fast-tracked through the hospitality industry as the youngest general manager (at 26) of the Courtyard by Marriott in Naples, Fla., and director of food and beverage at the Edgewater Beach Hotel and Resort, also in Naples.
Olinik returned to his native Michigan in 2014 to oversee the day-to-day operations of six restaurants at Detroit Metropolitan Airport's McNamara Terminal in Romulus — LongHorn Steakhouse, P.F. Chang's, Cat Cora's Taproom, Gordon Biersch Brewery, Plum Market, and Detroit Street Lunchbox — run by hospitality giant HBF Airports, also known as Hojeif Branded Foods.
Of the 40 eateries in the McNamara Terminal, HBF fully or partially operates 14 businesses. Of those, five of the six restaurants Olinik oversees are among the top 10 highest-grossing at Detroit Metro Airport. "HBF has found a niche in the airport hospitality space by bringing high-end brands and delivering great guest service," he says. "You shouldn't feel like you're in an airport when you're in one of our restaurants. We want you to have the same P.F. Chang's experience here as you would anywhere else."
Olinik says Detroit Metro Airport officials limit the prices its franchisees can charge to 10 percent over nonairport locations, "so it's not a free-for-all."
As a Michigander, he says he carries a chip on his shoulder and he relishes upsetting stereotypes. "We understand that Detroit and the airport food and beverage industry have negative reputations," he says.
"We take a lot of pride in altering peoples' perception of what we do at the airport and in the city. Being people's first and last impression of Detroit, we take that very seriously. I think Detroit has a very up-and-coming food and beverage scene, and it's great to be a part of that here at the airport." — Tom Beaman
Alison Orlans // 38
President and CEO // Orlans PC, eTitle, and eVantage, Troy // Employees: 550 // Revenue: NA
University of North Carolina School of Law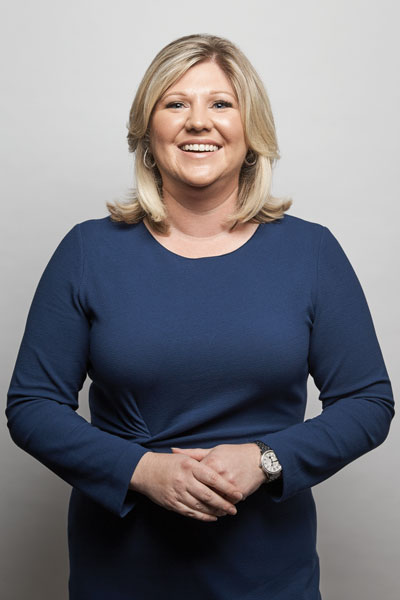 Alison Orlans is out to transform traditional legal services. Earlier this year, she consolidated three law firms — Orlans Associates in Troy, Orlans Moran in Massachusetts, and Atlantic Law Group in Virginia — into Orlans PC in Troy, one of the largest certified law firms in the country that's owned by a woman. She also oversees eTitle and eVantage, both in Troy.
"My mom (Linda Orlans, executive chair) started eTitle with a strong value foundation to help people in the title business, and it grew really quickly," Orlans says. "She had a vision to bring innovative processes to an industry that was stagnant. I stepped in almost five years ago to manage our growth through lean processes and systems."
Over the last three years, Orlans has boosted the company's active client base by 68 percent. In addition to enhancing the company's corporate culture and meeting with her colleagues regularly to improve customer service and troubleshoot problems, Orlans has strived to reduce costs.
"If we are closing on a piece of property for a client, there are a lot of processes and work that needs to be done, but that work doesn't all have to be done by a lawyer," she says. "We can hire other experts in a particular field to perform the work at a lower cost, which we in turn pass on to our clients.
"We also partner with corporate legal departments and take more burdensome tasks from them and make them more efficient. So, by focusing on the client more, whether in the legal industry or the real estate industry, and lowering our costs to our clients, we offer a more competitive proposition."
During the same period, Orlans launched eVantage, a data processing company that utilizes technology to improve traditional legal services. "To keep everyone on the same page, I've been traveling around the country to hear from our clients," she says. "Our team then looks to improve upon what they need, whether through greater efficiency or lower costs." — R.J. King
Gideon Pfeffer // 37
Founder and CEO // J&G Real Estate Partners and Portfolio Builders, Birmingham // Employees: 4 // Revenue: $12M
Syracuse University
With a finance degree from Syracuse University and  after interning at UBS PaineWebber, Gideon Pfeffer was ready to tackle Wall Street. But the chance to establish a mortgage company and benefit from Detroit's development wave in the early 2000s drew him to Michigan instead. Under Pfeffer's leadership, Premium Mortgage Group became a preferred lender for condominium complexes in downtown Detroit, originating more than $200 million in residential mortgages. "It was National City, Standard Federal, LaSalle, and Gideon," he quips.
Pfeffer dissolved Premium Mortgage Group in 2009 when the global financial crisis created difficult times for loan originators and plowed his earnings into renovating properties in Detroit. "Before we knew it, we were doing 120 houses a year," he says. Unlike home flippers who advertise on television, Pfeffer rented the finished homes and rolled as many as 256 at a time into portfolios that he sold to hedge funds and other investors.
"Detroit has a very high potential return because prices are low and the rents are still high enough to yield a good return on an investment," he says. In 2015, Pfeffer established J&G Real Estate Partners to transact deals, acquisitions, and sales for Portfolio Builders. In all, Pfeffer has renovated and sold 2,500 homes in Michigan, Texas, and the southeastern U.S.
In addition to the housing industry, in 2008 Pfeffer and several partners opened the 24 Grille restaurant in the Westin Book Cadillac Hotel in Detroit. "I classify myself as an opportunistic true entrepreneur," he says. "I've been looking at larger-scale projects, like a partnership doing 29 townhouse units in Royal Oak."
Closer to home, Pfeffer pays Jamie Pfeffer, his business coach and wife, to consult on his various ventures. "She brings perspective," he says. "When we sit together weekly, she asks things like, 'What do you want?' and 'What can be delegated?' She has me do visioning and writing down intentions and goals. She makes me more efficient and strengthens my abilities." — Tom Beaman
John Paul Rea // 34
Director of Planning and Economic Development // Macomb County, Mount Clemens // Employees: 25 // Property Tax Revenue: $117M
Grand Valley State University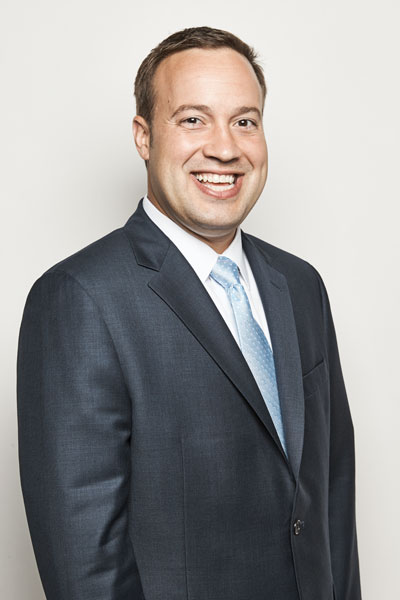 The traditional approach cities and counties take to economic development looked all too familiar to John Paul Rea. "If I had to look at one more trifold brochure that was stale and dated, and looked like it was put together just to coax someone into coming somewhere …"
Rea trails off without really finishing the thought, but it's clear what he's thinking. As Macomb County's director of planning and economic development since January 2016, Rea says he's determined to offer prospects something more substantive than the traditional "great place to live, work, and play" song and dance, whether it's a residential tower overlooking Lake St. Clair or a new restaurant in a downtown district.
He believes businesses trying to decide on a location need real data that's pertinent to their needs. So he reached out to the county's existing business community to learn more about the kinds of information that drive the decision-making process.
The result is the development of a database that allows Macomb County officials to sit across the table from business leaders and give them information that opens their eyes. "Every meeting with every single company now involves bringing data to the table," Rea says. "We've also been doing a more strategic dive into how incentives are deployed."
Rea points to $260 million in direct investment in Macomb County facilitated by his department since the effort began 18 months ago, along with the creation or retention of 400 jobs. He hopes the new approach will help bring the development of 18 F-35 fighters, at a cost of $100 million each, to Selfridge Air National Guard Base in Harrison Township, as well as draw more work from the U.S. Department of Defense, which has operations in Sterling Heights and Warren.
"I'm an east-sider," says the Washington Township resident. "I've always lived on the east side, and I'm proud of the fact that I get to do this where I grew up." — Dan Calabrese   
Allison Roelofs // 39
CFO // Xenith, Detroit  // Employees: 65 // Revenue: NA
Albion College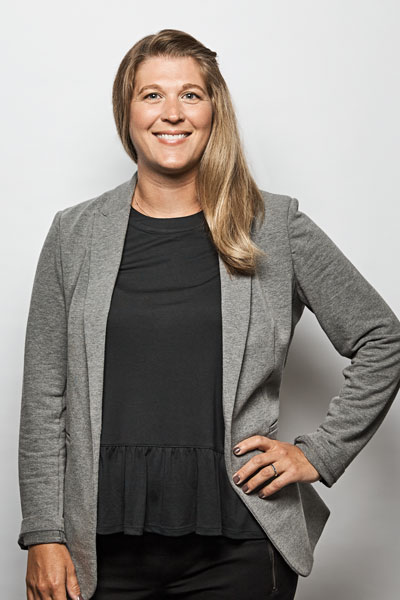 As a longtime athlete, Allison Roelofs says she was drawn to working with Xenith — a sports helmet technology company — because she enjoys the intersection between sports, technology, and business.
Originally based in Massachusetts, Xenith moved to Detroit in 2015 to be closer to working with majority owner Dan Gilbert and the Quicken Loans family of companies.
As CFO, Roelofs says she assists with coming up with creative ways to help teams purchase equipment that can keep their athletes safer.
"Right away, I saw there were lots of areas for improvement, in terms of coming up with pricing programs where we can help get teams in what we consider to be the safest helmets out on the field," she says. "We did a lot of programs for the Detroit Public Schools and the Detroit PAL teams, and we looked at athletes in the state of Michigan and how we can address their equipment needs."
 Roelofs, who joined Xenith in January 2016, began her career Ernst & Young, and has worked at several other publicly traded companies prior to Xenith. "It's definitely different than some of the other positions I've had in the past," Roelofs says. "It's more of a leadership role, where there are a lot of young, emerging leaders on our team. Helping show and guide them has been a really cool transition for me in my career."
Roelofs and other Xenith executives curated a set of guiding principles for the company: passion, purpose, and pride.
"I try to bring that into my work every-day, where I come into work with a purpose, which is helping improve our financial position as a company and helping to grow the business."
Roelofs also enjoys opening doors. "A recent statistic about kids in Detroit shows that when they're asked what they want to be when they grow up, a majority of them say a professional athlete. For me, it's really exciting to help show younger people that there are lots of jobs that are making the products these athletes are using, if they don't make it to the professional ranks." — Stephanie Shenouda
Tony Saunders // 31
Partner // Volte and Invictus Equity Group, Detroit // Employees: 3 // Revenue: NA
University of Michigan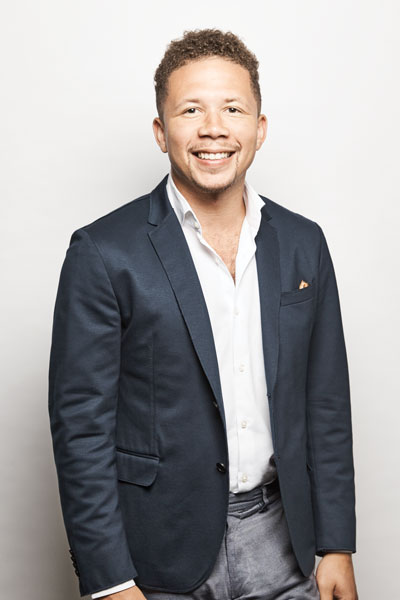 As CFO and chief restructuring officer for Wayne County, Tony Saunders was tasked with leading its financial turnaround and helping the county eliminate an $82-million deficit, avoid insolvency, and stay clear of a Chapter 9 bankruptcy. Surprisingly, Saunders describes his former job as "the most fun thing I've ever done."
In two years, Saunders and his team turned the $82-million deficit into an $88-million accumulated surplus and slashed long-term liabilities by more than $1 billion. Although there were "a lot of moving parts," Saunders says the most important skills he honed were framing issues, communicating stories to the media and the general public, and building relationships with the people his decisions would affect.
"A big part of municipal restructuring is that you're dealing with people. I led all of our labor negotiations, and the ability to relate to people and share a story or frame the issues in a way that builds trust and relationships was really fascinating," he says. "It's about the people behind the numbers, which sometimes gets forgotten."
Saunders recently left public service to launch two startup companies — a turnaround firm called Volte and Invictus Equity Group, both located in Detroit's central business district.
"I figured I could take the skills I learned in the last seven or eight years and apply (them) to a different purpose," he says. "I've become accustomed to kind of being the quarterback and implementing strategies to see the big picture. Doing this on (my) own … is something I have to navigate."
Saunders acknowledges that aspiring entrepreneurs must be willing to let go of fear. "What I'm doing could tank tomorrow and I wouldn't be able to make payroll, and that's a scary thing," he says. "If you believe that you're pursuing your God-given purpose, just get over the fear and then work your butt off. If quick wins come, thank God — but if not, learn to adjust." — Stephanie Shenouda
Philipp Schramm // 37  
CFO and Vice President
// 

Webasto Roof Systems Americas, Rochester Hills

// Employees: 12,000 // Revenue: NA
Harvard Business School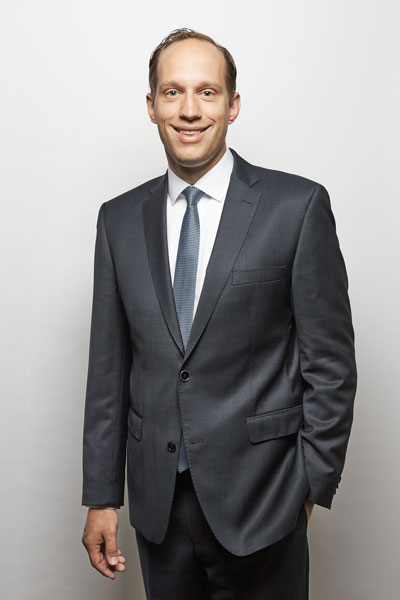 Not too long ago, Philipp Schramm, CFO and vice president of human resources and IT for sunroof maker Webasto Roof Systems Americas, had to face two troubling facts: The company had a projected $63 million loss in 2014, and McKinsey and Co., a management consulting firm, had ranked Webasto's culture among the worst it had ever seen. It was Schramm's responsibility to fix both problems. "The situation was very frustrating for everyone," he says. 
The company took its problems seriously and returned to profitability in 2016; McKinsey now reports that Webasto's turnaround is the greatest comeback it's ever seen. "(That) tells you how much we've evolved from a very dysfunctional organization," Schramm says. 
The company started by listening to its approximately 2,000 employees in the United States and Mexico, so it could find out what was broken. What it heard was that many employees didn't know they were entitled to benefits such as bereavement time off and raises; in another example, one woman said her absenteeism stemmed from fear of walking to her car at night in a parking lot where most of the lights were burned out. 
The input enabled the company to correct misinformation about benefits and perks, as well as fix things like replacing lights.
In addition, workers — Webasto now calls them "colleagues" — received training in conflict resolution, respecting and trusting each other, and being authentic in their communications. Along with other changes, one of Webasto's plants reduced its annual employee turnover rate to zero from 65 percent.
On the financial side, Webasto focused on transparency with colleagues, along with idea-tracking. One example: Even though a custodian's job description doesn't include turning off lights at night, if he or she does that, it saves the company money. "That's the kind of mindset we needed," Schramm says. "Everyone is smart enough to realize what the bigger goals are."
Schramm says it's exciting to see the changes unfold. "In the end, everyone wants to make a difference," he says. — Ilene Wolff
Jeff Steigerwald // 30
Vice President of Operations and Client Services
// 

Centria Healthcare, Novi

// Employees: 4,100 // Revenue: NA
Central Michigan University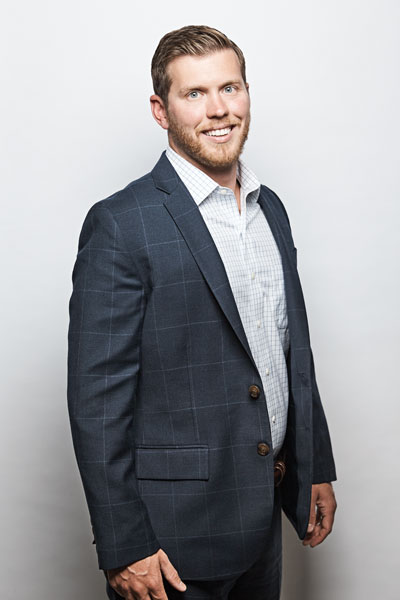 According to Home Care Daily, the North American home health care market is currently valued at $130.4 billion, and the home care industry is expected to remain the nation's No. 1 job-creator through at least 2020. That's good news for Jeff Steigerwald and Centria Healthcare, the largest provider of private-duty nursing and home catastrophic injury rehabilitation services in Michigan.
"We're not an alternative or a supplement to hospital care," Steigerwald says. "Home health care is an alternative to a facility-based setting where you can provide better patient care from a holistic standpoint that's also cheaper. We get to create opportunities for our clients and the families that are impacted by tragic circumstances and are living a new normal." 
Steigerwald is responsible for overseeing the company's pediatric and catastrophic injury rehabilitation programs, with the support of registered nurses, licensed practical nurses, home health aides, therapists, behavioral technicians, board-certified behavioral analysts, and customer service specialists. Centria serves 1,800 clients nationwide. 
"We'll go into a home and provide one-on-one care for a child, typically an individual who's born with congenital abnormalities (and) comes home from the ICU with a ventilator or a tracheostomy," he says. "We give relief to the parents so they can go to their jobs or spend quality time with their (other) kids and not have to be a caretaker."
The company also provides care for people who have suffered traumatic brain or severe orthopedic injuries in an auto or a worksite accident.
"I'm a business-minded person, so I love the idea of creating something from a customer service standpoint, delivering on that service, and growing that brand. We're not just selling widgets. Nothing against selling widgets, but what we do changes people's lives. At the end of the day, I wouldn't want to do anything else. It's a stressful industry, but the reward is amazing." — Tom Beaman 
David Tessler // 34 
Entrepreneur
 //

Rain Marketing (VP/CFO); Jabs Gym (co-founder/CEO); Recraft (co-founder/managing partner); Michigan Funders (co-founder/CEO); Detroit Waste Systems (CFO); Golfler (CBDO), Birmingham

// Employees: 35 // Revenue: $20M
In entrepreneur David Tessler's world, sometimes you're a shark and sometimes you're an angel. That's because one company he co-founded and now heads, Michigan Funders, gets up to 60 requests a week to help businesses raise capital. Michigan Funders turns down most of those requests because many of the businesses "aren't ready for prime time," he says. "I say we get to play 'Shark Tank.'" 
Sometimes, though, a company like Burn Rubber Sneaker Boutique in downtown Royal Oak comes along, where Tessler helps raise capital to support growth plans, and mentors and advises management. "In that way, we're kind of like an angel group," he says. 
Another client is the Detroit City Futbol League, which raised $750,000 from 500 Michigan residents to help refurbish Keyworth Stadium in Hamtramck, the team's home soccer field. 
Michigan Funders is an equity crowdfunding organization, made possible by a 2013 state law that lets Michiganders invest in local businesses with fewer U.S. Securities and Exchange Commission requirements. What's more, the enterprise profits if a given company is successful. 
In addition to Michigan Funders, Tessler co-founded or became involved with five other companies: Rain Marketing, for casinos and Fortune 500 companies to attract business; Recraft, a development and property management firm; two Jabs Gyms for boxing and yoga; Detroit Waste Systems, an electronic waste recycling firm; and Golfler, which supports golf course point-of-sale systems.
Tessler says he's following in his mother and father's footsteps. "Both my parents are very entrepreneurial," he says. Tessler's father, Robert, is retired now, but for 50 years he acquired, refurbished, and sold real estate. His mother, Andrea, established Rain Marketing in 1997.
Like many business owners' children, Tessler saw his parents' hard work firsthand, at an early age. "I used to drive and look at houses with my dad on the weekends and would often go to the office with my mom," he recalls. — Ilene Wolff
Robert E. Thomas // 39  
Chairman
//

Zoning Board of Appeals, Detroit

// Board Members: 7 // Revenue: NA 
Wayne State University Law School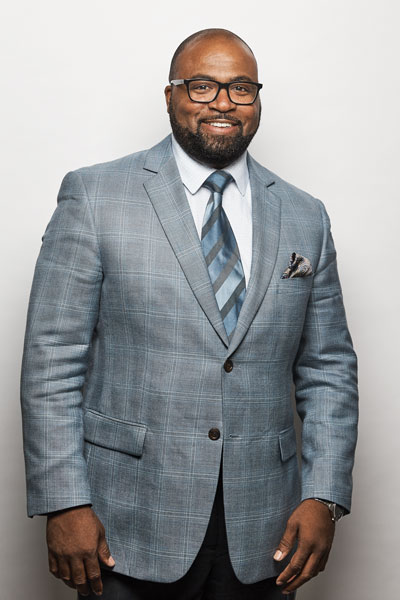 Robert E. Thomas already had a graduate degree in engineering and a career making nuclear-powered aircraft carriers when he was accepted into Wayne State University's law school in 2010. "I was trying to find a way home," says Thomas, whose defense job at Northrup Grumman had taken him to Virginia. "Not only that, but the city of Detroit, it wasn't being revitalized yet; it needed its sons and daughters to come back." 
After graduating from Wayne State, Thomas joined Detroit's Board of Zoning Appeals, and was subsequently elected by his fellow board members to be chairman. The municipal entity, which considers zoning variances for building projects, has never been busier. Recent projects include the redevelopment of the central business district, the construction of Little Caesars Arena and the 50-block area around it called The District Detroit, and numerous residential and commercial projects in the neighborhoods. 
In addition, the board is involved in the city's efforts to regulate the location of medical marijuana dispensaries. Thomas says there are currently 300 locations selling medical marijuana in Detroit, and the city wants to winnow that number to 50 establishments. 
The chairmanship is a volunteer position, so while Thomas waits to take the bar exam in February, he's working as a patent law clerk and art researcher at the law firm of Darrow Mustafa in Northville Township. As an art researcher, Thomas combs patent records and databases to determine if a patent applicant has a unique design, product, or component. If he can locate something similar to the application, a new patent is unlikely to be granted. The work benefits Thomas, who eventually wants to specialize in patent law. 
Since 2012, Thomas has also been president of the Michigan Chapter of the Foster Care Alumni of America, a group that advocates for and mentors foster care children. He and his seven siblings were foster children, and Thomas now cares for a nephew. "Every kid in the foster system needs a mentor for a consistent relationship," he says. — Ilene Wolff​ 
Srdjan Urosev // 37   
Founder and CEO
// 

eQuality Tech Inc., Shelby Township

// Employees: 4 // Revenue: $4.4M
Like the paths of many who pursue the American dream, Srdjan Urosev's journey to entrepreneurship hasn't been uniform. He was born in Serbia and moved to Michigan with his family when he was 10 years old. Interested in technology from an early age, Urosev took classes at Lawrence Technological University in Southfield before leaving to work full time for a Belgian company, where he was exposed to three-dimensional scanning. 
From there, Urosev was recruited by GeoMagic, a software company in North Carolina, where he  worked as a regional manager. 
"Back when I started working with 3-D scanning it was brand-new, so it has evolved. I've been fortunate to be around it from Day One," he says. "About five years ago, I don't want to say I hit a career ceiling, but I've always wanted to do my own thing and not work for somebody, and I decided to take that risk and start my own technology company."
Urosev's company, eQuality Tech Inc., does some 3-D printing but specializes in 3-D scanning. He started out working with the automotive industry, particularly reverse engineering and quality control. Although he still works with auto clients, Urosev's "core focus" is eluxe3d, which utilizes 3-D scanning to create and replicate fine jewelry for numerous clients.
"Three-dimensional scanning is really helping jewelers change the way they do business on a day-to-day basis," he says. "Having an engineering background and working in the automotive, aerospace, and consumer product field, jewelry is very new to me — but I knew there was something we could do for jewelers with our technology."
To help refine the firm's technology, Urosev plows most of his profits into R&D. "I've had a good range of places to work and my success has been defined by what makes me happy. It's not enough to go out and make a lot of money, but (to) develop something as an entrepreneur that gives you freedom," he says. "If you don't want to be locked in a cubicle from 7:30 a.m. to 6 p.m., find something you enjoy doing and make it work." — Stephanie Shenouda
Peter Van Dyke // 36  
Co-owner and CEO
// 

Van Dyke Horn Public Relations, Detroit

 // Employees: 10  // Revenue: $1M 
Wayne State University
Ever since he can remember, Peter Van Dyke says his north star was to own a boutique public relations agency in Detroit. After graduating from Wayne State University with a degree in public relations and a minor in media arts, he joined the communications department at the Detroit Institute of Arts. 
"From there I met Bob Berg and Georgella Muirhead of Berg Muirhead and Associates in Detroit, and I thought their firm was a good fit for me because they were strongly rooted in the Detroit community," says Van Dyke, who had just turned 25 at the time. "During the job interview, I was very up front with them and told them my goal was to open my own boutique public relations firm." 
After gaining confidence and signing on several new clients, Van Dyke was invited to a lunch during which Berg and Muirhead laid out a plan to sell the firm. "I remember one of my first clients wanted to bring an exhibition to MOCAD (Museum of Contemporary Art Detroit), and I thought how fitting it was after my experience at the DIA. I pitched the client, signed the deal, and rolled out the campaign.
"Bob and Georgella brought that up at the lunch, and then offered me a five-year plan to take over the firm. We completed that in January and my partner, Marilyn Horn, and I took over and renamed the firm Van Dyke Horn Public Relations."
From the firm's office in the Fisher Building, Van Dyke handles client services and community outreach, while Horn oversees operations and finances.
Van Dyke Horn's clients include Strategic Staffing Solutions, Grand Hotel, Global Strategic Supply Solutions, Detroit Future City, the Detroit Public Lighting Authority, the Knight Foundation, Faygo Beverages, New Detroit Inc., and the DIA.
"We're looking to hire two or three more people this year, and then we'll look to expand into other markets in Michigan," Van Dyke says. "We have new clients we're bringing on board, and with the new employees, we should have a sizeable gain in revenue by the end of the year and into 2018. It's exciting." — R.J. King
---