DBusiness is hosting a special breakfast for the eight 2016 Powered by Women honorees on Aug. 30 at the Great Lakes Culinary Center in Southfield. For more information, visit http://bit.ly/2bcx8jX.
---
---
Jennifer Wahnschaff
Vice President Instrumentation and Driver HMI,
The Americas, Interior Division
Continental Automotive, Auburn Hills
Employees:  212,000 | Revenue: $43.9B
Jennifer Wahnschaff grew up in an automotive family in St. Clair Shores. Her father worked for Ford Motor Co. and her in-laws were employed by Chrysler Corp. She always liked cars, and was drawn to the design of exteriors and interiors rather than the engines and hardware that excited her father and brother.
In school, she had a natural competitive streak, and participated in math competitions and science fairs. At one time or another, she pondered becoming a teacher, a lawyer, a veterinarian, a doctor, and a psychologist. "Then a very close girlfriend came home from private school one day and said her high school counselor told her that since she was good at math and science, she should be an engineer," Wahnschaff says. "I was good at math and science, too, so I decided that I would also be an engineer."
While earning a mechanical engineering degree at Michigan State University in East Lansing, Wahnschaff co-opted through a variety of assignments — ranging from AC Rochester to Inland Fisher Guide — at what was then known as General Motors Corp. She stayed with Fisher Guide following graduation in 1992, "doing warranty and quality database functions, and writing database
programming to analyze warranty data." At that point, she was married with one child, and another on the way.
She was later promoted to senior mechanical engineer in GM's Interior Division, before moving to Takata in 1998 as team leader for interior seating and sun visors. In 2001, she joined Continental Automotive as a senior mechanical engineer in the instrumentation and displays business unit of its interiors division. Since then, she has advanced through numerous leadership positions and, in 2011, she moved her family to Babenhausen, Germany, where she became director of Continental's GM and Fiat Global Customer Center.
Wahnschaff returned to Detroit in 2013 to assume her current responsibilities, which include leading her 1,600-plus-member
instrumentation and Driver HMI (Human Machine Interface) team's product development and technology roadmap components, in addition to its overall organization. "I'm responsible for all of the electronics that help inform drivers on the road," she says, "from the instrument cluster to the head-up display, HVAC controls, and center stack, and from design and development all the way through manufacturing." Her OEM customers include GM, Ford, and FCA, as well as Tesla and other new electric-vehicle makers.
She describes her leadership style as very open: "I like to give responsibility to team members to help them excel and take ownership and leadership of their parts of the business as if they're CEOs," she says. "That allows me the freedom to work on strategy instead of operational details. And I like to mentor and develop individuals. I think it's very important that they understand when they're doing a good job, and when they need support or need to change, correct, or redirect." 
With divisions in Brazil, Australia, China, and Korea, as well as in North America, Wahnschaff has become adept in leading a team that's diverse not only in gender, but also in nationality and culture. "You have to be considerate of English as a second language, and also of different cultural perceptions with how a message comes across," she says. 
She points out that she has a supportive husband to help her manage the balance between her family, career, and travel schedule. "I married my high school sweetheart in college," she says, "and he has been an excellent support person — a mentor, a coach, and a confidant. He's always there for me."
What advice does Wahnschaff have for women in business? "I think it's important to have confidence in yourself and your capabilities, as well as in your life partnership. Try to find an even balance of workload between you and your partner. Don't try to fit into the '80s model of doing it all yourself. And read books by other businesswomen, because some women believe that they're the only ones who have gone through their circumstances." — Gary Witzenburg
---
Joan Budden
President and CEO
Priority Health, Grand Rapids
Employees:  1,200 | Revenue: $3B
When she was chief marketing officer for insurer Priority Health, Joan Budden was part of innovations like covering complementary medical practices, using the Health Care Bluebook to help tell beneficiaries what their out-of-pocket costs would be, and offering a rewards program for members who shop around for the best price for a service.
Now that she's president and CEO of the Grand Rapids-based nonprofit health plan, expect more changes to come. "I like change, I thrive on it," Budden says. "Keep trying new things, that's how the world gets better."
After she became CEO in January, Budden made a point to address how Priority Health is doing in the post-Affordable Care Act world. "I was pleasantly surprised about what I heard, and I also learned a lot," she says. "As an industry, health care is facing a lot of challenges, (one of which is) that it's simply unaffordable and people need solutions."
Employers, in particular, believe they have few choices and are frustrated with escalating health care costs, Budden notes. They want to see increased rivalry among insurers. "Competition increases innovation," she says. "The ACA has improved competition and made it more accessible for people to shop and compare things on the basis of facts, so there's a lot of transparency about prices today."
The ACA has been good for Priority Health's business. The insurance company's market share among individuals statewide who buy their own insurance has risen to 20 percent from 5 percent since the act took effect in 2010, Budden says.
Among seniors who buy Medicare Advantage coverage, a fee-for-service model, 54 percent statewide are covered through Priority Health. Of the approximately 725,000 Priority beneficiaries in Michigan, about 390,000 receive coverage through their employer, 125,000 have Medicare Advantage, 110,000 buy their own insurance, and 100,000 are Medicaid recipients.
Looking to the future, Budden says Michiganders can look for Priority to make coverage and services more affordable, while increasing beneficiaries' access to health care. "I believe affordability is the biggest challenge we face," she says. "I think I'm a champion on this." 
Budden has her focus on changes in the payment structure that favors paying for high-quality outcomes; rendering services at alternative sites of care, including in the patient's home; and offering preventive care that's more cost-effective.
"For one inpatient stay, you could have about 200 office visits," Budden says. "So why not offer people more access to their physician?"
Also related to preventive care, Priority recently released results of a five-year study of 9,000 beneficiaries that did a head-to-head comparison of the prevalence of chronic conditions and costs between participants and nonparticipants in its HealthbyChoice program. The workplace program is designed to raise awareness of potential health risks and reward employees for making measurable progress toward being healthier.
The study results showed HealthbyChoice saved employers up to 12 percent in claims costs, or $1.2 million over four years. Over five years, there was a 25-percent drop in the development of diseases such as diabetes, chronic lung disease, and heart disease related to a decrease in blood flow to that vital organ.
Also look for Budden to tackle problems in individual coverage, where premiums industrywide have doubled since the ACA took effect. "People who enroll during special enrollment are entering the market when they're in need of services, but not entering when they don't need them," she says, adding penalties may need to be put in place to level out the playing field.
To boost access to health care, last year Priority Health started offering telemedicine mental health services in rural areas where such practitioners are scarce. "I really believe that, as a society, we need to make health care work," she says. "It's an underpinning of who we are." — Ilene Wolff
---
Lisa Lunsford
CEO
Global Strategic Supply Solutions, Livonia
Employees:  100 | Revenue: $36M
Lisa Lunsford was in an enviable position when she started her first business — but that's because she earned her way to that position. After coming to Michigan from her native North Carolina and landing a job with Ford Motor Co., she enjoyed a supportive environment and plenty of mentoring from her colleagues.
But by 1998, she felt restless. "I had that bug," she says, to do something different. She left Ford and launched I Thinc LLC, a company whose business was writing software for transportation and warehousing applications. Ford was sorry to lose her, but rather than being angry about her departure, they told her something that added to her confidence and demonstrated her value.
"Ford said, 'Anything you need, we'll support you, and if it fails, you always have a job (here),' " Lunsford recalls.
Lunsford had no intention of failing. I Thinc LLC got off to a strong start, as Lunsford worked with her brother on software applications for vehicle quality systems. Like many businesses, however, it took a hit following the 9/11 terror attacks. "It hit us pretty hard, along with the technology bubble, and we started losing clients," Lunsford says. "In order to keep the bills paid, we decided to move into IT support instead of software development. It was more flexible."
That move ultimately led her to connect in 2010 with Robert Gruschow, president of Deshler Group in Livonia, who wanted Lunsford to join him in a new venture that provided engineering services, manufacturing, assembly, and supply-chain management. Together, Gruschow and Lunsford established Global Strategic Supply Solutions, where Lunsford now serves as CEO, in addition to serving as vice president/marketing for Deshler Group, her partner's company.
All this was quite a leap for the erstwhile tomboy who grew up near Greensboro, N.C., with four brothers and worked summers on her grandparents' tobacco farm. After graduating from Bennett College, Lunsford caught the attention of Ford and came to Michigan to start a career in the automotive industry.
Now married with a 10-year-old daughter, Lunsford realized when she established GS3 that she had to be totally committed to it.
"It was truly the beginning of one thing and the end of another," Lunsford says. She and Gruschow believed they could offer companies benefits in areas like tracking and in-line vehicle sequencing. It was a step in a different direction, as Lunsford recognized the limitations of the market for IT services.
"Going into GS3 pushed me to recognize that's becoming more of a commodity," Lunsford says. "Some of the software we developed has been implemented here, and some of our IT clients didn't want to let that go, so we hired some people to take care of (tracking and in-line vehicle sequencing)."
But make no mistake: GS3 isn't an extension of Lunsford's past ventures. The company processes more than 4 million parts each year while offering the management of materials, manufacturing, assembly, and distribution to its clients.
Lunsford says she has placed a strong focus on workforce diversity — not only helping her own employees, but working with international partners of GS3 who have no background in adapting and incorporating workplace diversity into their business models.
And it's possible none of it would have happened had she not explained her intention to walk away from Ford and her former colleagues.
"I just told them I thought it was time," Lunsford says. "I felt that bug. I can't describe it, but it's the thing that's nagging at you that there's something more." — Dan Calabrese
---
Tavi Fulkerson
Owner
The Fulkerson Group, Birmingham
Employees:  9 | Revenue: NA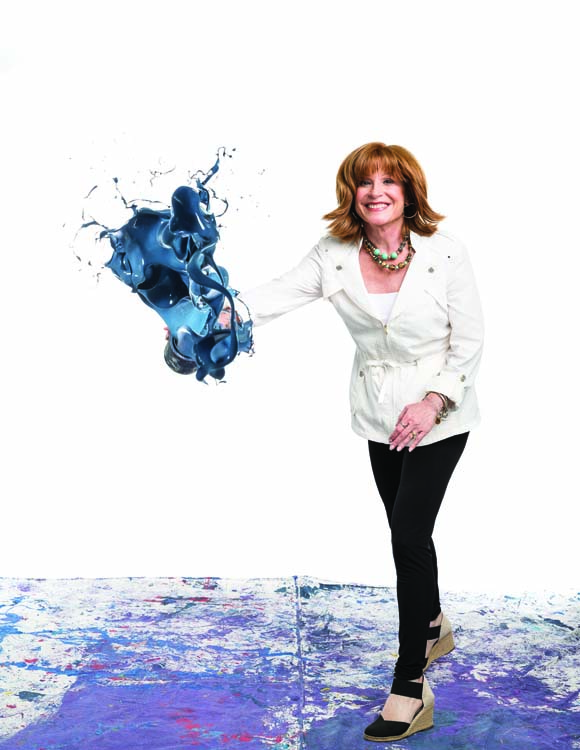 Tavi Fulkerson has played a pivotal role in changing the face of Detroit's major events landscape. From a relative backwater in the 1980s, with only the (at the time) Detroit Auto Show, Detroit Thunderfest hydroplane races, and the Thanksgiving Day parade to show for itself, Detroit today is home to world-class industry, sporting, and civic events thanks to Fulkerson's ability to match events with appropriate sponsors. 
Next year, Fulkerson will have represented 25 North American International Auto Shows, and grown the number of sponsors from zero to 140, while this November's America's Thanksgiving Parade, now with some 200 sponsors — including Art Van Furniture in Warren — will be her 20th on record. 
In addition to those two major events, The Fulkerson Group arranges marketing partnerships between an array of sponsors and the Ford Fireworks Detroit, the Detroit Jazz Festival, and the Chevrolet Detroit Belle Isle Grand Prix. Fulkerson's company also represents the annual Fuel: Detroit leadership summit and
Christmas Village Orlando in Florida, which is modeled after a traditional European Christmas market. 
After graduating from the University of Michigan in 1974, Fulkerson worked in Ann Arbor at public radio station WUOM-FM, and as a rock-and-roll DJ at WIQB-FM. "The radio station got sold, changed format, and everyone had to find new work," she says. "I put out a shingle because I had a natural ability for promotion by connecting the dots between companies and events. I started staging events like fireworks displays, air shows, and Eastern Michigan University football. I was hired by the hydroplane races in the late 1980s to help them celebrate the 75th anniversary of the Detroit Gold Cup. I sold a six-figure sponsorship to a Chrysler-Jeep dealer association in 1990 and never looked back."
As Fulkerson networked through the Gold Cup crowd, she met local car dealers who opened the door for her to connect with the Detroit Auto Show. "They asked me to help the show secure sponsorships and work with the Tier 1 auto suppliers who wanted to be involved," she says. "I started selling NAIAS sponsorships in 1993, and they've been a client ever since."  
The Fulkerson Group markets and sells events, negotiates contracts, and assures fulfillment — that is, making sure the sponsoring companies get what they've paid for, including credentials, hospitality chalets, displays, 
brand presence on websites and in advertising, and "VIP experiences" like access to the paddock at the Grand Prix.  
"When we meet with companies, we try to match them up with events that make sense for them from a marketing and a philanthropic point of view," Fulkerson says. "At the NAIAS, Tier 1 suppliers want to be close to the 5,000 media who attend. For those companies and foundations that want to give back to the community in a way that's visible and special and appeals to all ages and 
demographics, you need to be with The Parade Company, the granddaddy of civic events." 
"Tavi just doesn't take a property and go out and sell it. She collaborates with the property to ensure that they're creating value for the sponsors," says Jack Riley, senior vice president and marketing director at Fifth Third Bank. "She consults the property and says, 'This is what
sponsors are looking for, and here's what you're going to need to do to make this great.' Then she works with the sponsors to drive the value they should be getting out of the asset." 
Fifth Third Bank, which recently moved its regional headquarters to downtown Detroit, last year sponsored a float in the Thanksgiving Day parade. It also has spent more than 10 years as title sponsor of the Turkey Trot races that are held in conjunction with the parade. "We do surveys that ask about awareness and feelings for sponsorships that we're involved in, and we get very high marks on that," Riley says. "In our most recent survey, we increased our score by six points."    
Fulkerson sees major events as antidotes to modern culture's obsession with all things digital. "They have enabled our community to have gathering points, or a time to get together," she says. "It's not online or via email; it's person-to-person. This is the greatest time I've experienced in Detroit in terms of how people are working together to make it a very exciting place to live, work, and play, and attend events." — Tom Beaman
---
Sharon Zhou
CFO
TPS Logistics, Troy
Employees:  85 | Revenue: $375 million
When Sharon Zhou decided to leave her native China to seek a Master of Accounting degree from the University of Michigan in Ann Arbor, she figured she might stay in the U.S. for a couple of years. That was very much the expectation of her parents.
But the American business sector has a way of finding places for talented people, especially those who are willing to take a seemingly limited opportunity and turn it into something bigger. When Zhou was offered a data-entry position with TPS Logistics in Troy in 2010, it might not have appeared to be an offer that would put her on the fast track to success.
Zhou, however, saw different things in the opportunity. "Honestly, at first, I felt a bit overqualified for that position with my master's degree and CPA license," Zhou says. "But after a couple months with TPS, I really saw the potential of the company."
Zhou recognized it was a business that would reward contributions, and she was quickly promoted to accounts payable, followed by a promotion to assistant controller, and then controller. When the incumbent CFO resigned in 2014, Zhou completed her astonishing four-year rise from a data-entry new hire to serving as the company's top financial executive.
The key to her ascent, she says, was approaching every task with an eye toward delivering the most value she could, rather than merely satisfying the requirements.
"If I was asked to present a report, instead of just finishing the report, I'd figure it might be really nice to do an analysis based on the numbers," Zhou says. "So I just did so voluntarily. I'd do a summary page, along with my own analysis pointing out things the CEO might be interested in. He was very impressed. To this day, he still talks about it."
Zhou quickly discovered that she would need that commitment to excellence in her role as CFO, a task that didn't merely consist of number-crunching. 
As she was settling into the position, the company decided to merge its finance operations with another department that manages its freight. Her preparation for that role, she says, was aided by her early days at the company doing data-entry.
"When I did data-entry, that was part of the freight build process, so I spent quite some time learning it," Zhou says. "There were a lot of late nights and weekends of working. I sat down with people in every department and talked about data-
entry, internal auditing, accounts receivable, accounts payable — just to watch how they did their day-to-day work."
Zhou says it took her six months to really understand the process, but once she got it, she immediately started making improvements.
Her growth came as she confronted not only a language barrier, but a cultural one, as well. For example, she had never celebrated Thanksgiving before coming to the U.S. (nor had she eaten turkey), so her colleagues' fixation on that holiday was entirely new to her. "Every little thing is so different from life in China," Zhou says."
Recently married to a fellow U-M graduate, the hardest part of staying in the U.S. for Zhou is the separation from her parents. While she would love to convince her parents to join her here (she is their only child), she's not sure it would work, given the language and cultural barrier. "I'm so excited about my work every day, and every day I'm learning new stuff," Zhou says. "So I don't think I'm going back to China any time soon." — Dan Calabrese
---
Haifa Fakhouri
President and CEO
Arab American and Chaldean Council, Troy
Employees:  137 | Budget: $12 million
It has been reported that social service agencies in Michigan expect more than 5,000 refugees to arrive in the state this year. Since the Syrian civil war began in March 2011, Michigan has received 335 refugees from Syria alone — more than any other state. Overall, more than 30,000 refugees from the Middle East have settled in Michigan in recent years.
The dilemma of the refugees strikes a nerve with Haifa Fakhouri, who herself arrived in Detroit from Jordan in 1967 to study at Wayne State University. Later, Fakhouri saw immigrant issues up close and personal while serving as an international adviser to the U.S. Agency for International Development. She also worked with the United Nations Development Population in Jordan as a consultant on women and population policies in the Middle East.
"I saw the impact of the wars in the Middle East, the civil war in Lebanon, the Iraq-Iran war, and I witnessed the plight of refugees from Middle Eastern countries stranded in European airports," Fakhouri says. "When I came back, I met with my priest and a few other community leaders and said, 'We have to have an institution to deal with the future problems of refugees coming to the United States.' "
In the late 1970s, Fakhouri began applying for foundation grants, meeting with government officials, and holding fundraising events to turn her vision into reality. With the support of the late Father John Badeen, former president of the Eastern Orthodox Churches of Metropolitan Detroit, and others, she co-founded the Arab American and Chaldean Council in 1979.
Under Fakhouri's leadership, the nonprofit organization has become the largest community-based social services organization focused on Middle Eastern communities in the nation, with 44 outreach centers in Wayne, Oakland, and Macomb counties. It's headquartered in Troy, the city with the second largest non-
native-born population in southeast Michigan.
"We're basically a human service agency," Fakhouri says. "We have medical clinics, employment training, social services, behavioral health programs, youth and senior citizen programs, and food distribution programs. We have an affiliation with community centers in California and Chicago, but 80 percent of our work is in Michigan."
The organization, which delivered 391,469 services to 69,249 clients in 2015, provides translation and interpreting services to federal, state, and local government agencies, and it has applied for a grant to conduct U.S. citizenship test preparation classes for English as a second language to individuals. Its $12 million annual operating budget comes from donations, foundation grants, and other sources including General Motors Co., United Way of Southeastern Michigan, and the Central Intelligence Agency. 
"My priority right now is the Seven Mile Project," Fakhouri says, referring to the ACC's $16-million plan for redeveloping Seven Mile Road in Detroit between Woodward Avenue and John R. "We established an ACC campus there with an employment training center, a youth center, adult services for needy families, and a behavioral health clinic. We coordinate with major community organizations in the area, like Detroit Community Health Connection, which provides services to the underserved population in the area."  
The project also has brought about the makeover of seven storefronts, along with sidewalk improvements and the installation of planting beds and park benches. "We're working with people to encourage economic development of specialty shops — coffee shops and restaurants — around the Seven Mile area," Fakhouri says. She also is in talks with the city about the development of a multi-unit housing complex. 
After 37 years in the community, ACC can point to many accomplishments, but Fakhouri says her work is never finished. "Many refugees are already involved in our economy, and many have established their own shops," she says. "They are young entrepreneurs building a new life. Immigrants are assets, not liabilities. We look forward to welcoming everyone." — Tom Beaman
---
Stacie M. Kwaiser
COO
Rehmann, Troy
Employees:  800 | Revenue: $116.4M
Stacie Kwaiser joined the CPA firm of Rehmann in 1996, intending to stay for a few years and then move to an in-house, corporate position. 
"Obviously, it's 20 years later and I continue to seek more opportunities — whether (that means) bigger, more complex clients; leading different teams; or rolling out new training programs," says Kwaiser, who was named COO of the country's 30th largest CPA, business consulting, and financial services firm in January. "I believe that if you work hard, you should enjoy what you do — and I do."
Not only does Kwaiser enjoy the work, she strives to foster success in others through sponsoring and mentoring professionals, especially women. "I was raised to be a caring person, so it's just an opportunity to help others," Kwaiser says. "There's nothing more exciting to me than seeing someone else's success."
She says reaching the C-suite and pulling up other women along with her will help to balance the gender gap that exists in the accounting profession. According to the Accounting and Financial Women's Alliance, of 47 firms that participated in its 2015 survey of women in accounting, 22 percent of the companies had female principals or partners.
Also rare is having a female CEO. Among the top 50 CPA firms, only one has a woman at the top, Kwaiser says.
To help improve that statistic, she participates in two of Rehmann's mentoring programs, and currently has six mentees within the company. "Often it's helping them navigate the firm to achieve their goals, which typically is to become a principal, and looking out for them in their careers," she says.
For example, Kwaiser may make a strategic introduction to a colleague for a mentee, or point out her special skill to a higher-up. One time, Kwaiser helped create new work opportunities by pointing out a mentee's skills in information technology risk management to a principal from another Rehmann office (the firm has 17 locations in Michigan, Ohio, and Florida, including one in Saginaw, where Kwaiser is based).
Her mentoring activities extend outside of Rehmann through community activities at the YWCA Great Lakes Bay Region, where she's a past president and board member; and professional organizations such as the Michigan Association of Certified Public Accountants, where Kwaiser started a three-year term on the board of directors last September.
"To me, there's no bigger compliment you can pay to someone than to ask for their guidance or to learn about their success," she says. "That's what I often tell people; it's humbling to me when people refer to me as a mentor."
Randy Rupp, CEO of Rehmann, says Kwaiser is a key member in the 75-year-old firm's strategic direction and is responsible for its operational management. "Stacie has demonstrated that she is a true leader — someone who understands what it takes to help us continue exceeding expectations for clients and associates," he says.
Kwaiser says leadership skills come with experience. "I think a leader is built on many of the attributes that I display: Caring, compassionate, can provide direction and get others to move forward to achieve something, shows appreciation, and is a good communicator."
She says many of those traits come naturally to her. She was captain of her volleyball and softball teams at Bridgeport High School in Saginaw, and she reads books on leadership and works at a firm that subscribes to Dale Carnegie's "How to Win Friends and Influence People" principles. "I think it's also something you have to be cognizant of and work to be better at," she says of leadership traits.
Kwaiser says she once asked her daughter Megan, 11, for her opinion on how well she passes leadership skills to the next generation. "(Megan) told me, 'You've always taught me to lead by example,' " Kwaiser says, " 'and you don't have to be bossy to be a leader.' " — Ilene Wolff
---
Rachel Fortenberry
Global Director of Sales
Exhaust Systems, GM, Faurecia, Auburn Hills
Employees:  100,000 | Revenue: $23.8B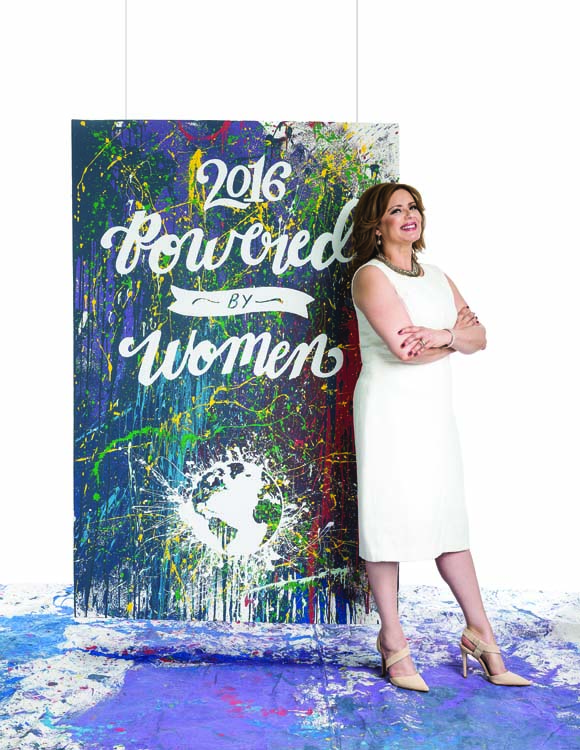 Eight years into her career as an engineer and engineering manager at Dana Corp., Rachel Fortenberry was interviewing for a chief engineer position — but the sales vice president insisted she move into sales. "He said, 'Wait a minute. You cannot go to engineering. You have to do sales,'"  she says. "He wouldn't let me take the chief engineer job; he wanted me in sales." 
A native of Brazil, Fortenberry graduated magna cum laude from Paulista University in Sao Paulo with a degree in mechanical engineering (while working as a co-op with Volkswagen Brazil). Upon graduating, she joined Dana's Sao Paulo Axle Division as a product engineer in 1987. Two years later, she moved to the Spicer Clutch Division in Detroit.
"Dana had a program where they would swap members around the world for training, and I was one of the few there who spoke English so I was selected to come to the U.S.," she says. In 1992, she was promoted to account manager for major U.S. accounts at GM, Ford, and Chrysler. Along the way she became a U.S. citizen, got married, and had two children; from 1995 to 1999, she was a stay-at-home mom.
When she returned to work, Dana sent her to Sao Paulo to be general sales manager for the Fluid Systems Division. But the following year, she and her husband (also with Dana) moved to Minas Gerais in Brazil. "He moved to a different company," she says, "and we were in this little town where there was not much automotive (work), so I thought I would try something different. 
"I opened this little business, a deluxe small restaurant next to a grocery store in a busy area where we made and marketed our own brand of ice cream. I wanted to learn how to run a business and do the books. It was a good experience and a great lesson in finance. I learned that your fixed costs have to be low because your sales will vary."
After Fortenberry and her husband were divorced in 2002, she sold the business, moved back to the United States, and took a job with Troy-based ArvinMeritor as sales manager of suspension modules and modular door systems, again working with GM, Ford, and Chrysler. "I wanted to raise my kids in the U.S., so I (came) back. My professional godfather at Dana had moved to ArvinMeritor, and when I met with him, he told me this was the place to be."
She was promoted in 2003 to sales and program manager for GM passenger car and light truck exhaust systems, before moving to a platform manager job (also for GM car and truck exhaust systems) at Emcon Technologies in 2008. She assumed her current position in 2010 when Faurecia acquired Emcon.
Today, Fortenberry travels extensively to support global teams in Europe, China, Korea, and Brazil. Fluent in English, Portuguese, and Spanish, she has, at times, served as a delegate for the vice president of the GM Business Unit.
A Corvette enthusiast, she says the best thing about her job is working with cars, and her toughest challenge is the need to balance internal with external customer demands. "I believe in my team members — that everyone is giving me 110 percent — and I'm very flexible. I like to be more of a coach than a boss, and work side by side with them." 
How has she balanced raising children with the long hours and travel her career has demanded? "My parents came to live with me for a few years after my divorce, and I moved next door to my sister. My (new) husband is a great stepdad, and doesn't travel as much as I do, so it's a great partnership. I always joke with my friends and say that if a pilot gets sick and I have to land the plane, that's easy compared to being a single mom and doing a good job in automotive. I always felt that I had to paddle a little faster than everyone else." — Gary Witzenburg
---
---
Facebook Comments