---
---
Kouhaila "Ki" Hammer
President and CEO | Ghafari Associates, Dearborn
Employees: 400+ | Revenue: $125.6M
Kouhaila "Ki" Hammer began her career in business as an accountant with the former Arthur Andersen, where she quickly gained a reputation as a strong financial executive. In 1986 she caught the attention of Yousif Ghafari, chairman of Ghafari Associates, a multifaceted architectural and engineering firm in Dearborn.
Founded in 1982, Ghafari Associates was in need of an experienced CFO, and Ghafari told Hammer that joining his firm would be the right opportunity to move her career forward. It wasn't a hard sell, because she was already familiar with the firm and knew its potential for growth.
"When he was founding the firm, I helped him with the business plan," Hammer recalls. "As (the firm) grew, he recruited me to join him. At the time, we had 73 people. What attracted me was getting involved beyond just the financial end of the business."
And she did. As the firm steadily increased in size, Ghafari wanted to step out of the day-to-day leadership and into the role of chairman. In 2000, he named Hammer president and CEO.
One of Hammer's top priorities was to diversify the firm's client base. Like other Michigan companies, it was heavily reliant on the auto industry, and Hammer understood the risk that presented. "When I first joined the company, we were about 95 percent automotive," she says. "We knew we wanted to be able to be more diverse, not only from a financial perspective but from a growth perspective, and in that way we could allow our business to become less cyclical."
In order to achieve that, Hammer led the company to expand both its geographic presence and its array of offerings. "Some of our best clients were taking us with them to other parts of the world, so it became natural for us," she says. "We were exposed to other geographical areas, and that made us much more comfortable going in that direction."
Under Hammer's leadership, Ghafari Associates chose to capitalize on an overseas engagement and open an office in the country where the engagement had occurred. That proved to be a successful strategy in bringing the firm to the global stage, where the company works on everything from airports to steel mills, oil refineries, chemical plants, and pipelines. The firm now has grown to more than 400 employees and has nine offices around the world, including locations in Brazil, Saudi Arabia, Oman, the United Arab Emirates, Qatar, and India.
Hammer, who last July was named board president of the Engineering Society of Detroit in Southfield, describes her leadership style as collaborative and entrepreneurial.
"No idea is a bad idea, and I have a very open-door policy," Hammer says. "We have a good leadership team that I work with, and part of their mission is to make sure they're engaged with the employees in their groups. I travel to the offices and we host employee meetings where we share information. That's been a big part of our success." — Dan Calabrese
---
Sandra Quick
Senior Vice President, General Counsel, and Secretary | Meritor Inc., Troy
Employees: 9,000 | Revenue: $3.7B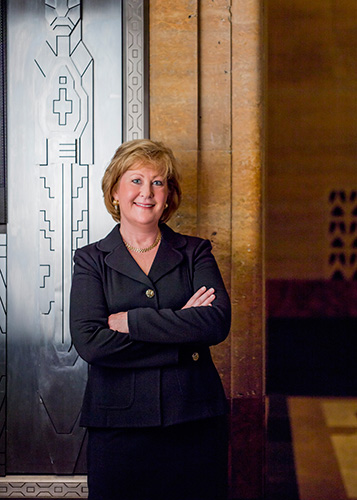 As a mother of three, Sandra Quick, recognized the challenge of balancing family and career.
"No doubt about it, if you're a parent — male or female —taking on a major career role while managing all the responsibilities that come with rearing children, you have to learn how to balance a lot of things. It can be done. You just need to be proactive and diligent about it," she says.
Quick brings the same passion to her legal career. She started out with Detroit-based Dickinson Wright as an associate litigator and was soon recruited to a senior counsel position at ITT Automotive, a global provider of automotive safety and control systems. "While I really enjoyed my time as a litigator (for Dickinson Wright), I realized that the position at ITT would be a great job," she says. "I was intrigued by the thought of working not just as legal counsel, but as an integral part of the business team."
In 1998, when Valeo acquired ITT's electrical systems subsidiary, Quick became the North American legal counsel for Valeo's wipers and motors branch, a position that involved many trips to France. "That was a great opportunity to develop my French skills and gain an understanding of practicing law internationally as a corporate attorney," she says.
Quick's next two positions allowed her to expand her international experience. In 2000, she moved to global auto parts supplier Toyoda Gosei — a Japanese automotive supplier that operates a North American headquarters, engineering, and sales center in Troy — as vice president, general counsel, and assistant secretary. Later, she joined another automotive supplier, Johnson Controls Inc., where she ultimately was named group vice president and general counsel of its global electronics and interiors division. In February, Quick joined Meritor, a global supplier of drivetrain, mobility, braking, and aftermarket products for commercial vehicle and industrial markets.
Quick's management style is simple: "I feel a lot of responsibility and loyalty to my people. I find that if you show loyalty and commitment to people, you usually get it overwhelmingly back. That's is the way to build the strongest team." At Meritor, she's also executive sponsor for the Women's Business Resource Group. "I very much enjoy supporting programs that help women find mentors in the business and help them think more broadly about their careers," she says.
Quick, who grew up in St. Clair Shores, attended University Liggett School in Grosse Pointe Woods and went on to graduate magna cum laude from Duke University, with degrees in political science and French. In her junior year she studied at the Paris Institute of Political Science, which led to a strong interest in law. She earned her law degree (with honors) from the University of Notre Dame.
What advice does Quick offer to women in business? "Two key things," she says. "First, own your career. Mentors are helpful to bounce ideas off of and provide good examples, but only you can own your success. Second, at every stage of your career, actively explore what you want your next step to be, and identify and write down the skill sets you need to get there. Then, look every day for opportunities to develop the skills for that next goal."  — Gary Witzenburg
---
Diane Dossin
Chief Tax Officer | Ford Motor Co., Dearborn
Employees: 183,000 | Revenue: $147B
Diane Dossin grew up in St. Louis, where her father taught math in her high school. "The math gene in my family is very strong," she says. Following her mathematical inclinations, she majored in business and accounting at Valparaiso University in Indiana. She realized she wasn't excited by the idea of an accounting career, so she set off for Stanford Law School — but after marrying a man from Michigan she had met at Valparaiso, she completed her law training at the University of Michigan.
During her second year at U-M, Dossin took a summer internship with Ford Motor Co.'s legal office. She later joined the department full time. Today, as chief tax officer, she has global responsibility for Ford's tax compliance, planning, audits, appeals, and litigation, as well as financial reporting of taxes, transfer pricing, and employee benefits.
Perhaps the most exciting element of her job is legislative work. "The Internal Revenue Code hasn't had an overhaul in 30 years, and everyone agrees that the one we have isn't working," she says. "One of the most important parts of my job is carrying Ford's story to the House and the Senate tax-writing committees in Washington, to make sure our story doesn't get lost.
"With the Apples, Googles, Facebooks, Starbucks, Amazons, and the like, U.S. manufacturing isn't what makes the world go around anymore, so we need to capably represent the interests of U.S. manufacturing and what it means to this country in terms of technology, investment, innovation, and high-quality, good-paying jobs."
The other satisfying element of Dossin's job is the global aspect. "I went from this Midwestern kid growing up in St. Louis to a job that has taken me to places like China, Thailand, India, Brazil, and Argentina, with tax people in those countries who report to me and look for leadership from me. That has been very exciting because it was unexpected. It's been a surprise and a delight where that somewhat narrow interest (in taxes) has taken me."
Dossin characterizes her leadership style as open and honest, using good "emotional intelligence … being able to read people and situations, (and) understanding what they're saying behind their words and body language. I also lead more by asking questions than by telling people what to do," she says.
Her advice to women in business: "Be curious about what you do and the setting in which you do it. You can be a pretty good tax lawyer by reading the Internal Revenue Code, puzzling out a question, and getting an answer. But it's way, way better to have a good understanding of the industry in which you work, the countries in which you operate, and the governments of those countries," she says, adding, "That requires reading, curiosity, and asking questions, so I'm amazed when some people, at the conclusion of a discussion or presentation, have no questions. I think people should have excitement and curiosity about the world, because it makes their contributions to it so much more effective and interesting." — Gary Witzenburg
---
Barbara Gucfa
Director, Enterprise Development Division | AlixPartners, Southfield
Employees: 1,200 | Revenue: NA
From as early as she can remember, Barbara Gucfa loved math and science and learning how things work. During high school, she was a student intern at General Motors' Warren Technical Center and a member of Engineering Explorers, and she helped her father — who spent 46 years at General Motors — restore a 1956 Austin Healey.
After receiving an electrical engineering degree from the General Motors Institute (now Kettering University) in Flint, she joined the automaker as an electrical components engineer. Soon after, she earned a graduate degree in engineering from Purdue University. She left GM to pursue an MBA from the University of Michigan, graduated in the top 10 percent of her class, and chose a career in consulting — first with A.T. Kearney and now with AlixPartners, a global turnaround consulting firm based in Southfield.
"Coming out of business school," she says, "I thought I would head to the West Coast and do the high-tech thing in my jeans and Birkenstocks. But I fell in love with consulting during the interview process."
Her career choice has given her an opportunity to work with clients in Japan, Taiwan, Malaysia, Sweden, Germany, England, and all over the U.S. in industries ranging from automotive and heavy manufacturing to higher education and supercomputing.
One of her most challenging assignments with AlixPartners was working on the GM turnaround. "I dealt primarily with the engineering community, addressing things like resources and what kinds of headcount reductions they might be looking at post-bankruptcy to right-size the new GM, and with the General Technical office, the part of GM that owns its patents," she says.
In fact, AlixPartners, founded by Jay Alix, developed a plan to turn around General Motors well before the automaker went bankrupt in 2009. The plan, adopted by the Obama administration and financier Steven Rattner, tapped the bankruptcy code to spin off many of GM's unprofitable operations and liabilities into an entity called OldCo, while retaining the best brands and operations with NewCo, or today's General Motors Co.
Apart from active turnaround duties, Gucfa serves as a mentor to younger consultants in the firm. "A big part of mentoring is informal, which means I'm always available as a resource if (mentees) have questions or issues they're trying to get their arms around. But it has to be judgment-free. They have to know that when they talk to me, they're in a safe zone."
Asked to provide career advice, Gucfa is quick to answer: "Get immersed in issues and problems and become part of the solution, as opposed to being in the group that sits on the side and comments. I think great experiences, personal satisfaction, and success come from being part of the group that resolves challenges others shy away from. That's where the fun is."
An avid supporter of the Detroit Institute of Arts, she serves on the organization's financial development committee. In 2012, she founded 100 Women for the Arts, which hosts annual fundraising events such as a recent luncheon honoring Bruce Weber, a popular and influential photographer who is the subject of a DIA exhibit that runs through Sept. 7. "100 Women for the Arts is a significant movement in metro Detroit that's getting a national following," Gucfa says. — Gary Witzenburg
---
Jean Meyer
President and CEO | St. John Providence Health System, Warren
Employees: 16,000 | Revenue: $1.96 million
Most top health care executives start out on the business side of the medical field, not in the trenches providing patient care. That makes Jean Meyer an exception to the rule. Last December, she was named president and CEO of St. John Providence Health System in Warren, which operates five hospitals and 125 medical centers.
Her promotion caps a precipitous career climb that started in Chicago, where Meyer worked as an oncology clinical nurse. "I never wanted to do anything else," Meyer recalls of her early years in nursing. "And then I took on a role as an advanced care nurse when I was still in Chicago, and I worked very closely with the unit manager. There would be times when the unit manager was on vacation and I would take over some of the management responsibilities."
She was asked to take on more management roles when she moved to Indianapolis, even though she reminded her new leaders that her training was as a nurse, and she didn't have much experience or training as a manager. "They said, 'You don't have to,' " Meyer says, " 'you just have to know how to be a leader and help turn around a very troubled operation.' "
It wasn't long before she was on the path to a career in health care management — one that culminated last year with a months-long process that saw her named interim, and eventually permanent, CEO of St. John's Providence. Now that she's settling into the post, Meyer believes it is essential to lead a retooling of the organization's approach to the health of its patients.
"I want to really get out of the acute care hospital focus, which we're so used to being in," Meyer says. "It's an acute care sick culture, because we're always dealing with sick people in the hospital. But the goal now is to keep them healthy and keep them out of the hospital."
To quantify the goal, Meyer wants to "cover a million lives in southeast Michigan" — but that doesn't necessarily mean what it used to mean. "It's a very different mindset," she says.
"Not everyone is always getting a CAT scan or an MRI, which is very expensive, so it kind of cuts against the grain of the way health care thought in the past."
Having been a clinician, Meyer says that training helps her to achieve credibility with the staff as she pursues changes. They don't see her as a detached executive who doesn't understand how things work in the trenches.
"I've been in those patient rooms at midnight," she says. "I've dealt with those kinds of issues. As a clinician, you keep in mind the patient's perspective."
Meyer intends to challenge her leadership team to develop the innovative approaches that will allow St. John Providence to meet the goals she's setting for the organization.
"I think we need a lot of creativity and innovation in health care leadership, which I think we have," she says. "It requires a very strong team and people who think differently, (and) a very diverse team. It really takes someone to look at things differently and not be afraid to ask difficult questions. — Dan Calabrese
---
Jan Garfinkle
Founder and Managing Director | Arboretum Ventures, Ann Arbor
Employees: 11 | Investment: $235M (across three funds)
Jan Garfinkle, founder and managing director of Arboretum Ventures in Ann Arbor, entered the medical field as an engineer, but saw an opportunity in 2002 to make strategic investments in companies looking to simultaneously improve care and lower costs in the health care industry.
After a stint with Procter & Gamble, she joined a series of startup firms that were working to develop innovative products and devices for the health care sector. One company did so well, Eli Lilly and Co. acquired it. From there, Garfinkle says she decided to strike out on her own. "I really wanted to have my own medical company, and my idea was for it to be a nonprofit. That was it originally, but I quickly realized I wanted to work for a for-profit — and I really love working with startups."
She started Arboretum, she says, "on the idea of a company that can provide great clinical care and also can drive down the cost of health care."
A venture capital fund, Arboretum raises funds from investors and, in turn, finances 12 to 13 companies before starting a new offering. The investment firm is on its third fund, Arboretum Ventures III, which totals $138 million. The goal is to have each company in the portfolio go public, as a way to bring the hoped-for return for investors.
"We've been able to find very capital-efficient companies," Garfinkle says. "The companies we invested in take about $30 million to $40 million in before we get to an exit, so we get really great returns. On the coast, it will take $60 or $70 million before you get to an exit, and that's a huge driving factor of our success."
Arboretum's investments include Advanced ICU Care, a provider of remote tele-ICU monitoring services; Delphinus Medical Technologies Inc., which developed the so-called SoftVue device to detect breast cancer; and Sonitus Medical Inc., a manufacturer of a hearing device that transmits sound using a person's teeth.
Garfinkle credits her team for her success, particularly partners and fellow managing directors Timothy Petersen and Paul McCreadie.
"We all have each other's backs," Garfinkle says. "A lot of the time in the venture capital world, a partner will only be responsible for their companies. But if one of our companies is struggling, we don't hesitate to come in on a Sunday and brainstorm about how we're going to make this successful." — Dan Calabrese
---
Aimee Cowher
Founding Partner and CEO | Global Productivity Solutions, Clinton Township
Employees: 32 | Revenue: NA
Aimee Cowher, a mechanical engineer, was working for Allied Signal in the mid-1980s when the pending closure of the office where she was based suddenly presented her with the choice of relocating or "jumping ship."
Relocation wasn't an option at that point in her life, so she accepted a severance and sought out an opportunity to branch out on her own. Much of that opportunity came from the popularity at the time of business improvement concepts like Six Sigma and Lean, and a high demand among companies for training in these disciplines.
But Cowher, who holds a Master of Science in operations management from Rensselaer Polytechnic Institute, thought she could offer more than training in the trendy management fads of the moment. "I was trying to transcend the idea of Six Sigma and Lean, and really link it to strategy," Cowher says. "I wanted to make sure it was sustainable, and to be a broader and more well-rounded consulting company than just riding a fad."
The result was Global Productivity Solutions in Clinton Township, which she co-founded in 2000 and where she still serves as CEO. Today, the company works regularly with firms ranging from Fortune 100 to mid-market to private equity enterprises, and boasts of a regular return of 20-to-1 on what clients invest in GPS's services.
Clients include Northrop Gruman, Lockheed Martin, Hella Lighting, Walbro, Kraft Foods, Dell, and Shell, among others.
Finding success in such engagements often starts with challenging the presumptions behind a move a company leader wants to make. "There's got to be some business imperative that's driving this effort," Cowher says. "Sometimes leaders create an artificial crisis in what they're promising to deliver, even if it's a very successful company."
Cowher and GPS help clients identify the skill sets they need to service specific projects that demand a strong outcome — and, in a broader sense, they help clients achieve higher levels of performance.
"Once you get there, you have to know the tools you have to bring in to sustain it," she says. "And that's where lots of people hang their hands on the labels of Lean or TQM (Total Quality Management). Those tools have their applicability, so we've learned the right sequence and appropriate application of the various tools in order to deliver rapid results, and to deliver the organizational ability to do it internally."
One of GPS's success stories was a $2.6 billion cost savings plan for a major global food producer. In another case, the consultant reduced the defective rate of a hot dog producer from as high as 30 percent to miniscule amounts. It also worked with a trucking company to find a way to pack items more efficiently, resulting in savings of $11.2 million per year.
"The first three words of our vision are 'to be known,' " Cowher says. "We are relatively unknown even though we do great work for some high-profile clients, and we deliver breakthrough results that rival some of the most known consulting companies in the world. We want to be known as a company that makes a difference for our customers and in our communities." — Dan Calabrese
---
Kimberly Rodriguez
Principal | KPMG International, Detroit
Employees: 155,000 (global) | Revenue: $23.4B (FY)
When Kimberly Rodriguez started Concorde Management Group, a turnaround management firm, she was 27 years old. While she was eager to grow the company, she didn't always find quick acceptance from the businesses she sought to help.
"One of my first clients was actually a referral from a bank," says Rodriguez, who today is a principal with the Detroit office of KPMG International, a provider of audit, tax, and advisory services. "I went into this meeting and the president sat me down and said, 'Look, you can bring me absolutely no value. I have a daughter older than you. The second the bank allows me to get you out of here, I'm going to put my foot against your backside and you're gonna be gone.' "
Nice start. But that wasn't the end of the story. Rodriguez surprised that client by helping to guide his company out of its problems. And his attitude improved.
"As time went on and we were able to bring value to the company, he became one of my most ardent supporters," she says. "He has referred a lot of business to me over the years."
Rodriguez ran Concorde Management Group successfully for 10 years before joining Stout Risius Ross Inc., where she developed and grew the firm's restructuring and performance improvement practice, and then moved to Grant Thornton, where she served as an adviser to firms in the automotive industry.
With KPMG, Rodriguez works with OEMs, large manufacturers, labor unions, and government agencies. Clearly, she has gotten used to mixing it up with the heavy-hitters — the key to a successful engagement, she says, is listening to people at all levels.
"People tend to look at issues from a financial standpoint," she says. "One of the things I've really focused on since the beginning of my career was to take a look at a three-legged stool, including production and technology (as well as finance), because I can tell more about what's going on and what the financial statements should look like by my understanding of what's going on on the plant floor."
Once she's done that level of due diligence, Rodriguez says her challenge is often to convince a CEO that the real issue may not be what he or she thought it was. And you can't do that just by declaring it to be so.
"I'm a data girl, as I say," Rodriguez says. "So with a person in that position, you can't just tell them. You have to show them what makes sense and they have to agree and come around to support that issue. Otherwise, nothing you do or say is going to take effect — and that includes not only at the management level, but the folks on the plant floor."
Getting that level of buy-in throughout a company begins with putting aside the "blame game".
"I was the firstborn of a football coach father, and he was a Bill Cosby supporter and a firm believer in building self-confidence and not being afraid of failure," Rodriguez says. "You don't get what you don't ask for." — Dan Calabrese
---
---
Facebook Comments