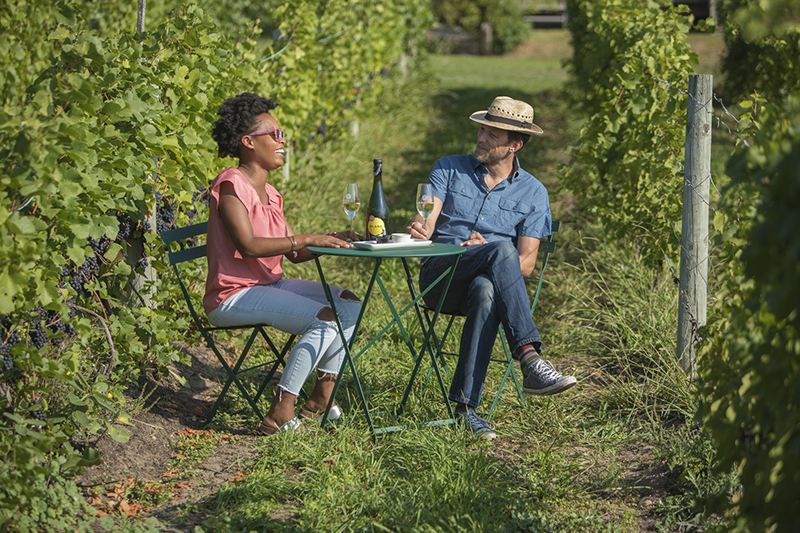 The 2021 summer tourist season got off to a flying start this past winter at the Mawby Vineyard and Winery in Suttons Bay on the Leelanau Peninsula. Mike Laing, who with his brother, Peter, operates the 48-year-old winery that specializes in sparkling wines, says weekend customers were showing up in their tasting room in record numbers starting as early as February.
"People were itching to get out," Laing says. "Four Saturdays in a row we had 250 people visiting in the tasting room — the most we've ever had. More and more people are visiting this area, and I think wine has a huge part to do with that. The Sleeping Bear National Lakeshore is a major draw, Traverse City is a beach town and a major draw, but wine has to rank in the top three reasons why people visit this area."
In the past two decades the state's wine industry has seen phenomenal growth, from some two dozen wineries in 2000 to more than 140 today. Across the state, grape vineyards span 3,050 acres; riesling is the No. 1 planted grape variety.
With the wine industry complementing the tourism sector, cross-promotions like Michigan Wine Month every May go a long way toward spreading economic activity. In Traverse City, that means a month-long campaign called "Traverse City Uncorked."
"It's a fun play on a month-long celebration of the fruits of our labor here in the state — (there's) wine-tasting at the wineries, while some restaurants will put on events to raise awareness of the level of quality and excellence the wineries in Michigan offer, and Traverse City exemplifies that," says Trevor Tkach, president and CEO of Traverse City Tourism.
A recent Michigan Farm Bureau impact study showed Michigan's wine industry annually generates $5.4 billion, including $253 million in tourism spending by 1.7 million winery visitors. The state ranks in the top 10 in the U.S. for wine grape-growing, and is No. 6 as a wine region, just behind Texas.
The state's northernmost region of grape-growing straddles the 45th parallel, the same latitude as France's Bordeaux region. The cooler climate is ideal for varietals such as riesling, pinot grigio, and gewürztraminer.
Blessed with excellent weather last year — no frost last spring, and a warm, sunny summer that extended well into fall — industry insiders say the 2020 vintages were the best in recent years.
In the Traverse City area, 30 wineries on the Leelanau Peninsula and 10 wineries on Old Mission Peninsula collaborate as the Traverse Wine Coast. From Black Star Farms to Chateau Grand Traverse Winery to Chateau Chantal Winery and Inn, many tasting rooms are complemented by winery tours, stunning scenery, resort-like accommodations, and fine dining.
In turn, the Lake Michigan Shore Wine Trail's 21 wineries and vineyards stretch from New Buffalo to Holland — often referred to as the cradle of the industry, with commercial vineyards dating back to 1867. One of the best known is St. Julian Winery in Paw Paw, the state's largest winery, which celebrates its 100th year this summer.
"I have high hopes for this summer," Tkach says. "It ties back to the quality golf, quality wine, and quality dining that the region is known for. That hasn't changed. It's all still there, just as it was before the pandemic, and people want to get back after it."
Facebook Comments