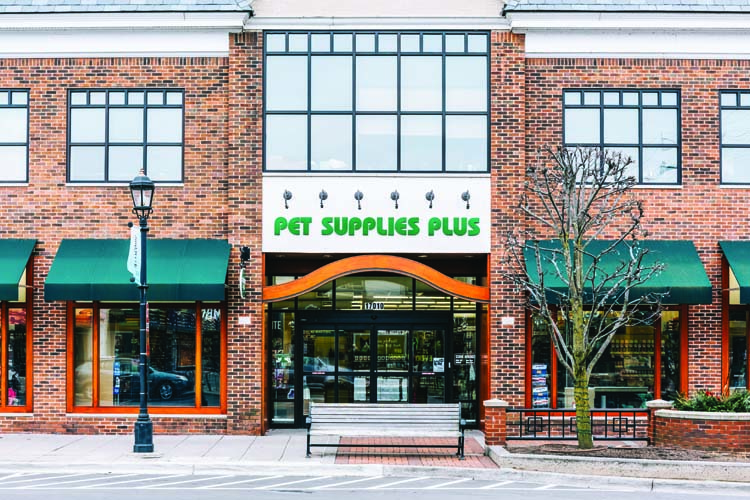 Pet Supplies Plus CEO Chris Rowland says he knows the secret behind the national pet industry's decades of continual growth: A lot of people like their pets more than they like each other.
"Ask anyone with a smartphone to show you a picture of their pet, and I guarantee you they'll show you 30 or 40 photos," Rowland says. "Ask the same person to show you a picture of their children and they'll spend a few minutes looking for one. But their dog is almost always the first picture to come up."
While the global financial crisis of 2008 derailed growth for most of the retail sector, the pet industry has seen 20 years of uninterrupted growth, according to the American Pet Products Association, a Greenwich, Conn.-based nonprofit trade group serving more than 1,100 manufacturers and importers.
The organization says more than $60 billion was spent on pet products, pet-related services, and pet purchases in the U.S. in 2015, up slightly from expenditures in 2014.
"Pet industry spending has continued to increase over the past few years, and we expect to experience growth again in 2016," says Bob Vetere, president and CEO of the association. That momentum has given Livonia-based Pet Supplies Plus, founded in 1988, the opportunity to expand its small-concept neighborhood stores to the national stage.
The company added 26 new franchise units in 2015, increasing its number of stores to 330 in 26 states. Dominic Buccellato, executive vice president and vice chairman of the company, expects the enterprise will add 47 new stores in 2016 — a combination of 12 corporate stores and 35 franchise units.
In January, Pet Supplies Plus opened its westernmost franchise store in Denver and purchased a small chain of California pet suppliers called Pet Extreme to get a foothold on the West Coast. Rowland's five-year plan sees Pet Supplies Plus opening additional stores in the Southwest and expanding its presence in the Southeast, for coast-to-coast coverage.
Rowland says franchising is central to Pet Supplies Plus' success. He plans to expand the company at a 3-to-1 ratio of franchised units to corporate stores.
"Franchising will be the primary growth vehicle," Rowland says. "We're looking to expand our distribution network to service our franchisees even better."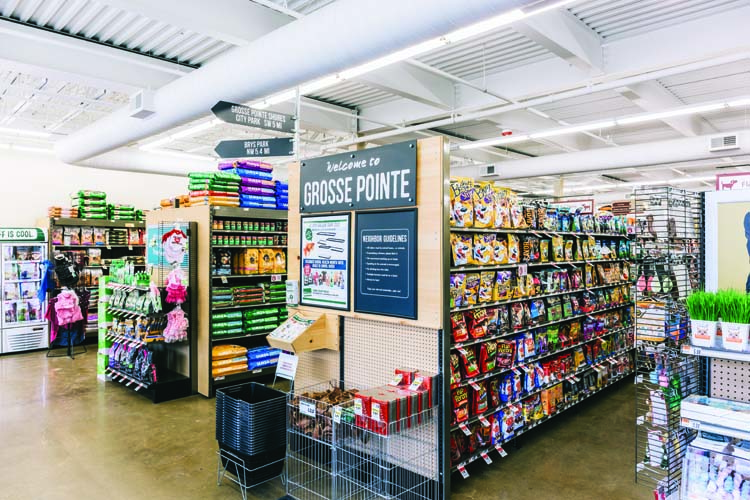 Pet Supplies Plus founders Jack Berry and Harry Shallop opened the company's first store in Redford Township, in a leased building at 14835 Telegraph that is still operational. Both were former grocery executives: Berry worked his way up from a bagger at the former Chatham supermarkets to the president of the Mendelson Egg Co., a grocery supplier; Shallop was president of Items Galore, also a grocery supplier, based in Warren. Shallop died in 2007 and Berry in 2012.
Brian Slater, the son-in-law of Berry and former Pet Supplies Plus director of operations, who now runs his own store franchise, says Berry and Shallop were inspired to start the business from the big-box approach to pet retail they saw in their travels to California. They believed they could replicate the pet grocery concept on a smaller, more personal level.
Slater says the couple's first store broke even in the first year, and once they started to offer franchises, the company expanded throughout Michigan. Today, there are 58 Pet Supplies Plus stores in the state.
Buccellato says the pet industry is "recession-resistant," because demand for pet consumables is constant regardless of economic conditions. He says families will forego going out to dinner when money is tight, but the family dog or cat still needs to eat.
In addition, CEO Rowland says the changing culture of pet ownership is driving pet spending higher and higher. He says people are spending more money on their pets and taking better care of them. "As people want to feed themselves better, they also naturally want to feed their pets better," he says.
Rowland has spent the past few years preparing the company for a projected surge in franchising. "(We've spent time) getting set to support franchising," he says. The company brings "a potential owner in on Day One and takes them all the way through their grand opening. They just have to ride along."
By offering franchisees extensive support, owner-operators have more time to interact with customers. "The ability to connect with a neighbor on a personal level is something that you can do when you're running small stores with owner-operators," he says. "Those are the types of things that are  difficult to do when you're running a big corporate entity. We want to be part of the neighborhood."
Dbrief
Pet Supplies Plus
Products/Services: Pet food, grooming,
accessories, and clothing
Headquarters: Livonia
Locations: 58 in Michigan; 330 stores in 26 states
Employees: 3,000 corporate employees
Average Annual Store Revenue:
$2.5M (2015)
Facebook Comments