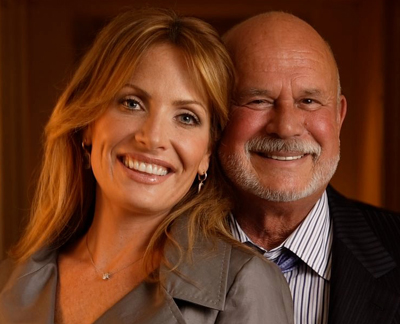 DETROIT — The Barbara Ann Karmanos Cancer Institute will hold its 20th Annual Partners Events this fall in support of its nationally-recognized comprehensive cancer research programs. Proceeds from the events will fund important scientific recruitment initiatives, bringing promising talent to Detroit and further strengthening Karmanos' accomplished research programs.
The honorees for this year's Partners Events are Danialle and Peter Karmanos Jr.
The Partners group was the original vision of Anna and Harry Korman in memory of their daughter, Suzanne, who died of cancer at age 36. They established a research fund to help others with cancer and to begin a legacy of research into creating more effective treatments and earlier detection methods as well as building support for patients and their families so that others would not have to suffer as their daughter did. Since then, Partners have raised nearly $13 million for cancer research.
In keeping with the Korman's vision, Partners annually honors an individual or individuals who have positively impacted cancer care and research in our community. Honorees Danialle and Peter Karmanos, Jr., are well-known for their dedication and passion for giving back to the community, and especially to those impacted by cancer.
After the loss of his wife Barbara Ann to breast cancer in 1989, Peter Karmanos Jr., contributed $15 million to the cancer institute that now bears her name, ensuring that the best and most advanced cancer care is available to other families. Since then, he, along with his wife Danialle, has continually supported the Institute, both personally and through corporate philanthropy.
"Danialle and Peter Karmanos Jr., are a very dynamic couple who are passionate about revitalizing the city of Detroit – and by extension Karmanos Cancer Institute and other Detroit-based companies and organizations," said Dr. Gerold Bepler, president and CEO of Karmanos. "Their efforts are characterized with a great style and an infectious energy. This honor is well-deserved."
Today, Karmanos is a beacon of hope to more than 6,000 new patients annually who seek the help of the Institute's renowned physicians and scientists. Karmanos scientists work each day to help establish the most innovative and effective therapies for patients who come to the Institute.
The Partners Golf Classic features two shotgun starts, one at 8 a.m. and another at 1:30 p.m., Sept. 9 at Franklin Hills Country Club and will include a competitive golf scramble, lunch, refreshments and an awards dinner. The Partners Night, which features special guest comedian J Chris Newberg, includes a strolling dinner, short program, exciting raffle, live entertainment and late night dancing at The Fillmore Detroit, Oct. 5.
Partners Executive Committee Co-Chairs this year are Brian Eisenberg and Michelle Mio.
Major event sponsors of the Partners events include Presenting Sponsor Quicken Loans, Lead Sponsor Compuware Corporation, Platinum Sponsors Becker Ventures, Cambridge Consulting Group, Credit Union ONE, Lil and Alex Erdeljan, The Ferrantino Foundation, Marjorie S. Fisher, The Forbes Company/Somerset Collection, Honigman Miller Schwartz and Cohn LLP, Kenwal Steel Corp. and The Suburban Collection.; Magazine Sponsor Hour Detroit and Dbusiness Magazines, and Radio Sponsor, News/Talk 760 WJR.        
Additional sponsorship opportunities and tickets are available for both Partners events. For information on Partners sponsorship opportunities, contact Maureen Bender at 313-576-8111 or email benderm@karmanos.org.
Benefactor tickets are $250 each; and Friend tickets are $175 each. Pre-registration is required. To register, contact Lisa Koltunchik at 313-576-8106, email koltuncl@karmanos.org; or visit karmanos.org/partners.
---