---
Medical Relief
Autocam Medical in west Michigan designs and manufactures equipment and health care devices while training the next generation of precision instrument workers.
The grinding of equipment hums around the 24,000-square-foot Autocam Medical plant in Kentwood, southeast of Grand Rapids, where workers are focused on their tasks to create lifesaving instruments.
For 50 hours per week, nearly 200 employees — machinists, engineers, and manag-ers — work together in an open-floor environment. They create custom implants, components, and titanium, aluminum, and stainless steel-based medical devices from blueprint orders provided by original equipment manufacturers.
Rather than working on an assembly line, a majority of employees scattered across the plant are using computer numerical-controlled machines such as lathes, multi-access mills, grinders, and laser welding and gun drills to create precision medical instruments such as drill bits, reamers, burs, taps, drivers, drill guides, minimally invasive surgery instruments, and multi-piece instruments. Others are using coordinate measuring machines to check the tolerance of tools. The resulting instruments are used in surgeries for humans and animals.
After systematically contorting, sealing, cutting, and sculpting countless numbers of metals into medical implants and precision instruments during a 10-hour shift, the products are transferred to employees who work on secondary operations that refine the outer appearance of tools, which includes washing, painting, laser-marking, and buffing.
"Every part has a different timeline associated with it," says Kristy White, human resources manager for Autocam Medical. "On average, there's a six-week turnaround, and some of our consumers ask for 20, 35, or hundreds of units of high-mixed parts per order."
The work is satisfying for the Autocam Medical team.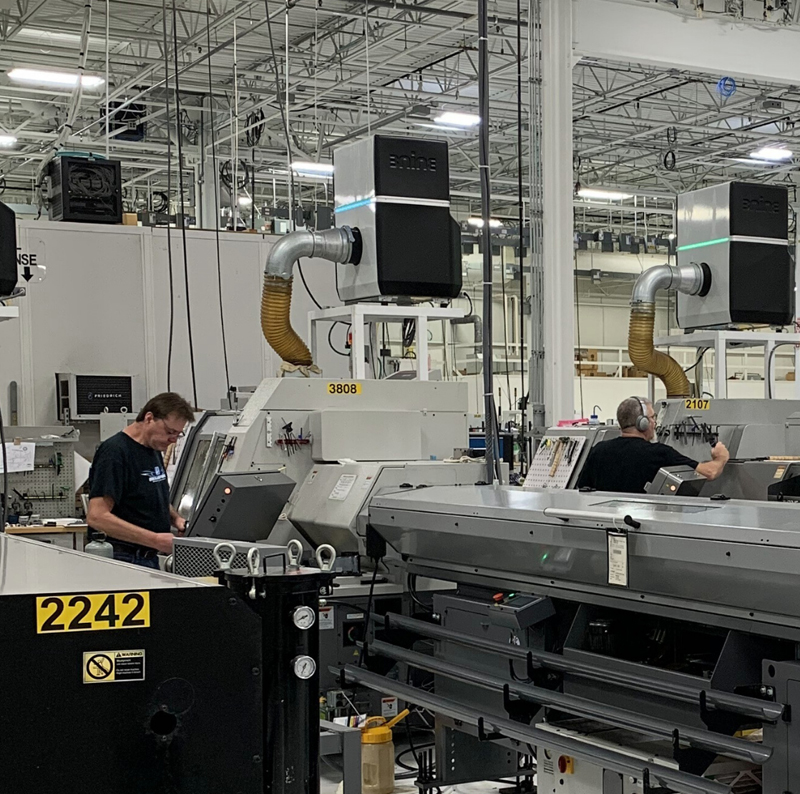 "These things that we're making are really improving people's lives," says John Kennedy IV, general manager of Autocam Medical. "In some cases, they're implantable devices that will stay in a person for years to help them and improve their quality of  life."
Some of Autocam Medical's instruments that eventually end up in the hands of specialists and surgeons in operating rooms across the country are made by students.
The company recently rolled out its CNC Machinist Apprentice Program in partnership with Grand Rapids Community College. Classes take place at Western Michigan Universi-
ty's Advanced Manufacturing Partnership lab in downtown Grand Rapids.
The two-year program paves the way for ambitious Autocam Medical entry-level employees to become journeymen CNC machinists. The manufacturing novices spend eight hours per week studying the intricacies of their craft while dedicating 8,000 hours to operating a variety of machines and learning computer programming.
Once the program is completed, graduates will earn their CNC Machinists Journeyman card from the U.S. Department of  Labor, with the possibility of earning an associate degree and enjoying full tuition reimbursement.
"The type of work we do requires very technologically advanced equipment, and to that end, we need great employees who can help us deliver the technical solutions to our consumers," Kennedy says. "There isn't an overabundance of people pursuing that independently in this day and age. Somebody needs to provide … better jobs for people by educating them and providing them with technical skills to help us to continue to show that we can support our consumers."
— Danielle Nelson
---
Making W
ork S
afer
Office furniture-makers lean on advanced equipment to improve chairs and desks and, at the same time, improve interior air quality and eliminate waste.
Touring the top furniture-makers in Michigan, an industry concentrated in the western part of the state, yields an array of skills on display. But it's not your grandfather's manufacturing environment. In the old days, floors were slick and dirty, and dust and the smell of hot metal were in the air.
Today, visitors can expect to watch a safety video and don eye and ear protection before entering. Advanced filters clean the air.
Dave Vruggink, operations work team leader at Herman Miller's GreenHouse seating operation in Holland, recently showed how the company's chairmaking process, called the Herman Miller Performance System, is the North Star for how the company handles production and business processes. It was patterned after the Toyota Production System — a pioneer in the field of "lean manufacturing."
Herman Miller adopted HMPS in the mid-1990s to reduce long lead times and tons of scrap waste.
Since 2000, Herman Miller performs just-in-time manufacturing, where products are shipped to customers as they're finished. Waste is at a bare minimum. As a result, the plant's 300 employees are safer and customers are happier, Vruggink says.
Thanks to a reorientation of its mindset, safety outcomes are way up, the facility is clean and organized, and visitors to Herman Miller's shop floor can see team members acting in sync to produce chairs in fewer than 20 seconds on high-tech equipment.
In the 1990s, workers at the GreenHouse plant cranked out three chair lines. Today, it's got 17 different seating products and counting.
Steelcase has a similar lean manufacturing operation at its Wood Plant in Caledonia, a suburb of Grand Rapids, where 675 employees produce the wood veneers, laminates, and melamine that are used for tables and desks and shipped directly to customers.
According to Chris Cobb, project manager at the site, the plant follows the 5S program: sort, set in order, shine, standardize, and sustain. This system helps the operation meet its goals of efficiency, quality, and sustainability.
In 2007, Steelcase switched to water-based instead of oil-based stains, as the latter contain volatile organic compounds that are toxic to breathe. Another area in the plant employs air quality features.
"We're creating a lot of sawdust, and that's all collected in the dust collection system," Cobb says. "That material is (moved) to the back of the plant, which keeps it off the floor and out of the air for our employees. Our water misters also help bring that material to the floor, then we have sweepers that come along and sweep it up."
Dave McLenithan, a manager at the Wood Plant, says young people today should know that Steelcase offers a fast-paced environment where every day brings a new challenge.
Meanwhile, Holland-based Haworth is tackling something no other Michigan furniture-maker has attempted yet: digital knitting.
Haworth uses a special tool called a flatbed weft knitting machine. Only a handful of people in the world know how to program the machine.
"We've had between 5 percent and 15 percent yield improvement in terms of scrap, depending on the chair model," says Nick Hobson, director of the business seating unit at Haworth. "We're not bringing anything to landfill."
— Rachel Watson
---
Space Odyssey
Houghton's Orbion Space Technology strives to reduce the price tag of exploring the heavens.
Throughout history, space flight has been an expensive venture due to the high cost of  launching payloads and the one-of-a-kind nature of the satellites and their components.
Houghton-based Orbion Space Technology, spawned from research done at nearby Michigan Technological University, is doing its part to take some of the cost out of space exploration. It's doing so with its plasma thruster, which requires less onboard fuel than conventional orbital maneuvering thruster systems. It also utilizes mass production techniques.
"What makes this product unique isn't that it's a plasma thruster; they've been around for 20 years or so," says Brad King, CEO of Orbion and a professor at Michigan Tech. "What we're doing is what Michigan is good at, and that's exploiting new markets and finding ways to employ mass production. We're using automation and robotics to assemble and integrate the plasma thrusters. That's where the growth is."
Satellites, by necessity, are required to carry enough maneuvering fuel to allow them to carry out their missions successfully. That adds weight, which requires heavy-lift launch capabilities, the cost of which is calculated in millions of dollars per pound.
Historically, spacecraft and their components have been custom-made and hand-assembled, which raises the cost even more.
Orbion's concept for maneuvering thrusters uses Zenon or Krypton gas and electricity from a spacecraft's solar panels to create a beam of ions that produce a gentle, yet efficient, thrust. The process eliminates the need for a satellite to carry heavy tanks of fuel on its journey through the stars.
"These thrusters do three things," King says. "They get the satellite from the booster rocket to where it wants to be in orbit, they keep it in orbit because drag wants to pull it back to Earth, and with its last dying breath it fires in the opposite direction to deorbit and burn up in the atmosphere to keep it from becoming space junk."
The key to the system is the processor that converts electricity to plasma energy. Late last year, the University of Michigan's Space Physics Research Laboratory joined forces with Orbion to build and test the system's power processor.
Orbion's PPU is an electrical component that transmits energy harvested from a spacecraft's solar panels to the thruster, where the energy is joined with the Zenon or Krypton and expelled as plasma, to move the weightless spacecraft efficiently.
"We need to bring the price down because, in the history of the U.S. space program, only two of this type of thruster have ever flown," King says. "Now, there's suddenly a need for 1,000 per year. We need to learn how to make them reliably and keep the cost down. In the past, these thrusters sold for $2 million per unit. Now, entire spacecraft go for less than $2 million per unit."
While the need for cost control in space equipment has increased, so, too, has the necessity for reliability.
"Quality is huge," King says. "If it gets on orbit and it doesn't work, your satellite is dead. Everything has to be done the same way every time. And we have to balance automated production with the rigorous testing of every unit that customers demand."
The answer is automating the testing. "By doing the testing process robotically, we can do eight months' worth of testing in two days, which costs $20,000 instead of $1 million. So, we designed the thruster to be compliant with the automated process."
— Tim Keenan
---
Grain to Glass
After breaking into the craft distilling industry in 2015, Long Road Distillers in Grand Rapids is now expanding across Michigan.
A career in craft distilling requires its share of passion and dedication.
Jon O'Connor, co-founder and co-owner of Long Road Distillers in Grand Rapids, says craft distilling isn't as straightforward a career as one would imagine. While many craft beer professionals get their start by home brewing, home distilling is outlawed by the federal government — so there's no pipeline of self-taught talent for the industry to draw from.
O'Connor's business partner, Kyle Van Strien, notes one of the professional ways to break into distilling is to obtain a degree in chemical engineering, although it can be difficult to convince someone fresh out of college to start working in the service industry. "Entry levels are vastly different," Van Strien says. "In some ways, it's like an old-school apprenticeship."
At Long Road's Grand Rapids taproom and distillery, as well as at locations in Grand Haven and Boyne City, every staff member has a hand in the daily operations. "People at the top are still cleaning tanks, unless you're the head of some big corporate distillery," O'Connor says. "There's some ownership of responsibilities, but most of the time, everybody's doing the same job."
The two partners say they literally take the long road to distilling. They meet often with farmers, to ensure the grains used in their spirits are grown to the highest standards. Once the crops arrive from the field, the distilling team mills all the grain, cooks it, ferments it, and distills it.    
While the entry path to distilling isn't at all conventional, O'Connor and Van Strien say they look for a few baseline things during the hiring process. Some experience in the beverage industry, like working for a brewery or as a bartender, is helpful, while past experience at a distillery is definitely a bonus.
As part of the interview process, Van Strien wants to know about an applicant's favorite drink. "I always ask people questions like, 'What did you enjoy about that one gin you had?' " Van Strien says. "I want to know they're passionate about the product."
While a lot of the distilling process is science, the creation of spirits relies on sensory skills like curiosity and ingenuity, which can't be taught, O'Connor says.
He adds that people are willing to pay for quality spirits, but they want to be assured they're getting value for their money. "A lot of brands try to charge you $50 for a $10 bottle. People are fine paying that $50 as long as they know it's made locally and with Michigan ingredients. Really, they're invested in the story of the product."
The popularity of perceived healthier drinking options like hard seltzer water has led to Long Road's exploration of developing its own craft liqueurs, which Van Strien says pair well with seltzer.
Conventional products such as botanical spirits still are hot in the market, and Long Road's bourbon whiskey continues to sell well, but changing market demands continue to pressure the distillery to compete internationally with its own take on conventionally European products such as amaro, nocino, and absinthe.
"I could say we can make bourbon that's better than Kentucky Bourbon, and we'd be right in about 10 years, because those guys already know what they're doing. They've been doing it for hundreds of years and generations," O'Connor says. "We're going to make great whiskey, but for now, let's compete in places where people aren't competing."
— Ehren Wynder
---
Stitch in Time
How necessity and the simple technique of guiding a needle through thread sparked the Stormy Kromer hat tradition that has lasted more than 100 years.
All George "Stormy" Kromer wanted back in 1903 was a hat that would stay on his head while he was working on the railroad all the live long day. What he got was a product a lot of other people also wanted, a brand that has lasted 117 years, and a business that's still going strong in the Upper Peninsula town of Ironwood.
According to legend, after losing his cap several times on the wind-whipped locomotive where he worked, Kromer asked his wife, Ida, to stitch a new-fashioned baseball cap with a higher crown, a pull-down band to keep it snug, and a soft, cloth visor.
The original six-panel Stormy Kromer hat still is available for $44.99.
Back in the early 1900s, Kromer's fellow railroad engineers begged him for their own six-panel caps, and Ida was put to work. When the demand for caps overwhelmed the Kromer's small operation in 1919, Ida and her helpers moved production to an actual factory, where the company continued to grow.
When Kromer's health started to fail in 1965, he turned Kromer Cap Co. over to Richard Grossman. By 2001, when the popularity of the Kromer Blizzard Cap began to slow, Grossman decided to halt production. That's when Bob Jacquart, owner of Jacquart Fabric Products in Ironwood, swooped in to save the Stormy Kromer.
"(Kromer Cap Co.) was experiencing diminishing sales in this cap style and greater sales in their other caps," recalls Gina Thorsen, president of Stormy Kromer and the daughter of Bob Jacquart. "The (former) owner somewhat seriously said to my dad, 'The problem with this cap is the entire customer base is within 60 miles of Ironwood.'
"So, we bought (rights to) a cap that was being discontinued for lack of sales, which probably wasn't the best business strategy," Thorsen says with a chuckle. "But the cap was beloved here in Ironwood, and my dad just had a feeling that it had to keep going."
Today, Stormy Kromer, which is a subsidiary of Jacquart Fabric Products, produces around 120,000 caps annually, and another 55,000 unit sales of other clothing and accessories. Overall, hats account for 63 percent of the company's annual revenue.
Michigan is the biggest market for Stormy Kromer, followed by Wisconsin, Minnesota, and the ranching states of Montana, Nebraska, and Wyoming.
Jacquart Fabric Products has a total of about 90 employees and, according to Thorsen, 50 or more of them work on the Stormy Kromer products at any given time.
Manufacturing is done in either Ironwood or Flint, at the St. Luke's N.E.W. Life Center, a place where survivors of abuse and poverty learn life skills and receive occupational training.
In 2005, Stormy Kromer expanded into hats for women with a new Ida Kromer model, a shorter-brimmed version of the original.
Today, Stormy Kromer offers 15 caps for women as well as jackets, vests, and a poncho. It also makes a selection of  hats for children and accessories for pets.
Products for men still dominate the Stormy Kromer catalog, with 22 styles of  hats, most of which are a derivative of the original. But there are others such as the watch cap headband, the SK Cruiser, the waxed SK Cruiser, and the Northwoods Trapper Hat.
There also are five coats and jackets, five vests, and various shirts and accessories.
— Tim Keenan
Facebook Comments