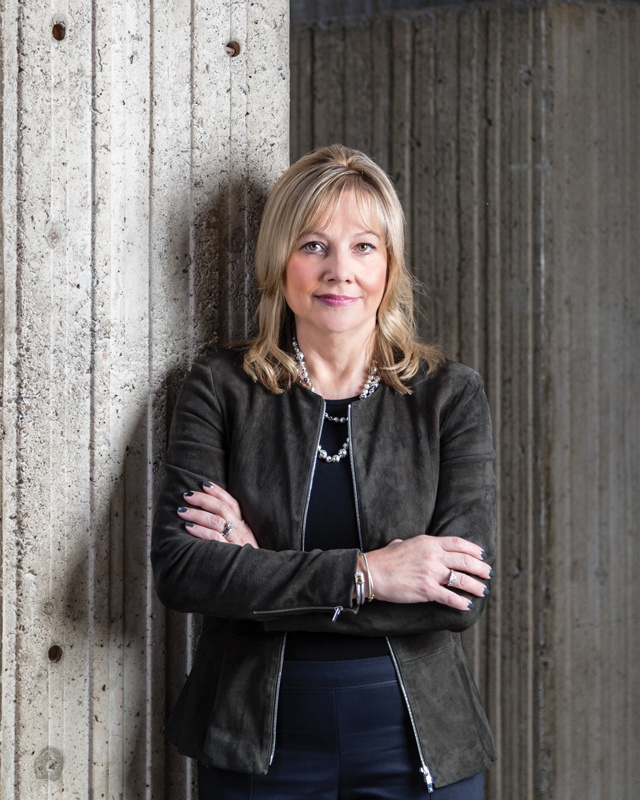 Bigger is better, or so went the mantra that General Motors Co. in Detroit lived by for nearly a century. But since taking the helm as CEO six years ago, Mary Barra has been rewriting the rules — something she made clear in February by abandoning the automaker's Holden brand and effectively pulling out of the Australian market.
Barra previously had sold off GM's European Opel subsidiary and ended operations in places like Russia, South Africa, and India. Long the world's largest automaker, GM will barely rank fourth going forward, but that's where Barra believes it's best positioned to prosper.
That's just one of the many dramatic changes she has implemented since January 2014. And, at 58, Barra is likely to have quite a few more years in which to complete the most dramatic transformation of GM since the days of her legendary predecessor, Alfred P. Sloan, who, decades before, molded together the company she inherited.
The two leaders couldn't be more different. Unlike the patrician Sloan, Barra began her career as a co-op student, working the floor of an old factory in Pontiac. In a classically male-dominated industry, she faced hurdles every step up the corporate ladder, with some second-guessing each of her promotions.
That was a transformative lesson. Along her journey to the top of one of the world's largest manufacturing companies, Barra has made a point of recognizing and rewarding other women managers and executives, and she's an active proponent of STEM — science, technology, engineering, and mathematics — for female students.
"I'm proud of our progress and we'll always fight for the best talent out there, but I hope we're not an outlier," Barra says. "There's so much change coming in this industry, and we need all the best talent. Diversity doesn't just make for a stronger workplace; it makes for better solutions by allowing people to bring their whole selves to work … and that stretches thinking in the end."
Barra's General Motors roots run deep. Her father, Ray Makela, spent 39 years as a tool-and-die maker with the automaker's former Pontiac division. After graduating from Waterford Mott High School, Barra headed north to Flint, to what was then the General Motors Institute, now Kettering University. Barra "was great in getting jobs done," her former professor, Mo Torfeh, later said of the young co-op student. "She was always the person who took charge."
Ironically, Barra's rise coincided with General Motors' fall. By the time she graduated from Kettering University, the automaker was rapidly bleeding market share and was struggling simply to stay in the black. It barely avoided bankruptcy in the early 1990s — a fate that would ultimately befall it two decades later.
I'm proud of our progress and we'll always fight for the best talent out there, but I hope we're not an outlier." — Mary Barra, CEO, General Motors Co.
For some, chaos can provide opportunities, and Barra's drive and determination got her noticed and won her champions, including Don Hackworth, GM's one-time manufacturing chief. With their help, Barra landed a company-financed stint at Stanford University, where she earned an MBA.
It was the perfect complement to her shop floor pedigree, rounding out her knowledge of a business that can confound many a manager on the fast track. Back in Michigan, her climb only accelerated and, by 2008, Barra landed what would be the biggest, and potentially most risky, job in her career: She became the first female head of manufacturing and engineering — a role that put her in the spotlight like never before.
Barra wasn't the first woman poised to crash through Detroit's version of the glass ceiling, but in 2009, she suddenly seemed to be sidetracked. Just as the automaker was preparing its bankruptcy, Barra was unexpectedly shifted to human resources, one of the "soft side" jobs that long had served as the repository for other talented women, including GM's own Marina von Neumann Whitman, years earlier.
On the positive side, Barra wasn't handed her walking papers, as was the case with many other GM executives as it emerged from Chapter 11 bankruptcy. If anything, Barra quickly caught the eyes of the outsiders brought in to revive the automaker, notably Dan Akerson, who would serve as CEO and chairman for three critical years.
Within months of his September 2010 arrival, the former telecom chief put Barra back on track as the new global head of product development. It would soon become clear that Barra was being groomed as his eventual replacement. In the final weeks of 2013, as Akerson prepared to step down, the GM board made it official. Witnessing her win unanimous approval, Akerson later said, was like "watching your daughter graduate from college."
Any time GM appoints a new CEO it makes headlines, but as the first female to run a major automaker, the move created far broader shock waves. Barra even landed on the cover of Time magazine. Since then, she has frequently sidestepped questions about being a woman executive, but those who know her believe it plays a role not only in how she manages GM's business, but how she views its duties as an employer.
"In the role I have now — even for the last few jobs — I'll say, 'You know what, guys? This meeting needs to end on time because I'm going to my daughter's soccer game,' " Barra says. "It's not saying you don't have to get your job done, but it's saying that I'm going to respect that you have priorities in your life. And I want you to have a fulfilling life, and so I'm going to give you that flexibility."
Barra's impact isn't limited to GM. She has been using her position to help promote broader diversity within the auto industry and the business world, in general. Women still make up a disproportionately small share of managerial and executive positions, though the numbers are clearly gaining more balance at GM.
Barra is confident the trend is irreversible. "Thanks to a stronger emphasis on STEM education, school robotics competitions, scholarships, and mentoring programs, there are a lot more women pursuing engineering today than when I began my career. That's real progress."
Facebook Comments