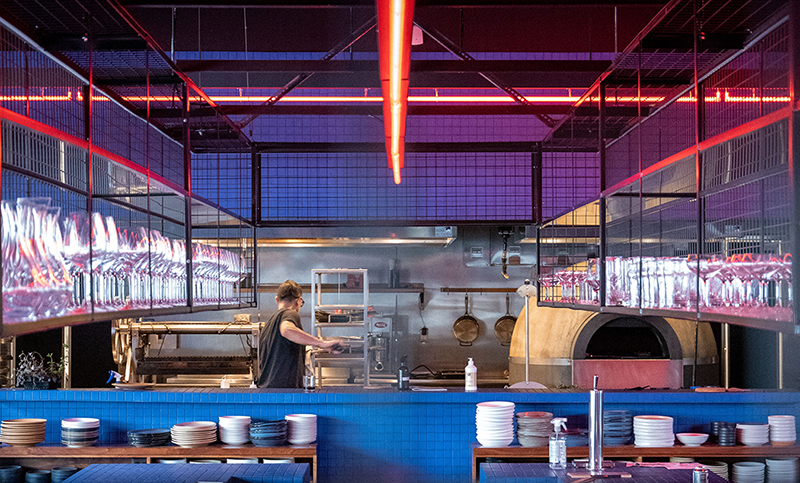 An authentic Argentinian-inspired restaurant called BARDA is scheduled to open on June 10 along Grand River Avenue in Detroit, just south of Warren Avenue, in the Core City neighborhood. Located  at 4842 Grand River Ave., the location is north of Corktown and west of Woodbridge and Midtown.
Set inside a renovated historic radiator shop, the modern, 113-seat interior will feature a long, sunken bar and open kitchen in the center, while intimate booths and tables line the walls. BARDA also will utilize a large adjacent park for a 40-seat patio and bonfire.
Using ancestral methods of Patagonian cooking, BARDA's open fire will be the very soul of the restaurant's dining experience. Within the food bar, or open kitchen, is an assortment of grills with varying flame intensities that are used for every dish.
Menu offerings include Glazed Beets with ajoblanco and raspberries; Chorizo Argentino with fennel and lemon; Tira de Asado, tender short rib with pepper-coriander crust; and Carne Y Hueso, with bone marrow, beef tartare, and horseradish served with toast.
Chef Javier Bardauil and co-owner Ignacio Gerson will oversee the modern South American restaurant concept with traditional open fire grilling and premium ingredients either sourced locally, or imported from Argentina. Bardauil is an alumnus of Francis Mallmann's Patagonia Sur, and will draw inspiration from Argentina's diverse culinary heritage.
"The moment we experienced Detroit's energy and appreciation for innovative ventures, we knew it was the ideal location for our restaurant concept. We are excited to bring a dining experience that's a first of its kind," says Gerson. "Through our unique, no gas open-fire kitchen, we hope to showcase our modern take on an ancient style of cooking to the Detroit community and beyond."
BARDA also will offer an expansive beverage program by bartenders Roger James Fruin and Robert Wilson. The beverage offerings will include a selection of Argentinian wines, South American-inspired libations, and local craft beers.
Fernet, a favored spirit in Argentina, will be a key part of many of the house cocktails. The spirit is featured in BARDA's signature drinks such as the Smoke & Fire, made with Mezcal, Averna, China China, Branca Menta, and Fuego Tincture.
Facebook Comments