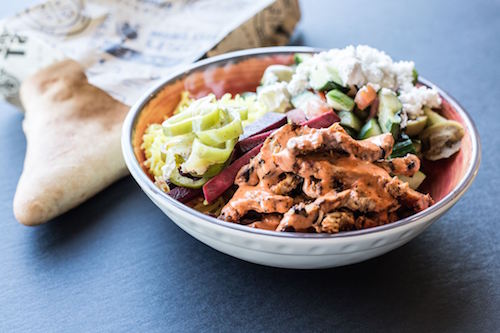 Restaurateurs Joe and Rosalie Vicari, along with Chef Jacques Van Staden, are expanding their fast casual Mediterranean eatery, 2941 Street Food in Rochester Hills, by adding locations in downtown Birmingham and Detroit's Midtown district.
Opened last year, 2941 Street Food offers a personalized menu where guests can mix and match an array of food, including tandoori chicken, five-grain falafel, zataar paprika steak, signature lamb sausage, button mushrooms, beets, turnips, green tomatoes, and numerous sauces. There are also Turkish, modern peasant, kaleboulleh, and nomad salads.
"We plan to open the two new locations in the next 45 to 60 days," says Joe Vicari, CEO of Joe Vicari Restaurant Group in Warren, which includes several Andiamo restaurants, Brownie's on the Lake, The Country Inn, and Joe Muer Seafood in downtown Detroit. A new Joe Muer Seafood will be added at the Kingsley Inn in Bloomfield Hills in February.
The new 2941 Street Food (2941 represents the longitude and latitude of the Mediterranean and the Middle East) locations will be at the northwest corner of Woodward Avenue and Willis Street at Lawrence Technological University's Detroit Center for Design and Technology, and along South Old Woodward next to 6 Salon in downtown Birmingham. The group also plans to open a location in Auburn Hills.
Van Staden, founder and CEO of JVS Culinary Group in Madison Heights, has been working with the Vicaris in recent years on different restaurant projects. "We have really built up the brand 2941 Street Food through organic marketing and word of mouth advertising, and it's a modern twist on Mediterranean and Middle Eastern food," he says. "Everything is fresh and all natural like sea salt instead of regular salt."
Next year, Van Staden plans to open Grand Cirque Brasserie, a French-American restaurant, on the first and lower levels of the David Whitney Building in downtown Detroit. Developed by The Roxbury Group, the David Whitney Building includes 105 residential apartments and a 136-room Aloft Hotel.
Vicari says the Joe Muer Seafood restaurant at the Kingsley Inn, which will be converted into a Doubletree by Hilton following a $10 million renovation, will offer 200 seats, a 30-seat private dining room, a bar that can accommodate up to 30 seats, and a large saltwater aquarium.
The bar, like Joe Muer Seafood at the Renaissance Center, will have a raw station and a sushi station. Ron and Roman in downtown Birmingham is designing the restaurant.
"We really like the location in Bloomfield Hills (Woodward Avenue and Long Lake Road)," Vicari says. "A lot of people live and work in that area, and while they often come downtown to Joe Muer for a special occasion, we saw the opportunity to service people in the greater Bloomfield Hills area on a daily basis."
Facebook Comments