---
Vinnie Johnson
Piston Group • Founded: 1995
Of all the former Detroit professional athletes who have made the transition from the sports arena to the business world, former Detroit Pistons guard Vinnie Johnson is the overall champion. His Southfield-based Piston Group is comprised of four companies with a total of more than 10,500 employees, and 17 facilities in seven states and Mexico.
Johnson first came to Detroit when the Seattle SuperSonics (now the Oklahoma City Thunder) traded him to the Pistons in November 1981. Seattle made the 6-foot-2 guard the seventh pick overall in the 1979 draft after two All-America seasons at Baylor University in Waco, Texas.
He quickly found a place as a sixth man, ably giving breathers to point guard Isiah Thomas and shooting guard Joe Dumars for the Bad Boy Pistons as they built toward their back-to-back NBA championships in 1989 and 1990.
Johnson earned his nickname, "The Microwave," from Boston Celtics guard Danny Ainge; the moniker was based on Johnson's ability to score multiple points in a short period of time. Perhaps the most memorable basket came on June 19, 1990, when Johnson made a 14-foot shot with 0.7 seconds left on the clock, beating the Portland Trail Blazers 92-90 in Game 5 of the NBA Finals. The win gave Detroit a repeat championship, and Johnson got a new nickname: "007."
Johnson left the Pistons following the 1990–91 season and played one more year with the San Antonio Spurs before retiring in 1992. The Pistons honored Johnson's career by retiring his No. 15 jersey in 1994.
"We like to start our clients thinking about their post-sports careers while they're still playing," says John Caponigro, president of Sports Management Network in Troy. "Vinnie Johnson did that."
Johnson's first attempt with a post-playing-career business was in the construction industry. That lasted through one project. Next, he went into the packaging business with former Pistons teammate Bill Laimbeer, and that venture struggled.
…accepting new challenges is required in order to compete in today's marketplace.
From there, Johnson was encouraged by executives at General Motors to start Piston Automotive in 1995. Located on Telegraph Road in Redford Township, Piston Automotive, a division of Piston Group, currently has a team of 850 people at eight facilities in five states (Michigan, Illinois, Kentucky, Ohio, and Missouri). Piston Automotive manufactures automotive parts and battery and brake assemblies.
It also offers process engineering, design and development, supply chain management, product design, and prototype testing.
Last October, Piston Automotive acquired Ohio-based Marion Industries, a Tier 1 assembler of brake modules for Honda of America. The acquisition expanded Piston Automotive's footprint into the central Ohio region and further diversified its growing list of OEM customers.
Johnson also has guided the Piston Group through joint ventures with Lear Corp., Continental Teves, and Sachs Automotive, and served as chairman of the JL Automotive and PASA Modules joint ventures.
The Piston Group was formed when Johnson acquired Irvin, which makes automotive interior products; Detroit Thermal Systems, which manufactures automotive heating, ventilation, and air conditioning systems; and Airea, which does commercial interior design work.
Regarding the Irvin deal, Johnson says it made "the Piston Group a real player in the marketplace. We now have enhanced capabilities and access to new customer opportunities. It also shows that we can adapt to the needs of the industry, which requires that we constantly listen to what our customers need."
Irvin has 9,000 employees working out of seven facilities, including one in Pontiac and others in Texas and Mexico. It supplies seat covers, visors, armrests, consoles, cargo shades, map pockets, and safety netting to the automotive, aerospace, and safety industries.
Detroit Thermal Systems in Romulus started in 2012. It now has 700 employees working in a 420,000-square-foot facility with a 2.5-million-unit production capacity.
Airea, which has 30 employees, has assisted with commercial interiors for Continental Foods, Shinola, Lear, and Quicken Loans Inc., among others.
Johnson credits his success to being self-aware, employing the team concept he learned as an athlete, and making the most of opportunities.
"Transforming our business and accepting new challenges is required in order to compete in today's marketplace," Johnson said last year when Piston Automotive added Marion Industries to Piston Group.
Photographs courtesy of the NBAE, Getty Images
---
Pistons in Business Take on Hollywood, Youth Sports, and Top-shelf Champagne
Joe Dumars
Joe Dumars spent 14 years as a member of the Detroit Pistons, winning a pair of NBA championships with the Bad Boys in 1989 and 1990. He was general manager of the team for another 14 years and added another NBA title to his resume, this time as an executive, in 2004. In 1996, Dumars founded Detroit Technologies, an automotive supplier in the Motor City. He sold that entity in 2006. Dumars is perhaps best known in business circles for his Joe Dumars Fieldhouse facilities in Shelby Township and Detroit. Over the years, Joe Dumars Fieldhouses have hosted 1,000 youth basketball teams and 330 roller hockey teams, and welcomed 700,000 overall visitors.
Blake Griffon
All-star power forward Blake Griffin has been a shining star since coming to the Detroit Pistons from the Los Angeles Clippers during the 2017-2018 season, leading the team to a playoff appearance last year. Even though he was sidelined in 2019 after surgery on his left knee, Griffin's Hollywood production company, Mortal Media — which he owns with New York Jets center Ryan Kalil — isn't slowing down. The company is involved with several motion picture and television projects, including re-dos of "White Men Can't Jump" and Disney's "The Rocketeer." Griffin also has sponsorship partnerships with Red Bull and Nike's Jordan brand.
Isiah Thomas
Isiah Thomas' first brush with Champagne was having it poured on his head after winning NBA championships in 1989 and 1990 with the Pistons. When he retired after a hall-of-fame career, he concluded he liked drinking the bubbly. In 2016, he decided to invest in France's Cheurlin Champagne and became its exclusive importer/distributor in the U.S. Holding it all together is Chicago-based Isiah International, which manages Thomas' GRE3N Waste Removal (it operates in 14 states), and Isiah Real Estate (which rehabilitates, preserves, and develops affordable housing in the Chicago area).
Photographs courtesy of the NBAE, Getty Images
---
Joe Kocur
Kocuross Group • Founded: 1995
"We'll fight for your business," reads the tagline on the business card of former Detroit Red Wings right wing and enforcer Joe Kocur, co-owner of KocuRoss Group in Troy, a sales and marketing company representing automotive suppliers.
Kocur amassed 2,519 career penalty minutes during a 17-year career in the NHL, most of which was spent with the Detroit Red Wings. As a couple of the most feared fighters in the league, Kocur and fellow tough guy, the late Bob Probert, received a well-earned moniker: the Bruise Brothers. And as a testament to adapting to the needs of a team, Kocur was part of the Red Wings' famous Grind Line, along with Kris Draper and Kirk Maltby.
In addition to winning two Stanley Cup championships with the Red Wings, in 1997 and 1998, Kocur scored goals in both NHL Finals series. Not bad for a player who netted a total of 80 regular season and 10 playoff goals, and picked up 82 regular season and 12 playoff assists. He also won a Stanley Cup with the New York Rangers in 1994, and another as a Red Wings assistant coach (2001 to 2006). After that, he hung up his skates for good.
Kocur embarked on his business career 23 years after the Red Wings — who chose him as the 88th overall pick in the 1983 NHL Entry Draft — scooped him out of Kelvington, Saskatchewan. When new head coach Mike Babcock passed on adding Kocur to his staff in 2006, he turned to representing automotive suppliers with the launch of Kocur Enterprises.
Nothing is going to be like holding up the Stanley Cup, but the companies that I represent become teammates. …
Athletes around Detroit have been selling automotive equipment during their off-seasons since the 1950s and 1960s, some with more success than others. Kocur was determined to succeed and admits that although being a Red Wings Stanley Cup champion helped initially, he instinctively knew that wasn't enough.
"Coming from the sports world, the name recognition was very important," Kocur says. "People will take interviews and meetings just based on my playing for the Red Wings and winning Stanley Cups, but that only gets you in the door. You've got to learn the business, and be able to talk the talk and provide answers to customer questions. If (you) don't know the answers, you have to know how to find the answers for them."
In 2010, he joined forces with Chris Ross to form KocuRoss Group. "Detroit is such a great town to finish your career in and to try to launch into business," says Michael Dietz, owner of Dietz Sports Management in Farmington Hills. "There are just so many different opportunities."
Among KocuRoss Group's clients are Central Conveyor in Wixom, Universal Piping in Troy, and companies involved with secondary tooling, automation, wire harnesses, and plastic injection molding.
"I've learned a lot about injection molding, our biggest source of income over the last 10 years, and in the last year or so (I've been) learning about conveyors," Kocur says.
Away from business, Kocur is president of the Detroit Red Wings Alumni Association and, in 2009, he started the Joe Kocur Foundation for Children, which has raised more than $1.3 million since its inception. Its big event each year is a charity softball game in August in Highland, north of Milford.
While noting that success in business is completely different than winning on the ice, Kocur says he finds some similarities between his two careers.
"Nothing is going to be like holding up the Stanley Cup, but the companies that I represent become teammates, just like my hockey teammates," he explains. "When we do something well or win a program and we're successful, it's still exciting to win — and disappointing when we don't win. It's a lot like sports in that way."
---
Former Goaltender is Brand Manager for Valentine Distilling
Eddie Mio
A native of Windsor, Ontario, Canada, Eddie Mio stood between the pipes with the Edmonton Oilers and New York Rangers before closing out his career with the Detroit Red Wings (1983-84 and 1985-86). During his decade-long career, he befriended a 17-year-old Wayne Gretzky, who many years later played a role in his business career.
"I always knew that when I stopped playing hockey I'd have to work, because we didn't make the cash the guys are making now," says Mio, who holds a business degree from Colorado College, where he was a two-time All-American. "So I collected business cards from everyone I ever met, especially in the Olympia Room at Joe Louis Arena. When I retired I went through those cards, and most of the cards I had were for automotive salesmen and engineers. So, I represented auto parts (companies) when I retired."
After a couple of years of calling on customers, Mio joined International Management Group (IMG), first as a recruiter and then as a certified agent where he represented NHL stars like Joe Thornton, Sergei Federov, Brett Hull, and others for a decade.
He worked with Gretzky as director of player development for the Phoenix Coyotes for five years, before spending another five years as vice president of U.S. sales for Wayne Gretzky Estates winery in California.
While doing a live remote radio show on the now-defunct ESPN Detroit during the 2010 Woodward Dream Cruise, Mio heard about the Valentine Distilling Co.'s craft micro-distiller tasting room in Ferndale. He made a visit after the show, tasted its vodka product, and enjoyed it so much he asked to meet the owner, Rufino Valentine.
"I offered my services as a brand manager, due to my knowledge of the area from my wine days," Mio recalls. When the radio gig went south shortly thereafter, he joined Valentine full time.
"My job is to make sure people are aware of us. I also build relationships with the owners and staffs of stores, bars, and restaurants," says Mio, who was instrumental in getting the Valentine spirits — which carry Detroit-centric names such as Mayor Pingree and Liberator — on the shelves at Andiamo's, Little Caesars Arena, Plum Market, Costco, Meijer, Kroger, Busch's, and Appleby's.
"A good sports background leads to a good business background," says Mio. "Living in the world of sports is an education in life, in street smarts. Every meeting with a customer, to me, is the equivalent of a game. I've got to be on my game. I've got to be prepared. I don't want to get shut out."
---
Herman Moore
Team 84 • Founded: 2013
Herman Moore, one of the best wide receivers in Detroit Lions history, with 670 career receptions, 62 touchdowns, 9,174 receiving yards, and four Pro Bowl selections, isn't in business to rekindle his competitive fires. His business philosophy is quite the opposite.
"Business doesn't have to be about conflict or competition," Moore says. "If the mindset will shift, there's more business out there to be earned by everyone. No one company can own every part of a particular area of business, so I try to work with companies like ours to serve our clients as best we can. If there's a job to do (and) I don't think my best is good enough for my client, why not figure out a way to work with someone else?"
Moore realizes that not all business leaders think like he does. "Business can be ruthless. The attitudes and egos I run into are amazing. I don't understand what's driving that, unless it's greed. I told my team that we will vet companies we do business with. I only want to do business with good companies. It's all about true relationships and partnerships. Teammates."
The team theme is strong throughout Moore's four separate, yet integrated, businesses. Based in Rochester Hills, Team 84, aptly named after his jersey number, handles corporate partnership, branding, and client, customer, and employee retention projects. Team Business Solutions provides corporate clients with printed materials and promotional items, while Team 84 Marketing is a full-service marketing and advertising agency. The fourth business, Team 84 Staffing, provides direct hiring, temporary staffing, and contract staffing assistance.
Each of these companies can be called to assist when clients of one of Moore's enterprises needs work done in a discipline in which another Moore firm specializes, which lends credence to the former wide receiver's team philosophy.
Business can be ruthless. … I only want to do business with good companies.
"Every business I own has the word team in it," Moore says. "I realize the power of the ability to get things done with a group of people. Coming from team sports, I really utilize that in my development and strategy in how I grow my businesses. You have to get buy-in from your employees. That's why I call them team members rather than employees."
His goal for 2020 is to reach $8 million to $10 million in revenue, but his business journey hasn't always been smooth. Moore first got involved in the franchising business with the former Mail Boxes Etc. in 2000. He sold his interest in that brand and became involved with Cinnabon.
"Business is very serious, and it's not to be taken lightly," Moore says. "I had some ups and downs with businesses. Some worked out well, some crashed and burned — and I'm not afraid to say that. I think it contributes to my fabric as a business owner to say that I understand both sides of it. And I try to avoid making those same mistakes twice. There were some hard lessons along the way."
Moore says his failures forced introspection. "I had to go back and rediscover who I am. I knew I had the capability to be a good businessperson and business owner, but I needed to put together the foundation first, and I also had to develop strong financial skills, leadership skills, and the ability to plan and project."
Among the bricks that were part of  Moore's new foundation were the lessons he learned as an athlete, first as a football player and high-jumper at the University of  Virginia, then as the Lions' first-round draft pick in 1991.
"When you first get into sports, you never go full speed because you're not quite ready," he explains. "You take it at a slower pace until you know the plays well enough to run hard. What I've learned in sports is that you go through the process. You trust the process. You learn, you make mistakes, you look at film, and you go back and figure out what you did wrong. You do the same thing in business. You try to mitigate the mistakes up front.
"You've got to game plan for success. You build off of those milestones. You want to go to the Super Bowl, but before that you need a winning record, then you add some players (and) remove others who aren't quite as strong to get you to the next level. I'm a very patient man at this point."
Asked to recall his fondest football memory, he tells the story of his first NFL touchdown catch in 1991 in a playoff game against the Dallas Cowboys at the Pontiac Silverdome. When queried about his signature moment in business, he says, "That would be rebounding and learning from mistakes that were made previously. Too often, people don't look back and reflect on what has taken place and they keep going around the same circle, and the same thing happens again and again. Through that I gained confidence from my education, and my willingness to listen and to learn. That's probably my greatest accomplishment, and that's brought me to a place of extreme confidence in what I do."
---
Lions Business Journeys Lead to Cannabis, Ribs,

and Real Estate
Calvin Johnson
When wide receiver Calvin Johnson, universally known as Megatron, retired from the Detroit Lions after the 2015 NFL season, he admitted to Sports Illustrated that he often used marijuana to help ease the aches and pains that a life of football had wrought. Now that cannabis is legal for both medical and recreational use in many states, including Michigan, Johnson and former Lions teammate Robert Sims are all in with their Primitive brand of cannabis products. In addition, the pair is partnering with Harvard University to study the benefits of medical marijuana, and Johnson recently joined the Michigan Cannabis Industry Association's board of directors. All of this follows a spectacular nine-year Lions career.
Billy Sims
Billy Sims is one of three Detroit Lions players to wear jersey No. 20 — after defensive back Lem Barney, and before fellow running back Barry Sanders. Sims captured the 1978 Heisman Trophy as a junior at the University of Oklahoma and was drafted first overall by the Lions in 1980. He made three Pro Bowls and helped the team to a pair of playoff appearances before a knee injury ended his career in 1984. A series of failed businesses  — a nightclub, a radio station, a dry cleaner, and an auto parts manufacturer — strained his finances. In 2004, Sims and a partner started Billy Sims BBQ. The brand has 54 outlets in six states, including one at Crooks Road and South Boulevard in Troy.
Dewayne White
A Lions defensive end from 2007 to 2009, Dewayne White was drafted in the second round of the 2003 NFL draft by the Tampa Bay Buccaneers. He came to the Lions as a free agent, and in his three years with the team he made 90 tackles and three interceptions.
His first foray into business came in 2013 with DW Development, a full-service real estate development firm focusing on high-end residential and mixed-use projects. In 2017, he started NextHome All Pro Realty in Northville, a brokerage working with buyers and sellers throughout southeast Michigan. White's companies garnered $5 million in combined revenue in 2019.
---
Milt Wilcox
Ultimate Air Dogs • Founded: 2004
In April of 1983, Milt Wilcox came within an out of throwing a perfect game when Jerry Hairston Sr. of the Chicago White Sox singled. The next season, he recorded 17 regular season wins, a playoff game victory, and a World Series game win to help the Detroit Tigers to the 1984 world championship over the San Diego Padres.
Years later, in 2002, Wilcox was watching a dog-jumping competition on television with his black lab, Sparky Anderson Wilcox, and thought to himself that he and his dog, Sparky, should give it a go. Over the following two years, Sparky routinely finished in the top five in every competition, and he was in the winner's circle 10 times.
In 2004, determined to be the guy putting on the competitions rather than a participant, Wilcox started Ultimate Air Dogs, which puts on as many as four dog-jumping competitions every weekend at state fairs, outdoor equipment shows, festivals, dog shows, and other events across the country.
"I booked my first show — in Minneapolis — before I had the equipment I needed to put the show on," Wilcox recalls. "I kind of worked backwards."
Over the past 16 years he's amassed five rigs, including an aboveground swimming pool and a ramp and platform from which the dogs leap into the pool. His son, Brian, plays a major role in the company.
Sports and business relate so closely, and I think that's helped me a lot.
Since its launch, Ultimate Air Dogs has become one of the top three national dog-jumping competition sanctioning bodies; the designation helps open doors in untapped markets nationwide. He says he's exploring adding an event in northern Vermont: "It won't have a big crowd unless we make it a national event. It's a work in progress when you go to a new area."
Wilcox says the business model is straightforward. "We get paid by the venue to be there (between $3,000 and $10,000), and the participants pay us to have their dogs compete. At some events we'll have 60 or 70 dogs. Other times we'll only have eight or 10 dogs. It varies at each event."
The former Tigers pitcher, who now makes his home in Jacksonville, Fla., and travels around the country in an RV, says he appreciates the lessons learned from being a professional athlete.
"Sports and business relate so closely, and I think that's helped me a lot," he says. "When you're a baseball player, you're competitive and always trying to do the best you can. You have to work out hard, study hard to learn the hitters. In business, it's the same way. You have to be competitive. You have to learn things, stay on top of things, try new methods."
Wilcox's appreciation for canines goes back to his youth in Oklahoma. "I've had dogs since back when I was 5 or 6 years old," he says. He recalls the days when his dogs would run alongside him as he biked to the baseball field, wait for him to finish playing, and run with him back home.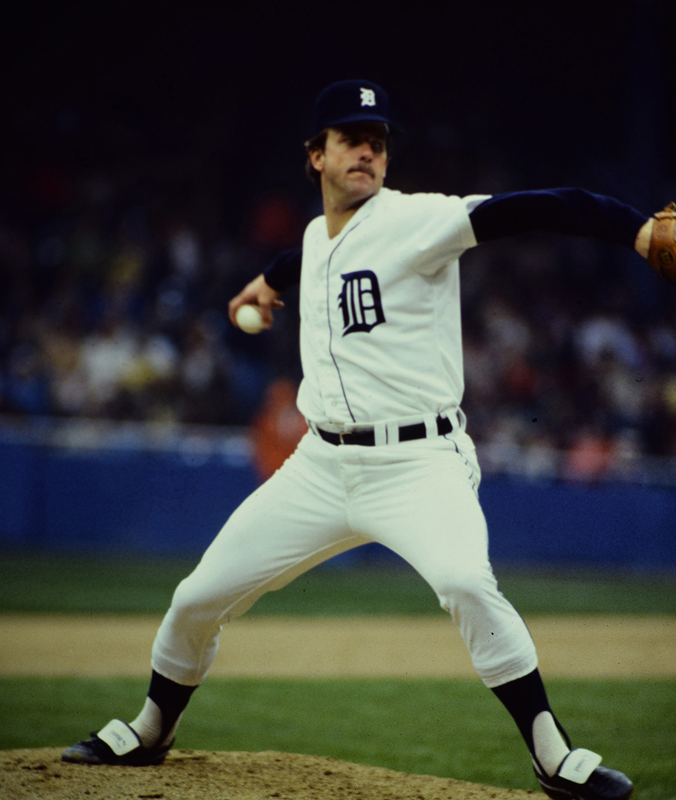 He says he also had dogs throughout his 16-year big-league pitching career, from 1970-1975, and 1977–1986 when he played for the Cincinnati Reds, Chicago Cubs, Cleveland Indians, Detroit Tigers, and Seattle Mariners.
With Detroit, he was a reliable starter in the rotation, consistently giving the Bengals six or more innings each start. The trio of Wilcox, Dan Petry, and hall-of-famer Jack Morris was formidable.
"When I first came up, I was 20 years old, pitching for the Cincinnati Reds, and we were out in California playing the San Francisco Giants," Wilcox recalls. "Johnny Bench was my catcher and the hitter was Willie Mays. In my first year I got to pitch against Hank Aaron, Willie Mays, Roberto Clemente, Willie Stargell, and Maury Wills. I was lucky. I got to pitch against them when they were older, so I had a little bit of an advantage."
He remembers those days fondly, but is enjoying his days leading Ultimate Air Dogs. "Getting to spend two months in California during the winter, putting on shows, is pretty nice."
By traveling the country in his RV, he can accommodate his two Belgian Malinois; both are rescue animals. "A lot of dogs who jump with us are rescues and we make a big deal about it," he says, noting that one of the pit bulls rescued in 2007 from Michael Vick's dog fighting operation has participated in his events. "It's all about having fun with your dogs."
---
Clothing, Insurance, and Baseball Clinics Keep Tigers Going
Miguel Cabrerra
Miguel Cabrerra is one of the greatest hitters in Detroit Tigers history, and is often mentioned in the same breath as Ty Cobb and Al Kaline. The Venezuela native's statistics make him a near shoe-in for the Baseball Hall of Fame once he finishes his career. Not one to wait for the end of his playing days, Cabrerra launched both his Miggy24 line of men's and women's clothing, branded baseball caps, and sneakers, and his Miggy Foods line while still in the lineup. The latter produces and distributes chocolate candy. Miggy24 merchandise is available online and at four local stores (The D Shop and Sports Mania in Detroit, Fanatic U in Garden City, and Pro Sport Zone in Livonia). The All-Star's candy, meanwhile, can be found online.
Pat Sheridan
Former Detroit Tigers outfielder Pat Sheridan has been with Conrad Insurance Agency, an independent agency in Canton Township, since he retired from baseball in 1991. In 2000, Sheridan and the agency wanted to add Citizens Insurance to their portfolio. The late great Tigers broadcaster Ernie Harwell, who was a Citizens spokesman at the time, helped Sheridan along in his second career. Sheridan, a native of Wayne, starred for three years at Eastern Michigan University before being drafted by the Kansas City Royals in 1979. He broke into the majors in 1983 against the Detroit Tigers in Kansas City, getting his first hit, a home run, off of Milt Wilcox.
Jason Thompson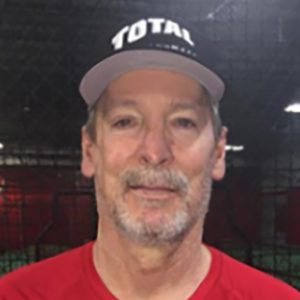 A first baseman with the Detroit Tigers from   1976-1980, Jason Thompson hit 98 home runs while wearing the old English D, several of which landed on or cleared the right field roof of Tiger Stadium. When his 13-year MLB career was over, he returned to the Detroit area to run a golf store, then took a position in financial planning with Prudential Securities. From there, he opened Jason Thompson Baseball, a sports instruction facility in Auburn Hills. He operated the business for a decade and trained numerous players, some of whom hit the big leagues. Today, he works with Total Sports Complex and moved his school to Oakland University.
Facebook Comments