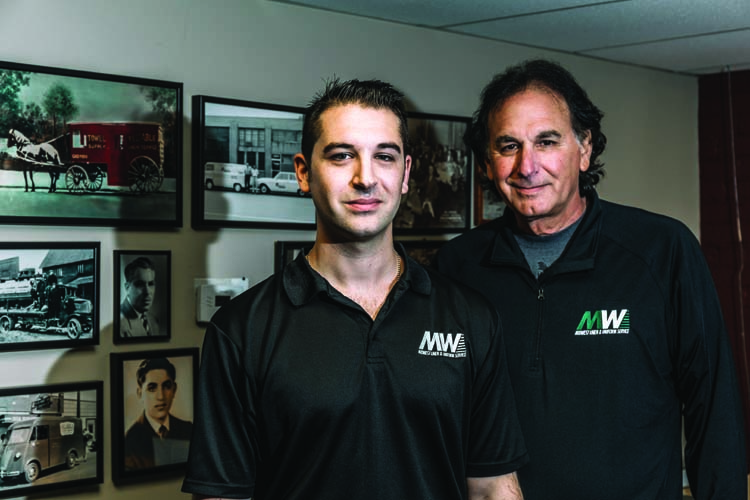 Midwest Linen and Uniform Service
GROWING WITH DETROIT
When the London Chop House opened in 1938, Julie Sandler's Midwest Linen and Uniform Service provided the popular restaurant with its tablecloths and napkins. Eighty-five years later, when the London Chop House reopened after being closed nearly 20 years, Zachary Sandler Wish, Julie Sandler's grandson and Midwest's current CEO, was proud that his family's legacy of service to so many of Detroit's restaurant and hospitality businesses was still going strong.
The reopening of the Chop House in 2013, and the recent resurgence of Detroit's culinary scene, has accounted for the bulk of Midwest Linen's 23 percent growth since mid-2014.
Today the surge of other new Detroit eateries is so significant that Wish is considering re-
establishing operations within the city. Although the company's offices and laundering operations are in Pontiac, it still owns two buildings in Detroit where Russian immigrant Reuben  Sandler, Zachary Wish's great-grandfather,
established Midwest Linen 128 years ago.
"We'll probably have a location open in the city in the next few years," Wish says. "Right now I'm 50-50 on it because we're outgrowing here."
Those odds may change: Wish is exploding with ideas for expanding the family-owned company he joined when he began picking up linens in 2001 after graduating from high school. Right now he's launching an offshoot business, Midwest Restaurant Supply, to stock eateries with everything from silverware to cleaning supplies.
"We're trying to be the place that, when you're opening a restaurant, you come to us," Wish says.
In Birmingham, eight restaurants use Midwest's table linens, chef coats, and nonslip doorway mats, Wish says. But his ideas for growing the business don't stop with client lists and newservices; it also extends to his employees.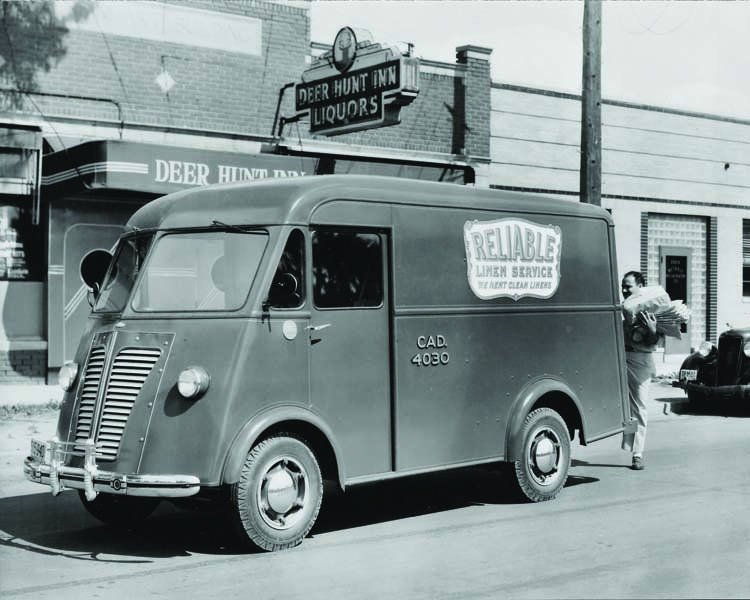 A DELIVERY TRUCK FROM THE 1950S. 
He is also transparent with his 48 employees, and treats them in ways that allow him to say his unionized workers have never filed a grievance and tend to stay with the company. Of 10 drivers, five have been with the company over a decade. "Without them, we'll have the same product as anyone else," he says. Within the office, Wish has established an incentive for his experienced salespeople to mentor new hires by giving the trainers part of the trainees' commissions.
Wish's person-to-person attitude extends beyond the company's walls to "out in the field," where he meets almost daily with one or more of his 475 clients. "I consider myself to be in the restaurant and hospitality industry," he says. "Unless you're hands-on, you're not going to know anybody."
Apart from surviving the global economic crisis in 2008, a diverse group of clients helped the company ward off reliance on a single industry. "After the crash of 2008 we hung on by this much," says Wish, with his right thumb and index finger almost touching one another. "My father (Stuart Wish, president) personally kept this place going."
In addition to the restaurant sector, Midwest Linen launders linens for hospitals and medical offices. This year is looking to be a banner year, as Wish says 7.5 million pounds of linens from six states will roll through the company's giant washers and roller-type ironers. He estimates 2015 gross revenue was between $8 million and $10 million.
"Quality is what we're about," Wish says.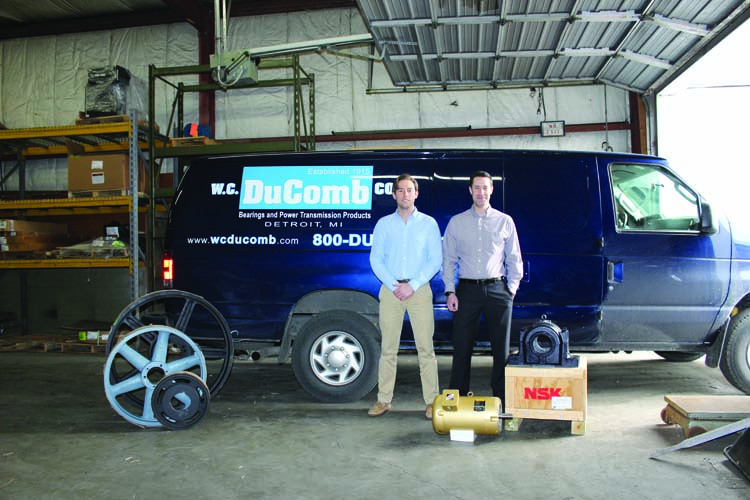 CHRISTOPHER DUCOMB, LEFT, AND HIS COUSIN, STEVEN DUCOMB, GREAT-GRANDCHILDREN OF FOUNDER WILLIAM CRAWFORD DUCOMB, BELOW, ARE THE ONLY REMAINING FAMILY MEMBERS WORKING AT THE COMPANY.
W.C. DuComb Co.
RIDING THE AUTO WAVE
When asked how many employees his family's firm has, Chris DuComb stands up from a conference room table and starts counting heads in the open-plan office of the W.C. DuComb Co. He counts 15.
That's a fine number to maintain the "lean and mean" profile that enables the bearing, electric motor, and power transmission parts distributor to be nimble — a key to helping it pass the century mark in 2015, says Jim LaHaie, company president.
"We make decisions fairly quickly here," LaHaie says. "That way we can be sure to address the customers' needs."
The DuComb board demonstrated LaHaie's point when it quickly appointed him president in 2015 after the untimely death of Bill DuComb, who led the company for almost 30 years. The death quashed any thoughts of company hoopla surrounding its centennial last year.
The swift change brought another DuComb back to town to get involved, too: Chris DuComb returned to the Detroit area from New York, where he was a hedge fund marketer. He's calling on those marketing skills to drum up new accounts for the family firm, even as he attends Lawrence Technological University in Southfield to earn a degree in mechanical engineering.
Chris DuComb and his cousin Steve DuComb, who also briefly pursued an engineering degree, are the remaining family members actively working at the business, although others are on the board — including their 95-year-old grandmother, Josephine "Tottie" DuComb, daughter-in-law of company founder William Crawford DuComb.
"Dad said (go to) community college or work at the company," recalls Steve DuComb. He's now worked for the family firm 16 years, got a degree in business management along the way, and is operations manager, with responsibility for the company's information technology. "I finally figured out I really liked doing it," he says.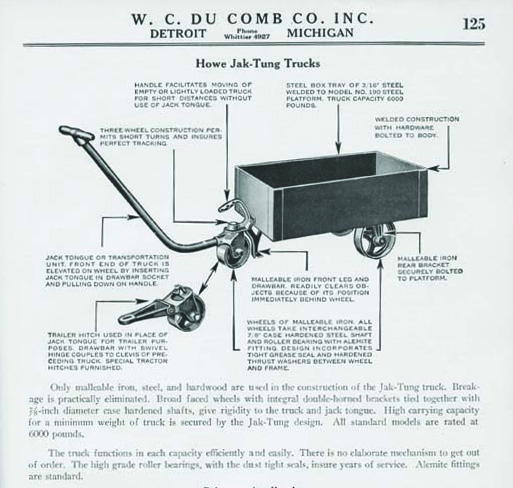 A PAGE FROM THE COMPANY'S PARTS CATALOGUE FROM 1931. 
"Bill said, 'When I go into management, you're going with me,' " recalls LaHaie, who became Bill DuComb's right-hand man. They invested about $250,000 in the company's 16,000-square-foot physical plant during the last three years, along with remodeling the office, replacing the roof, and improving the parking lot.One thing the company is good at is collegiality. An example: The late Bill DuComb, Tottie DuComb's son, and LaHaie had worked together since 1981, when both did outside sales. As a family member, ascendancy in the company was all but guaranteed for Bill DuComb, but he wasn't about to leave his sales partner behind.
The company also updated its computer system and installed a backup generator. "We wanted to be very self-sufficient here," LaHaie says. "I tell my customers (that they) can rely on us to be open and running."
Among those customers at the OEM-dependent company are Coe Press Equipment in Sterling Heights, Comau in Southfield, and Nagel Precision in Ann Arbor.
That kind of attitude, along with a sales force that LaHaie says generates more sales volume per person than any of the firm's competitors, helped the business record $16 million in revenue in 2015.
"We ride the wave with the cars, up and down," says LaHaie, describing the company's dependence on the boom and bust cycles of the Detroit automotive sector.
The company president plans to add one more inside salesperson and an additional outside sales professional this year. With the increase in its sales force, and perhaps with Chris DuComb's successful marketing strategy, "We'll go out and gain more business and increase our market share in the area," LaHaie predicts.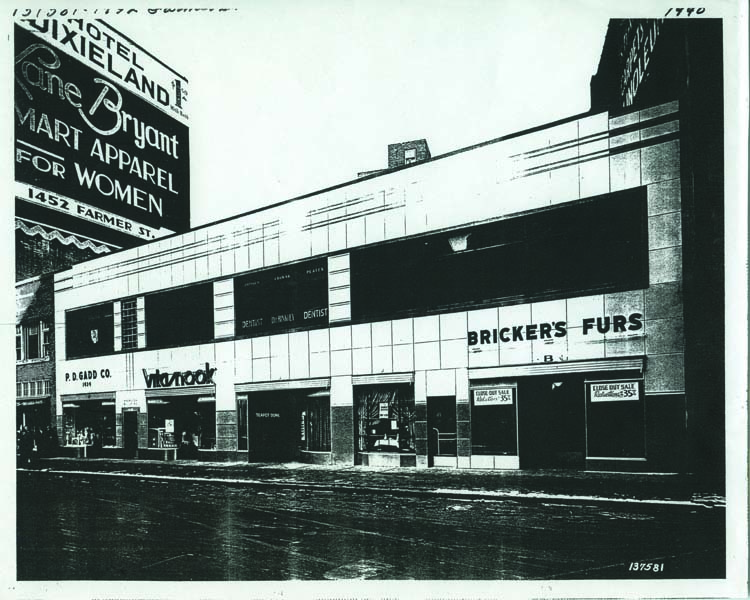 Jacob Bricker opened his first store on farmer street in detroit in 1916. it  later became bricker-tunis furs and moved to livernois and seven mile before moving to west bloomfield township.
Bricker-Tunis Furs
NOT RIGHT FOR BARBIE
Arthur Bricker leaned toward the television when Aretha Franklin sat down at the piano to sing during the December telecast of the 2015 Kennedy Center Honors. The Queen of Soul was wearing a fur coat. Was it from his shop?
"You know, I did work with Aretha for years," says Bricker, owner of Bricker-Tunis Furs in West Bloomfield Township, "and that (coat) was not one of mine."
But so many others were, and are. In addition to Franklin, Bricker has draped furs over the shoulders of the Motown music label's elite, athletes, the gospel-singing Winans family, politicians, the actresses on the "Dallas" and "Dynasty" television shows, and even Barbie — although that one caused a stir.
The shop sold about 50 Barbie-sized mink coats with matching headbands ($240 for the set) in the mid-1990s, but it pulled the remainder of the furs designed for the statuesque blonde off its shelves when Mattel, which had no connection with the company, threatened legal action. "We would not have Barbie wear real fur," a Mattel spokeswoman sniffed to The New York Times in 1997. "She's a friend to animals."
The Barbie kerfuffle was just a blip compared to some of the truly difficult periods for the business, which started life in 1916 on Farmer Street in Detroit and operated there for 45 years.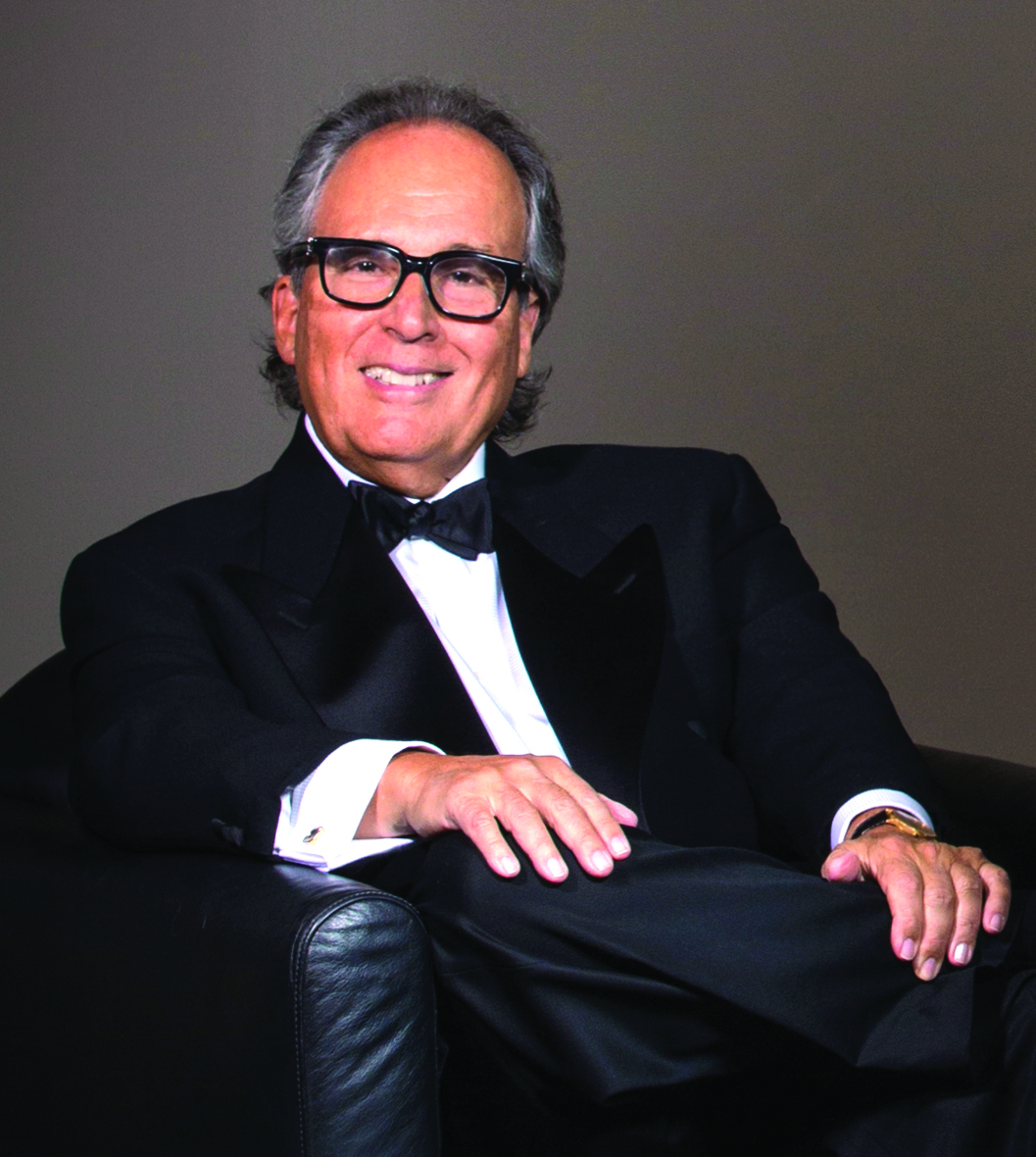 Jacob's son, arthur bricker, at age 76, continues to run the store.
Bricker's father, Jack Bricker, the company's founder, told him the business wasn't that badly hurt during the Great Depression because the Fords and Fishers still came in to buy furs. Asked about how business was during the global financial crisis in 2008, Bricker says: "It wasn't wonderful, but we're still here." He says the company posted $1 million-$2 million in revenue in 2015.
Bricker-Tunis also survived the 1967 Detroit riots, when the shop was located on the Avenue of Fashion, at Livernois Avenue and Seven Mile Road near the University of Detroit Mercy. Bricker explains that friends called to tip him off about the trouble brewing in the city. It wasn't long before station wagons lined up outside the store and were stuffed with furs to be driven safely to Bricker's home.
When asked to look forward rather than back, the 76-year-old Bricker instead ticked off the names of other Detroit fashion brick-and-mortar stores that are memories now: Hughes & Hatcher, Saks Fifth Avenue, Hudson's, Kern's, Crowley's, and others.
Bricker says he's not sure what will happen in the future to the business he took over when he was in his early 20s, which today has seven employees. He has a son and a daughter, but neither one wants to take over.
As Bricker reminisces in his office, which is filled with original art and memorabilia, he peers through a one-way glass into his shop on Orchard Lake Road, where he's been for 42 years. He excuses himself abruptly as a customer arrives. For Bricker, customers always come first.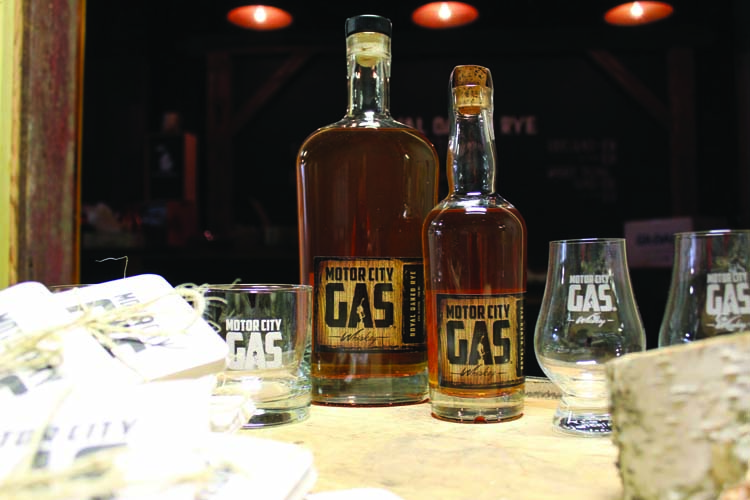 Glass bottles the company manufactures for Motorcity gas, a micro-distillary in Royal Oak
MJS Packaging
GOT TO KEEP GOING
It was the 1950s and two Grand Rapids entrepreneurs needed bottles to hold the contents of their first product, a liquid organic cleanser. Short on cash, the pair asked for and acquired a $50,000 line of credit from packaging distributor M. Jacob & Sons.
More than half a century later, the enterprise the two men, Rich DeVos and Jay Van Andel, started became known as Amway. Today, the two companies are still working together. "They're one of our largest customers," says David Lubin, president of the Livonia company, now known as MJS Packaging.
Max Jacob, a Lithuanian immigrant, founded the company in 1885 in Detroit. In the 1980s, the company transferred about 30 administrative employees to Farmington Hills, and moved its entire Detroit-area operations to Livonia in 2010.
Every year, the nearly 10 employees at its 160,000-square-foot distribution center ship 2 billion to 3 billion units of glass and plastic containers, caps/closures, sprayers, pumps, flexible packaging, and packaging components nationwide. Most go to firms east of the Mississippi, Lubin says.
The company, which claims to be the longest-running packaging distributor in the country, currently has nearly 70 employees in nine locations, including a division known as Sprayco, a direct-to-retail producer of plastic spray bottles and other consumer goods that got its start in 1983. The division represents about 20 percent of MJS' business.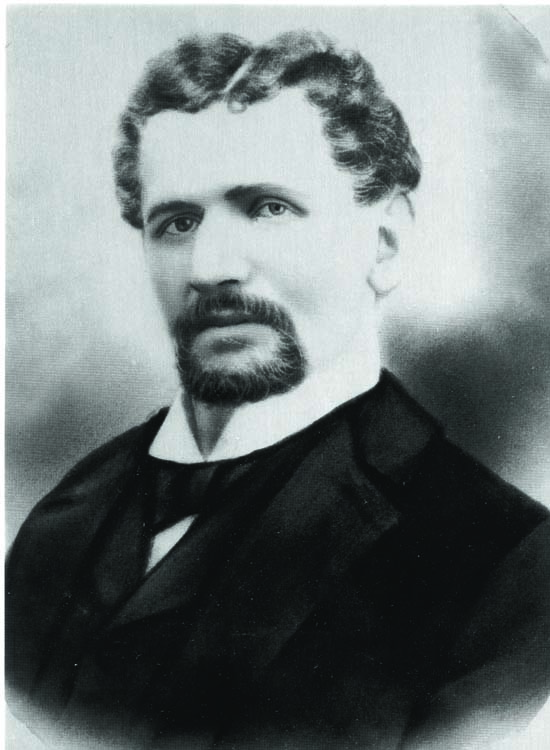 Max jacob, shown at age 33.
The Jacob family retains 85 percent ownership of the overall enterprise and holds five of seven board seats; Max's great-granddaughter, Deborah Jacob, serves as chairman.
Lubin say the firm's name change to MJS came about in 2014, as the company expanded its reach into the Southeast and the New York area, as part of its plan to increase its geographic footprint via acquisition.
Expansion efforts continue. In 2015, MJS hired a fifth-generation member of the Jacob family, Matthew McDonnell, to direct business development.
"You've got to keep growing," says Lubin, the first non-family member to lead the company. "If you're not taking three steps forward, you're moving back."
Lubin has been at MJS for more than 20 years, first as CFO then COO, before being appointed president in 2014, succeeding Marty Jacob, the founder's grandson. "(Marty) put the family business above any individual gain," Lubin says. "He hired great people, gave them the resources to do their jobs, and treated them well."
Lubin says the company's conservative fiscal practices — which trace back to Max's money-savvy son, Ben — and the loyalty of its employees, some of whom have been with the company for two or three decades, have helped it weather downturns and survive 131 years.
"The key, I think, was the third generation — Marty and Elaine Jacob, his cousin," Lubin says, explaining why MJS remains a family-owned business.
Elaine Jacob hired into the company in the early 1950s, at a time when women were sparsely represented in industry leadership. She proved to be more than capable when she was charged with launching a plastics division, which contributed critically to its growth. She passed away in 2014.
"She's the one who created the Wayne State connection, too," Lubin adds, referring to the support Elaine contributed to establish the Elaine L. Jacob modern art gallery on West Hancock. The university also owns the Max Jacob House on West Kirby, a Mediterranean-style villa Max Jacob built in 1915 and lived in until 1924, according to WSU records.
Business development director McDonnell recently had dinner at his great-great-grandfather's former home with WSU President M. Roy Wilson, Lubin, and former Detroit Mayor Dennis Archer and his wife, the Hon. Trudy DunCombe Archer.
"It was definitely a special night," McDonnell says. "I remember thinking while we were eating that all my relatives had been there."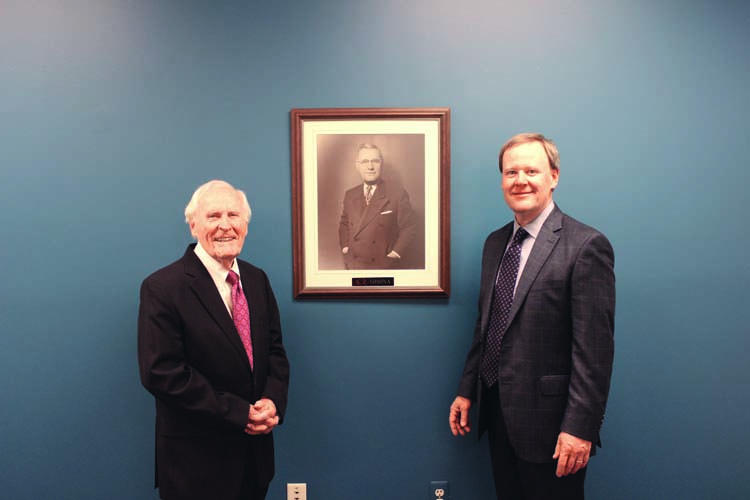 Arthur shmina, and his son, Andrew shmina, stand in front of a photograph of Achilles zissi shmina, arthur's father and the founder of of a.z. shmina, a contruction company in Detroit.
A.Z. Shmina
BUILDING FOR GENERATIONS
The university advisers had some discouraging, even bitterly ironic, news for Achilles Zissi Shmina. The immigrant from the former Yugoslavia, who had traveled from Turkey to the United States at age 15 and worked three jobs to pay for tuition at Carnegie Mellon's engineering school, couldn't graduate because he lacked credits in a foreign language.
"English is my foreign language," a tearful Shmina, who actually spoke five languages, told the advisers. Whether it was his tears or a sudden logical illumination, the college eventually relented and granted him his hard-earned degree.
Shmina went on to work in Detroit with A.W. Kutsche & Co., a construction company that he eventually purchased and renamed A.Z. Shmina. Among the company's marque projects are the Water Board Building on
Randolph in downtown Detroit, Crittenton Hospital Medical Center in Rochester Hills, Osborne High School on Detroit's east side, the Michigan Science Center in Midtown (formerly the Detroit Science Center), and many other commercial and government projects.
To survive the Great Depression, Shmina and Arthur Kutsche whittled the company down to just themselves and their estimator. They kept the company going with government work, building post offices in Kentucky, Missouri and, finally, San Antonio, Texas. The job in Texas was so big that Shmina moved his family down there temporarily for two years.
"Our families lived that," recalls Arthur Shmina, 87, Achilles Shmina's son and current chairman of the company, of the hard times.
Arthur eventually took over the business, after serving in the U.S. Army during the Korean War. During his service, he helped Uncle Sam build military bases in Japan. The subsequent decades from the early 1950s to the early 1990s were boom years: Shmina and his crews built schools, hospitals, university projects, offices, industrial parks, and wastewater facilities.
In 1993, Arthur turned over the leadership of the company to his son, Andrew Shmina, who serves as president. Even so, Arthur continues to come to work every day. "He's always there, but he's never meddling," Andrew says. In fact, he says he feels fortunate to have his father nearby for advice and guidance.
Andrew — who, like his father and grandfather, has a degree in civil engineering — started working for the company at age 14. "I think I was born and bred to run a construction company," he says. "We're working people."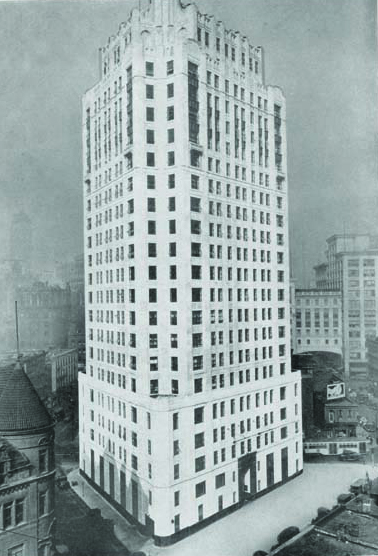 The company built the Detroit water  and sewage building along randolph  street in downtown detroit.
Andrew projects the company will do $30 million in volume this year through construction management services, which comprise 40 percent of its business; general contracting (50 percent); and design-build (10 percent). He has 30 employees, and has transitioned from his grandfather's self-performance model to construction project management. Andrew's brother, Michael, works at the firm as a project manager.
Current and recently completed projects include major operating room renovations at the University of Michigan Health System in Ann Arbor, and a bio-solids handling facility for Genoa and Osceola counties. The firm focuses on health care and institutional, infrastructure, and commercial projects.
Its geographic reach is southeast Michigan, roughly banded by Interstate 69 and I-80 on the north and south, respectively, and the state's eastern and western shorelines.
"But if General Motors (a regular customer) were to say there's a job beyond that and (they) wanted (us) to bid it, we would," says Arthur Shmina, giving a glimpse of the flexibility and loyalty the company shows to its clients.
---