Six years after it was filed and three years after it was closed, a Wayne County Circuit Court lawsuit raises new allegations of wrongdoing in a quixotic and costly effort by a city pension fund to recover what now appears to be remnants of the $10 million it handed over years ago to a now-deceased Detroit businessman.
New documents filed recently by the last two of four successive receivers appointed by the Wayne County Circuit Court to handle the estate of the deceased man's company show that the Detroit Police and Fire Retirement System possibly lost nearly $2 million more. One of the reports filed with the court also raises serious allegations of possible wrongdoing by one of the four receivers assigned by the court.
The saga of the $10-million pension fund heist began in 2008 when fund trustees loaned the money to 41-year-old Abner McWhorter and his Paramount Limited, LLC. He won them over with a pitch to help revive city neighborhoods by purchasing distressed mortgage loans he would make available for resale at reasonable prices to local buyers in need of homes.
With the pension fund's cash, McWhorter and his new partners, a mysterious man-and-wife team from South Carolina, George and Teresa Kastanes, used a network of more than 25 worthless limited liability paper corporations to disguise a three-year buying spree that saw them snap up nearly 3,000 properties in 30 states. A third of them, about 1,300, were in Detroit.
Instead of buying mortgage loans, however, the trio purchased huge blocks of foreclosed or tax-delinquent Detroit properties that had so little value they continue  to contribute to neighborhood blight. In 2011, after McWhorter came back to the trustees asking for another $8 million, the pension fund began to look closer at the original loan. Soon enough, they discovered they had been scammed.
After the trustees declared the loan in default, McWhorter filed for bankruptcy protection; he was found dead a few weeks later. Kastanes and his wife also filed for bankruptcy in Florida, and fled when warrants for their arrest were issued by the Wayne County Circuit Court. They would later turn up at a swanky island resort in the Caribbean, but since May of 2012,  authorities have been unable to locate the pair.
As part of the case, the trustees filed a lawsuit in Wayne County Circuit Court naming McWhorter and his Paramount Limited company, his estate, George and Teresa Kastanes, and 17 of their related entities, as defendants.
The trustees won a hollow judgement that now stands at more than $15 million, given that is likely uncollectable. A lawyer for the trustees, Marie T. Racine, has gone back to Wayne County Circuit Court Judge John H. Gillis Jr. four times to have him appoint four different receivers to claw back value in their errant investment.
The first receiver resigned a few days into his tenure — due, apparently, to a conflict of interest(s). The second, James McTevia, founder of McTevia and Associates, a turnaround management and financial consulting firm in Bingham Farms, lasted nine months. He gave up after concluding that the pension fund had been victimized by a massive Ponzi fraud scheme.
Instead of locating homes that could revive neighborhoods, McTevia found tracts of phantom addresses and scores of properties without title or ownership records. He reported that many of the homes he could identify were in foreclosure, with unpaid utility bills and delinquent taxes.
As he resigned, McTevia bluntly told the trustees to write off the debt. "We advised the trustees they should stop spending good money to chase bad money," he says. "Our recommendation was that they walk away and don't continue to chase ghosts."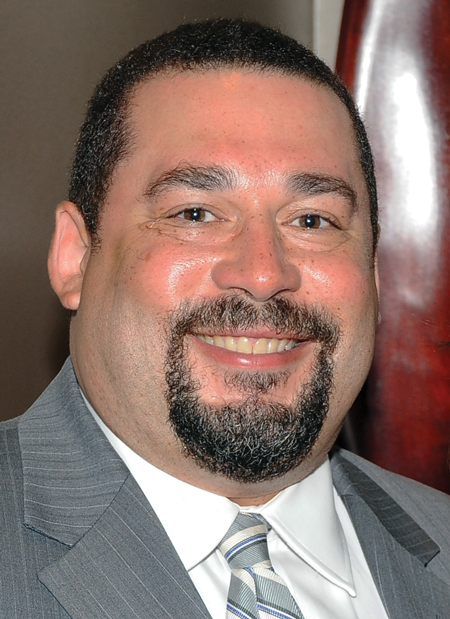 Undaunted, Racine went back to Judge Gillis a third time for authorization for yet another receiver. In March 2012, she chose Heritage Realty Services, LLC, a real estate consulting and development firm in Detroit, and its politically connected president, Douglass J. Diggs.
Diggs, son of the late Charles C. Diggs Jr., a former 26-year member of the Michigan House of Representatives, was at one time the director of Detroit's Planning and Development Department. According to news reports, he has a $1.9 million contract as a consultant on minority hiring for construction of the new Little Caesars Arena, scheduled to open in September at Woodward Avenue and Howard Street in Detroit.
Heritage Realty and Diggs held the receivership appointment for 30 months, until October 2014 — when the pension fund trustees replaced him with David Findling, principal of Findling Law Firm in Royal Oak.
During the four years since the case was closed, it all but disappeared from public view. But last November, Findling filed a report on his activity as receiver with Judge Gillis, in which he raised serious allegations of possible wrongdoing by Diggs.
Using bank statements and cancelled checks, as well as sworn statements Diggs made in a deposition taken last summer, Findling tracked 28 transactions made in the first three weeks of March 2013 that were in a Heritage Realty account at First Independence Bank in Detroit.
The account shows a check for $144,000 deposited on March 8, 2013, from a Detroit real estate agent known for buying large bundles of cheap city properties. Five days later, a check for $115,000 written to Douglass J. Diggs cleared the account. Several other smaller checks to Diggs brought the total paid to him to $132,500.
Diggs acknowledged in his deposition that the $144,000 check represented sales of homes belonging to the receivership for the pension fund. He also said he personally handled all bookkeeping and deposits in his company's account.
"The bank statements do not show any documentation of Diggs paying over those funds into the receivership estate," Findling reported. "For the month of March 2013, Diggs paid himself $132,500 from the Operation Account, which was a complete anomaly. Additionally, other payments — such as an $8,000 American Express payment — appear to have been made for his benefit."
Findling wrote that Diggs had no explanation why the $144,000 was deposited in his company account, and not in the receivership or escrow accounts in another bank that had been set up for that purpose.
"The report speaks for itself," says Findling, who was reluctant to discuss details of his investigation. He says Diggs is cooperating with him, and forwarded some of the repaid money to the receivership account.
"I have to file periodic accountings that disclose the disposition and funds that come into my account," Findling says. "I don't feel comfortable going into those details. I will say Mr. Diggs is working with me and producing information that I requested. We have received (some) reimbursement from Mr. Diggs. I will not go into checks or how much, but I will indicate Mr. Diggs has paid money over to the receiver."
In his report to the court, Findling said it is not known how many properties were sold by Heritage because they were sold without the required approval of the fund or the court.
"The difficulty is that the amount of money that was paid for the properties wasn't much in the first place," Findling says. "They were very distressed properties, purchased at a low price. Property taxes accrued and, over time, before I got involved, the property taxes exceeded the value of the property."
James M. Hohman, who writes on pension matters for the Mackinac Center for Public Policy, a free market think tank in Midland, says the bank transactions raise red flags.
"The receiver is supposed to look after the interest of their client, and taking money from funds you receive as part of the receivership is shady," he says. "If you're on your fourth receiver, there's probably something else going on. An observer should look at it skeptically, whether it's about recovering the fund's assets or whether it's about paying receivers."
In a June 1, 2016 deposition, Diggs said nearly all of the receivership properties were sold in bulk by his Heritage Realty to Tradin' Places, LLC, owned by Wendy Briggs. The $144,000 check that Diggs drew on and Findling traced to the Heritage Realty account was written by Wendy Briggs.
Briggs drew media attention in the fall of 2013 when she was named the top buyer of cheap tax delinquent or foreclosed properties after she bought 428 of them for $379,000 in a Wayne County auction, according to a ranking compiled by a database that tracks all property sales in Detroit.
More than 400 of the properties she bought cost $500, and were typically resold for $5,000 to $8,000, according to a local media story. In late December, two days after Judge Gillis ordered Diggs to turn over records and his final accounting of assets in the receivership of the Paramount properties, Diggs complied.
As McTevia did before him, Diggs said in a 21-page report that he could not give an accurate accounting of the receivership estate because records were "incomplete, or missing, or were dated, in conflict, and useless."
He said he sold 150 of the Detroit properties to Tradin' Places in 19 contracts generating $445,500 in new income for the receivership. By the time Diggs was replaced as receiver in October 2014, he said only 34 of 600 properties with land contracts were making payments to the estate. At the same time, he said there was only $171,000 in the estate's escrow account.
Diggs also included seven pages of a cash disbursement journal showing receipts from sales, land contract payments, and disbursements for expenses during his receivership. The numbers indicate that if the pension fund trustees had taken McTevia's earlier advice and written off the $10 million, they might have salvaged nearly $2 million from the remnants of McWhorter's Paramount property inventory.
The journal showed that in the 30-month term of Diggs and Heritage Realty's receivership, $1,317,811 was paid out of the estate's account for expenses. Included was $300,000 in receiver fees to Diggs' Heritage Realty, which collected $10,000 each month. One payment of $20,000 carried over from McTevia's term. Diggs declined several requests for an interview.
In contrast, the police and fire pension fund received two payments on their loan, totaling $240,454.
In addition, legal fees consumed more than $163,000 paid to several law firms.  Included was more than $43,000 that was paid in a five-month period to Marie Racine, principal of Racine and Associates in Detroit.
At the time the pension fund extended $10 million to McWhorter, the fund was flush with money. In June 2008, an annual report showed assets of more than $3.6 billion, making it one of the largest city pension funds for police and fire personnel in the country.
The trustees initially declined to invest with McWhorter, noting that he had incorporated only one month before making his presentation to the group. Later, after much internal wrangling and apparently some arm-twisting, the trustees relented. They would not invest in Paramount Limited, but would make a loan available at 18 percent interest.
But McWhorter offered no real collateral, or a business track record, to support a gamble of that magnitude — although he did have reams of glowing press clippings depicting him as a Detroit business phenomenon.
At age 16, he owned a half-interest in a doughnut stand in the former Trapper's Alley in Greektown. In his senior year in high school, he opened a picture frame and art supplies store that was a precursor to receiving a $130,000 contract to supply city hall with picture frames and art supplies.
He wrote an instructional book for entrepreneurial African-American children who wanted to start their own businesses. He founded and published a technology magazine. McWhorter also launched a scholarship program for Detroit schoolchildren, offering $1,000 to students with perfect attendance records from the ninth through the 12th grades.
At age 31, he was feted by the African-American Hall of Fame in Cleveland as a rising star.
The backdrop to the $10 million loan, however, was the wide-open, corrupt pay-to-play environment in city hall fostered by the administration of former Mayor Kwame Kilpatrick, now serving a 28-year federal prison sentence for looting the city.
In the cases against Kilpatrick and his associates, federal prosecutors said the $10 million was part of more than $95 million in shady deals and bribes involving money siphoned from both the Detroit Police and Fire Pension System and the General Retirement System that covers civilian city workers.
Two trustees who voted to give McWhorter the $10 million, former city Treasurer Jeffery Beasley, a college roommate of Kilpatrick, and Paul Stewart, a 30-year Detroit police officer and union official, are serving 11-year and five-year sentences, respectively, for taking bribes.
Three years after he received the loan, McWhorter was back before the trustees assuring them of the success of the housing program, and asking for another $8 million. This time the trustees balked, and only then did they begin checking on the status of their original loan.
What they found were the elements of a classic Ponzi scheme. Not a single payment had been made on the principal of the loan in three years. The $2 million in interest paid to the fund came from the loan money they gave to McWhorter. The pension fund declared the loan in default and started legal proceedings against McWhorter and his South Carolina partners.
In response, McWhorter filed for bankruptcy protection. Five weeks later, in August 2011, he was found dead of a gunshot wound in a family-owned apartment building on Selden Street in Detroit's Midtown district. His death was ruled a suicide by the Wayne County medical examiner's office.
Pension trustees have since adopted stringent reforms for investing the fund's capital. New ethics and governance policies have been put into effect, while a new outside investment adviser was hired. Trustees named an investment committee to review ventures and provide checks and balances on investments.
"While the Police and Fire Retirement System is the same legal entity, there has been virtually a complete changeover in the persons appointed and elected to serve as trustees," says Bruce Babiarz, a spokesman for the pension fund.
In the fallout after McWhorter's death, the trustees learned more about his South Carolina partners, George and Teresa Kastanes. George was a former pilot for Eastern Airlines, and became a lawyer after the airline folded. He eventually began a real estate business with his wife, specializing in flipping low-income, foreclosed homes.
In the fall of 2011, following McWhorter's death, the couple was found in contempt of court for failing to turn over records as ordered in the Wayne County Circuit Court lawsuit. Early the following year, they filed for bankruptcy in Florida. After warrants were issued in Wayne County for their arrest, they fled to a resort on the island of St. Kitts in the Caribbean.
In a poolside interview from the resort with The Detroit News later that year, Kastanes said he sold 3,000 properties to McWhorter for less than $6 million. Proclaiming he was not a crook, he said he had no idea what happened to the rest of the pension fund's money, while claiming he was broke.
One published report, however, said he and his wife were traveling the Caribbean and living large. The report said they shopped for a $1.5 million home on Nevis, the nearby sister island to St. Kitts. The report said they bought Polynesian artwork, Russian Faberge-like eggs, and other treasures.
George Kastanes was arrested and briefly detained in May 2012 at the Fort Lauderdale–Hollywood International Airport on the Wayne County warrant. Since his release, he and his wife have been reportedly spotted in Costa Rica and Panama.
The tale of the $10-million gravy train may be coming to an end.
In December, Judge Gillis granted Findling the authority to create a trust in which he could liquidate any remaining assets.
"The goal of every receiver is to finish his duties," Findling says. "I can't be receiver for life. I do see an end to the receivership, but it will depend on what I learn (from Diggs), what the judge orders me to do, and how I decide to proceed."
Facebook Comments