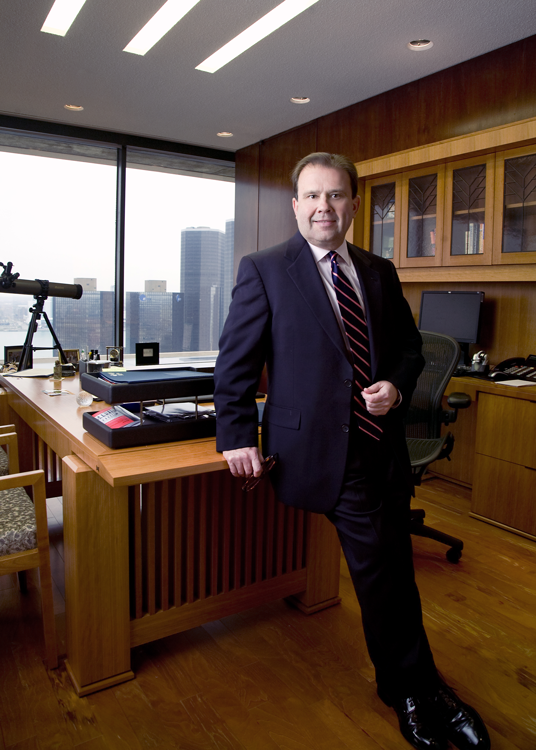 Dan Loepp has gone off-script, and the crowd loves it. The president and CEO of the state's largest health insurer, Blue Cross Blue Shield of Michigan, is delivering a thank-you speech to about 300 employees who have hit major goals halfway into a four-year company-improvement project called "Performance Transformation."
"Our culture today is about embracing these ideas," Loepp shouts from center stage, in front of a massive projection screen. "And if you don't embrace them, it's hard to hide here anymore."
The ideas include consistent improvement and personal accountability. It's the kind of meeting that would draw yawns and BlackBerry checks from employees at plenty of companies, but all 300 participants are watching Loepp, engrossed with the numbers he's calling off. They applaud with each announcement of money saved or efficiency gained. The group suddenly turns serious, however, when Loepp shifts to the economic challenges confronting the insurer's future growth.
"We're battling back from the worst-case scenario," he says of the deep economic trench the nation is wedged into — nowhere more firmly than in Michigan. "If [I] would've read this scenario two years ago, I would've deemed it fiction."
The list of outside challenges confronting the Blues has grown as Michigan's economy has continued to hover near the bottom. For one, the Blues is designated as the "insurer of last resort," which means it must cover everyone, including those with pre-existing medical conditions.
Along with ballooning losses from its individual market — more than $133 million last year alone — large and well-capitalized national insurers have made inroads into the Blues' territory. Their preferred path: buying smaller competitors to get a foot in the door.
For example, in 2005, Hartford-based Aetna Inc. bought the parent company of Southfield-based PPOM. In that same year, Detroit's Health Alliance Plan formed a national affiliation with Cigna Health-care of Philadelphia.
Meanwhile, closer to home, controversial Blues-backed bills to change regulations around the individual market stalled in the state legislature last year amid heated debate, and then got shoved aside in recent months when the state's gaping budget deficit demanded full attention.
Blue Cross contends other insurers "cherry-pick" healthy customers, leaving them to assist everyone else. The result is an unfair cost advantage.
What's more, the company's efforts this year to raise rates in its individual and Medigap markets spurred a fight with state Attorney General Michael Cox that has, at times, turned ugly. And its $2.2 billion in reserves have drawn heated statements from state legislators, who say that at least some of that money should be used to lower the cost of health-care coverage.
Performance Transformation, which in two years saved the Blues $125.4 million by reviewing everything from how the insurer buys and sells goods to the accuracy of claims processing, is a key piece to remaining competitive in the face of these challenges, Loepp says. The insurer projects the savings could top $150 million by January.
But more than this, he says, the Blues has to move the needle on health-care quality and outcomes; ensure they're delivering the best service, bar none; continue to diversify their products well beyond the gold-plated PPO plans of years past; and push change in Lansing that updates what the Blues sees as anachronistic insurance regulations that put the burden of insuring the sick and older masses squarely on their shoulders.
It's a daunting to-do list, and the employees in the room have been working long weeks and late nights to reach the more than $125 million in savings that Loepp is highlighting. Instead of offering tired and polite applause, however, the crowd is fired up. They're convinced — as Loepp is — that they're on the right side of the debate and have to get this right. A crack about "certain newspapers" that have been critical of the Blues gets loud applause; while another observation about Loepp's former job working in the state attorney general's office gets widespread laughs.
The 300 people in the packed room are a small sampling of the more than 7,000 Blues employees who work statewide. In this setting, Loepp is like a rock star, and the mood is clear: Challenges? Bring 'em on. It's a new era at the Blues.
The Outsider
Sitting in the head office of a more than $20-billion organization is a long way from the Detroit neighborhood where Loepp grew up. But he's had spent plenty of time since then to mingle in the rarefied circles of Michigan's power brokers.
"I never dreamed … that I would get a job like this," Loepp says. "I was just a kid from the east side who went up the ladder with various things I did."
Loepp, 52, earned a bachelor's degree in communication, followed by a political communication degree in 1986, from Wayne State University in Detroit.
By the time he came to the Blues in 2000 as vice president of governmental affairs, he was known as a savvy political operator, well-steeped in the workings of Michigan and national government. He'd served as chief of staff for state Speaker of the House Curtis Hertel, as director of communications for state Attorney General Frank Kelley, and on the staff of U.S. Rep. Dennis Hertel.
Loepp now sits on the national Blues association's holding corporation board, and on its health policy and legislative committee, among others.
Because he wasn't immersed in the sometimes-arcane practices of the health-care industry, Loepp's "outsider" status has served him well in nearly a decade at the Blues. His successful leadership of the two-year lobbying campaign helped push through small-group market reform. He also fought back efforts to transition the Blues, a nonprofit with special tax-exempt status, into a for-profit operation.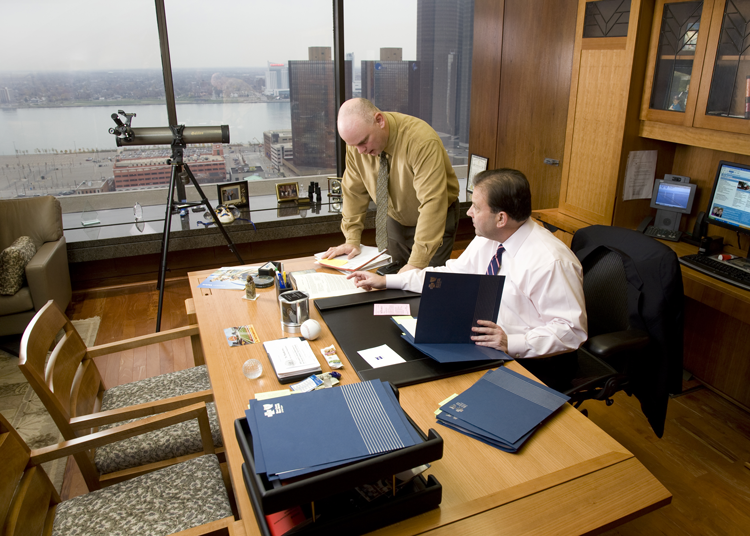 It was an important victory. When longtime CEO Richard (Dick) Whitmer announced his retirement in 2005, Loepp was selected as CEO-designate — a role he would keep before taking over the top spot the following year.
"I understood Blue Cross very well," Loepp says. "In government, how do you [work] in Michigan and not deal with Blue Cross?" he asks. "What I had to learn, though, was the structure of the company. Like [with] any big company, you had to learn to push buttons and not push buttons, and how to maneuver it."
Loepp was only the second CEO of the Blues in nearly two decades. Before his retirement, Whitmer had been at the helm for 18 years. A powerful force, Whitmer left big shoes to fill. He had become CEO of the Michigan Blues in 1987, when the nonprofit insurer was fending off declining membership, lawsuits, and the threat of bankruptcy.
Whitmer quickly moved the nonprofit health insurer's balance sheet to the black from virtual insolvency, added new membership, and brought strength and steadiness to the Blues it hadn't seen in years.
"When I took over, there were $2.6 billion in reserves," Loepp recalls. "When he took over, there was nothing — less than nothing. He was an unbelievably steady influence. … But you never succeed by being static."
Eradicating Red Tape
Yet along with Whitmer's strong leadership came an old-school, hierarchical management style that made many employees feel like they were living scenes out of Office Space, which parodies the inanities of corporate culture from cubicle silos.
Blues vice president of claims and enrollment Chris Maier remembers the sense of apprehensiveness three years ago, when Loepp kicked off the Performance Transformation process with a series of events that asked how employees felt about the company. At the time, the mood was decidedly different. People were wary of yet another company overhaul.
"We've been through a lot of what has been referred to as 'transformation programs,'" the nearly 26-year Blues veteran says.
Employees worked with images and stories from magazines to depict their working lives and, pretty soon, a common theme emerged, Maier says. "Pictures of people wrapped in red tape, pictures that represented bureaucracy … I was surprised by the consistency."
While no one went so far as to take a baseball bat to a fax machine, a la Office Space, cutting red tape and giving front-line employees (nurses, information systems programmers, et al.) a seat at the head table became a starting point for change, Maier says.
Loepp calls his own leadership style more "touchy-feely." To keep employees engaged, he holds "First Friday" video sessions that are sent company-wide. The news includes regular updates on the Blues' progress. He also sends congratulatory e-mails to all employees when the Blues achieve key financial or performance-ranking goals.
"Nothing against Dick Whitmer," says Michelle Fullerton, director of BlueHealthConnection clinical programs, "but we never saw him. My employees wouldn't have known who he was if he walked down the hall. When Dan came here for Performance Transformation, it was from the bottom up. … He came and sat with my nurses and talked to them. That wouldn't have happened [five or six years ago]."
Smaller goals were deliberately set early on, to achieve some initial results so that people would be motivated to keep going. And transformation "teams" throughout the company were tasked with coming up with ways the Blues could either improve or cut waste. They were also held accountable for executing the changes.
Progress toward specific goals is spelled out on whiteboards, along with issues that stand in the way of progress (which aren't removed until they're resolved). These are low-tech measures, to be sure, but they're critical components to success, says senior director of systems operations Karriem Shakoor.
"If I … have identified $1 million in savings, accountability says that we won't stop unless it's realized, so you don't end up with $10 million half-executed initiatives," he says.
People feel energized in ways they haven't for years, Maier adds.
Lean concepts, which emphasize squeezing costs and time out of a system by using the front line to drive "value" improvements, had migrated from automakers to health care several years ago. But they've just found their way to the Blues.
Today, Fullerton says, her nurses are "fully engaged." They're now considered "subject-matter experts," she says. "They see the waste. Give them the power to change the process and get rid of the waste, and they'll do it."
Fullerton's department manages care and negotiates reimbursement rates across multiple health-care providers, to smooth often-complex treatment plans and make sure that benefit costs don't spike in the process. For example, the department saved $3 million over the last two years, primarily by allowing nurses to focus on patient care instead of on paperwork. The shift meant the nurses could handle a higher number of cases.
"It's kind of like being in a restaurant and turning (more) tables," she says. "For us, they can help more people."
More changes are underway. A hallway conversation between Fullerton and a customer service director led to a pilot program launched in early October that integrates the customer and clinical sides of member services. The idea, she says, is to catch people early, before symptoms that could've been detected sooner — but weren't — lead to more expensive medical care. "We've got the power to get things done without going up the chain of command," Fullerton says. Her department is responsible for finding another $2 million in savings within two years. And it's a goal she fully expects to meet. "I'm going to blow that out of the water," she says.
Fullerton isn't the only one seeing results. Shakoor's group saved nearly $19 million by negotiating better contracts with its consultants and improving efficiencies by nearly one-third. But more importantly, Shakoor says, Loepp brought IT out of the "basement" and into the boardroom.
"The chief information officer became a direct report," Shakoor says, "and information technology became a participant in the room related to strategy across the organization. We weren't sitting in a closed silo playing with our calculators, waiting for the businessperson to come in and ask for something. It was liberating."
Greater Challenges Remain
Despite all the recent improvements, there's still plenty of heavy lifting to be done.
The total savings the Blues projects it will realize from Performance Transformation is around $150 million. A significant chunk of that figure comes from things that are difficult to duplicate, like renegotiating contracts with vendors and eliminating some jobs.
In January, the Blues announced that about 1,000 jobs would be cut this year, many as part of the improvement project. Meanwhile, senior executive pay was reduced, wages for non-union workers were frozen, and spending on things like advertising and lobbying efforts dropped by about a quarter. All of the changes helped the Blues stem its losses — during the first six months of 2009, the insurer reported a $46.8 million drop in net income compared to a gain of $117.3 million during the same period in 2008.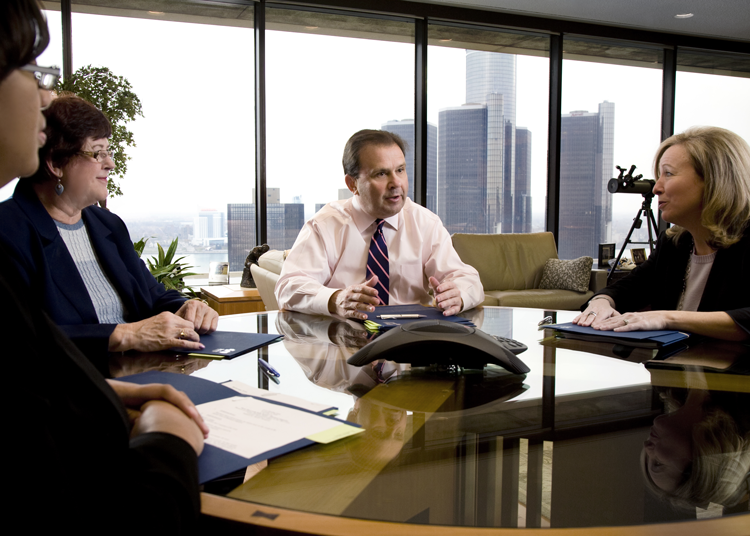 In addition, hospitals and physicians are pressing for more reimbursement increases while businesses want lower rates. Smaller firms are also dropping coverage, says Blues board member Brian Connolly, president and CEO of Oak-wood Healthcare in Dearborn. "I think his greatest challenges are ahead of him," he says of Loepp.
According to documents filed with the Michigan Office of Financial and Insurance Regulation, the Blues lost 150,000 subscribers from January 2009 through June; its rolls now number about 4.5 million. In spite of the upheaval, Blues membership has remained relatively steady, says Jeff Lutz, a principal in the Detroit office of Deloitte Consulting LLP, although competition is "dog-eat-dog."
Loepp says he understands the pressures. "You're not going to fix the problem we have by cutting administratively," he says. "Just think about the huge accomplishment of cutting $125 million in two years — and we lost more money than that in the individual marketplace."
Blue Cross Blue Shield projects that individual market losses could be about $1 billion over the next two years. To fix it, they say, they need reform in Lansing. But so far, that's been elusive.
For Loepp, who's not averse to poking fun at himself, the situation smacks of irony. "Oh yeah, he's got great political skills," he says of himself, "so now he's CEO. Did he get market reform passed? No."
Still, he says, he and his team have fundamentally transformed the business of the Blues. And "there's an irony there that's kind of funny."
While a broader negotiation on state health-care reform has recently taken center stage in Lansing — primarily led by state Rep. Marc Corriveau (D-Northville) and state Sen. Tom George (R-Kalamazoo) — details are still being hashed out, and a bill is expected soon. The goal would be to put something together to help consumers, address "some" Blues issues, and still preserve a competitive marketplace.
David Waymire, a partner with Lansing-based Martin Waymire Advocacy Commun-ications and a spokesman for Put Michigan People First, a group of competing health insurers, says the coalition was encouraged by the discussions. But he adds that Blue Cross has been "overselling its problems."
In response, the Blues says concerned parties should examine its balance sheet to see the reality of the problem. The organization adds that the bills in Lansing don't go far enough in addressing reforms of the regulatory process.
"What we'd like to see emerge from what's happening in the legislature is compromise that's focused on fixing the broken regulation system," says Blue Cross vice president of communications Andrew Hetzel. "It leaves in place a system that's 30 years old, is out-of-date, and isn't relevant to today's economy."
While it's still unclear what health-care legislation might emerge from Lansing, not to mention the health-care reform package circulating in the U.S. Congress, no one's counting Loepp and the Blues out. "The one thing you know in politics," he says, "is that there's always another day."