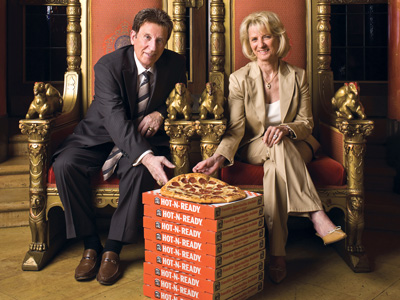 W
henever she trains new employees, Le Ann Hoffman-Grace recounts what might seem to be a fable about the  pizza partners who started it all in Garden City. Hoffman-Grace helps run six Little Caesars stores in Pennsylvania's Lehigh Valley. Demand surges when the numerous colleges there are in session.
"College kids love our pizza, and they don't have a lot of money," Hoffman-Grace says. To the fresh hires, it must sound implausible that Mike and Marian Ilitch started 57 years ago in a small restaurant not so different from any of these six — but now there are 4,279 Little Caesars locations in the United States, and others in 18 countries.
The privately held Ilitch Holdings Inc. in Detroit encompasses the Detroit Tigers and the Detroit Red Wings (MotorCity Casino is owned by Marian separately). Its Olympia Development arm is undertaking the District Detroit project, a 50-block area in downtown Detroit and Midtown that has at its center the $627-million Little Caesars Arena, scheduled to open next September. And the Ilitches' investment appetite has added to Detroit's transformation with the renovation of the Fox Theatre.
"This really is a classic Horatio Alger story, of how somebody who was a former minor-league baseball player came back to Detroit and started a pizza shop," says Bob Forsythe, dean of the Mike Ilitch School of Business at Wayne State University in Detroit. Last October, the Ilitches announced a $40-million gift — the largest in WSU's history — allowing the business school to move out of its current basement classrooms and into a glitzy new building by the arena in 2018. "It really is Mike and Marian Ilitch together," Forsythe continues. "With complementary talents, they really grew this business into something special, and now they have this empire of Ilitch Holdings."
Detroiters know the fable is true. Little Caesars employs nearly 7,400 people in Detroit and annually sells $4.2 billion worth of pizza worldwide. Now 87 and 84 years old, respectively, Mike and Marian — Mr. and Mrs. I to their co-workers — are worth $5.8 billion, according to Forbes.
A Passion For Pizza
It all started when Mike learned to make pizza in the mid-1950s by volunteering in a friend's restaurant. "You don't have to pay me," he said, recalling the moment for Sports Business Journal. "I won't bother anybody."
With his determination and a knack for working with flour, cheese, and sauce, in combination with Marian's savvy and smarts (in the early days, she ran the books and signed checks while sitting at her dining room table while the kids were in school). "One thing about the Ilitches — and they can be proud of this — they didn't have a hell of a lot of formal education," says Jimmy Devellano, who, as the Red Wings' general manager from 1982-1990 and then again from 1994-1997, helped turn around the team after some abysmal years in the early '80s. "They had high school, but they didn't have (college) degrees. You know what I mean? They came from foreign parents, Macedonian parents, both Mike and Marian; old-school European values. It was about rolling up your goddamn sleeves and working, OK?"
They started their business on May 8, 1959, in a Cherry Hill Road strip mall in Garden City. The couple promised 15-minute service and provided a chair and a lamp for those who waited. In addition to pizza, the menu included chicken and fish. The "Little Caesars" (there was no apostrophe) came from Marian's nickname for Mike, echoing the title of Edward G. Robinson's 1931 film, Little Caesar. Artist Don Silverstein received $200 for the company's logo, a caricature of a toga-clad Roman enjoying a bite of speared pizza.
When the first franchise opened in 1962, in Warren, the sign said Little Caesar's Pizza Treat, but the apostrophe and "Pizza Treat" were eventually dropped from the name. The emphasis on pizza came from Mike's enduring fascination with what was still considered a snack for teenagers. After serving in the Marine Corps, the 5-foot-9-inch, 160-pound Cooley High School graduate signed a contract with the Tigers and played four seasons of minor-league baseball, mostly at second base, hitting as high as .324 for the Tampa Smokers and Miami Beach Flamingos in 1954. His success on the diamond made life better for Sotir Ilitch, who labored away in a Chrysler factory. Mike's father had come to Detroit in 1922, learned the tool-and-die trade, and eventually brought over his wife, Sultana. With their son emerging as a Tigers' prospect, Sotir — who spoke limited English and had remained an outsider in his job — now became one of the boys.
One Word: Franchise
Mike Ilitch and Marian Bayoff married within months of their first, blind date in 1954. A knee injury soon ended Mike's baseball career, but when he left the sporting life —at least for the time being — he carried on with an idea. Whenever the team bus had reached a new town, he looked for the scarce pizzerias. After learning how to twirl dough, he experimented one off-season with making and selling his own pizzas from a nightclub's backroom, and realized how profitable the business could be. In the next few years, he worked at a variety of jobs; meanwhile, their seven children were coming along, starting with Denise in 1955.
The couple launched their pizza business on $10,000 they'd saved and $15,000 more they'd borrowed. The contrast between promotional instincts and pragmatic measures had Mike conceiving giveaways and discounts, and Marian trying to collect full price. "They're both geniuses that are easy to underestimate," WSU dean Forsythe says.
After Little Caesars had grown to three locations in Michigan, Mike experienced a moment not so different from a scene in the movie The Graduate, when Mr. McGuire tells Benjamin Braddock, "I just want to say one word to you, just one word: plastics." In Ilitch's case, he was onboard a flight beside a Texas oilman in 1962 and said he was a "pizza man." The sage oilman replied, "I want to give you some advice. Start franchising, and charge royalties."
Letting other people make the money for you was still a blossoming art. Kentucky Fried Chicken had been out of the gate early and was the fast-food industry leader. McDonald's was just replacing its "Speedee" hamburger man emblem with the Golden Arches in 1962.
It took two decades to build the Little Caesars network. By 1969, some 50 stores were open; when the Ilitches bought the Red Wings in 1982, they had 300 stores. Those early years were propelled by a friendship the couple made with Frank Stella, founder and chairman of F.D. Stella Products Co., a restaurant kitchen supply and food services business on Fenkell Street, just west of Livernois Avenue, on the city's west side.
Help From the Pope
Stella, a larger-than-life figure who started his business in 1946 after learning food operations during World War II (he was honorably discharged as a major in the U.S. Army Air Forces), was the longtime chairman of the National Italian American Foundation in Washington, D.C. The position allowed him to meet and work with Presidents Richard Nixon through George W. Bush on multiple issues centered on domestic and international relations. It didn't hurt that Stella was a close friend of Pope John Paul II, whom he had met in 1969 when the then-cardinal visited Orchard Lake Schools in Orchard Lake Village. When he met Mike and Marian, Stella was so struck by their tenacity that he helped finance and provide equipment for the couple's first 200 restaurants.
"After 200 stores, they were on the national stage and it was hard for me to help them from my business in Detroit," Stella said in a previous interview. He died in 2010, at 91. "But boy, were they driven to succeed. They had a great product, they really worked hard on the marketing side of the business, and yet they never lost that family touch. They were like Ford Motor Co. in that way."
So strong was the friendship between Stella and the Ilitches that Mike leaned on his mentor during a vacation to Italy in the 1990s. When the couple — along with their general counsel, Jay Bielfield, and his wife — had arrived at the airport in Rome, the lawyer learned he had mistakenly brought his daughter's passport. So Bielfield was put in confinement until the matter could be straightened out with the embassy.
"I remember getting a call from Mike from Rome, and when he relayed the problem, he asked if there was anything I could do?" Stella recalled. "So I said, 'Mike, it's the middle of the night there, but let me see what I can do.' "
Stella called the Vatican and, as he was relaying the news to the private secretary, the other line picked up. " 'Frank, is that you?' " Stella said. "So I explained to the pope what happened, and the next thing you know the Vatican Police (Swiss Guard) arrived at the airport to spring Jay Bielfield, and they were off on their vacation."
In previous interviews, Mike and Marian said they owed their business to Stella. "He helped us so much in those early days, and all the way through until he passed away," Mike said. "He was at all of our celebrations, and he was someone you could always go to for advice. I miss him terribly."
Pizza, Pizza!
By the end of the 1980s, Little Caesars had locations in every state. Brilliant marketing programs contributed to the boom. As an old Macedonian proverb says, "Think twice, speak once." Over the years, Mike pondered and pondered. Finally, in 1979, he decreed, "Pizza, Pizza!" The two-for-one deal provided enough for the whole family — two pies on a long piece of cardboard inside a stapled paper envelope. "When they walk out of the store, I want them to get a hernia," Ilitch told The New York Times in 1992. The emphasis was on takeout service and, to keep things moving fast enough inside the small shops, Little Caesars innovated with a conveyor-type oven.
The innovations and promotions were supported by hilarious ad campaigns that allow us a glimpse into Mike's mind. The "Toozy! Doozy" spots by Cliff Freeman and Partners turned pop-culture conventions on their head. Hearing of the two-for-one deal, astonished people walk repeatedly into a wall, have their hair stand on end, and squeeze or shake their faces. The 30-second "Conga Line" spot has old, young, and canine dancing in celebration of a combo meal for only $8.98.
The Times reported Ilitch "was in on the brainstorming" of "Toozy! Doozy!" Does that mean Ilitch is witty? The question caused the gregarious Devellano to hesitate, letting out a long breath before saying, "That really isn't in his character, I would say — not that he couldn't be or can't be. But I wouldn't say consistently witty."
Fun With Marketing
The commercials appealed in an absurdly witty way. Long before Tesla cars were equipped with "Insane" and "Ludicrous" driving modes, and microbrewed beers adopted irreverent names like Solemn Oath Brewery's Punk Rock for Rich Kids pale ale, the tone of Little Caesars marketing was kitschy and self-deprecating. The 1993 "Pizza for a Buck" spot showed Ilitch looking uncomfortable in a business suit while driving a convertible on a country road. A careening truck loaded with crated chickens overtakes him on the left as the voice-over asks, "How does the owner of Little Caesars think up his next great pizza idea? What are his influences, his inspiration?"
As a crate splits open and a hen splats against the windshield, squawking, "Buck! Buck! Buck!" Ilitch lights up, saying, "That's it! Pizza for a buck! Where do I come up with this stuff?" From an evidently deep immersion in pop culture and a sense for overturning its clichés, that's where.
During Ilitch's 2003 induction into the Hockey Hall of Fame, he called Devellano "a hockey whiz." And he remembered the pre-game optimism of former coach Jacques Demers, who regularly predicted two points from a victory. "So I thought that was cool," Ilitch says. Another combination of slangy speech and marketing insight came in 1982, when Ilitch discovered bread is crazy. First called Crazy Crust, later Crazy Bread, the side order tasted buttery, garlicky, and cheesy, and Little Caesars became the first pizza chain to sell bread on the side.
Meanwhile, for all their kooky advertising and playfulness, the Ilitches were dead serious about keeping Little Caesars closely held as the company grew into a colossus. There was no IPO or board of directors, no investment bankers or shareholders. Some of the Ilitch children became involved — Christopher has been president and CEO of Ilitch Holdings for more than a decade — and as the earnings accumulated, Mike and Marian kept doing things their own way.
>>  the cup runneth over Since the Ilitches acquired the Detroit Red Wings in 1982, the team has won four Stanley Cup championships. After purchasing the Detroit Tigers in 1992, the team has made it to the World Series twice, but in both instances it failed to win the title
Seeing Red (Wings)
Part of Lincoln Cavalieri's job in the early 1980s was to help Bruce Norris sell the Red Wings. Norris had inherited the team in 1955, but his recent lack of interest showed in the team's consistently poor results. Cavalieri had long run Olympia Stadium on Detroit's west side and facilitated the team's move to Joe Louis Arena in 1979. He knew Mike and Marian Ilitch as suiteholders, and may have known of Little Caesars' involvement in youth hockey and of the Detroit Caesars professional softball outfit, Mike's first foray into team ownership. Cavalieri inquired about the interest of these avid and affluent fans in buying the team. After the Ilitches' shock wore off, they worked out an $8.5-million deal. (They also acquired Olympia Stadium Corp., which managed Joe Louis Arena and Cobo Arena.)
"I'll never forget my first (hockey) trip," Mike Ilitch said years later at the Hockey Hall of Fame. "The business meeting in New York with the NHL in 1982 — walking into a roomful of businessmen with pizza sauce on my shirt, some flour in my hair, a bank statement in my hand. Several weeks later, I was the owner of the Detroit Red Wings."
That meeting occurred in June. "They hired me on July 1 of 1982," says Devellano, who was coming off a successful run with the New York Islanders. "They were real fans of the game. They had four boys; all were hockey players. They kind of knew what the franchise was all about." Devellano reported to Mike about personnel issues, and to Marian about finances.
Doing things Mike's way meant disrupting the National Hockey League's old boys' club. He green-lighted Devellano to pursue rookies, free agents, and foreign players. It also meant letting out the reins of the same promotional instincts known from Little Caesars. "Our first year," Devellano recalls of Ilitch, "the entrepreneur came out of him. He did something really bold and gave away a brand-new car at every game. Can you imagine that? Forty cars!"
The strategy produced mixed results. Ilitch laid out about $6.8 million — then an exorbitant figure — for new talent before the 1982-1983 season, but the Wings again finished last in the Norris Division. Overpaying for newcomers caused resentment among veteran players and angered the NHL's oligarchs. "There are 20 owners in the league who are totally teed off," the Pittsburgh Penguins' general manager told Sports Illustrated in 1985. "They've upset everybody."
But disrupting hockey didn't produce sangfroid in the owners' suite at The Joe. "With entrepreneurs and builders like Mike and Marian Ilitch, they like things to go a little bit quicker," Devellano says with a distinct pungency. "But on the business side, holy cow, did it ever work!" The Wings made SI's cover, seats filled up, and after the first-year disaster, the team at least stepped over the NHL's low bar and started to make the playoffs. There have subsequently been 16 division titles and four Stanley Cups.
Helping Rebuild a City
Despite the team's obvious improvement on the ice, Ilitch still couldn't get any respect. The 1980s were a dark time in Detroit, and being from the Motor City elicited pity or condescension no matter if your name was Ilitch, Ford, or Fisher.
"I decided I was going to do everything possible so that one day everyone would view Detroit as a great city," he told SBJ. He and Marian would soon have an opportunity not only to initiate the city's revitalization, but also to further diversify the company.
In 1987, a staff member mentioned the Fox Theatre's availability. Designed by Detroit's own C. Howard Crane with a Beaux Arts exterior and a fanciful interior ornamented with various Asian motifs, the 5,000-seat movie palace had fallen into decrepitude, barely keeping its doors open with martial arts and Blaxploitation films.
The Ilitches poured millions into its restoration and the creation of the Foxtown entertainment district, with restaurants and office space. The theater reopened in 1988, and Little Caesars and Olympia Entertainment, which had been located in Farmington Hills, moved into the attached 10-story Fox Office Centre. Around this time, Ilitch expanded his sports empire, acquiring the Detroit Drive, an Arena League Football franchise, which he kept for
four years.
Momentum was slow to build, but things had gotten restarted and others took notice. Ilitch's hockey rival, Peter Karmanos Jr., who'd bought the Hartford Whalers and tried to move them to the Palace of Auburn Hills, followed Ilitch from Farmington Hills, shifting his Compuware Corp. downtown in 2003.
"Who knows what would have happened had Mike Ilitch not moved Little Caesars to Detroit or made all of those subsequent investments over the years?" says Rock Ventures and Quicken Loans Inc. chairman Dan Gilbert. "We'll never know for sure, but my gut says without that first bold move from the Ilitches way back in the 1980s, there would have been no Compuware move or Quicken Loans relocation."
By 1992, Little Caesars had revenue of more than $2 billion, the Red Wings won the division, and Ilitch acquired the Detroit Tigers for $85 million from Tom Monaghan, who owned Ann Arbor-based Domino's Pizza. It took eight years and $295 million — of which Ilitch put up $150 million — before the new Comerica Park opened in 2000, replacing historic Tiger Stadium.
During the same period, Marian solely acquired MotorCity Casino, and absolved herself of any interest in the Tigers. The investments in players and facilities have paid off. The Red Wings ($600 million) and Tigers ($1.1 billion) have grown in value beyond any former second baseman's wildest dreams.
Giving Back

Forsythe's favorite image of Mike Ilitch comes from last October, during the announcement of the Mike Ilitch School of Business at Wayne State. "He was out there in the audience high-fiving all the students," Forsythe says.
The Ilitch family's $40-million donation ranks among the 10 largest ever made to a public institution's business college. "I think it's the thrill of my life," Ilitch said then. "I really do — because I love this city so much." Raising his eyebrows, he continued, "And to see my name on that building, I just feel like life's starting all over again."
Besides giving students 120,000 square feet of state-of-the-art facilities when the first classes are held there in 2018, the new building will give WSU a front door to the District Detroit development. The property is leased from Ilitch Holdings for $1 per year. "It's just not the building itself, it's also the location," Forsythe says. "It moves us that much closer to all the other businesses that operate in Detroit. One of the things we're working on is building a new concentration inside the MBA program in sports and entertainment management. Given our location, it just makes sense."
Besides the business school and the tagline "Baddest Bowl in Hockey" — the slogan Olympia Entertainment trademarked for the arena — Little Caesars is expanding its headquarters with the nine-story, 234,000-square-foot Little Caesars Global Resource Center at the corner of Woodward Avenue and Columbia Street. The company-financed building's façade will proffer 14-foot-tall, formed-glass "pizza slices" for an innovative look.
As Gilbert points out, "Although the Red Wings' games are an exciting centerpiece, the District (Detroit) development will draw on the energy of the arena to create a full-blown, multiuse development including housing, restaurants, and retail."
Considering the stadiums, theaters, business school, and District Detroit, it seems plausible to assert that not since Judge Augustus B. Woodward laid out the new Detroit after the fire of 1805 has any individual — or, in this case, the Ilitch family — made such a big impact on the city.
"This is really something special for a blue-collar worker raised by blue-collar parents in a blue-collar town," Ilitch said at the Hockey Hall of Fame. "I want you to know you've made a young boy from the west side of Detroit one of the happiest guys in the world." Indeed, Mike and Marian Ilitch have gone ahead and written their own storybook ending.
Facebook Comments