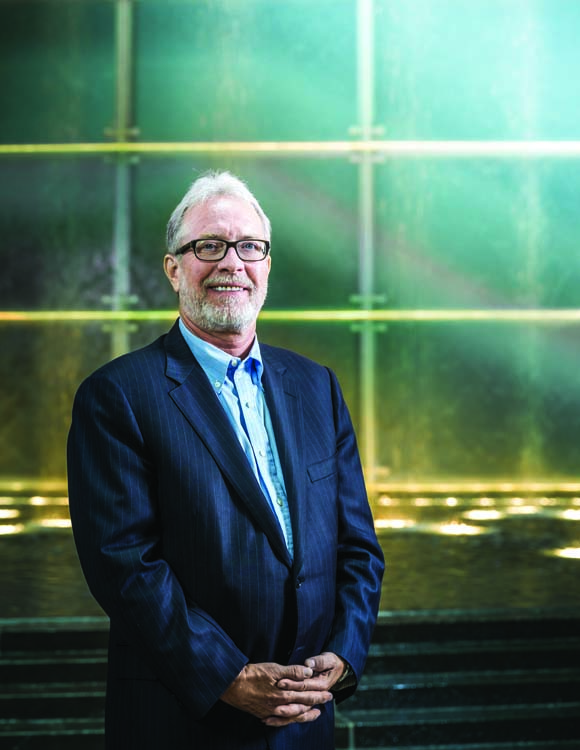 Imagine the scene: It's a blustery winter evening in the late 1990s. Snow is pelting down, at least a half-foot is already on the ground, and Dr. David Cotton and his son, Jon, are gamely trudging through the mess, heading for a distant dumpster. Each has a tightly stuffed, oversized plastic bag slung over his shoulder.  Just as the pair gets to the dumpster, one of the bags bursts open, its contents scattering everywhere. Father and son are down on the ground quickly, scrambling in the freezing slop, frantically gathering every scrap before it blows away.
"At that point," Cotton says, chuckling, "Jon's laughing and he turns to me and says, 'Dad, you're a world-famous doctor. How low have you sunk?' "
Cotton grins back at his son but doesn't respond. He continues to gather up the mess before the two head back toward the office. "And just as we got to the door," Cotton says, "I turned to him and said, 'Jon, he who takes out the trash, gets the cash.' "
It turns out Dad was clearly onto something.
Cotton is the renowned former specialist-in-chief of obstetrics and gynecology at the Detroit Medical Center, but he gave up that profession to get into the health care business.
In 1997, Cotton launched the family-owned Health Plan of Michigan. As usual, he was multitasking on that on that winter evening, and one of his many jobs wa picking up the trash from all the receptacles in the cramped, 1,500-square-foot office in Southfield he shared with two other businesses.
Fast-forward to the present. The dumpster and that tiny office space are a distant memory. The headquarters of the Cotton family's business — employees include David's wife, Shery, along with Jon and his two brothers, Sean and Michael — is now in downtown Detroit at One Campus Martius (formerly the Compuware Building). Occupying four floors and more than 250,000 square feet of space, what began as Health Plan of Michigan became Meridian Health Plan in 2008. Two years ago, the Cotton family joined Dan Gilbert's Bedrock Real Estate Services in an acquisition of the 15-story, 1.1-million-square-foot office building.
Today, Meridian Health Plan is the largest Medicaid HMO in Michigan and Illinois, serving Medicare and Medicaid patients along with health insurance exchanges that, combined, number more than 850,000 members among 45,000 providers in six states: Michigan, Iowa, Illinois, Indiana, Kentucky, and Ohio.
Meanwhile, MeridianRx, the company's pharmacy benefit manager, provides another 1 million health plan members with a prescription network across 34 states, making it the 15th largest such entity in the country.
All told, Meridian Health Plan generates more than $3 billion in annual revenue and has more than 1,800 employees; nearly 85 percent of them are based in Detroit.
It's been a long while since David Cotton went dumpster-diving, but both he and Shery clearly delight in recalling those early days, fraught with equal measures of panic and exhilaration, as the pair took the risky plunge and a dream was launched, initially around the kitchen table at the family's home in Grosse Pointe Park.
"I had no doubts he would be successful," Shery says. "I had never seen my husband not attain a goal he had set for himself. Everything he's put his mind to do, he's done."
Cotton's vision for delivering a superior health coverage program was largely inspired by what he was observing every day in his practice at an inner-city hospital: The vast majority of his patients were showing up for deliveries with virtually no prenatal care.
"It gave me an idea of what we really needed to tackle in terms of our approach to what is a very big population management problem," he says, "and I described it in two phases."
The first phase of his pitch was focused on his fellow physicians, as Cotton literally went door-to-door with his idea. "It was, 'Trust me, I'm a doctor,' " Cotton says. " 'I understand what physicians' needs are, I understand what you need from your managed care company, and I'm going to deliver that.' "
The second phase concentrated on the patients.
"We had to figure out how to differentiate ourselves," Cotton says. "At the end of the day, I said it was quality. Why would anyone choose a family-owned managed care company that's thinly capitalized unless it's for our quality? That is what differentiates. If you deliver the quality, the providers will want to send members to you and the members will want to stay with you."
Cotton set the bar high.
"We were going to be the highest-quality health plan in the U.S. if we could," he says, "and we were going to provide the kind of care for our members that the Ritz Carlton does for its guests."
His goal was to find those people who needed the most care, then "Give them that care, and keep them healthy and out of the hospital, so people are going to be shocked this is an HMO," he says. "Everyone associates an HMO with denial of care.
"At the time we got started, there was a terrific problem with payment," he adds. "Everybody was delaying, not paying hospitals for 60, 90, 120 days. I said, 'Maybe we can differentiate ourselves by paying our claims faster than everybody else,' and that's what we did — (we got it) to under 10 business days, which was a phenomenal number at that time, probably the fastest in the state of Michigan, if not the United States."
The margins for the fledgling Health Plan of Michigan were tight, so the Cottons mortgaged their home, maxed out all their credit cards, and put their sons to work. "I was in high school at the time," Michael says, "and I went in and cleaned the bathrooms and the kitchen on the weekends because we weren't going to waste expenses on cleaning crews. Those were really the humble beginnings. My mom was writing checks at the kitchen table."
Shery paid the claims, "and if there had been one catastrophic claim, that would have been it," she says. "We were working seven days a week, 10, 12 hours a day. We didn't go on vacation for two years. It was just hard work and determination, and being too stubborn to realize that heads of banks were telling us to get out."
The bankers weren't alone. David recalls a particular dinner with his then board of directors, which included a member who was notoriously cheap. "(He was) the kind of guy who usually would ask me to reimburse him for parking," he says. On this evening, however, the board member announced he was picking up the tab for the entire meal. "I looked at him in shock," David says, "and asked, 'Why?' And he said, 'I looked at your books and you're going to be bankrupt in two months.' And he actually resigned a little while after that dinner."
Somehow the Cottons survived, and in late 1996 they bought the health plan of a small clinic in Jackson County, along with what turned out to be hundreds of thousands of dollars in unpaid pharmacy and medical claims.
"At that point, we had literally shrunk down to about 866 members," David says. "But I said, 'OK, I guess I'll be moonlighting in ERs for a long time. We'll pay down the debt.' And we did. And that rallied the entire community to make us their health plan, and that's what paved the way early on. I always said if we can get into a county with one member, we could get to be the biggest in the county. Just give us enough time."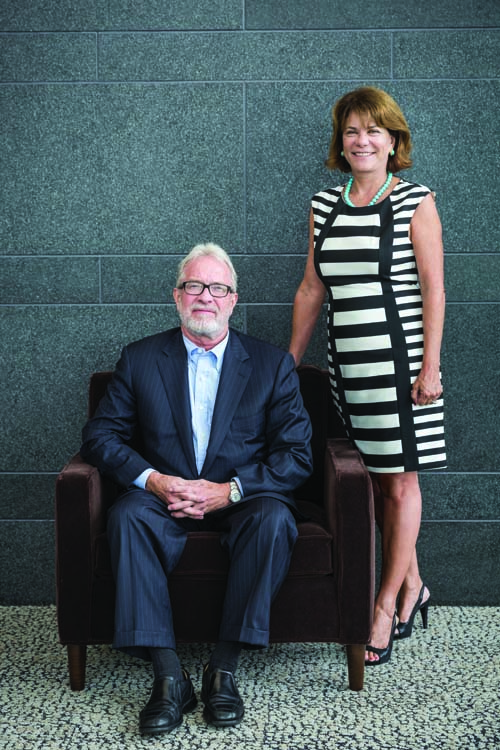 Dr. david cotton and shery cotton
Another significant milestone came in early 2000.
"That's when we took over a plan that was actually bigger than us, called American Preferred," Shery says. "They had double the membership we did, and that's when we really settled into being able to give ourselves a salary, take a breath, pay off our loans, and pay off our kids' college bills."
By 2008, the company had grown to 112 employees, with annual revenue of $275 million. Since late 2013, annual revenue has jumped to $3 billion from $1 billion.
"The biggest benefit to Meridian is states (now) have the option to expand eligibility for Medicaid," Jon says. "That means they raised the level of how poor you had to be, essentially, to be qualified for Medicaid. So there were about 600,000 people in Michigan who all of a sudden were eligible for Medicaid, and we had 150,000 people come onto our health plan in a little over four months. That was obviously very beneficial to us."
Jon, 38, is president and COO of the Michigan operations. His twin brother, Sean, is president of Meridian Technologies, where he oversees human resources and IT, and 35-year-old Michael is the COO and an executive vice president.
The philosophy of the company hasn't changed a bit since the old days, when David was knocking on doors. "It's all about quality," he says. "That's the driving force behind the company. And the day we forget that is the day we forget where we're going and what our heritage is."
Jon says the company's reputation is everything. "That's all we have," he says. "We're not a $100-billion United Healthcare that can buy up a market and sustain losses for years and years to buy members. That's not us. We're family-owned, we live and breathe quality, we do it better than anyone else, and we stop at nothing to do whatever it costs and whatever it takes.
"We call it white-coat marketing," he continues. "When you whittle it down, it's a small community out there. One doctor says go talk to the doctor across the street, he's been working with us for a number of years and they find out this is really how we operate, who we really are, what we believe in. And all of a sudden, it's the next one and the next one and then the hospital CEO calls another hospital CEO and they say, 'Yeah, they're the real deal.' "
Even as it has grown exponentially beyond its home state, Meridian strives to retain the same family feeling that was shared around the kitchen table at the very beginning.
"We have our Meridian family values — integrity, vision, passion, and quality," Jon says. "When I started here 16 years ago, we had 17 employees. We knew everyone's name, birthday, what their favorite food was, what made them laugh. You just knew it was a family-owned company. And we felt that was such a competitive advantage for us that even now, as we (approach) 2,000 employees, we take it to such a level of everyday culture that all of them are called family members."
Last year Meridian increased its minimum wage to $17 an hour, which applies to about 30 percent of its workforce. Everyone else makes more. It's an enticing incentive, to be sure, but it's not for just anybody. The Cottons readily concede there's a certain prerequisite for loyalty to the company's culture.
"I've said to a lot of people that, in order to be successful at this company, you need to have certain innate traits," Sean says. "For me, the two greatest are a great attitude and a high aptitude. You're not right or wrong for not embracing our cultural values; you're just not right to be successful here."
The family's vision for the company is bullish: By 2020, they project annual revenue to increase to $5 billion, and they anticipate the number of employees will double, to between 3,000 and 4,000.
"I think the goals we've set are realistic," Jon says. "If we back into those figures, that looks like we'd be adding two more states for Medicaid and increasing our Medicare line of business. We're looking at the Central time zone, all the way to the East Coast, (and we're) looking to increase our Medicare membership. With 1 million beneficiaries today with MeridianRx, we're projecting 3 million by 2020."
As the company grows, the same 85 percent ratio of employees based in Detroit is expected to hold steady.
"Given our corporate structure, the majority of our employees get hired at our Detroit headquarters when we take on new markets because of call centers, IT, finance, and claims payment shops," Michael says. "We have a core operation in every state we're in, so you've got your local president, medical folks, sales teams, and network development. But … every time we add a new state or a new market, job growth also happens in Detroit."
The good news for Meridian is that more and more potential employees are already eager to move to the central business district, Sean says. "I recruit the executive level staff, and in 2008 it was much harder to get people to look at Detroit as a place to move to and call home — but in the last year, we've had four or five senior vice presidents move here. I've also been recruiting a lot of IT people, and they're moving here, too. I didn't see that between 2008 and 2012, and now there's a completely different attitude. You don't see the brain drain to Chicago as much anymore, and that's been a great boon to the economy here."
The Cottons can take their share of credit for the role the family has played in the resurgence of the city, beginning with their decision in 2008 to move their company from Southfield to downtown, although David was initially against the idea. "I worked at the DMC for 10 years," he says. "I had a hard time when I had people (I was) trying to recruit and I had to drive them down Jefferson Avenue. But the family was absolutely adamant; they said, '(We're not) going (anywhere) but downtown Detroit.'  And I said, 'Alright, if that's the decision, let's do it.' "
They initially moved into a space at 777 Woodward Ave., where they still occupy three floors — and it's right across the street from their new headquarters. That same year, the family turned its attention to a disturbing situation that was taking place in their home city.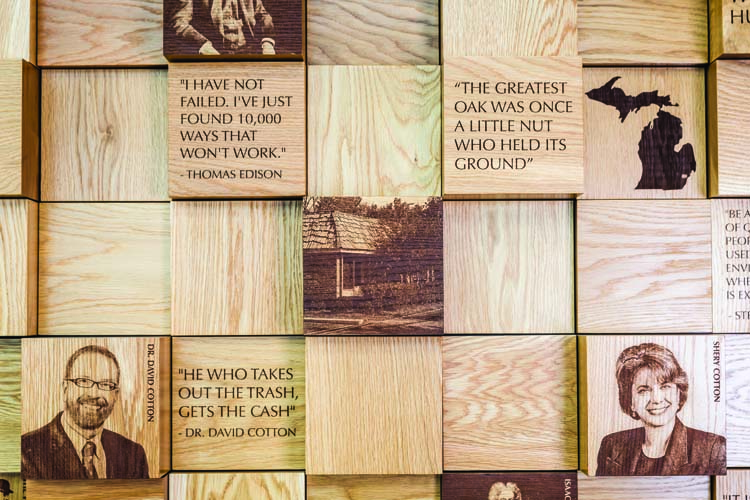 an inspiration wall crafted from etched wood at meridian health Plan's headquarters in downtown detroit.
"When the market crashed," Jon says, "we saw that the city of Grosse Pointe Park was buying up some foreclosed properties in the rental district. So we went in and asked, 'How can we help? Is there a fund we can donate to?' We ended up saying, 'Why don't we just buy these ourselves, for tax reasons.' "
The Cottons parlayed that investment into a reclamation project, creating not only refurbished rental properties but also the family's Grosse Pointe Housing Foundation, which pays half the rent for 100 students and residents living in the units. Occupancy is near capacity, and there's a waiting list for applicants who've been approved and want to move in. The family has also invested in commercial real estate in their hometown, including two restaurants along Kercheval Avenue — Red Crown and Atwater in the Park.
And then there's the Detroit Crime Commission. Organized by the Cottons in 2011 as a tax-exempt public organization, the DCC operates as an ally of law enforcement agencies in southeast Michigan. Jon has a ready explanation for the reason behind its existence: "My father always wanted to be in the CIA," he says, with a laugh.
"Well," David deadpans, "let's just say I've always had an interest in the intelligence services."
The truth of the story is that it all began because of a check fraud scam at Meridian.
"(Someone was) trying to cash fake checks with either the Meridian name or our bank account," Jon says. "So we said, 'What are you doing about this?' And the bank said, 'Well, you didn't lose any money, and neither did the bank.' And we said, 'Yeah, but someone's out there committing crimes and you're not doing anything about it.' And they said, 'It's against our policy.' "
"We even had a call from the bank saying (someone was there) trying to pass a check," Sean adds, "and we said, 'Can you stop them?' And they said, 'It's not our policy.' "
"That's when we kinda lost it," Jon says.
They went to the police. "The police didn't care," Jon says. "It was in Detroit, and they said, 'Listen, if it's not murder, child abuse, or elder care (neglect), a check fraud case where nobody lost any money is just really low on the radar.' "
So the Cottons hired their own investigators, who found the mastermind behind the scam and arrested him. "He had an AK-47 (rifle) and he was a felon," Sean says. "He had thousands of other corporations' checks in his house."
"So we … (decided) to create this entity that does this kind of stuff, works with the right agencies, and then passes it off and all they have to do is prosecute," Jon says.
For Jon in particular, it's been a remarkable journey from that bitter evening huddled next to the dumpster with his dad to where he and his family are now: Community leaders in business, real estate, public affairs, and philanthropy.
"The family aspect is absolutely what we believe to be part of our secret sauce and our differentiator," he says. "Any insurance company can pay claims, do utilization management, and do medical review, but what's different about us is there's family on top and we invest in that environment. I know that if we ever sold, nobody would take care of our members the way we do. No one would take care of our employees the way we do. So you know what? Why would we do it? It's a successful business, we make enough money, and we don't need to sell. We don't have equity investors or debt. We don't have anyone to tell us what to do, or how to operate. There are too many good things and too many reasons for us to keep it private."
Facebook Comments