Sure, Detroit is the Motor City. But it's also become Mortgage City USA. Four of the nation's top 10 mortgage lenders now are headquartered in southeastern Michigan, making the region an unparalleled mecca for home lending nationwide.
The geographic concentration of the mortgage business here resembles the previous rise of the insurance business in Chicago, the oil business in Houston, the music business in Nashville, the software business in Seattle, and the acting business in Hollywood. And, yes, the auto business around here.
"We hear 'Michigan' and we hear 'mortgages,' " says Mike Kortas, CEO of Nexa Mortgage, a national broker located in Chandler, Ariz. "It used to be Southern California was the mortgage headquarters, where all the sub-prime lenders had their names on the top of buildings. Now they're gone and that's changed. Now it's Detroit."
The rise of the mortgage trade here "sort of happened through osmosis over the years, similar to the auto industry," says Lee Smith, executive vice president and president of mortgage for Flagstar Bancorp Inc. in Troy. "Now we're at the point where we all sort of benefit from the collective knowledge being centered here."
But the distinction that has built a new Mortgage City USA is much richer than some mere accretion of market share and concentration of competencies that have shifted the ballast of the national industry to southeastern Michigan over the last decade.
The development also is full of drama, pitting the man who arguably is the economic savior of downtown Detroit, Dan Gilbert, founder and chairman of Rocket Mortgage, America's No. 1 mortgage lender, against a worthy rival 30 miles north off Woodward Avenue in Pontiac: Mat Ishbia, president and CEO of United Wholesale Mortgage, the No. 2 mortgage lender overall.
Rocket Mortgage has grown explosively over the last several years by harnessing digital technology to make the mortgage process much faster and friendlier for individual homebuyers nationwide, an accomplishment the company highlights every year in Super Bowl TV advertisements that have starred Detroit's own Keegan-Michael Key and, most recently, the comic Tracy Morgan. By now, if there's a household name in mortgages for Americans, it's Rocket.
Meanwhile, United Wholesale Mortgage, or UWM, also has grown explosively — but by only servicing mortgage brokers who also are pursuing individual homebuyers as customers, then selling their loans to lenders. Homebuyers themselves can't get a "UWM mortgage." But while Rocket built its business as a retail brand, recently Gilbert's company also has veered heavily into the wholesale business, as its trade with brokers now accounts for around 30 percent of Rocket's overall lending volume.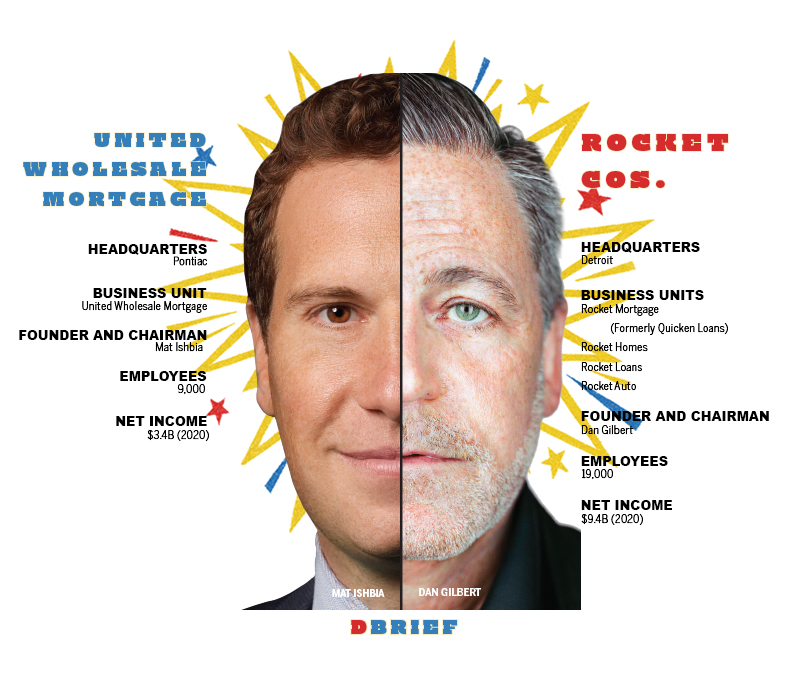 There's the saying that you don't tug on Superman's cape, and Gilbert clearly is Superman in this town. He invested hundreds of millions of dollars in downtown Detroit when no one else would, as he moved what then was Quicken Loans from the suburbs to the city. 
His determination and success served as a major catalyst for the revival that has followed. Now, Gilbert is building a new skyscraper to rival the Renaissance Center. And he survived and is pushing through the aftermath of a stroke that made people appreciate even more just what a precious resource he has been to the economic renewal of this region.
At the same time, Ishbia has huge fans in the local business community. UWM was the original major sponsor of the United Shore Professional Baseball League, the instructional-league outfit founded by Andy Appleby that's been playing each summer for five years at Jimmy John's Stadium in Utica.
"After the first year of our agreement, Mat actually tore up our contract and wanted to give us more money based on the value he felt UWM received," says Appleby, who is chairman of General Sports and Entertainment in Rochester Hills. "In 35 years in this business, I have never had that happen before."
In any event, by this spring, Ishbia had had enough of seeing his company's lifeblood — its relationships with mortgage brokers — threatened by anyone. He also alleged Rocket was "hurting" independent brokers, as was another lender, Fairway Independent Mortgage in Wisconsin.
So, in March, UWM's chief issued a stunning ultimatum during a company update on Facebook to hundreds of mortgage brokers across the country who represented multiple clients: Pledge fealty and your business only to our company, and don't do business with our rival, or we won't do business with you anymore.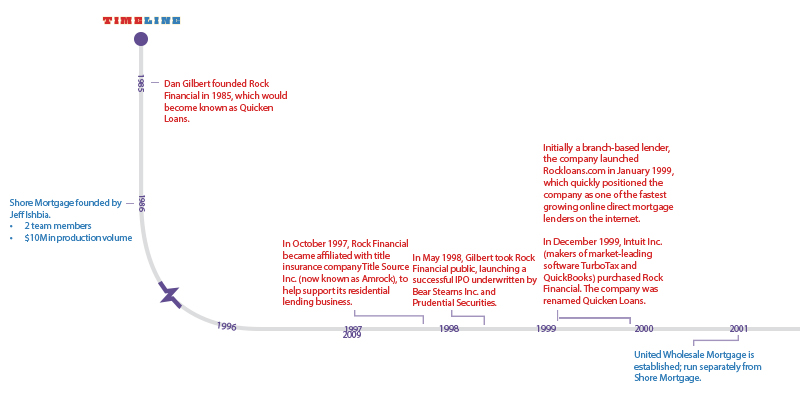 Rocket pushed back with a letter to brokers from executive vice president at Rocker Pro TPO Austin Niemiec, saying, "If you feel you have no choice but to sign UWM's addendum, you will be signing away your freedom." But more than 10,400 broker shops complied with Ishbia's demand; 600 refused to sign the addendum. 
"I was just competing," explains Ishbia from his office at UWM's headquarters in Pontiac. "I'm a competitor. We don't get along. I respect them and appreciate what they do, and I have nothing but positive thoughts about Rocket. But we want to compete with them." Gilbert and Rocket both declined to comment on Ishbia's move.
Of all things, Michigan State University basketball has become another forum for the growing rivalry. Ishbia was a backup point guard for the Spartans and makes much of the leadership lessons he learned from the school's legendary men's basketball coach, Tom Izzo. Ishbia also has sprinkled his executive and management ranks with former teammates. In February, Ishbia made a $32-million donation to the MSU athletic department.
But Gilbert also is an MSU alumnus, having earned his real-estate license while still an undergrad there; Rocket CEO Jay Farner is a Spartan, too. Gilbert gave the university $15 million in 2016, and Rocket has been a longtime major sponsor of MSU basketball. Then, in March, Rocket announced a new five-year deal that includes the school's relabeling of the fabled Breslin Center as "MSU Spartans Presented by Rocket Mortgage." Rocket's name also will be on the team bench, highlighting the rivalry between Izzo's beloved former player and a major sponsor every time the coach stops yakking at a referee and returns to his seat.
David Hall agrees that the companies' rivalry over MSU and Ishbia's ultimatum to mortgage brokers are just business. "I don't think there's anything personal going on" between the two mortgage titans, says the man who served as one of Gilbert's right hands for 13 years and was the face of Rock Financial in local TV ads — then, after a falling out with Gilbert, worked for Ishbia at UWM for several years. After starting his own company, Hall Financial in Bloomfield Hills, in in 2016, Hall has been another significant figure in the rise of Mortgage City USA. 
Besides Rocket and UWM, the other two major players in the regional rise of the mortgage business have been Flagstar, the savvy regional bank whose ascent to the nation's sixth largest bank mortgage originator recently made it an attractive acquisition for New York Community Bancorp Inc., and Homepoint, a spunky startup in Ann Arbor that has grown fastest of all of them, to the No. 9 mortgage lender, according to Inside Mortgage Finance.
"The real sumo match in this industry is between UWM and Rocket," says Henry Coffey, a mortgage-industry analyst with Wedbush Securities Inc., a privately held investment firm in Los Angeles. "They absolutely dominate the business."
The backdrop for the explosion of the mortgage business in this area is the national renaissance of home lending since the Great Recession of 2008 and 2009, which burst the housing bubble that had sustained so much of the U.S. economy since the turn of the century. And while the economic recovery of the past decade fueled a surge in home-buying, the cheap-money policy of the Federal Reserve also prompted millions of American consumers to refinance their existing mortgages — sometimes more than once — to take advantage of persistently and historically low interest rates.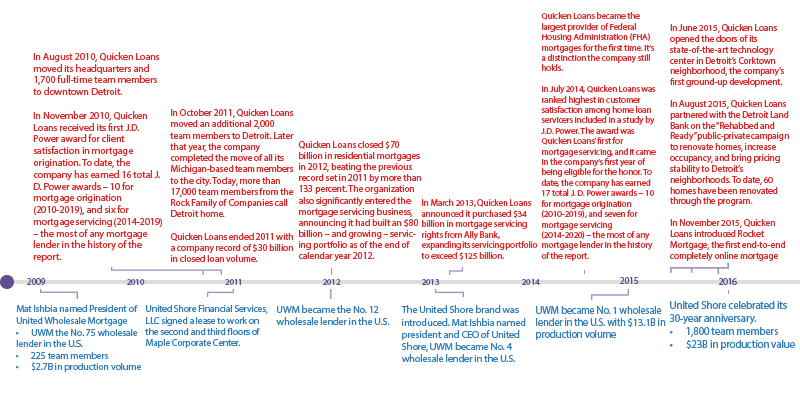 At the same time, there were sea changes in the industry that was providing mortgages and refinancing. Big banks that had been the traditional major home lenders took huge financial losses from the recession and a foreclosure crisis. They got wary. "Non-bank" banks such as Rocket came in to take on much of banks' previous role, gobbling up huge chunks of the last decade's robust market. They were assisted by the growing role of the federal government — through agencies known as Fannie Mae and Freddie Mac, and through the Veterans' Administration — in guaranteeing Americans home mortgages.
"Before the financial crisis, these loans were only 50 percent of the market," says Guy Cecala, editor of  industry researcher Inside Mortgage Finance. "but now they're over 90 percent of the market."
Another change that favored — and, in large part, was fueled by — Rocket and UWM was the rise of digital technology to streamline the mortgage application and fulfillment process into a scenario that now can occur entirely on a smartphone in minutes, instead of involving repeated visits by a homebuyer to the office of a mortgage lender.
"Our focus has been on technology," Farner says. "Companies like us that have embraced technology and how it can assist mortgage clients have won. That has put us ahead of a lot of our competitors across the country. And we tell analysts that we're only in the second or third inning when it comes to digitizing the entire real estate experience for consumers."
At the same time, wholesale brokers were telling Ishbia that they wanted to make their application and approval processes "faster, easier, and cheaper," Ishbia says. "I thought about what was the best thing for our clients, and the business would follow." A few years ago, for example, UWM built a technology platform called YouClose that gives brokers the digital levers to close a loan within 15 minutes instead of the traditional days or weeks. It's just part of an overall digital-tech platform that UWM relentlessly advances. "No one has come close to duplicating it," Ishbia says.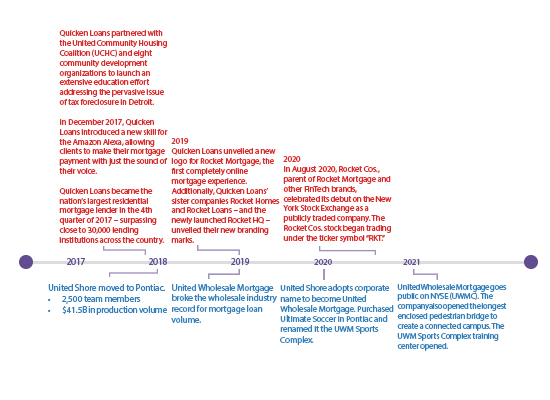 That kind of responsiveness has endeared Ishbia and UWM to hundreds of brokers nationwide who are as fiercely devoted to him as he has been to Spartans teammates from the 2000 national championship team who now work for him, including Mateen Cleaves and Charlie Bell.
"When Mat told us to make our choice, we had to make a decision what was best for our clients and our company, and that was to choose UWM," says Lisa Lund, owner of Lund Mortgage in Scottsdale, Ariz. "They've been the leaders in putting brokers first. They provide us with the technology, and with pricing specials. It was an easy decision."
The flip side of brokers' respect for Ishbia is their wariness of Rocket. The way many of them see it, Rocket is not only interested in helping them serve their customers, but also wants to take over those relationships with individual borrowers and get them into the larger ecosystem that Farner describes, where Rocket can provide them mortgage refinancing at some point and, in the company's new diversification effort, a car loan.
"Rocket gets that mortgage loan from the independent mortgage broker one time, and they keep that customer for the rest of their life cycle," says Justin Kelly, founder and CEO of CPF Mortgage, a wholesale broker in Trinity, Fla. "Rocket's interest is on the retail side; UWM's interest lies on the side of consumers and independent mortgage companies."
Cecala, of Inside Mortgage Finance, says, "Big banks were accused of doing the same thing years ago. But the way they and Rocket see it, the brokers are only acting as loan officers for the lender; they're not funding the money or taking the credit risk or anything else down the road. So, Rocket wants to control that relationship with the borrower.
"But from the brokerage standpoint, you don't want to be hunting for new business every day," Cecala explains. "The service they offer someone is a little more personalized. They'd like to be able to follow up with that customer when they want to refinance or buy another home. And, candidly, a lot of people will tell you that they get better service out of a broker than from the lender who services the mortgage."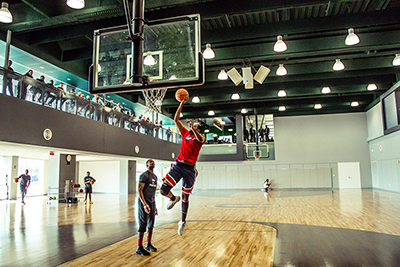 In addition to clashing business models and headline-grabbing moves by Rocket and UWM, a big part of the rivalry among Detroit's mortgage titans is fought every day in the war for talent. Qualified labor is in short supply practically everywhere in southeast Michigan and throughout the country, and seemingly in every industry. But in a business growing as fast as the mortgage trade, the competition is intensified. UWM, Rocket, Homepoint, and Flagstar have been adding thousands and thousands of employees locally for the last several years.
"I've worked in other finance ecosystems like Dallas, but because there's been so much displacement of people in the auto industry in Michigan over the years, there's actually a lot more talent to retain and grow," says Phil Shoemaker, president of originations at Homepoint, which employs about 4,000 people. In fact, he says, the "manufacturing mindset of Detroit creates natural talent. When you're making loans, you're also being systemic, repeatable, and efficient. Knowing how to do that sort of thing has lent Detroit to becoming what it is today in our business."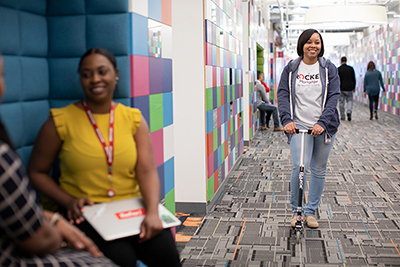 Still, mortgage companies must convert whatever latent talents and skills exist out there in the local marketplace into labor they can use. The key to staffing Homepoint's needs, Shoemaker says, has been in its system for "taking people who are novices to mortgage and bringing them in and teaching them mortgage. Right out of high school or college, we train them how to close a loan in a short period of time. We're not dependent on recruiting another lender's talent; we create our own."
UWM takes much the same approach. "When you're bringing in hundreds of people a week, there's a process," Ishbia says. "We hire people who don't know mortgages and don't have those skills. But we look for a great work ethic and attitude. We put them through six weeks of training, and they get indoctrinated so we know they can last here for years — not just lasting, but thriving."
This approach can mean that some of UWM's employees may be rough around the edges. "There are circumstances where our people say they're tired of dealing with someone who was working at Taco Bell last week and now they're underwriting our loan," says Kortas, "but I tell our team that because UWM makes it so fast to resubmit a question and get it cleared up, I'd rather have that person give me the wrong answer — and then get it escalated to someone with more experience to resolve it — than have it take two days with some other investor."
For Rocket's part, work culture is crucial as well. "It's the foundation of everything that we do," says Farner, who points to recent designations of Rocket as No. 3 in America's Best Employers for Diversity by Forbes and as No. 5 in Fortune's Best Companies to Work For. "Our culture of innovation and execution is what makes everyone come to work and say, 'How do I make things better and improve them for our clients and team members?' "
Cultural differences between the companies extend to how they treat the workday. Rocket operates call centers and mainly deals with individual consumers who — as the company's advertisements beckon — may need help, advice, clarification, and resolution at all hours of the day. By contrast, while UWM and brokers do talk at all hours, Ishbia tries to enforce a policy of requiring that his employees work hard during the day, then knock off after eight hours and enjoy the rest of their lives.
"Both companies spend heavily on capacity, on having more people around than they need, so they can process things quickly," Coffey says. "UWM has done a better job of that than Rocket. But Rocket is heavily invested in new digital strategies and building out new products on the engineering and software side of the business. They have high fixed costs, whereas United has built its model around people and tech which happen to be more variable-cost."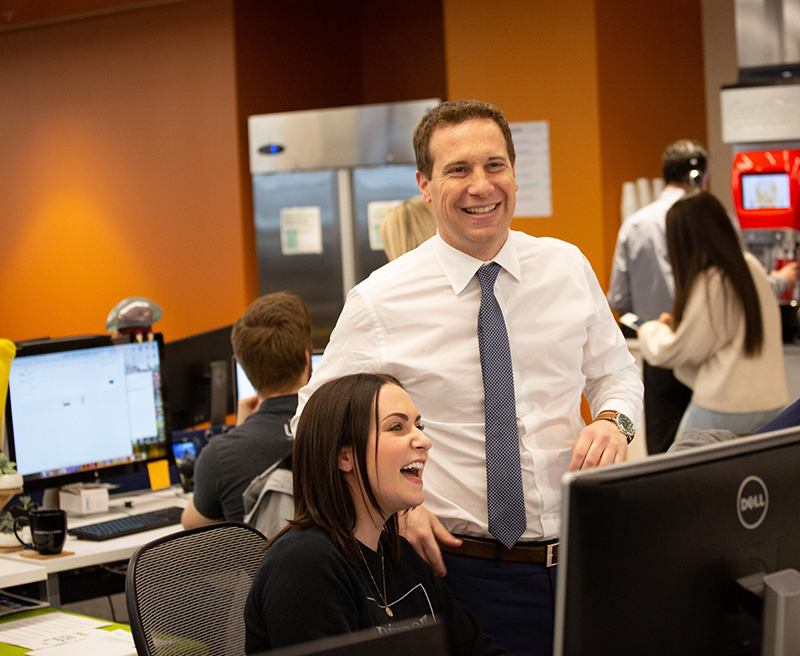 Right now, there's plenty of business for everyone in Mortgage City USA, promising continued short-term growth for all four of the area's major mortgage lenders. The COVID-19 virus provided a mere pause in the resurgence of home-buying and house-building in this country. Amid this year's raucous housing spree, millions of Americans are scrambling for new places of shelter in a market that features a sparse supply of available homes, continued low interest rates, and ever higher prices. 
That means thousands of people across metro Detroit, in the offices of the four big lenders and in work-from-home settings, have been scurrying like mad legions of gerbils churning their legs on wheels just to keep up with all the applications. 
But that could change significantly as inflationary pressures and the red-hot U.S. economy influence the Fed to raise interest rates, which could rapidly cool off the torrid housing market. Already, investors have been downgrading prospects for the newly publicly traded UWM and Rocket for those reasons. Some analysts see Rocket as more vulnerable than UWM to higher rates because Rocket's business has been so strong in refinancing, which is the first activity to disappear from the mortgage market because it's essentially elective. 
Originating home loans, where UWM specializes, is less dependent on low rates because people must live somewhere, and home purchases are motivated by a variety of factors including a growing household, economic opportunity, and migration.
"Higher rates are natural, but that's where we win — we win in the purchase market," Ishbia says. Rocket is "overwhelmingly refinancing, but there's nothing to refinance if rates rise to 3.5 percent instead of 2.5 percent. That will impact my main competitor more than us. We're a lot less cyclical than everyone else."
But as in everything else about this rivalry, Farner gives no ground. "We've seen rates go up and down over the last 26 years, and you always have to shift," he says. "We're the second-largest purchase retailer in the country, and we will be the largest in the next 24 months. But we also still love refinancing. We're seeing people invest more in their homes than they ever have, pulling cash out, paying back high student debt. So, we can still grab market share and grow.
"And one of (Gilbert's) missions has always been to have a fortress-like balance sheet so the ups and downs don't affect us. That's where we are today."
Coffey, from Wedbush, believes market stresses soon will begin testing the paradigm used by each of the two titans. "Last year was the best year in mortgages in 20 years, and this year will be the second-best," he says. "As things slow down, which company falls further? These issues will play themselves out over time. That's what happens when two high-quality people and companies try to dominate the same space."