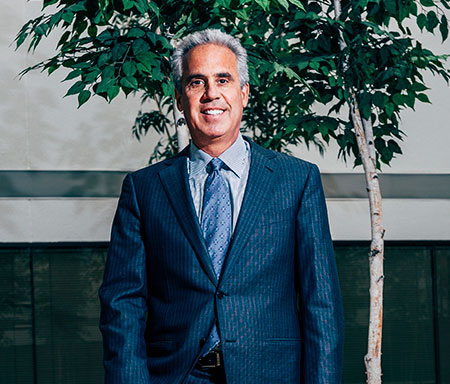 In the business of real estate, David Friedman has a long view. After taking over the Arboretum Office Park in Farmington Hills early last year, the real estate broker undertook a renovation of the 430,000-square-foot complex rather than waiting until the leasing climate improved.
In February 2014, the four-building facility was 25 percent occupied and in need of a complete makeover. Enter the construction crews. The work included repainting the building exteriors, overhauling the lobbies, raising interior ceilings, and enlarging the cafeteria.
"Our secret is to spend a lot of money and transform the distressed buildings we acquire very quickly; otherwise, they sit there and it can take a lot of work to share your vision with potential tenants," says Friedman, president and CEO of Friedman Integrated Real Estate Solutions in Farmington Hills. "It's a three-year process, for the most part. We buy (properties), stabilize them, improve them, lease them, and then either hold on to them or sell them."
Over the last 20 years, Friedman has acquired and transformed 130 such projects, and eventually sold 60 of them. The strategy has paid off. By renovating an entire building or complex at once, Friedman says healthy occupancy levels follow very quickly. At Arboretum, for example, the company recently signed a 30,000-square-foot tenant.
During a recent walking tour of Arboretum, Friedman showed off both new and old portions of the complex. In spaces where plants and water features once dominated several lobbies, Friedman and his team retained some of the landscaping but converted the remaining space to lounges. The intent is to encourage collaboration outside of traditional office settings.
"Business moves so fast today but, at the same time, you can't be everywhere at once," Friedman says. "More and more, companies are looking for places within an office building where they can brainstorm, talk over a project, or have an impromptu meeting outside of their physical space. Plus, we add things like Wi-Fi."
Friedman, who founded the real estate company in 1987, started the business as a brokerage operation. As clients began asking for more services, he added property management, construction, strategic planning, leasing, and other offerings.
Today, the company has 320 employees in eight states (120 in Michigan). In addition to working within the commercial office market, the company provides various services in the industrial, retail, and residential sectors. Overall, the company manages more than 16 million square feet of office space and 8,000 apartments for a range of property owners.
"We follow our clients wherever they go, which is how we got into such markets as Florida and Arizona," Friedman says. "If you want a good case study of how a building or area that's renovated attracts tenants and interest, take a look at what's happening in downtown Detroit.
"When Dan Gilbert and Quicken Loans started moving downtown in 2010, there were some things happening. Since then, (Gilbert) has acquired more than 60 properties and the downtown district is the best it's been in years. Real estate has its ups and downs, but I don't think anyone could have predicted how much downtown Detroit has improved." db
---