Katie Bigelow // Tel Ganesan // Uma Sharma // Jayson Waller // Matt Wise
Katie Bigelow
Founder, Mettle Ops, Sterling Heights • Employees: 15 • Revenue: $7.4 million
Why She's a Champion of the New Economy
Katie Bigelow founded Mettle Ops in 2013 after a 10-year career in the U.S. Army that included stints as an Arabic language specialist working in signal intelligence and a Blackhawk helicopter ambulance pilot in Iraq, and six years as a stay-at-home mom who wrote resumes for people on the side. As a pilot in a war zone, she faced harrowing experiences daily. "There are rules in war about shooting at ambulances, but nobody told the bad guys that," Bigelow says. Less dangerous but equally vital to national security, Mettle Ops is working on contracts totaling $33 million for the U.S. Army Combat Capabilities Development Command Ground Vehicle Systems Center in Warren (formerly TARDEC), providing prototypes of anything related to soldier survivability of an explosion. The Ground Vehicle Systems Center, or GVSC, "works on future combat vehicles, providing armor products and attachments, transparent armor, better seats, and other things so that soldiers can survive blast events," she says. "We might design a better fixture for a seat drop-tower test. We built a generic (troop carrier) hull that they blew up five times testing various armor pieces to see how they withstand a blast. We were really pleased because the hull survived all the blast events, and that's what they needed to test the different materials they were looking at." Mettle Ops also provides program management, design, modeling and simulations, analysis, and documentation within these contracts, employing what Bigelow calls a nontraditional approach to defense contracting.
What's the traditional approach to defense contracting?
With the big OEMs the traditional approach is to dictate terms to the government, because they have so much government business. They're not supposed to do that, but there are all kinds of loopholes around that.
What's your approach to defense contracting?
Our approach is to be faster, to be transparent, and just be really fiscally responsible. Our customer has been really pleased with that. We don't hide expenses in our pricing, and we don't inflate prices just because the government has deep pockets. We set it all out there for them to see, so they know they're getting what we were contracted to do without some surprise cost in the end. We do our best to give them a host of options, instead of directing the government to use our preferred manufacturers or suppliers. We really work alongside them rather than telling them what they ought to be doing. That's our way of capitalizing on capitalism. We want to bring the best products to our customer — and, ultimately, the soldiers in the field — without having our own best interests in mind. My husband and I were both Army officers. We experienced what the government provided to soldiers on the battlefield, and we experienced some of the bad things, or not-good-enough things. One of our goals is to provide for the war fighters.
What technologies do you use in your operations?
I'd say it's mostly standard stuff for our industry. We use computer model simulation and we use SolidWorks, which is very standard software. We do finite element analysis. We don't use anything particularly unique. We just bid on a contract that would require us to learn new blast software, but we're not going there until we win that.
What are the cutting-edge aspects of your business?
One of the opportunities we have is working with new armor materials and trying to incorporate them into armor technologies. Those often require different methods of manufacturing, other than old-school stamping and machining. We're working toward taking advantage of newer manufacturing technologies like friction-stir welding, which is a solid-state process that uses a nonconsumable tool to join two workpieces without melting the workpiece material. It's basically rubbing something together so quickly that it heats and binds the material. There's a lot of experimentation with these new materials, and it makes pricing frustrating because we can't anticipate something cracking or not bending the way we expect it to. That's been kind of challenging along the way. Also, different manufacturers don't have the experience with the different materials, or they're gaining it as they work with it. It's been a big learning curve for everybody. We're looking at 3-D printing, but finding someone who can cost-effectively 3-D print metal has been a challenge. But it's definitely on the horizon.
What does the future hold for your business?
We just received notification that we won another $20-million contract for doing more
of the same things we're doing now — prototyping and survivability — so that should keep us busy for the next three years. Right now, we're doing prototyping for future vehicles. We're really excited about what we can do for legacy vehicles. There are a lot of vehicles out there that the OEMs don't make parts for because it's not affordable for them. We're
looking at creating a niche for ourselves with maybe reverse engineering or sourcing these parts. Also, one of my team members has 29 automotive fastening patents. They're not currently used in the defense industry, so we're trying to market them to the defense industry. Fasteners sound boring, but they hold everything together. These new fasteners would reduce the specialized tools that soldiers would need out in the field. They won't need torque wrenches because these fasteners would be able to indicate on their own if they're appropriately tightened.
---
Tel Ganesan
Managing Director, Kyyba Innovations, Farmington Hills
• Employees: 700 • Revenue: $55 million
Why he's a Champion of the New Economy
If one person could represent innovation, it would be Tel Ganesan. He came to the United States from India in 1989, studied mechanical engineering at Oklahoma State University and Wayne State University, worked at Chrysler Corp. as an engineer, and then went out on his own. "Given my entrepreneurial mindset, I don't think I'd fit into a corporate environment for a long time," Ganesan says. He started Kyyba Inc. as a staffing company in 2005, and merged it with Vision Tech Solutions in 2010. Kyyba Innovations, an entity designed to bring groups of entrepreneurs together, opened its doors in 2017. "I get bored. Every 10 years or so I want to do something different," Ganesan says. Kyyba Innovations provides an arena for people to cross-pollinate their ideas and perspectives. He's also taking on Hollywood, with Kyyba Films, and is passionate about health and wellness; he's planning the Global Health Consciousness Summit, to be held in September at Suburban Showplace in Novi. Ganesan says he wants to utilize entrepreneurship to revitalize Pontiac and Flint. He says he can trace his entrepreneurial spirit back to an organic juice venture he and his mother started when he was in the seventh grade. "We sold it to friends and family," he recalls. "We didn't know how to market it and it died, but it planted a seed."
How did the staffing company evolve into Kyyba Innovations?
I saw the convergence of several forces. The economy was changing. I wanted to do something where I could make an impact. So, I started Kyyba Innovations to bring together various disconnected ecosystems. Detroit and Ann Arbor are only 30 miles apart, but they never talk to each other. I'll (also) bring in Flint and Pontiac, Traverse City, Marquette. The idea is to maximize opportunities.
How do you maximize opportunities and connect ecosystems?
We do three things. The first is Pitch Club, which is like "Shark Tank" on wheels. We go around the state and we try to connect people. We started clubs in Detroit, Ann Arbor, Lansing, and Grand Rapids. I use that as a feeder system for my investments. Right now, it's more of a social entrepreneurship, but that's how you shape it. When you do the right thing for the right cause, fame and fortune will follow. The second thing we do is the Detroit Fintech Challenge. Why should New York, Chicago, and Boston be the only financial centers? Why not Detroit? I started the Fintech Challenge to bring those companies here. The (participants) present problems five or six months before the challenge, and entrepreneurs and service providers here present solutions to those problems. We invest in the winner. The third thing we do is a fund that I'm setting up to invest in the companies that come to my Pitch Club and come through the Fintech Challenge. Fund 1 will be seed money. Fund 2 will be for accelerating growth.
What made you decide to get into filmmaking?
Most everything that's happened in my life has happened by accident. A couple of years ago, two guys barged into my office with no appointment and presented a story that showcased Detroit that they wanted to make into a movie. All they needed was money. The story resonated with me, so I started Kyyba Films to get that movie made ("Devil's Night: Dawn of the Nain Rouge"). It will come out in June.
How does a health consciousness summit fit into the picture?
We're trying to raise awareness of wellness. Eat right, think right, and sleep right. When we do those things, we pretty much resolve our worldly problems. As a nation and as a state, we have a lot of challenges when it comes to health. (The U.S. has) 5 percent of the world's population, yet we consume 80 percent of the world's antidepressant medication. A plant-based diet, yoga, meditation, traditional Chinese medicine, functional medicine, acupuncture, massage therapy — all kinds of things, together, provide wellness. I want to raise the awareness of these tools because I'm so passionate about it.
Some might call efforts to revitalize Pontiac and Flint ambitious.
It's kind of fun to do the impossible. That's what keeps me going, more than the money. If somebody says I can't do something, it gives me a kick internally. We're putting together a massive strategy to bring a technology component to those cities and utilize their real estate assets to create incubators (and) accelerators, where entrepreneurs can hang out and exchange ideas. You have to create activity from a social standpoint, activity from a technology standpoint, and activity from a wellness standpoint that will draw people from neighboring cities. I love being an entrepreneur. I love being a change agent.
How important is entrepreneurship to the future?
As we keep going forward, everything is going to be about freelancing, and a highly entrepreneurial mindset (the so-called gig economy). Many millennials don't want to work for anyone; therefore, creating an environment that's conducive to that is the way to go. At the end of the day it's the small businesses that create the new jobs, not the bigger corporations. We need to look at how millennials will actually do work going forward, and start building that infrastructure and infusing that culture today, not after it's already happened.
---
Uma Sharma
Founder and Chief Scientific Officer, MMS Holdings, Canton Township
• Employees: 600 • Revenue: N/A
Why she's a Champion of the New Economy
A chance meeting on an airplane spawned MMS Holdings, short for Managed Medical Solutions, which has evolved over 13 years to become a major player in efforts to get drugs approved by the FDA. "A guy I was sitting next to on a flight had his laptop open and he was fuming," recalls Uma Sharma, who earned her Ph.D. in pharmacology from the University of Michigan. "He started explaining to me that he worked in the pharmaceutical industry and described the FDA approval process. I said, 'I've been there,' and we started talking. He immediately asked if I could help him answer the questions he had on his computer. That was MMS's first project. It just happened to fall into my lap on an airplane." Other customers include 10 large pharmaceutical companies as well as startups. MMS occupies the entire second floor of a building that's designed to meet the unique workplace needs of millennials.
How did MMS grow into a global enterprise?
After I met the guy on the airplane, I started working at home. Eventually I got an office in this building and brought on some people I knew from companies I had worked for in the past that had lost their jobs, and I registered myself as a company. I would be remiss in taking credit for the whole thing. It was a village that came together.
How does MMS help get drugs approved?
We collect the results from drug trials, make sure that they're accurate, do all of the programming and statistics, and all of the writing, and then do the submissions to the agency. Our niche is making the application, which includes making the argument for approval.
Over the past five years, MMS has been involved with 50 drug applications. How many were approved?
Almost all of them have been approved except those that are still in review. It's all in how you present the data, and how transparent you are. One thing we do at MMS very well is we lay it out beautifully for
the reviewers.
Is that a testament to your skill or the drugs' effectiveness?
It's a combination of both. We don't have an application if the studies aren't positive, but every positive study that's submitted doesn't get approved. Yes, the drugs have value, but it's how you position that and make the risk-benefit argument. Every drug works. It's a balance of risk-benefit.
How long is a typical approval process these days?
If you have a routine submission, it can take anywhere from a year and a half to two years. Including research, trials, and the approval, it's eight to 10 years to get a drug to market.
What's the key to shortening that process?
To collect the right data and then make sure your trials are designed appropriately. Another way is to work on the data as the trial is being run so that as soon as your patient is out of the study, you can put together the application really quickly. You need to trust the regulatory agency to trust your data. A lot of applications have smoke and mirrors, and the reviewers don't have time to sift through it. That's what delays the process.
Is the process too long, or are we being too careful?
We've always been too careful, and the process is getting longer. We need more and more studies. You see one little side effect and you need another whole study to explain it. The length of the process itself is a product of our society's litigious nature, in terms
of approvals.
Isn't MMS involved with the approval of an opioid alternative?
MMS supported an FDA fast-track designation for a South Korean manufacturer called Vivozon Inc. A fast-track designation considerably shortens the review cycle and may allow them to do fewer trials. Getting it (approved) is the result of the strength of the data, and the strength of the argument we presented. Companies whose drugs get fast-tracked have data that shows the drug is, indeed, groundbreaking. Then you have to show the burden, which this year has been tremendous with the opioid crisis. I really believe that the agency works very well with sponsors to get the best drugs out with the limited resources they have.
Where will we see the most significant advances in the future?
MMS has been supporting rare and orphan approvals for the longest time. These are diseases that occur in fewer than 250,000 people. There's not a lot of incentive for major pharmaceutical companies to pursue them. You don't get the massive fundraising efforts, nor are there a lot of patients to run tests on, yet there is the need. The positioning of the data is even more important with drugs for these diseases, because you can't go out and recruit another 50 patients for a trial. They just aren't there. Our biggest success in that space has been drugs for Duchenne muscular dystrophy and sickle cell disease. That was the first drug approved for sickle cell disease in 20 years. The patient testimonials really brought tears to our eyes. It's amazing how grateful they are for the drug that's available to them now.
---
Jayson Waller
Founder, PowerHome Solar, Troy • Employees: 708 • Revenue: $102 million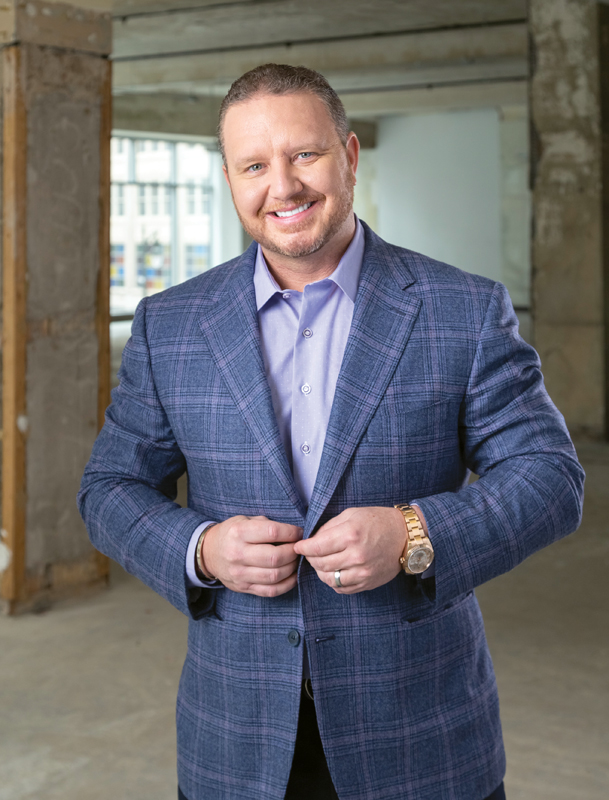 Why he's a Champion of the New Economy
PowerHome Solar, which Jayson Waller founded with a partner in 2015, is one of the fastest-growing American companies specializing in solar energy and roofing services. In its first year, it had 30 employees and sales of $3 million. Last year, more than 600 employees generated $102 million. Waller was a top sales manager for Verizon Wireless and owned his own home security company, ISI Alarms, before becoming co-owner of PowerHome Technologies, which also provided home security. He and his partner branched off to start PowerHome Solar, which designs, finances, sells, installs, maintains, and monitors solar energy systems and panels for residential, commercial, utility, and government applications. "We're in North Carolina, South Carolina, Michigan, Virginia, Pennsylvania, and Ohio," Waller says, "and we started in Indiana on April 1, with an office in Indianapolis." PowerHome Solar has more than 19,000 customers, including NFL teams in here Detroit, Cleveland, Pittsburgh, and North Carolina.
"We hope to partner with the Indianapolis NFL team, too.
"As long as we can continue to put money into peoples' pockets and continue to be a difference-maker, we'll continue to grow,"
he says.
Why did you decide to leave the home security business and go into solar power?
I felt like everyone was getting into the security business, and with the technology the way it is, people can install cameras and do it themselves. Plus, I had a passion for solar. I felt it would be cool to do something that has an impact and makes a difference. It took off. People are really getting behind the idea of owning their own power, rather than being with the monopoly (utility). It felt good. It felt like it was cutting-edge technology. It felt like it was making a difference. It wasn't just selling something; it was really changing things.
How has the home solar power technology evolved over the years?
The technology on the panels has gotten more efficient, and the cost has come down. They're able to (improve) the wiring, and are able to run the conduit and wires through the attic (which lowers overall costs). People are learning more about it. It was popular in the '70s and '80s, and there was a spike, and then it went down. It's come back now. In the meantime, everything's become smaller. Inverters (which convert light captured by panels to usable electricity) aren't as big as they used to be. The panels are about the same size, but they're lighter and they're more efficient.
What percentage of Michigan homes currently have solar power systems?
Michigan is less than 1 percent, and we like that. We like creating the brand and having a lot of growth. I don't feel like we're selling anything; I feel like we're educating people. People think solar costs thousands of dollars, and (they) will have to write a big check, and it's going to take 20 years to (get a) return (on the investment). That's not how it works.
What are the financial benefits of installing a solar power system in the home?
We look at a customer's power bill, the power usage, then we see how many panels we can install. Let's say their bill is $300 per month, on average. Our goal is to get that down as much as possible. We can never take it away completely, (because) you have to be on the grid somewhat. Let's try to decrease that by 70 percent to 90 percent for the year. In Michigan your payment to us could be less than your electric bill, and you're pocketing money right off the bat. That payment stays the same, while a utility bill can increase every year. Once you pay (your investment), the power is free — and you get a tax credit. The panels have a 30-year warranty, they're American-made, and they'll last 50 to 60 years. In reality, you're shifting one payment to another, and that other (for the solar panels) has an end date, at which point you can put money in your pocket. Once people hear that, a light bulb goes off and they say, "Yeah, that's what I want." Power is very expensive in Michigan. It's 40 to 50 percent higher than most of our other markets. That's (why) solar really makes sense.
What are the obstacles to getting everyone to go solar?
Not everyone qualifies. Ideally, we want the panels to face south; that's the best. East and west are good. North is bad. There may not be a good place to mount panels. Every system is completely different, and not all houses are positioned correctly for a solar installation. Maybe they're with a utility company that doesn't allow them to interconnect, or they have a lot of shade, and no sun on the roof. (Historic neighborhoods also may ban the use of solar panels.)
What makes Michigan such a prime market for solar power?
One of the reasons Michigan is our fastest-growing market is that the people stand up for what they believe in. Detroit vs. Everybody is real. People are standing up for themselves against the power companies. That will continue in other states, and it will make a difference. If you can own something that provides for you and your family forever, you (should consider it). You (may want to) own your power rather than rent your power.
What does the future hold for solar power?
We just launched a battery product this year that works like a generator when the power goes out, plus you don't (need to fill a generator) with gas. We also want to be involved in community solar, which is where you build solar power farms and then people who can't have solar at their homes for one reason or another can buy into that power source and have access to renewable energy.
---
Matt Wise
CEO, Fisher Unitech, Pleasant Ridge • Employees: 175 • Revenue: $75 million
Why he's a Champion of the New Economy
Matt Wise has been a key player in the technology sector since his graduation from the University of Iowa, when he joined an internet startup that became Apartments.com. "All my friends thought I was crazy to not go to one of the big accounting firms," recalls Wise, 49. "That turned out to be the best decision ever." He then worked at a series of other digital startups before becoming CEO of Q-interactive in Chicago, which uses mathematical algorithms to predict behavior by combining online and offline data. From Chicago, Wise headed to Michigan, where he ran HelloWorld Inc., an online marketing firm that grew to $70 million from $30 million under his watch. When the company was sold in 2013, Wise took a year off before joining Fisher Unitech, a 3-D printer and software provider. "I didn't know anything about plastics or anything about manufacturing," he says. "What they needed was someone to guide them to the next level. I brought more practical business execution and (ideas on) how to grow and scale the business." In his three years at the company, Wise has boosted sales by 60 percent.
What is 3-D printing's role in the new economy?
We look at 3-D printing as three solutions. No. 1 is rapid prototyping, which has been around for 20 years. No. 2 is manufacturing aids, or those things like fixtures and work aids that help you on the manufacturing line. By putting 3-D printers right in the plant, manufacturers can create things in a day rather than waiting a week or more for something to come back from a machine shop. No. 3 is the nirvana that everyone talks about, which is end manufacturing. That's just beginning. We're seeing it with thermoplastics in aerospace that are safe airlines to use on production planes. In automotive, pieces can now be printed (using) carbon fiber that are lighter and  as strong or stronger than  metal. We are seeing fast adoption in aerospace and automotive, but a nywhere there are complex parts that need to be made in short runs, it's highly economically feasible to 3-D print them. When you get into mass-produced parts, 10,000 or 100,000 of something, it doesn't make sense, yet.
Will 3-D printing ever be economical for mass production?
The price point has to come down and the speed has to go up. Those are the challenges now. The material is expensive, and the process is relatively slow compared to traditional manufacturing. Over the next five years, you're going to see a wave of machines that are 10 or 100 times faster than what we have currently. As we hit … (higher) volumes … prices for materials will come down. Then we'll see a lot more applications for the mass production of parts. Where it gets really exciting is when you can throw customization into the equation, when you can print customized products at the speed and price of mass production.
What markets show the most promise for 3-D printing?
There are printed parts on private jets today and in RVs — places where it doesn't make economic sense to create tooling for complex, short-run parts. The medical field is very intriguing. A scan can be made of a heart or some other organ (that's being) operated on, and it can be printed in advance of the surgery, (so) the surgical team can plan ahead on how they want to proceed. And there's a future for custom prosthetics.
What are the challenges to selling cutting-edge technology?
The challenge is to get people who have been doing something one way for a long time, and doing it well, to change their behavior. Change is difficult in manufacturing because of how sophisticated it is. You have to be right every time in manufacturing. You can't just be close. It's got to work every time. Whether it's software for design or 3-D printing, you've got to convince customers that it's going to work every time in real life. We know it works because we install these 3-D printers.
What does the future hold for 3-D printing?
In 3-D printing, what used to take a day or a week to print will take hours or minutes. It won't be this ribbed, hard piece. It'll feel close to what the end part will feel like. You'll no longer have warehouses for spare parts, you'll just have a shop down the street with access to digital files of parts. They'll print the part and bring it to your house in a matter of hours, and you have a new part for your refrigerator. You won't have to design, manufacture, and store replacement parts that are waiting to be ordered and delivered. That whole logistical inefficiency disappears.
What's on the horizon for 3-D design?
The software is even more exciting. For a long time, design was a singular event. Now we have software that will design a part for you if you put in the parameters and the stresses it must withstand. Then you can put a sensor on that device, put it out in the field, and get real-time feedback to affect the design. You can envision a day when a product can sense when it's about to fail and give the user advanced warning, (and then) send a message to a repair shop to print a new part that has an improved design to further increase the life of the part. That's the future of manufacturing. To accomplish that, you need a sea change in all the software that exists at manufacturers, how it connects to end products, and how people interact with that. That's exactly what we're doing here, showing clients all the tools available to improve the process.
Facebook Comments