---
Madison Electric Co.
Located in: Warren // Founded: 1914 // Employees: 410 // Revenue: $271M (2015)
Madison Electric Co. is actually a misnomer. Although it's a fifth-generation, family-owned business now based in Warren, there are no Madisons working there.
Brett Schneider, president, is a great-grandson of company co-founder Morris Blumberg. Morris founded Morris Blumberg Co. in 1914 and his brother, Max, joined the business two years later. They changed the firm's identity to the current Madison Electric Co. in 1931, borrowing the name from their telephone exchange.
Telephone exchanges were distinctive names that were used in the United States until the 1960s, when the phone industry switched to an all-numeric system. Back then, the first two letters of an exchange corresponded on a phone's push buttons to the first two numerals in a phone number, such as MA5-1560, aka 625-1560, which was Madison Electric's actual dialup in Detroit.
While Morris and Max started out selling light bulbs, fuses, wire, and conduit, over the last century the company has expanded its catalog to include heating, ventilation, and air-conditioning equipment, and plumbing, electronic, and industrial automation supplies.
Schneider's daughter Caidey Schneider, a fifth-generation family employee, sells plumbing supplies to residential and commercial customers at Wittock Supply Kitchen and Bath in Shelby Township, which is part of Madison's sister company, Standard Electric.
The latter business, headquartered in Saginaw, includes the plumbing supply side of the enterprise as well as Graham Motor and Generator Service in Traverse City. The Blumberg brothers founded Standard in 1929, along with one of their salesmen.
One unique aspect about the ownership structure of Madison and Standard is that everyone is a descendant of Morris and Max, or have married into the family.
Brett Schneider says everyone in the family has the opportunity to work for the company, but they have to start in the warehouse or an equivalent entry-level position. He began his career in the warehouse, as did his three brothers, while Caidey started assisting in the Wittock showroom, doing filing and helping put up displays.
The generations at Madison have always overlapped, like the tape wrapped around an electrical assembly. To the company's benefit, the camaraderie has created an in-house mentoring and support system: Keith Schneider works down the hall from uncles Ben Rosenthal, who is CFO, and Ric Sonenklar, CIO. A cousin, Scott Leemaster, heads the company's nearby electronics assembly division, located a little more than five miles away in Fraser. "It's great for me not to have to worry about getting their tutelage, their mentorship," Brett says.
During the Great Depression, the company moved to New Center because the business was expanding and its old location was too small. Even during the Great Recession in 2008, Madison continued to expand. "Because we're not saddled with a lot of debt, when we see opportunities, we can take advantage of them," Keith says.
The last time the company moved, in 1992, was to its current location in Warren, near GM's Technical Center. The location is symbolic in that most of Madison's business comes from the auto industry, and practical because the firm does work at the Tech Center. "At least 80 percent of what we do is tied to the automotive industry," Brett says.
---
Christman Co.
Located in: Lansing // Founded: 1863 // Employees: 350 // Revenue: $700M
When Christman Co., a large construction management firm in Lansing that traces its roots to 1863, renovated and occupied an office floor in the Fisher Building two years ago for its Detroit headquarters, the move was a homecoming of sorts. In 1928, the company oversaw the construction of the Art Deco skyscraper at W. Grand Boulevard and Second Avenue that includes the 2,100-seat Fisher Theatre.
The company didn't move to just any floor, either — it took over the space occupied by the original owners of the building. The seven Fisher brothers, founders of Fisher Body Co., which in 1914 was the world's largest manufacturer of auto bodies, selected the site because of its location across the street from the headquarters of their largest client, General Motors.
Those were busy times for the Christman Co., which began working in Detroit in 1911. In the early years, it won the contract to build the Masonic Temple at Second Avenue and Temple Street, and it restored the Rose and Robert Skillman branch of the Detroit Public Library, both in Detroit. The company also built the original studio at the Cranbrook Academy of Art in Bloomfield Hills, among many other projects. Most recently, it managed the construction of Children's Hospital of Michigan's Troy Specialty Center, which opened last year at I-75 and Big Beaver Road.
With 10 offices and experience in 38 states, the company's national projects include the restoration and renovation of Virginia's Capitol building, designed by Thomas Jefferson, and the construction of the five-star Grand Bohemian Hotel and Manor in Asheville, N.C.
The company made a name for itself in the early 20th century when it made the switch to factory construction, and began using reinforced concrete to replace millwork. "That was the original growth engine of the company," says Steve Roznowski, president and CEO of Christman Co. "At the dawn of the Industrial Age, they would frame those buildings out of wood. The assembly line method of manufacturing (required large, open spans), as opposed to people huddling around a central work space."
The company's technical innovations are only part of the story. Throughout its history, the firm has maintained a unique approach to how it does business.
In 1918, Christman's leaders helped found the Associated General Contractors of America, a trade association that today represents 26,000 member firms and has local offices in Redford Township and Lansing (the national headquarters is in Arlington, Va.). The association adopted uniform building procedures that were the forerunner of today's government building codes.
Throughout the 1930s, Public Works Administration contracts issued by the federal government helped the company stay afloat. Unfortunately, its South Bend, Ind., location — where Heinrich G. Christman founded the company — declared bankruptcy due to the Great Depression. "I think the Great Depression was a much tougher thing for the company to go through than the recent recession," Roznowski says.
The company also pioneered a construction management method in 1973 that creates a partnership among a project's owner, architect, and contractor. Creating the partnership got the contractor involved in the architect's design from the start, saving time and money.
Roznowski believes another key to the company's long-term success was its decision to become management-owned in 1940. "If I had to pick one thing that's part of our longevity and responsible for (the fact that we have continued) to grow and thrive, it's that," he says. "When you're going through hard times and you own the company, I think that's been a competitive advantage for us. It gives us an entrepreneurial mindset in our culture and helps us attract people who want to be more than an employee."
---
AC Delco
Located in: Flint // Founded: 1916 // Employees: 230 // Revenue: n/a
General Motors' co-founder William C. "Billy" Durant was a serial vertical integrator, meaning he preferred to control the source materials and parts needed to make a product — like the way he assembled a group of automotive brands into a company called United Motors Corp. to make parts for GM cars.
Durant, who had previously founded Durant-Dort Carriage Co. in the late 1800s, owned not only the horse-drawn vehicle's manufacturing plant in Flint, but also all of the resources needed to make the buggies: timber, lumber mills, a wheel company, Flint Axle Works, and Flint Varnish Works.
He used a similar strategy for United Motors, which acquired dozens of smaller parts manufacturers, including Dayton Engineering Laboratories Co., aka Delco, in the early 1900s. Durant also acquired AC Spark Plug in 1908, to help complete a roster of manufacturers that could make parts for his new GM automobiles, but it wasn't until the 1970s that the two brands — Delco and AC — were joined in the now-familiar AC Delco name.
"A lot of our long history ties directly to the OEM parts brand for GM," says Heather Waszczenko, national brand manager for AC Delco. "It's really powerful."
Before the companies merged, the electrical equipment manufacturers set their sights beyond the automotive industry; both were significant players in 20th century aviation history.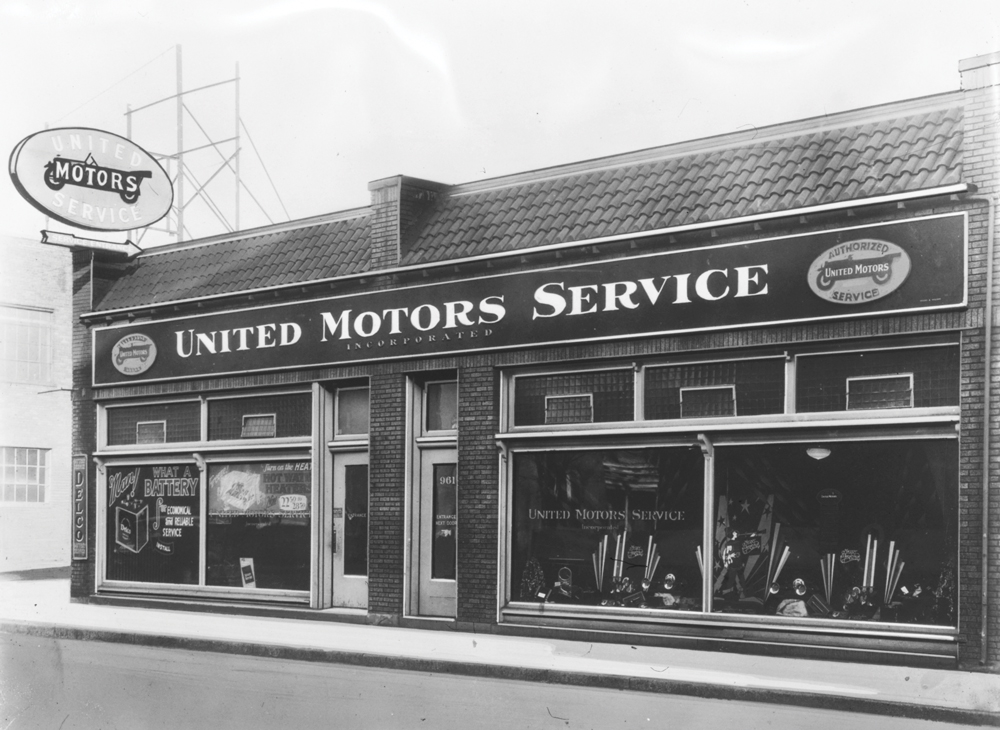 AC Spark Plugs helped power the Spirit of St. Louis, the plane Charles Lindbergh flew in the world's first solo, nonstop trans-Atlantic flight in 1927. Those plugs also fired up Amelia Earhart's solo flight in 1932, which made her the first woman to fly alone across the Atlantic. During World War II, United Motors and AC provided parts for the Allied operations, while Delco batteries were used in the planes of the U.S. Navy.
The twin companies contributed to aerospace history, as well. AC and Delco Electronics teams helped NASA develop the inertial guidance systems for the Apollo program, which landed the first astronauts on the moon. In addition, the companies helped develop components for the lunar rover used on the moon by the Apollo 15 astronauts.
Today, AC Delco parts aren't only the original parts for GM vehicles; they also help power off-road, marine, and industrial equipment. The company catalog of more than 90,000 parts across 37 product lines includes batteries, spark plugs, oil filters, alternators, radiators, and heating and cooling components.
In addition, the GM division has service centers and provides training for service technicians.
AC Delco was well on its way to the 100-year mark in 2008 when the Great Recession let the air out of the tires of the American auto industry, and General Motors put a for-sale sign on its electrical
parts supplier. "The leadership evaluated all of the brands for profitability," Waszczenko says, "(but) they ultimately took (AC Delco) off the selling block."
As a result, the Flint-based company was still part of GM as it hit the century threshold last year. Waszczenko says it's likely to remain part of the auto giant for a while longer, as she isn't aware that any offers were made for the company when it was for sale.
---
Buhl Family of Companies
Located in: Detroit // Founded: 1833 // Employees: n/a // Revenue: n/a
Buhl is a family name that's been prominent in Detroit business since 1833, and today it's still a high-profile member of the community. Starting with a furrier company that sold gentlemen's accessories, the family has also been involved in banking, railroads, hardware, industrial, and aviation companies.
Today's Buhl-owned businesses include real estate, sports marketing, and a members-only motorsports enthusiast club of sorts in Detroit's Corktown district that's due to open this year.
The family's business story centers on two pairs of brothers: Frederick and Christian, whose parents came to America from Saxony, Germany; and Christian's great-great-grandsons, Tom and Robbie.
Frederick and Christian established themselves in the fur trade and several other ventures, including politics. Both were Detroit mayors — Frederick in 1848, and Christian in 1860 and 1861.
Today, Tom Buhl is first vice president for investments at Legacy Wealth Management Group of Wells Fargo Advisors in Grosse Pointe. He's in business there with Kenneth A. Fruehauf, whose family created the semitrailer in Detroit in 1918.
Meanwhile, Robbie Buhl, who was a professional motorsports driver and a veteran of 10 competitive IndyCar seasons until his retirement from professional driving in 2004, co-owns Dreyer and Reinbold Racing. He's also been an on-air racing analyst for ESPN and other television networks.
In addition to pursuing their separate interests, the brothers work together. They and other family members are involved in Buhl Land Co., a family-owned real estate concern that's still buying and selling property, and Buhl Sport Detroit, a competitive racing team and motorsports marketing group they established in late 2015. Their first venture as Buhl Sport Detroit is the Red Bull Global Rallycross race team.
The pair is also behind Race4Detroit, described in marketing materials as "an elite team of Detroiters driving the spirit of Detroit through motorsports." Members of Race4Detroit have access to unique entertainment packages and events held, at least in part, at The Factory in Corktown, which is scheduled to open in May for private events. Located on Michigan Avenue near Trumbull Street, (by the former Tiger Stadium site), it's a repurposed building that once housed several clothing manufacturers. The location clearly means a lot to the Buhl brothers.
"One of the big drivers for us starting The Factory downtown is really to connect with some of the things the Buhl family did in Detroit," Tom says. "Robbie and I are proud to be involved in downtown Detroit; it's something we've wanted to do for a very long time."
Tom and Robbie's father, Lawrence Buhl Jr., used to bring his sons to work with him in the 26-story Buhl Building in downtown Detroit. The elder Buhl sold the circa 1925 building in the late 1970s, because "Detroit was no longer the economic engine it once was," Tom says.
The family certainly has capitalized on the opportunity that Frederick and Christian's parents sought when they came to America.
Christian's son, Theodore, was the money behind the Parke-Davis pharmaceutical company, now a subsidiary of Pfizer. Throughout the years, other businesses that bore their family name include Buhl Sons Co., a hardware wholesale firm; Buhl Malleable, a tool-and-die shop; Buhl Stamping; Buhl Iron Works; and Buhl Aircraft.
Today, the real estate, wealth management, and sports and events marketing businesses continue to make their mark on Detroit. And it won't be too long — just another 16 years — before the Buhl family business phenomenon turns 200.
---
Baker College
Located in: Flint // Founded: 1911 // Employees: 2,997 // Revenue: $167M (2015)
There's no mistaking why students attend Baker College, Michigan's largest private, not-for-profit university: They go there to prepare for a career.
It's in the mission statement. It's in the FAQs. It's in the Lifetime Employment Services department, which offers job postings and resume tips. It's even in the recorded message callers hear when they're placed on hold. "Our mission to provide training for a career hasn't changed from the onset of the opening of the college," says Denise Bannan, provost of Baker College.
Baker's approximately 20,000 students can choose from 120 different programs, and can access them from nine campuses, numerous extension sites, and via the internet. That last option is growing rapidly: In fall 2016, more than 7,000 students were taking advantage of online classes.
As it stands, about half of the student body is enrolled in health sciences programs, training for direct patient care careers as nurses, surgical technicians, and medical assistants. In 2012, Baker won accreditation for offering a bachelor's degree in nursing; the institution added a master's degree in nursing in 2015.
"We probably have students in rotation at every hospital in Michigan," Bannan says.
Other major concentrations of study include business, which accounts for up to 25 percent of the college's students, along with IT (10 percent) and education (10 percent). There's also culinary arts, engineering, and public safety.
The college also offers certificate programs and associate degrees for manufacturing positions like computer-aided design, welding, CNC machinist, mechanical technology, and mechatronics. "For students with certain skill sets, employers are hiring them before they complete their training," says Bart Daig, president and CEO of Baker College.
Daig, who became president in 2016 after more than 25 years with Baker, is leading the system through an organization-wide change. To wit, the college is transforming from a quarter-based year to trimesters, which should help with the transfer process for students coming from community colleges.
Daig's promotion from COO to president was part of a complete turnover in the system's longtime leadership team. His predecessor, F. James Cummins, had worked at Baker 30 years.
One of Baker's new leaders is Cleamon Moorer Jr., dean of the College of Business. He joined Baker as systemwide dean in early 2016 after serving as dean of Madonna University's business school in Livonia. Prior to Moorer's appointment, each Baker campus had its own business dean.
Moorer says he joined Baker because he wanted to work in a bigger system that's growing. Within the business school, he's working on developing partnerships with colleges and universities to offer students transferring to Baker accelerated programs; increasing the number of international students enrolled in online courses; and strengthening or growing other programs, including accounting, finance, and supply chain management.
The kind of growth Moorer talks about has been part of Baker's history almost since the school's beginning in 1911, when it was known as Baker Business University. It became Baker College in 1965, when it merged with Muskegon College.
Baker College offered its first graduate degree program in 1994, and online classes were introduced in 1996. In 2002, it gained preliminary approval to offer training for elementary and secondary school teachers. In 2013, it acquired St. Francis School of Law, an online law school.
"We've come a long way since our founding, and if you look at our collective size, we're one of the largest colleges in Michigan," Moorer says. "That's a winning proposition."
---
A.J. Desmond and Sons Funeral Directors
Located in: Troy // Founded: 1917 // Employees: 41 // Revenue: $7M
It may not be surprising that funeral director Terry Desmond, president of A.J. Desmond and Sons Funeral Directors in Troy, has already planned his own final sendoff.
Desmond has seen customs and trends come and go, and has been privy to many creative and unique ideas to make a funeral special and memorable. He knows he could make specific directives and even very demanding requests about his passing, and rest assured that three of his six children, along with his brother and sister-in-law — all of whom are in the family-owned business — would extend the same care to him that they provide to the more than 1,000 families they serve each year.
He's not shy about sharing the plan he's recorded for his family to execute: "Basically, it says, 'You'll know what to do,' " he smiles.
Similar certainty about what to do for families when their deceased loved one hasn't pre-planned his or her funeral — about 80 percent don't — isn't as much of a given as it used to be.
"When I started, pretty much everything was by formula," Desmond says, explaining that the deceased's religion and ethnicity pretty much dictated what would be included. "The better you followed the formula, the more sure you would be."
Today, he says, "every family has their own ideas."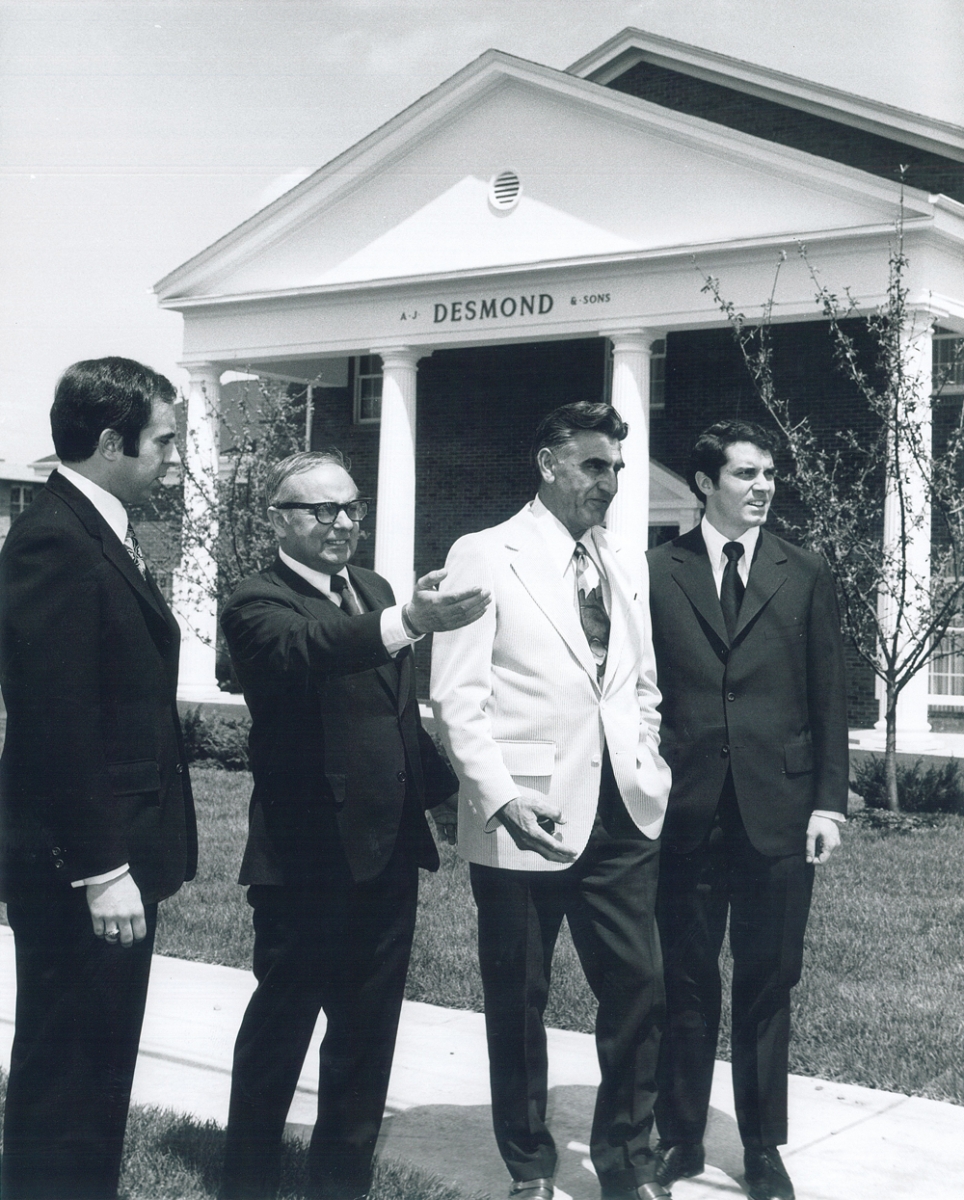 Another big change has been the length of time families choose to receive visitors. A.J. Desmond and Sons, which operates two funeral homes in Troy and one in Royal Oak, says visitations used to average two or three days, but now they typically last either a half-day or one full day. "(Families) know it's a very emotional time, but until you've gone through it, you don't realize the emotional benefits" of receiving condolences during a wake, he says.
Kevin Desmond, Terry's son, points to two other growing trends: having a closed casket and having the deceased cremated, which funeral directors say happens about half the time with their clients.
The Desmonds' experience with cremation mirrors statistics from the Cremation Association of North America. Almost half of Americans, or 46.7 percent, chose cremation over burial in 2014, according to the association. This compares with one in four people, or 24.8 percent, who opted for cremation in 1999. The group attributes cremation's rise in popularity to the growing number of Americans who are unaffiliated with organized religion.
The shift has had a profound effect on the funeral business, since there's no burial or cemetery involved. "It has changed the focus on our business from merchandise to services," Terry says. "Normally, people would buy a casket and everything else was included."
Changes in burial customs are hardly unique to the present age. The shift in end-of-life preferences started well before Terry entered the business with his father, Albert J. Desmond, in 1964; when the elder Desmond's partner, Angus J. McInnes, founded Angus J. McInnes Funeral Home in Highland Park in 1917, wakes were held in a family's home.
"As the business changes, we change," Terry says.
Facebook Comments