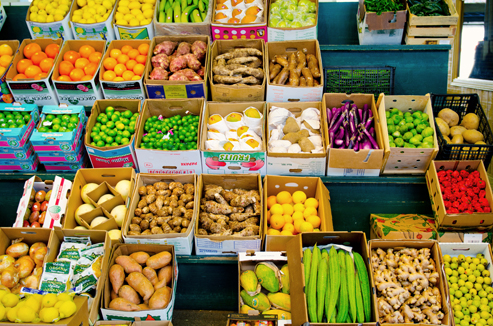 Slipping sideways through rubber-strip curtains into the historic Detroit Produce Terminal, a world-renowned repository of fruits, vegetables, spices, and edible flowers, is an effervescent adventure for the rare visitor. Security procedures, to say the least, preclude pedestrian foot traffic.
Safety is another major concern. Entering the Detroit Produce Terminal is akin to crossing a fault line. Warning beeps blast as forklifts, loaded with pallets of produce or skids of vegetables, narrowly miss each other while they maneuver through the twin, cavernous brick buildings.
Much of the produce arriving by rail or semi truck in the pre-dawn hours finds its way onto area restaurant and dinner tables by evening — from The Lark in West Bloomfield Township to Streetside Seafood in Birmingham to the Grand Hotel on Mackinac Island. The haul might include sweet, seedless watermelons on a snowy February day, or crisp, juicy apples in the stifling heat of August.
With rare exception, every vegetable or piece of fruit bought from an independent grocer or gourmet market in southeast Michigan or southern Ontario since 1929 has passed through the stalls in the terminal's historic buildings, which are nearly the size of Ford Field. But as quality, consumer palates, and transportation have evolved and improved, the terminal's business plan has had to keep pace. The phenomenon is so profound that some longtime merchants say they are, at times, overwhelmed by the multitude of requests — spurred in large part by a growing fascination with culinary masterpieces created within the confines of 30-minute cable TV shows.
The Cable Factor
Prices and produce offerings have traditionally been impacted by fluctuations in economic conditions, fuel costs, and weather patterns. But in recent years, there's been another shift — more-educated consumers are increasingly dictating a greater percentage of the supply. Chalk some of that up to the popularity of a number of TV food shows.
"Take lemongrass. Who ever heard of lemongrass?" asks Don Geha, vice president of Coosemans Worldwide in Detroit. "All of a sudden we get a big order for lemongrass because some cook on the Food Network is saying, 'This is what you do with it.' And the next thing you know, we got 10 guys coming in saying, 'Do you have lemongrass?' " Geha, who has worked for a number of distributors at the terminal since the 1970s, says that although Coosemans now sells a wide array of produce, it is still known for specialty items such as herbs, yucca, starfruit, and edible orchids.
Fred Misuraca, owner of Royal Banana Co. in Detroit, laughs when pointing out the Hawaiian sweet potato, which is actually purple inside. Celebrity chefs have influenced not just what Misuraca sells, but the varieties, as well. "We sell a lot of ginger, and I use it all the time. But now people say they want a ginger from Peru, or from China, or from Hawaii — yes, their specifics are that defined. Some of it's more stringy, some of it's more tender, some is more useful for steaming. We never saw this when I was growing up. The only ginger I used to see was ginger ale."
Geha also recalls a time when corn only came in yellow. "Then, all of the sudden, someone had bi-color corn, and now we seldom sell yellow corn," he says, adding that the same thing happened when seedless watermelon came on the market 10 years ago. "Now I'll sell five skids of seedless to one skid of seeded."
In cooler months, Geha says he'll sell two truckloads of watermelons per week (80,000 pounds). But in the heat of the summer, that's jacked up to 20 loads per week. "[People in] this town love their watermelon," he says. While watermelon is a summer tradition, he gives some of the credit to the benefit of the melon's healthy lycopene content and a growing trend toward personal wellness.
"There are a lot of people going organic now," Geha continues. "But organics don't have the shelf life because they don't have the chemicals that keep the stuff fresh. That's what a lot of people don't understand."
Phil Riggio, owner of Aunt Mid's in Detroit, says the company started an organic line with 60 to 70 items. Soon they found there were definite duds — such as organic golden beets and organic pineapples — as well as more promising items like mini carrots, celery hearts, broccoli, daikon, and herbs. "Organics used to be crazy costly," he says. Today, thanks to more practice and better processes, organic farmers don't lose as much of their crop to insects, mold, and yeast. "It still costs more, but it's not the crazy cost," Riggio says.
Supply Meets Demand
Built by Green Real Estate Co. in 1929, a joint subsidiary of the Pennsylvania, Pere Marquette, and Wabash railroad concerns, the Detroit Produce Terminal and its perishable contents have long been the envy of the world, says Joel Stone, a Detroit Historical Society curator. The terminal has benefited greatly from Detroit's manufacturing industry, which built up a vast distribution network starting in the early 1900s and is still considered one of the most efficient in the world.
As roads and rail lines were added in the region, giant grocery store chains like Chatham, Great Scott!, and Wrigley, which once bought directly from the terminal, created their own distribution centers. In some cases, they sourced their own farms. However, even Farmer Jack, which operated a large distribution facility along Interstate 96, west of the Southfield Freeway, continued to tap the terminal's offerings right up until its 2007 demise.
In 1983, Herb Abarash, a third-generation owner of Andrew Bros. of Detroit, along with Chris Billmeyer, president and CEO of Ben B. Schwartz & Sons Inc., also of Detroit, bought the terminal (the companies had been based at the complex since its opening). Buying the terminal "ensured we'd have control of our destiny," says Jeff Abarash, the fourth-generation owner and president of Andrew Bros. "Herb and Chris were not comfortable at that point in having all of our futures in the hands of the railroads."
The terminal became a co-op in 1990, with more than a dozen companies sharing ownership, adds Jeff Abarash, the elected market association president. "We utilize a third-party property manager so we can all focus on buying and selling fruits and vegetables," he says.
Decades ago, 20 warehouse distributors, called "houses," worked from the terminal, each specializing in a single staple like lettuce or tomatoes. Today, there are 10 houses that employ about 100-200 people and collectively operate as a co-op, where "everybody's got everything," says George Ricker, a longtime salesman at Serra Brothers Inc. in Detroit, once the only place to go for tropical fruits, apples, and pears. "Now buyers come in and another house might be selling the same potatoes," he says. "It's very competitive." There are a few exceptions, such as Rocky Produce Co.'s exclusive agreement with Driscoll's berries, or Aunt Mid's restrictive deal with the Andy Boy brand.
Most of the houses also sell citrus, a change that occurred in 1991. Until then, all citrus was bid on at auctions held at the terminal. These days, wholesalers negotiate for citrus products, as well as other merchandise, with growers and shippers before the goods arrive at the terminal at Fort and Green streets. The auction area now sits vacant.
Empty, too, are the shippers' semi trailers when they leave the produce terminal, since it is considered a "dead stop" — although some will haul meat from processing facilities in Eastern Market on their return trip.
Seasons of Change
Cost, shelf life, and storage requirements are things Chef Chris Misiak emphasizes as part of a series of student field trips to the terminal that he hosts as part of the culinary curriculum at Schoolcraft College in Livonia. "The students are seeing the product, how it's shipped, and where it's shipped from," he explains.
"Most students are surprised to learn that 80 percent of the product is from Mexico. [Being knowledgeable about] the expense of shipping and seasonality are critical components to becoming a chef."
Misiak adds that while most items are available year-round, he cautions students about the impact of supply and demand principles. Most items will obviously cost more when they're not in season, and could possess as little as one-tenth the quality, "so why spend all that money and make an inferior product?"
Other changes abound. There was a time that "people looked forward to the changing of the seasons," says Bill Bastian, a longtime terminal merchant and assistant general manager at LaGrasso Bros. Produce, a restaurant and food industry supplier in Detroit. "There was a big buildup of people asking, 'When are the peaches coming? When are the cherries coming?' And that's the thing now — people don't anticipate the change of the seasons anymore because there is no change."
He credits the improved growing practices in Central and South America, which offer growing seasons opposite those here, with increased availability. The rising sophistication of air-freight services has played an important role in providing "off-season" produce year-round, as well.
But the tide may be changing. Dominic Russo, a buyer at Rocky's Produce in Detroit's Eastern Market, says local seasons and the recent "buy local" mantra have started to change distribution patterns. "There have always been opportunities for us to sell local," says Russo, who followed his father and grandfather into the produce business. In the last two years, as the "buy local" trend has taken hold, he's been buying — and reselling — more peaches, apples, watermelons, cantaloupes, squash, onions, and blueberries from local sources (Michigan leads the nation in blueberry production).
Easy and Ready Rules
Customer convenience, spurred by ever-busier professional and recreational schedules, has impacted produce production, distribution, and sales like never before. "That's why you don't see loads and loads of lettuce going by anymore. Now it's 10 skids of spring mix," Geha, of Coosemans, notes. "Everybody is buying pre-packaged stuff. It's much easier … you can just grab a handful and put it on a plate."
The change has been a boon for Riggio, who, with his brother, Dominic, left his family-run North Star Produce to buy Aunt Mid's processing plant in 1984. At the time, the line was limited to spinach, cole slaw, onions, and Brussels sprouts, which is one-tenth of what the company offers today.
The convenience factor has "evolved as consumers started wanting more, and making more demands," Riggio says. "There are two-family incomes for a lot of households, and [today] they don't have a lot of time to sit down and prepare a full-fledged meal."
The trend toward developing more convenient, ready-to-use packaged foods first emerged in the 1980s, as more women entered the workforce. Dole, Fresh Express, and other brands began offering four or five different prepared salads in bags. "And of course, today, if you go to a supermarket, you might see 20 different varieties with national labels," Riggio says. Apart from the salad segment, Aunt Mid's offers more than 100 items that are packaged for convenience, all of which are produced at a nearly 100,000-square-foot processing plant. What's more, sales have evolved from grocery stores to restaurants, schools, hospitals, prisons, and institutions.
Meanwhile, Royal Banana's Misuraca is the only one selling bananas at the expansive terminal. "Everyone else went belly-up," he laments. "It's not really good to not have competitors, [because they would] help me out sometimes when I ran out."
Looking at the positives of his business, Misuraca says bananas enjoy the highest year-round demand of any fruit in the country. An interesting note to the banana's popularity lies in the fact that sales are confined primarily to families, as restaurant use for the yellow fruit is scant.
"They are still one of the cheapest fruits in produce markets, yet they probably [travel] the farthest," he notes. Most often, bananas arrive by ship to an American port, where they undergo inspection before being cleared by the U.S. Department of Agriculture.
As a result, green bananas arrive at the terminal loading dock several days after being picked in Ecuador, Costa Rica, Panama, or Columbia. Unlike most items that are moved in and out of the terminal in one day, or stored overnight in temperature-controlled rooms, bananas have a four-day cycle. They must spend 48 hours sealed in a pressurized, 60-degree room, where the fruit is exposed to ethylene gas so it will ripen evenly.
Misuraca, a third-generation owner of Royal Banana, operates from several 10-by-40-foot rooms in the terminal. Each room holds 960 cases. Until the late 1960s, bananas were shipped on stalks, hung on hooks in the banana rooms for ripening, and then cut apart and placed on shredded paper in boxes.
"We had to use the crates with metal handles so we could sit them on top of each other and not crush the bananas. It was a lot of labor," Misuraca recalls. Still, he says with a hint of pride, bananas enjoy a peculiar notoriety. "You can eat a banana from the day you are born until the day you die," he says, "because you don't need teeth." db
Facebook Comments