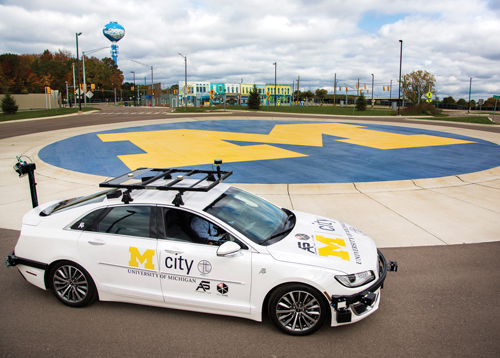 Major automakers, suppliers, universities, and Michigan itself are investing billions of dollars in vehicles that drive themselves, talk to each other, operate on electricity, and can be deployed in sophisticated ride- and car-sharing applications.
The first three endeavors support the fourth — a transportation system that relies less on personal vehicle ownership and more on the safe, reliable movement of people and goods from point A to point B, with the added benefit of a significant reduction in annual traffic deaths caused by human error.
To some critics, southeast Michigan's century of engineering and manufacturing complex vehicles by the millions brands them "Rust Belt has-beens." But forget the labels and take note of the reality. Michigan is leading the way as tech-savvy leaders in the automated driving race.
While no one discounts the 3-million-mile head start that Google spinoff Waymo has in autonomous car testing, General Motors Co. and Ford Motor Co. topped a recent ranking by Navigant Research of 18 companies pursuing automated driving.
"What we have here in Michigan is sort of the brain of the world's industry," says David Cole, chairman emeritus of the Center for Automotive Research in Ann Arbor. "Just look at the human body. The brain really runs the show. The body is the mechanical system. The brain is the game."
Michigan ranks first in the nation with close to 50 connected and automated vehicle projects, and first with 2,583 mobility-related patents covering data processing, vehicle, navigation, relative location, and more, according to a new MICHauto compilation of industry statistics. The Detroit Regional Chamber, which launched MICHauto to promote, grow, and draw automotive and mobility companies and organizations here, says the state is home to more than 2,200 automotive facilities (R&D, design, engineering, and testing).
"We've gotten to the point where we kind of worship technology without understanding that technology is only of value when it's embedded into something," says Cole, a manufacturing engineer by training. "You look at a car today and the electronics are an important part — but without the car, the electronics are meaningless."
Cole believes Silicon Valley is reaching the point of becoming a commodity, as the coolness of each new product quickly fades compared with its predecessor. By contrast, car companies and suppliers that turn out millions of vehicles and earn billions of dollars annually are trying to demonstrate they can weather the next downturn in a cyclical industry.
In other words, they need each other.
"Mobility and transportation are very complex products," says Sam Abuelsamid, a senior analyst with Navigant Research and an author of the Automated Driving Leaderboard study published in mid-2017. "That, in part, is a rationale for vehicles being the way they are. There's some degree of stagnation because you get stuck in your ways. The advantage that places like Silicon Valley bring is to get some fresh thinking out there, and that can lead to some real innovation."
In developing the future of transportation, automakers and suppliers are filling their knowledge gaps by acquiring startups and investing in promising, if little-known, companies. GM invested in the business accelerator 500 Startups in Mountain View, Calif., hoping to discover the next big thing while choosing seed-stage companies to mentor. Ford financially backs the Techstars Mobility business accelerator in Detroit, and operates a 25,000-square-foot R&D center at the Stanford Research Park in Palo Alto, Calif.
In turn, GM, Ford, FCA US, other OEMs, and a significant number of automotive suppliers operate technical centers, testing labs, and proving grounds in the region where they can test the latest autonomous developments before introducing the technology to the marketplace. GM's Cadillac division, for example, recently launched its Super Cruise hands-free driving system for highways (available on the 2018 Cadillac CT6).
All of this hasn't been lost on Wall Street, which for years has looked at the auto industry as an unwanted stepchild. Consider Deutsche Bank sent GM's long-stagnant stock price surging in late September when it shared the company's confidence in having unmanned "Level 4 high automation" vehicles in real applications within "quarters rather than years." (The Society of Automotive Engineers categorizes automation from Level 0, or no automation, to Level 5, or full automation.)
GM and Ford also bet big in acquiring software startups to accelerate their autonomous efforts. GM in 2016 bought Cruise Automation for $581 million. Last February, Ford committed to investing up to $1 billion over five years in Pittsburgh-based artificial intelligence startup Argo AI. Ford also invested $75 million in LIDAR maker Velodyne in 2016, while last October General Motors bought Strobe Inc., pairing its engineers with Cruise Automation to speed the development of high-resolution images that provide more accurate views of the world than cameras or radar alone.
GM's roots in autonomous vehicles date to experiments in the 1950s — captured on long-form video and chuckle-worthy for their dated portrayals of social mores. Its "aha moment" came a half century later. In collaboration with Pittsburgh-based Carnegie Mellon University, in 2007 GM's fully autonomous BOSS vehicle won the Defense Advanced Research Projects Agency (DARPA) Urban Challenge, navigating a 60-mile course without a human at the wheel. Two leaders of the program, Chris Urmson and Brian Salesky, went on to head up Google's automated car program. Urmson left in 2016 to start Aurora, and Salesky formed Argo AI, now in Ford's control.
The race intensified In September when GM and Cruise Automation revealed what they described as the world's first mass-production automated car, based on a Chevrolet Bolt EV. It was their third iteration of an automated Bolt EV in 14 months, and the first with everything on board to drive without a human operator once the software and regulatory environment is ready.
Looking ahead to the need to validate its robo-cars, Ford recently committed $5 million to become a founding member — along with AT&T, Toyota, Hyundai R&D, and Visteon Corp. — of the not-for-profit American Center for Mobility, a 500-acre test facility under construction in Ypsilanti Township on the grounds of the former Willow Run bomber plant, better known as the World War II-era Arsenal of Democracy.
"Lots of other places build cars and design cars, but nobody has the concentration of activity that we have," says John Maddox, president and CEO of the American Center for Mobility. "This also applies to research, production, testing, and development, as well as in-service and field updates, all of which are going to be crucial for the full deployment of automated and connected vehicles."
Like OEM customers, suppliers are going deep in the autonomous and connected space.
"Michigan is the hub of automotive, even when designing for Asia and Japan," says Pat Bassett, vice president of Denso International America North America Research and Engineering Center, which employs 750 engineers in Southfield. The parent company is based in Japan.
Operating a large campus near I-275 in Plymouth Township, German-based Robert Bosch GmbH has 2,500 engineers who work on autonomous vehicle systems. Software and hardware engineers there developed a multi-camera system that provides precise views of a vehicle's surroundings, making parking safer and easier. Autonomous cars, after all, will need to learn to park.
"The community that already exists with development partners and customers is what makes Michigan special," says Kay Stepper, Bosch North America vice president of driver assistance systems and automated driving chassis systems control (the company also operates a large campus in Farmington Hills). "It creates a fabric that helps us to be successful as an automated vehicle company."
Dan Galves, chief communications officer for Israel-based advanced vision-based driving system developer Mobileye, says having a presence in Michigan is a must. "We feel this whole idea of scalability is being lost. If you really want to create a transformation in cost and mass production, that's the specialty of Michigan," he says.
Delphi, which has its North American headquarters along I-75 in Troy, "is one of the most interesting companies in how they transitioned themselves after bankruptcy," says Abuelsamid, who points to Delphi's reorganization into two groups: Aptiv for electrical architecture, automation, software, and services; and Delphi Technologies for its powertrain business. It has positioned the supplier as "one of the strongest players in Michigan in a lot of ways," he adds.
Expanding well beyond its Michigan roots as GM's one-time vertically integrated parts unit, Delphi joined BMW Group and Mobileye (recently acquired by Intel) to integrate systems in BMW's autonomous driving platform. It is working with Intel and Mobileye on perception, sensor fusion, and high-performance automated driving computing.
"Our close working relationship with all three partners serves as a solid foundation for success," said Kevin Clark, president and CEO of Delphi, at the time of the announcement in May.
Meanwhile, 70 original equipment manufacturers, suppliers, and companies in the periphery of automotive are part of the University of Michigan's Mcity driving research facility that spans 32 acres at the North Campus in Ann Arbor. Sixteen of the companies form a Leadership Circle to oversee what Mcity Deputy Director Carrie Morton calls the "ultimate sandbox," capable of creating any kind of autonomous or connected vehicle scenario without disturbing public roads.
On a recent sunny morning, U-M mechanical engineering graduate students Sergei Avedisov and Chaozhe He demonstrated how autonomous and vehicle-to-vehicle communication platforms on a modified 2016 Kia Soul could benefit safety and comfort.
First, they instructed a passenger to touch the black button on a game controller between the front seats. The Kia began moving on its own, accelerating to 35 mph. Cresting a hill and rounding a shrub-obscured curve, the Kia slammed on the brakes to avoid a 1996 Honda Accord parked  a few dozen feet ahead.
On a second run, the Kia accelerated to the same speed. This time, though, the car knew in advance the Honda was ahead because the Accord sent its location via Dedicated Short Range Communication, which is the heart of V2V (vehicle-to-vehicle) communication. Using the intelligence of V2V, the Kia braked at a sixth of the G force of the first run, creating a less stressful experience for passengers and a far safer scenario on wet or icy roads.
"If the driver isn't able to see the vehicle in time, cameras, radars, and LIDARs would have the same problem," says Gabor Orosz, a U-M assistant professor of mechanical engineering. "It's becoming obvious that one of these cannot work without the other. We want autonomous vehicles to have clairvoyance and, without connectivity, they cannot have it."
Morton says V2V and V2I — vehicle-to-vehicle and vehicle-to-infrastructure — communication (via embedded sensors in road signs, traffic lights, and other urban components) will eventually cover most of Ann Arbor to create a body of shared research in human factors, cybersecurity, insurance, and understanding how legal liability will play out in the courts.
"We're looking at all aspects," says Morton, who spent 10 years at Bosch before joining Mcity, formerly known as the Mobility Transformation Center, in early 2014. "We need to solve all the problems, not just the technical."
Between Mcity and the America Center for Mobility, where the first phase of testing was set for December, Michigan covers all the technology readiness levels that are needed to enable consistent discussions of technical maturity across different types of technology.
The state is a major financial contributor to both Mcity and the center. Kirk Steudle, director of the Michigan Department of Transportation in Lansing, says he has directed everyone involved at the public level to ask anyone in the mobility space: "How do we help, and how do we get out of the way?"
Recognized in 2016 by the Intelligent Transportation Society for its connected and automated vehicle efforts, the state invested $3 million in Mcity and has pledged $65 million to the American Center for Mobility. The state also is investing in major infrastructure improvements along U.S. 12 near the American Center for Mobility that will incorporate about 1.5 miles of the westbound divided road into the center's closed track. Eastbound lanes are being converted to accommodate two-way traffic on U.S. 12.
There's also PlanetM, a state-initiated partnership of mobility organizations, communities, educational institutions, R&D, and government agencies working together to develop and deploy the mobility technologies driving the future. Available to any mobility-focused company or investor, PlanetM is a no-cost, concierge service that connects businesses and executives to Michigan's automotive ecosystem.
Steudle says Gov. Rick Snyder tasked him to harness automated and connected infrastructure technology. Snyder also directed other departments, such as Michigan Economic Development Corp., to help shoulder the financial load.
In addition to being a voice in the testing facilities, Steudle oversees 10 to 20 smaller projects, including one with 3M Corp. on I-75 in Oakland County. The 3M project tests machine-vision bar-coding tabs embedded in road signs (V2I). Although data collected in many of these projects is "proprietary" to the investing company, improved road safety benefits everyone.
"I cannot emphasize enough how Michigan is really pulling together in so many ways in the public and the private sectors," Morton says. "It's not just one sector or one company. Having the state and all the individual companies working together is a phenomenal advantage."