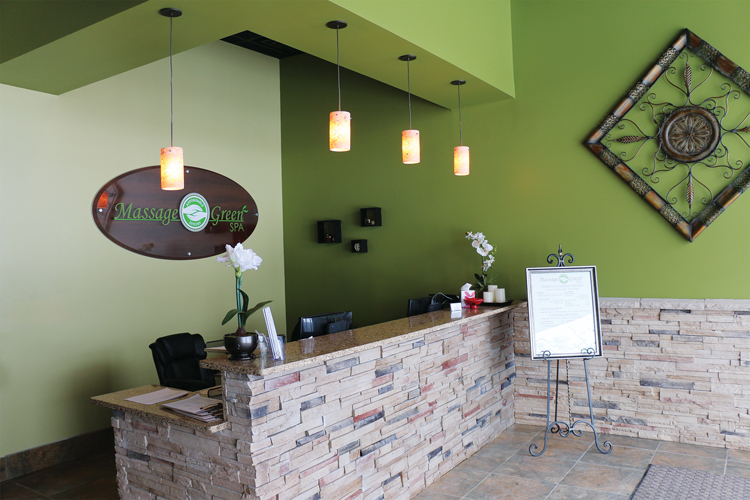 ---
With money problems, full work schedules, school obligations, and a host of everyday aggravations, many Americans feel stressed. According to the American Psychological Association, average stress levels in 2015 reached 5.1 on a 10-point scale. Luckily, Allie Mallad, CEO of Birmingham-based spa franchise Massage Green, has provided an outlet for those seeking relaxation.
Massage Green offers what Mallad considers to be an affordable menu of spa services. In an effort to gain a broader clientele, first-time customers can receive a full body massage for $39.95, a facial for $49.95, or a full spectrum sauna for $19.95. Membership plans are also available and offer guests a selection of massage modalities such as Swedish, deep tissue, sports, reflexology, trigger point, cranial sacral, reiki, and more.
5 Facts About Massage Therapy 
1. Massage therapists have an average of 671 hours of initial training.
2. In 2015, the average annual income for a massage therapist (including tips) was estimated to be $24,519.
3. Research indicates that massage
therapy was a $12.1 billion industry in the United States in 2015.
4. Eighty-two percent of massage therapists started practicing massage therapy as a second career.
5. Between July 2014 and July 2015, roughly 39.1 million adult Americans (18 percent) had a massage at
least once.
5 Reasons for Receiving a Massage
1. Medical — 52%
2. Pain relief/management — 19%
3. Soreness/stiffness/spasm — 15%
4. Injury recovery/rehabilitation — 11%
5. Keep fit/overall health/wellness — 5%
5 Types of Massage
1.Swedish
2. Deep Tissue
3. Shiatsu
4. Hot Stone
5. Reflexology
Top 5 States for Massage Therapy Employment 
1. California — 14,300
2. Florida — 7,410
3. Texas — 5,270
4. New York — 4,610
5. Colorado — 4,510
Sources: American Massage Therapy Association, WebMD, Bureau of Labor Statistics
The inspiration behind the company's name comes from Mallad's mission to spread awareness regarding the health and wellness benefits of massage therapy. In addition, Massage Green uses environmentally friendly products such as recycled drywall, zero-volatile organic compound paint, and recycled cellulose insulation and ceiling tiles in its buildings. Mallad says he not only wants to offer healthy spa services where guests can enjoy benefits such as reduced blood pressure, improved circulation, and pain relief, his goal is to create a space that's reflective of that philosophy.
"I've always enjoyed getting a massage and I thought, 'Well, how can I give the consumer an unbelievable value with an unbelievable product?' " he says. "I think people are going to continue going toward a healthier lifestyle, and massage therapy is very important to that kind of lifestyle."
Mallad isn't a rookie in the franchising business. Before founding Massage Green, he was a franchisee for 10 national brands, including Applebee's, Baskin-Robbins, and Mobil Oil Change shops. However, the entrepreneur's greatest success was with Detroit-based Little Caesars, where he franchised 159 stores, managed 2,000 employees, and posted annual
revenue of $100 million.
"It still is the most pivotal fork in the road in my entire life," Mallad says. "Without Little Caesars, I don't know where I would be in my life."
Using his laser-like focus, along with the organizational and people skills he learned while working with Little Caesars, in 2008 Mallad opened the first Massage Green location in Dearborn. He says he knew it would be challenging to open a business in the midst of an economic crisis, but decided to take a chance.
The risk proved to be successful. Mallad eventually expanded the Dearborn location and, by 2011, he had a total of seven spas.
Today, the franchise has 80 locations and 700 employees. In addition to spas in Michigan, Massage Green has locations in Arizona,
California, Colorado, Connecticut, Florida, Illinois, Texas, Utah, and Virginia. Mallad plans to open 12 more spas this year, and another 600 units are in the planning stages.
When looking for new franchisees, Mallad says the biggest factor he checks for is attitude.
"Attitude is the mother of skill," he says. "I can teach skill all day, but I can't teach attitude. If you have a great attitude, you can conquer the world."
Mallad says people breaking into the franchising industry need to have a passion for what they do, as well as the ability to be creative and have innovative ideas. He says entrepreneurs think differently from others, calling them "aliens."
"It's a function of what makes you tick; it's your personal makeup," he says. "Are you willing to do what others aren't willing to do?
---
DBrief
Massage Green Spa 
Headquarters: Birmingham
Founder: Allie Mallad
Locations: 23 units in Michigan; 80 centers overall. Other locations are in Arizona, California, Colorado, Connecticut, Florida, Texas, Utah,
and Virginia.
Employees: 700
Services: Massages, facials, and infrared saunas.
Annual Revenue: NA
Facebook Comments