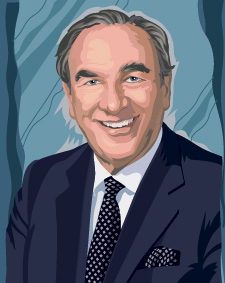 Armed with Ivy League degrees from Dartmouth College (summa cum laude, 1955) and Harvard Law School, (magna cum laude 1958), where he had served as a Law Review editor, David Page could've worked for any number of prestigious law firms across the country.
Instead, he returned to his native Detroit, looking to practice corporate law at one of the city's largest and well-known firms — only to find that the door was closed for Jewish attorneys.
"At first they didn't know I was Jewish because of my name," Page says, "but I was called in by the managing partner, who said I would not be happy there because they didn't have Jewish clients or attorneys. I wouldn't let him off the hook, and I told him that I could easily be the first. [But] despite having the best academic credentials they had seen, I never heard back from them again."
Page, however, was not deterred, and eventually, the old blue-blood firms saw the light.
Hired in 1958 as just the fifth attorney at Honigman, he soon made his mark as one of the most well-respected and successful corporate attorneys in the region.
Handling myriad business transactions for a growing list of private and public companies (which included creating the first two industrial revenue bonds ever issued in Michigan), Page helped Honigman become one of the leading and largest business law firms in the country. The firm now employs more than 230 attorneys in five offices.