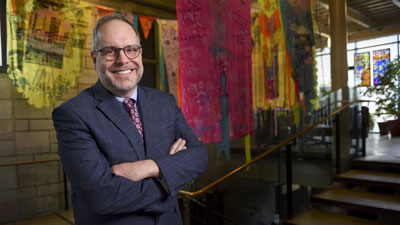 Cranbrook Educational Community announced that Jeff Suzik has been named the next director of Bloomfield Hills-based Cranbrook Schools. He will succeed current director, Aimeclaire Roche, on July 1 when she assumes the role of president of Cranbrook Educational Community.
Suzik is currently the director of Fanny Edel Falk Laboratory School at the University of Pittsburg, where he is also an associate professor at the school of education. He is also a member of the Pennsylvania Association of Independent Schools board of directors, president of the Pittsburg Consortium of Independent Schools, and Office of Child Development advisory board at the University of Pittsburg. Suzik earned a doctorate degree in history from Carnegie Mellon University.
"The full and thorough search process made clear that Jeff possesses the essential qualities of an inspiring leader, heartfelt passion, and a tireless work ethic," says Roche. "Most important, Jeff approaches all facets of the work of schools purposefully; Jeff's commitment to intentional practice will allow Cranbrook to flourish and to thrive at the vanguard of independent schools nationally."
The announcement comes from Dominic DiMarco, president of Cranbrook Educational Community, Sidhdharth D. Sheth, chair of the Cranbrook Schools board of governors, and Pamela Applebaum, vice chair. The school's board of governors and the Cranbrook Educational Community board of trustees voted unanimously in favor of Suzik's appointment.
"When our founders, George and Ellen Booth, founded the schools in the 1920s, they entrusted Cranbrook's future with confidence to those who would follow in their footsteps," says DiMarco. "Today, I share that same trust with every confidence in Aimeclaire and Jeff, the inspired leadership with which they will guide us, and the imperishable spirit of Cranbrook Educational Community."
Suzik previously served as head of school at Mounds Park Academy in Saint Paul, Minn. and assistant head of school at Mary Institute and St. Louis Country Day School in St. Louis, Mo. Suzik brings more than 20 years of experience in academic administration to the position. He has also taught at the preparatory and university levels since 1992 and is a published writer on a range of educational and historical topics.
"Cranbrook's national reputation precedes it and is the product of decades of principled and intentional work with children and young people," says Suzik. "Founded on the innovative notion that children's experiences in school should be as rich and vast as life itself, infused with art, physical activity, appreciation of nature, and of course, academics, the schools have provided generations of students with an exceptional grounding in what it means, simply, to be human."
Cranbrook Schools offers a college-preparatory learning environment that includes three schools for students in preschool through high school as well as Cranbrook's Academy of Art, Art Museum, Institute of Science, and other affiliated cultural and educational programs.
Cranbrook Educational Community was founded in 1904.
Facebook Comments