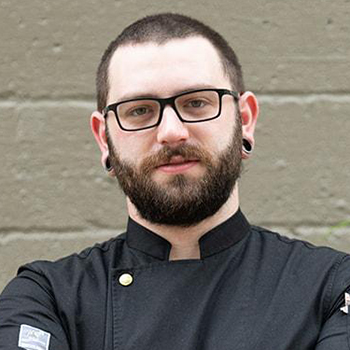 Daxton Hotel, a luxury hotel in Birmingham, announced the promotion of Rece Hogerheide to the role of executive chef.
In this new chapter for the Daxton Hotel, Hogerheide will oversee all culinary programming for Daxton Hotel and lead the team at the hotel's signature restaurant Madam, which was recently recognized by The Detroit Free Press as one of the best new restaurants in Detroit.
"Chef Hogerheide has been a part of Daxton's team since opening and played an instrumental role in shaping the seasonal offerings on Madam's menu and we are delighted to see him continue to refine the hotel's culinary offerings," says Raj Radke, managing director of Daxton Hotel. "Madam is now evolving as a rotating gallery of culinary artistic expressions from around the globe under the keen eye and engagement of Chef Hogerheide."
A native Michigander, Hogerheide advocates for the use of locally sourced, seasonal ingredients and has spent the past few years further sharpening his skills in niche areas such as butchery and fermentation. Playing a critical role in the opening of Madam, he marries the worldly influences of fine dining with a rustic New American feel to create a unique offering for the Detroit metro area market.
"My goal is to make Daxton Hotel and Madam a regular choice amongst locals and visitors alike," says Hogerheide. "We want to be known for our impeccable cuisine driven by an experience that brings a new level of excitement to the farm-to-table concept through new flavors and methods."
Facebook Comments