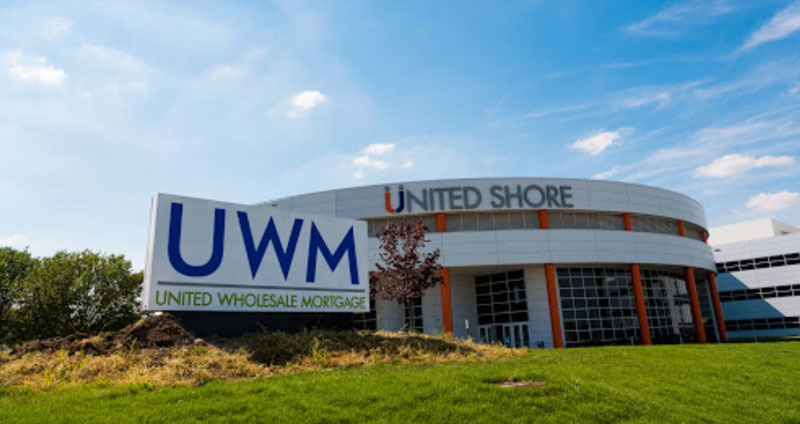 Pontiac's United Wholesale Mortgage, also known as United Shore Financial Services, the nation's largest wholesale mortgage originator, is planning to merge and go public.
The company announced today that it is joining forces with Los Angeles-based Gores Holdings IV Inc., founded by Alec Gores, brother of Detroit Pistons owner Tom Gores. Gores Holdings is a special purpose acquisition company sponsored by an affiliate of The Gores Group, which already is a public company that will operate under the name UWM and be listed on NASDAQ under the new ticker symbol UWMC when the transaction is complete in the fourth quarter.
The transaction values UWM at approximately $16.1 billion, or 9.5 times the company's estimated 2021 adjusted net income of approximately $1.7 billion.
Along with approximately $425 million in cash held in Gores Holdings IV's trust account, additional investors have committed to participate in the proposed business combination via a $500 million private placement, led by Gores and other large institutional investors.
Upon completion of the transaction, including the private placement, the current owners of UWM will retain approximately 94 percent ownership of the combined company. The existing management team, led by Mat Ishbia, president and CEO, will continue to lead the business.
Founded in 1986, UWM is the largest wholesale mortgage originator in the United States with nearly 7,000 employees. UWM's business model focuses exclusively on providing wholesale mortgage clients "superior service through proprietary technology that enables them to process mortgage applications at faster speeds and provide lower rates than competitors," according to the company.
"Becoming a public company will enable us to advance our strategy and capitalize on new opportunities to expand our already established leadership in the mortgage industry under our unique family culture, which has been the cornerstone of our company's success for the last 34 years," says Mat Ishbia, president and CEO of UWM. "To that end, we look forward to granting our team members equity in the company that they have helped build and enabling them to participate in our future success.
"We believe that being a public company will also allow us to help our mortgage broker clients continue to build and grow their businesses, generating value for all of our stakeholders. Working with the Gores team has been a great benefit in helping to make this transaction possible."
Alec Gores, chairman and CEO of The Gores Group, says, "We are pleased to partner with UWM in this milestone transaction. Mat and his team have built an impressive organization that is the market leader in wholesale lending and has a strong focus on culture and delivering quality service and offerings for its customers. As a public company, UWM will be well positioned given its significant competitive advantages and we look forward to working together to accelerate the next phase of growth and to drive value for all of our stakeholders."
The proposed business combination has been unanimously approved by the boards of directors of both Gores Holdings IV and United Shore, and is expected to close in the fourth quarter of 2020, subject to customary closing conditions, including the receipt of regulatory approvals, and approval of the stockholders of Gores Holdings IV. Upon closing of the proposed business combination, the name of Gores Holdings IV will be changed to UWM Corp.
"After evaluating a number of potential partners for Gores Holdings IV, this transaction clearly stood out as a superior option for our stockholders," says Mark Stone, CEO of Gores Holdings IV. "The public company currency of a newly listed business will enable the company to continue to benefit from the ongoing tailwinds in the mortgage industry and capitalize on growth opportunities in a massive addressable market. We are excited to participate in UWM's continued value creation through a meaningful remaining equity stake in the business."
United Shore was started by Mat Ishbia's father, Jeffrey Ishbia, in the mid-1980s as a traditional mortgage lender, and went by the name Shore Mortgage. Mat Ishbia took over as CEO in 2013 and decided to enter the wholesale mortgage business after other large banks exited the business.
Mat Ishbia and United Shore are featured in the cover story of the September/October 2020 issue of DBusiness magazine, on sale at newsstands across the region. Click here to find a copy near you.