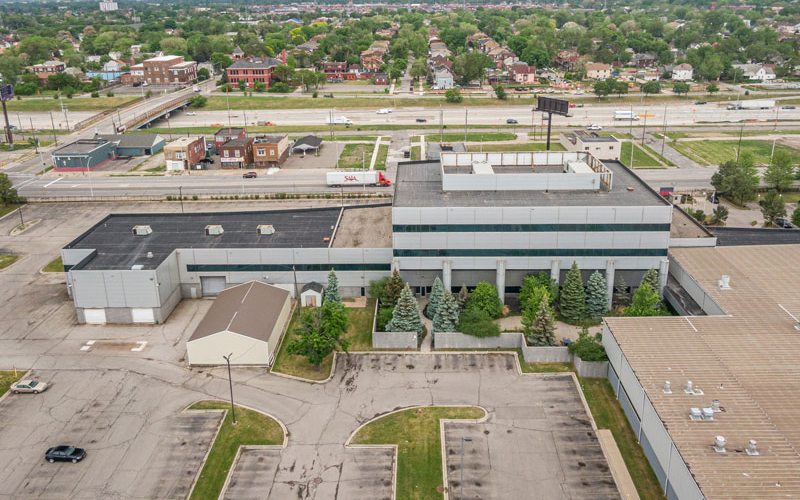 Automotive supplier giant Magna International has formed a seating joint venture with Michigan-based minority supplier LAN Manufacturing and will lease approximately 296,000 square feet of space in Bedrock's Sakthi Industrial Campus in Detroit's Delray neighborhood, located four miles west of central business district.
The lease with the joint venture company, LM Manufacturing, will start in May for the facility, which is expected to create more than 390 jobs. The project represents Bedrock's first major industrial development.
"Thanks to Bedrock we have a great place to call home for our joint venture," says Sylvester Hester, president and CEO of LM Manufacturing. "It's exciting to think about the opportunities the joint venture can deliver, especially creating new jobs in the Detroit area."
The emergence of a modern industrial park with an anchor tenant like LM Manufacturing is expected to accelerate the revitalization of the Delray District and play a role in the Detroit economy.
"Today's announcement is another important step in building economic opportunities for all Detroiters. This project in partnership with LM Manufacturing is a perfect example of public, private collaboration, and will provide city residents with cutting edge manufacturing jobs at significant wages," says Jay Farner, CEO of Rocket Cos. and Rock Ventures, both in Detroit. "As the city continues to grow and flourish, so too must high-quality job opportunities — from hospitality to high-tech and medicine to manufacturing."
Under the agreement, LM Manufacturing will lease space in 6451 W. Fort St., 6401 W. Fort St., and 150 Rademacher in the Bedrock-owned, former Sakthi Industrial Campus to develop a plant for manufacturing automotive seating.
"This announcement is the latest sign of the resurgence of Detroit's auto manufacturing industry and expanding opportunity for Detroiters," says Detroit Mayor Mike Duggan. "We are fortunate to have this team come together to re-occupy the former Sakthi campus, bringing nearly 400 jobs to an area of the city that needs them and making the hiring of Detroit residents a priority."
Bedrock acquired the former Sakthi Industrial Campus in September 2020, and since then has expanded the industrial footprint. The deal marks Bedrock's largest acquisition outside of Detroit's Central Business District.
The nearly 37-acre campus included approximately 529,000 square feet of industrial and manufacturing space, 89,000 square feet of office and flex space, along with more than 10 acres of developable land. The property is located adjacent to the Norfolk Southern Rail Line and near the future Gordie Howe International Bridge U.S. Port of Entry (scheduled to open in 2024).
"The U.S. demand for modern and adaptable industrial space has grown exponentially over the past decade," says Kofi Bonner, CEO at Bedrock. "In order to retain a competitive edge, it is imperative that Detroit maintains development-ready sites that incorporate modern industrial facilities to not only foster business growth and expansion but provide access to much-needed job opportunities. This partnership with LM Manufacturing will be a game changer for the Delray area and a chance to transform the vacant site into a beacon of opportunity and sustainability."
Facebook Comments