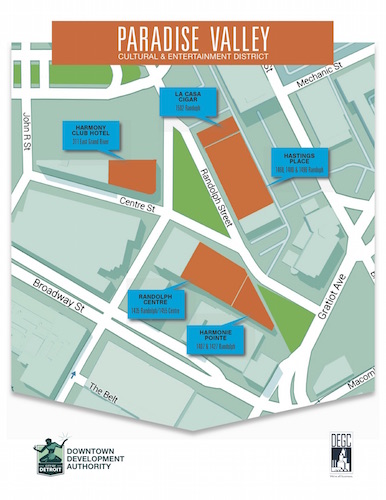 Detroit's Downtown Development Authority today approved a comprehensive plan to redevelop nine properties in the Paradise Valley historic district (formerly Harmonie Park), which it says will lead to $52.4 million in new construction and renovations. The district is located just south of the Detroit Athletic Club at Madison and Randolph streets.
The Paradise Valley Cultural and Entertainment District project includes the simultaneous redevelopment of five existing buildings and four surface parking lots. The project will feature commercial and retail space, residential units, restaurants, entertainment venues and a boutique hotel; all scheduled to be built over the next three years.
The DDA voted to approve four of the five projects. To meet a legal requirement, approval of the final project is expected at a later meeting of the Authority. The development of Paradise Valley has been nearly a decade in the making.
At the urging of Detroit City Council, the Downtown Development Authority used casino fund dollars to purchase the buildings and lots in 2006 with the intention of developing an entertainment district that would celebrate African-American culture and the vibrant music scene of Paradise Valley. At that time, crime and blight was becoming a major concern in the district and the buildings were 20-percent occupied.
"Stepping in to purchase these buildings to stabilize this section of the district was the right move," says Rod Miller, CEO of Detroit Economic Growth Corp. (DEGC). "I'm proud that a decade later, the DEGC has found developers who have the capacity to develop the entire district at once and turn it into a cultural destination and economic hub that'll serve Detroit for years to come."
The DDA released a request for proposals last fall and received 15 proposals. DEGC, acting as staff for the DDA, established a selection committee made up of representatives from the Michigan Black Chamber of Commerce, DEGC, and Detroit.
The winning proposals came from developers with strong Detroit roots. Several of the developers, including Rainy Hamilton, Jr., Hiram E. Jackson, and Ismail Houmani, already have a major presence in Paradise Valley.
The developers have agreed to comply with the city's Executive Order that sets thresholds for the hiring of Detroiters and Detroit-based companies during the construction process.
The development plan includes:
Hastings Place: Paradise Valley Real Estate Holdings, II, led by Hiram E. Jackson as managing partner, plans to build a 189,660-square-foot building on three current parking lots at 1468, 1480, and 1496 Randolph St. It will include 60 apartments on the top floors, a 5-story parking deck, and first floor retail spaces. The project is located next to the building that Jackson's company Paradise Valley Real Estate Holdings I is renovating as the new home of Real Times Media and the Michigan Chronicle. Total expected investment is $27 million, including a purchase price of $1 million.
Randolph Centre Building: Hamilton Development Corp., led by Rainy Hamilton, Jr., plans to renovate the 36,000-square-foot building in which his firm, Hamilton Anderson Associates, has been an anchor tenant, as well as build a 16,000-square-foot office building addition on the parking lot next door at 1455 Centre St. Total expected investment is $7.5 million, including a purchase price of $2.3 million.
Harmonie Club Hotel: 311 E. Grand River, led by Patricia Cole and Roger Basmajian as partners, plans to renovate the 36,000-square-foot. building at 311 E. Grand River as the Harmonie Club Hotel, a 25- to 30-room boutique hotel on the first and second floors, which will include artwork from local African American artists. The third floor theatre will be completely refurbished and function as a theatre and banquet hall. The total expected investment is $13.6 million, including a purchase price of $1.6 million.
Harmonie Pointe: Gotham Capital Partners, led by Dennis Archer, Jr., plans to renovate 1407 and 1427 Randolph St. with a music forward lounge and restaurant on the first floor, and offices in the two upper floors. The total investment in the 17,328-square-foot project is expected to be $2.7 million, including a purchase price of $976,000.
La Casa Cigars and Lounge: La Casa Properties, LLC, led by Ismail Houmani as principal, plans to purchase and refurbish the 7,500-square-foot building at 1502 Randolph St., in which he now operates La Casa Cigars and Lounge. The Cigar Lounge and retail store will remain on the first floor; the VIP Lounge will remain on the second floor; and existing apartments will be reconfigured on the upper two floors. The total expected investment is $1.47 million, including a purchase price of $1.17 million.
Facebook Comments