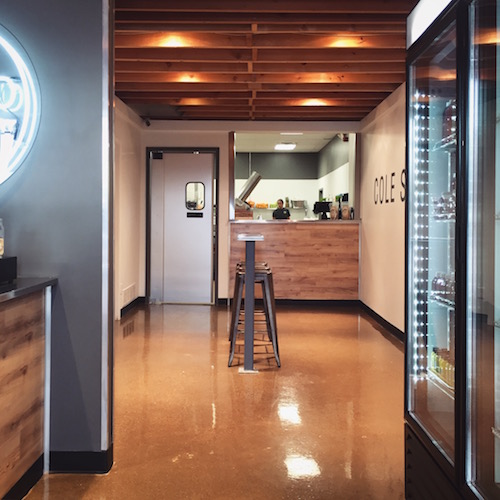 Beyond Juicery and Eatery, a fast casual restaurant chain in Birmingham that offers cold pressed juices, smoothies, salads, and sandwiches, has opened a new production facility in the same city to support its current locations as well as two new stores that will open by the fall.
"We were kind of at capacity with our old facility," says Elliott Disner, creative director at Beyond Juice. "We knew we wanted to grow to a few more locations within the year, so we need to build out space to make room for more production. We found this space in Birmingham, and it was like the perfect spot."
At 3,000 square feet, the new facility, located at 2221 Cole St., is nearly 2,000 square feet larger than the company's previous manufacturing space in Warren.
Thirty-five employees work at the facility, which features a storefront that is open to the public for carryout orders. The company produces bottled juices, almond butter, peanut butter, salsa, dressings, hummus, baked goods, and more.
The products from the facility, which is capable of supporting nearly 10 stores, are delivered daily to the company's four locations: Somerset Collection in Troy; Southfield; and a flagship store and the new carryout space in Birmingham.
The facility will also stock the company's two new stores when they open, one of which will be located on Russell Street in Detroit's Eastern Market and the other in the lobby of Beaumont Hospital in Royal Oak.
With the move to the larger facility, Disner says Beyond Juice will expand its menu and add smoothie bowls. More locations in metro Detroit and elsewhere are planned.
"We really think that we have a national concept on our hands," he says. "Right now our main focus is on metro Detroit, and we want to grow as big as we can within metro Detroit. We do research and go all over the country to see what other people are doing, and there's not one company that is doing what we do."
Facebook Comments