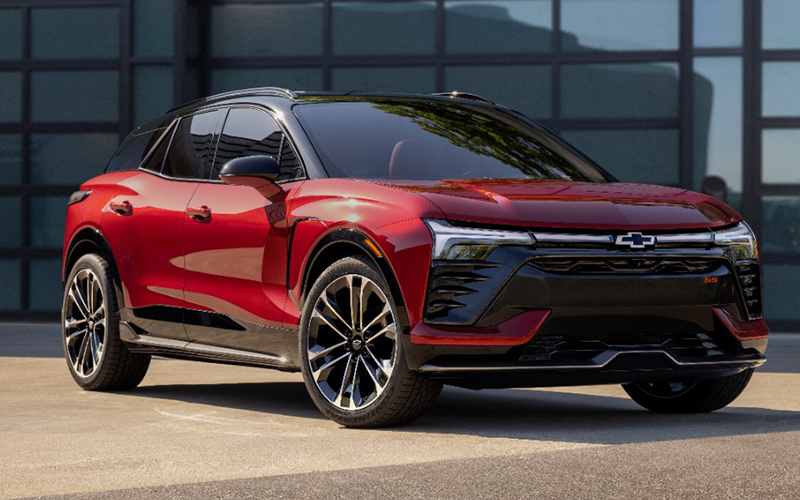 Chevrolet, a brand of Detroit's General Motors Co., has revealed the 2024 Blazer EV, which will expand the brand's electric vehicle portfolio with the goal of making ownership more accessible. The debut also will bring Chevy into the growing mid-sized electric crossover segment.
The Blazer EV offers multiple distinct trims and range options, including a GM-estimated range of up to 320 miles on full charge, along with available front, rear, and all-wheel drive configurations.
The selection includes available 1LT, 2LT, RS, and Chevy's first electric SS performance model, along with a Police Pursuit Vehicle (PPV) model for police fleet applications.
"The 2024 Blazer EV sets a new tone for electric SUVs, with options and intuitive technologies that help position Chevy for leadership in one of the fastest-growing EV segments," says Scott Bell, vice president of Chevrolet.
"Along with the all-new Silverado EV and Equinox EV coming next year, we are making great strides in offering more choices for zero tailpipe-emissions vehicles — choices that make switching to an EV easier than ever."
The Blazer EV is based on GM's innovative Ultium Platform with athletic styling that elevates the heralded design established in 2018 by the gas-powered Chevrolet Blazer, and performance cues inspired by the Camaro and Corvette.
With design and engineering modeled after the Super Sport performance designation, the Blazer EV SS features an exclusive performance AWD propulsion configuration designed to produce 557 horsepower and up to 648 pound-feet of torque. It also contains a unique WOW (wide open watts) mode, enabling 0-60 sprints of less than approximately 4 seconds.
"The Blazer EV SS has the soul of a true sports car," says Bell. "And while it represents the pinnacle of performance for Chevy's EV lineup, all models offer stirring capabilities that will surprise and delight true performance devotees."
Some additional Blazer EV highlights include a DC public fast-charging capability adding about 78 miles of range in 10 minutes, a large customizable touchscreen, hands free driving technology, advanced safety features, and LED exterior lighting that also conveys the state of charge.
"The Blazer EV's design evokes the same sort of emotional response as Chevy's performance cars," says Phil Zak, executive director of Chevrolet Design. "There's true SUV functionality, but inside and out, it has the sort of passionate proportions and feel that make you want to slide behind the wheel and explore what's beyond the horizon. It's a vehicle that looks great from every angle and beckons you to drive."
The trims have their own characteristics, such as the LT with a monochromatic appearance and standard 19-inch wheels, while the RS is sport based with a black grille and other black accents, along with standard 22-inch wheels and more.
The Blazer EV has Chevy's latest technology, like the hands-free start by simply pushing the brake after closing the door. In addition, the vehicle's hands-free operations also include opening the tailgate and driver assistance technology. Locating and plotting directions to charging stations is available through the MyChevy app.
Martin Hayes, chief engineer of Blazer EV adds, "Transitioning to an electric vehicle is seamless with the Blazer EV. Every element and feature have been designed to help customers take full control of their driving experience and enjoy every minute of it."
"The flexibility of the Ultium Platform enabled our design and engineering teams to develop the Blazer EV to offer an unprecedented range of performance and driving characteristics," says Hayes.
Owners also have access to Ultium Charge 360, GM's holistic approach to EV charging, designed to simplify the overall charging experience, including access to more than 100,000 publicly available charging points in the U.S. and Canada.
The 2024 Chevrolet Blazer EV 2LT and RS go on sale in summer 2023 with starting pricing at $47,595 and $51,995, respectively. The SS will follow later in 2023, with prices starting at $65,995, followed by the 1LT and the PPV fleet model in Q1 2024. The 1LT will be priced starting at $44,995.
Facebook Comments